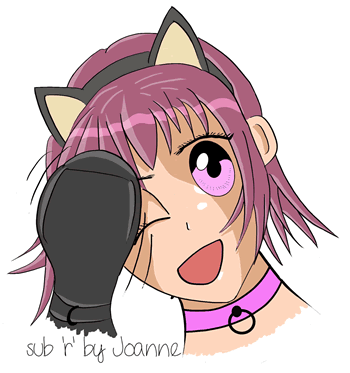 This is sub'r' here, to say that I am a little nervous about reviewing something myself would be an understatement. But, as it has been me using the Gbulb and getting to know it intimately it makes sense that I write this review for Joanne, so please bear with me while I tell you all about the Gbulb.
I have to admit to grinning like a Cheshire cat when I saw the Gbulb on the Gvibe stand at Erofame in Germany. Holding one in my hand as it was buzzing away was a unique experience in a packed conference hall surrounded by strangers while wearing a PVC maids outfit.
I was graciously given one and couldn't wait to try it out in the hotel room that evening - yes I don't waste any time putting new sex toys to the test.
I love the quirky design and packaging of the Gbulb, the clam-shell box carries lots of useful information about the Gbulb, and its design is sublime.

I usually hate clam-shell packaging but I love the design of this one
I also love the fact that unlike lots of other clam shell cases, this one can be opened quickly without having to cut it open and it can be resealed again if you want to store the vibrator in it. As no storage bag is provided that is how I am keeping mine.
You get a small red USB charging cable included with the Gbulb, and it has a magnetic head with two metal contacts. These snap onto the corresponding contacts on the base of the Gbulb.
I did find though that these contacts seperate easily so you need to keep an eye on it while it is charging as if it is knocked it probably won't charge. A light on the base of the vibe flashes as it is charging and it stays on once fully charged. A full charge will give you about four hours of play time which is pretty good.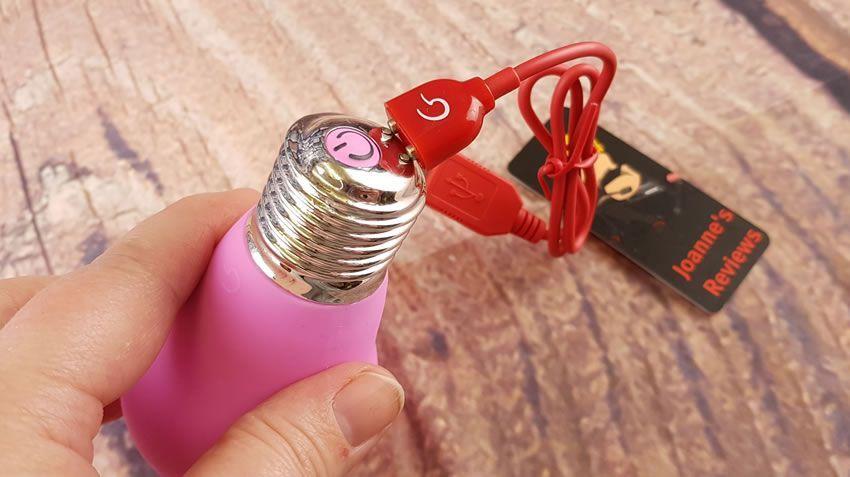 I like magnetic charging cables but this short one can be tricky at times
This is a silicone and ABS vibrator, the body is made of ABS, and the pink areas are covered in a soft layer of silicone. This makes it non-porous, hypo-allergenic, as well as being latex and phthalate free which is fantastic. Silicone is my go to sex toy material. This blend is a bit of a lint and dust magnet though, but that is common to a lot of sex toys and nothing that a quick rinse before use won't take care of.
I do love the fact that Gvibe has managed to put their logo on the side, it's a nice touch, and the pink silicone is silky smooth to the touch.
The Gbulb is fully waterproof so cleaning is really easy, just wash in warm, soapy water before cleaning with an anti-bacterial sex toy cleaner. Just make sure that it's completely dry before storing it away until your next play session.
As it's waterproof, you can use it in the bath or shower for some kinky 'me time'. I find it useful for an all over massage in the tub before zoning in on specific areas for some orgasmic fun.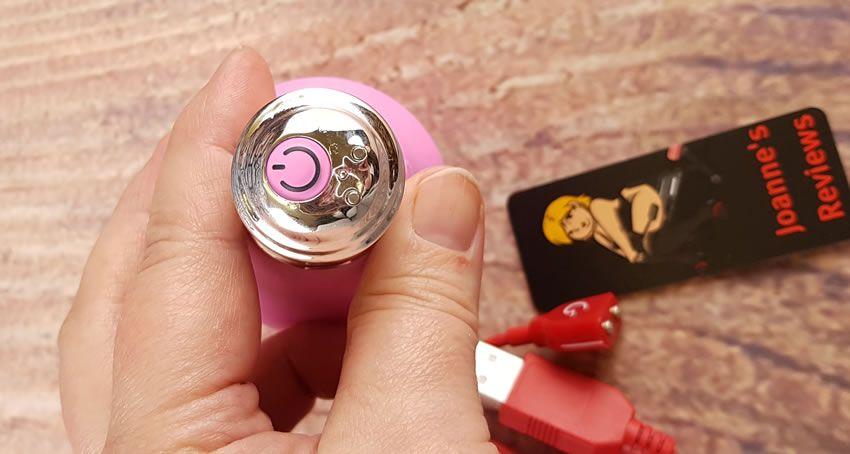 The button on the base of the Gbulb is easy to operate
The controls are straightforward, with just one button on the base. This also acts as a travel lock, pressing it in for two seconds to operate the travel lock and repeat to remove it. I love toys that have a travel lock as it means that I can travel with them without worrying about them coming to life inside my bag at the worst possible times.
There are six modes of operation and switching from one to the next is easy, just press the button on the base of the Gbulb to change mode.

The six vibration modes are a lot of fun
The Gbulb measures in at 2.3"/5.8cm × 4.1"/10.4 cm, and it is very light to hold in your hand.
Performance
The Gbulb is definitely not my quietest vibrator, on some of its modes you can hear it through my bedroom door even with it under my duvet. However, that said on its quieter modes it can't be heard through my bedroom door.
I like the wide contact area of the head of the Gbulb, it feels good when I press it against my vulva. Opening my labia so that it can rest directly over my clitoris feels amazing and sliding it down to my vagina also feels very intense.
You can't use this vibrator anally as it lacks any form of broad base and the manufacturer specifically warn against using it internally. This is an external massager that feels great when you glide it over yourself.
Use a good quality water based lube such as Sliquid H2O or Secret Play Natural to really enhance how this feels as you slide it around. Its shape means that you can twist and roll it over your vulva for some intense sensations with either direct or indirect clitoral stimulation.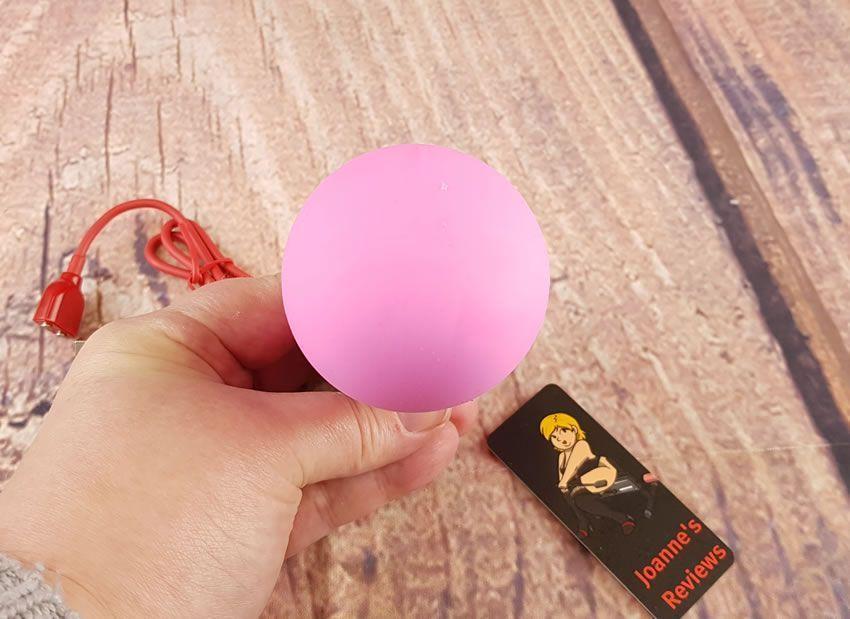 The wide head gives lots of skin contact in use
The rumbly vibrations travel deeply and certainly get me aroused, I have enjoyed some delicious orgasms with the Gbulb. Especially enjoying being restrained while my Master uses it on me.
It's like a wand massager without the handle and that is fun but it does have one drawback. The only negative comment that I have about it is that after a while it gets a little bit uncomfortable to hold as the whole thing vibrates and its shape means that it is quite an un-natural vibrator to hold and use.So it may not be a good choice if you have mobility issues in your hands and fingers such as arthritis.
It is especially fun to place it on the bed and then sit on it, grinding myself onto it. That feels incredible, and it is something that you should try.
One great feature of the Gbulb is that when the battery gets to about half a charge the light on the base comes on to warn you. I like that as I hate it when sex toys just die out of the blue, leaving you so frustrated. So getting a warning is definitely a good thing.
The vibration modes feel great, and they start off with gentle sensations that are great to edge to but on the more vigorous settings it has made me orgasm and squirt in under five minutes which surprised me - in a nice way.
It's definitely best used directly over the clitoris, but you can also use it on sore muscles as a massager due to its soft silicone surface and large contact area.
Grinding onto it is a lot of fun and also using it on my nipples feels delightful. It's great as a couples toy and if left out could be overlooked as it really does look like a pink lightbulb.
It isn't just for vagina owners though, you can use it to good effect on a penis or a pair of testicles too for some kinky vibrating fun.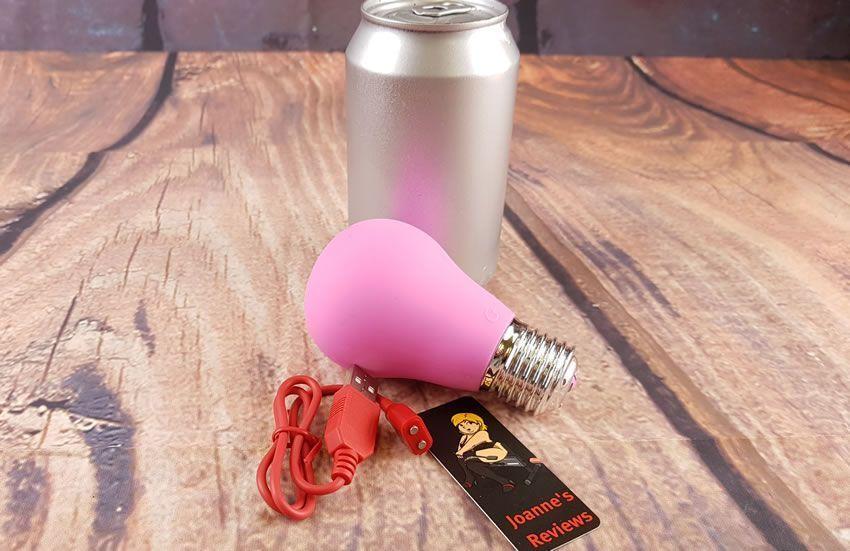 The Gbulb looks like a light bulb and this soft drinks can shows it to scale
Check out the quirky Gbulb from @_FT_London and let it light up your sex life.
Click to Tweet
Key Features
Key features:
Made out of body-safe ABS and silky smooth silicone
USB rechargeable with 4hours of play time between charges
100% waterproof
Six modes to enjoy
Warning light when battery is low
Magnetic charging cable included
Final Thoughts
I like the Gbulb and its performance, but it isn't perfect. I would have loved it to be a bit quieter and to have had a longer charging cable. But it is quirky, and it performs very well indeed, that in my books means it's worth some serious consideration.
Fun and unusual sex toys really flick my switch, and I love the Gbulb for its quirkiness and the fact that it has made me squirt on a number of occasions.
If you fancy trying something different and have an eye for body safe sex toys that are rechargeable and from an ethical company, then check out the Gbulb and let it light up your sex life.
Check out the rest of the Gvibe products, they have some interesting takes on sex toys which are a marriage of quirky and functionality that definitely deserve some attention.
I was given the Gbulb by Gvibe at Erofame and I would like to thank them for giving me the opportunity to review it for them.
sub'r's rating
Where Can I Get One From?
Grab one of these fantastic quirky little vibes direct from Gvibe for £46.35
Check out the rest of the range of amazing sex toys at Gvibe.com
Check them out and don't forget to tell them that Joanne says "Hi".
Disclosure
This review does not contain affiliate links, for more information about affiliate links check out my disclosure page.