Packaging
The Gballs² arrived quickly under plain wrapper and when I opened the box
I was greeted by a lovely white cardboard tube with a white cord handle carrying a nice picture of the Gballs². The fact that the tube carries a Union Jack (yes I know it should be called the Union Flag) was a bonus for me as I love seeing the flag on anything.
The packaging is really nice and when you open up the tube you get to see the Gballs² held securely in place inside together with the other items included with the trainer. I love it when companies use some creative packaging and this packaging gets a big thumbs up from me.
Features
This is one clever piece of sex-tech but before I tell you all about how to use and get the most benefit from it I think it's best to tell you about some of its features.
The Gballs² has a iOs and an Android App, you will need to ensure that your android OS is 4.3 or higher and that you have Bluetooth 4.0 to enable your Android phone to work. The Gballs² uses Bluetooth 4.0 to connect with your phone but you can also use the Gballs² in a non app mode.
The Gballs² is a very comfortable 8.2cm x 3.1cm which means that it's both easy to insert and comfortable to use. It's made out of ABS and coated in a very soft silicone which means that it's Phthalate free and body safe. This blend of silicone isn't as much of a dust magnet as some that I have come across. With a drop of lube on it you'll find it very easy to position, one quick tip is to make sure that you use a water based lube as silicone lubes may damage the finish of the Gballs².
The Gballs² is relatively light, weighing in at only 54g, it is possible to train with it manually when standing up and with practice you can squeeze your kegel muscles to move it up inside you and then let gravity allow it to slowly slip down as you relax before doing it again.
The looped cord coming out of the end of the Gballs² actually acts as the bluetooth antennae which is great as it means that data is passed to your phone in real time rather than with other kegel trainers that I've tried. You need to remember to keep about 3cm of it clear outside of your body to enable the phone to connect.
There is a small charging socket at the base of the antennae loop and this is where you insert the included USB power cable, check its location on the instructions as it is very hard to see on the Gballs². The only down side to this charging system is that the lead is extremely short. Before using the Gballs² for the first time you should charge it for four hours and a full charge gives you four hours of use from its internal 200mAh battery.
The controls on the Gballs² are very simple, on the top at the loop end there is an LED light to show if the unit is on or off together with a power and reset button. You simply press the power key to switch the Gballs² on and holding the button in for a further 3 seconds will turn it off again. In use the button is used to switch between App and non App mode together with modes of operation in the non App mode. I found the controls really easy to use and once switched on you do most of the changes to the settings through your phones app anyway.
The Gballs² comes with a very nice storage bag and a USB charging cable and a very good set of instructions that are clear and easy to understand.
The Gballs² is also water resistant for obvious reasons and in vibration mode it is really very quiet especially when inserted.
You can see a great Quick Start Guide that is well worth a viewing.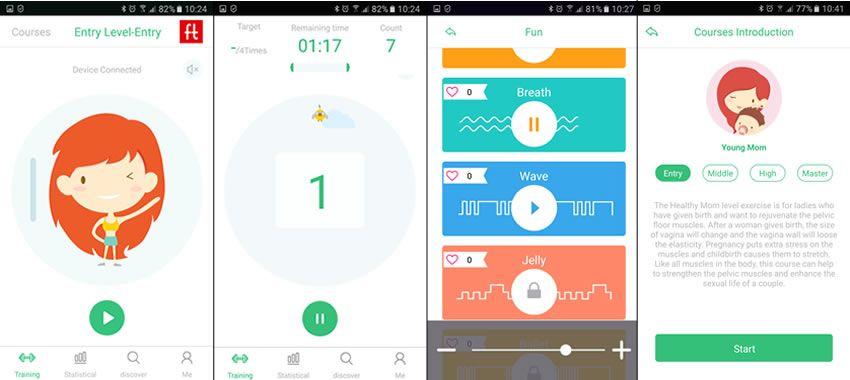 Use
The Gballs² is very easy to use, simply fire up the app, switch the Gballs² on and then hit the connect button in the app. It takes mere seconds to connect and the Gballs² gives you a pulse of vibrations in your hand to let you know it's connected. Apply a small amount of lube and you are ready to position it. I found that the two positions that worked best for me were on my back with my knees raised and standing with one foot on a chair or step.
The app suggests comfortable positions to get into when inserting the Gballs² and it also shows you exactly where it needs to be positioned in your vagina and that it great as it means you will get the best benefit from it.
Once comfortably inserted you can select which training option you want to go for and then just follow the onscreen prompts, make sure your devices volume is switched on so that you can hear the instructions for your kegel training session. Follow these instructions before you begin your first training session. If you have your volume off on your phone the Gballs² vibrates inside of you when you need to squeeze and this is a lot of fun.
There are six different courses designed to help with different aspects of a womans life from planning and having a baby to improving your sex life and general fitness.
Most training routines use a flappy bird type screen where the app interprets the squeezing of your pelvic floor muscles into the flapping of the birds wings. The harder you squeeze, the higher it flies. It really is a very simple concept that works extremely well and with some practice you will easily have the bird hovering exactly where it should be.
The pressure sensor used in the Gballs² is incredibly sensitive and it can really respond to your tensing well and the Flappy Bird training sessions are a lot of fun.
The Gballs² can also be used in an app free or stand alone mode. This is a useful option but it is much better to use the app and all of its facilities.
As you train, the app records your progress and actively encourages you on your journey awarding you points and badges as you hit targets, this is a great way to keep you focussed and training.
It ties in well with the flappy bird game element of training. Some of the training courses have more awards than others. It really is a fun way to train your pelvic floor muscles.
A nice feature of the app is the tree, when you first use the Gballs² a seed is planted on a screen in the app and as you train and progress this seed germinates and then grows larger and larger.
One feature of the app that i think could be useful is the menstruation calendar where you can keep track of your monthly cycle.
Performance
I can really feel the benefits from using this system and I have the statistics to back up that statement. The App stores all of your data and this gives you the challenge to try to improve over past performances. You get great battery life and with the vibrations it generates in use it's also the most fun Ive ever had whilst 'working out'.
The App which is a key feature of this system is very, very easy to install, connect and use and I love the fact that different training modes have been added. As you progress you also get to unlock extra content like different vibration patterns to enjoy.
A system like this can only be really measured on its performance and I am really enamoured with the Gballs², I can feel the difference and you can too.
Key Features
Key features:
Body Safe Materials
USB Charging
Good battery life (4 hours of use from a charge)
Records your progress
Training modes for lots of different real life problems and situations.
Can be used in stand alone mode without the App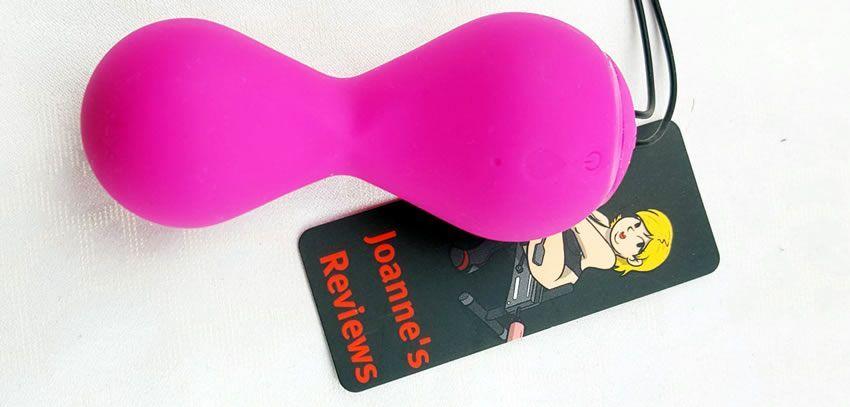 Final Thoughts
I actually love this little personal trainer and it has been of great use to me. It has even been commented on by my Stunt Cock as he has noticed the improvement, whilst I am not up to shooting a ping pong balls across the room I feel more confident and love the nice comments from my partner.
The App is very easy to use and has sections to help anyone from a teenager to someone much older. It is actually a lot of fun to use and that will keep you keen to continue with your training so that you achieve some tangible results.
I can highly recommend this kegel trainer and honestly can't really find any downsides to it apart from its short charging lead which is hardly a show stopper. Having experienced the quality of this sex toy from Gvibe I am keen to see what the rest of their range of products has to offer. They are a great addition to the UK market place.
Recommendations
I would recommend this sex toy to:
Anyone looking for a great way to do some kegel exercises.
Anyone looking for a quality well thought out trainer.
Anyone looking for an interactive kegel trainer.
I wouldn't recommend it to anyone who:
Doesn't have Bluetooth 4.0 on their phone as you need it to get the most benefit from the system.
Joanne's rating
Where Can I Get One From?
You can get the Gballs² from Bondara.co.uk for just £59.99, this superb little kegel trainer is both functional and effective.
I was sent this toy in order to review it and this review does contain affiliate links.
I would love to hear what you thought of this review. What can I do better, what did you like? Let me know in the comments form below. Thank you for taking the time to read it. Joanne xx