Packaging
This elegant black tail and butt plug arrives in a lovely drawstring bag to store it in, and I was a little surprised at how big and bulky it was. It became apparent when I removed it from the bag that this is a fantastic butt plug and tail combination. It is huge, the tail that is, it measures in at 30"/78cm long. As we are both short arses, it actually touches the floor when both sub'r' and I wear it.
It arrives sealed in plastic, and the butt plug is wrapped in micro-bubble wrap to protect it. One of the things that really put a smile on my face was just how luxurious the faux fur feels.

It arrives well packaged and is quite bulky in is storage bag
Design
The faux fur tail is exceptionally thick and soft. It really surprised me as I have other tail butt plugs but none of them exudes quality like this one, it is so thick and full, really looking like a panthers tail.
The soft fur feels delightful when it brushes on the back of your legs, and your bum cheeks as you are walking with it fitted securely in place.
The sensations that it generates purely with its effect on my skin are fantastic, and then you have the exquisite feeling of the butt plug stretching you open and making you feel so full on top of that.

The butt plug is so smooth and shiny and the tail is luxuriously thick and soft
With it being so long you can scoop it up and have it over the crook of your arm or even have it over your shoulder. Roleplaying with it in is a lot of fun and having such a full and glorious tail takes kitty play to the next level regarding fun, sensations and realism.
At the business end of the tail is a highly polished aluminium tear shaped butt plug with some fantastic design features. The mirror-like finish on it makes it so comfortable to insert and remove as there is very little friction when doing so.
Use a little lube on the plug and yourself, on metal butt plugs I prefer to go for a hybrid or even a silicone lube. These lubes work for much longer than water-based lubes and make removal as easy as fitting whereas some water based lubes dry out when you need their properties the most.
Keep the lube to a minimum though as you don't want to clog the fur up with it, use just enough to make insertion easy.

The butt plug looks amazing and feels great too
This is a butt plug that I can recommend for beginners, intermediate users and even butt plug connoisseurs. The butt plugs diameter at its widest point is 1.35"/3.4cm, and it has an insertable length of 2.9"/7cm making it feel nice and filling.
The teardrop shape of this plug means that it is very comfortable and easy to insert. The tapered tip and design make it easy to push home, and the neck of the butt plug keeps it firmly fixed in place once worn. There is no need to worry about accidentally losing this plug as it's a very snug fit.
The broad base is perfect, you should always ensure that the butt plug has a broad base to prevent their accidental ingress. Always avoid anal toys without a broad base as an embarrassing trip to A&E could result from playing with one.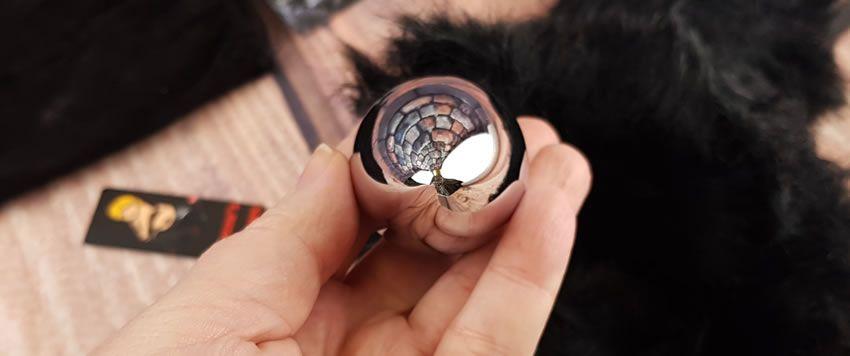 The butt plug isn't too wide and it is very smooth to aid insertion
Performance
Both sub'r' and I found this extremely easy to insert and we both love the sensation that you get when it 'pops' inside after you get past the widest point. This is a sensation that we both love, it feels divine.
This is a butt plug and tail that really turns heads, sub'r' wore it while visiting a local swingers club - The Attic. She wore it under her PVC maids outfit with some kitty ears, and she really turned some heads that night.
One other thing that this plug is great for with it being metal is temperature play. You can explore this activity with two bowls of water, one hot and the other cold water. By allowing the plug to warm up or cool down, you can deliver some delightful sensation, and this type of play is always a lot of fun.

This is a butt plug that is easy to insert and wear for long periods
This butt plug weighs 92g which means you can definitely feel it when it is inside you. When you move around you can feel the pressure of it wanting to come out but it can't, it stays put really well. The heavy nature of it feels really nice, and it is something that I find you can enjoy more with metal butt plugs over silicone ones.
The Furry Fantasy Black Panther Tail Butt Plug from @sextoysuk is outstanding, it is comfortable to insert and wear and feels so luxurious.
Click to Tweet
Key Features
Key features:
Highly polished metal butt plug
Terdrop shaps makes it easy to insert while staying in place well
Thick and long faux fur tail
Storage bag included
Final Thoughts
I am more than happy to recommend this butt plug and tail to anyone who wants to try some kitty role play or just wants something a little different. It would also suit anyone who just likes the idea of a long soft tail dangling between their legs behind them while enjoying the feeling of being stretched open by a metal plug.
To sum up this product, I would have to say that it has been a "ROARING" success with both of us and we love it. I have donated it to sub'r' as she will definitely get more use out of it than me especially in the swingers club scene.
I was sent the Furry Fantasy Black Panther Tail Butt Plug by sextoys.co.uk and I would like to thank them for giving me the opportunity to review it for them.
Joanne's rating
Where Can I Get One From?
You can grab one of these fun and useful butt plugs from sextoys.co.uk for just £34.95, it will have you purring in no time at all.
Check them out and don't forget to tell them that Joanne says "Hi".
Disclaimer - I was sent the Furry Fantasy Black Panther Tail Butt Plug to review free of charge and this has in no way affected the outcome of this review. This post contains affiliate links and if you purchase something when you follow one of these links I may receive a small commission at no cost to you. For more information check out my disclosure page.