The Fun Factory Stronic G as its name suggests is a rechargeable G-spot vibrator with a difference, and I was pleasantly surprised at how quickly it arrived from Crimson Princess.
Everything that has come to me from them has been well packaged and delivered very discreetly so if you live in shared accommodation, then you can rest assured the box will have no indications as to what lies within.
I like the Fun Factory packaging, it is stunning in its simplicity. They use recycled cardboard for all of their packaging which is to be commended. The box, however, lacks any in-depth product information which is only a problem if you are shopping for one in a brick and mortar store.

I like the packaging of Fun Factory products but the boxes don't carry much product information
This isn't a cheap sex toy, and its price tag did make my eyebrows rise. I was therefore surprised that is doesn't come with a storage bag. You, therefore, need to find somewhere to store it or use the box as I am doing. This means you can't store it discreetly which may be an issue for some. Fun Factory has chosen to sell storage bags separately which is a shame.
The second gripe that I have is with the instructions which are printed in such a small font they are pretty hard to read. Surely it is possible to print things out a little larger, especially on a sex toy that costs as much as this one does.
Those two gripes aside this is really a very nice sex toy. It is available in three colours, pink, grape and this one cool blue.
Design
This is an ABS and silicone sex toy, and those are two great materials as both are non-porous, hypo-allergenic and both latex and phthalate free. The blend of silicone used is soft and a little draggy, but it is also a dust and lint magnet which is probably why not having a storage bag bugs me so much. You will probably need to rinse it before use each time.

You get the Stronic G, a charging cable, instructions, a brochure, a warning label and travel lock instructions
As it is completely waterproof cleaning is very easy, just wash in warm soapy water before using a sex toy cleaner and then giving it a final rinse. Ensure that it is thoroughly dry before storing it away in its box again ready for your next orgasmic trip.
It comes with a magnetic charging cable that is generous in its proportions. The magnets snap the plug to the Stronic G but they are not very strong so they can detach if the vibe rolls or moves so I need to keep checking it regularly.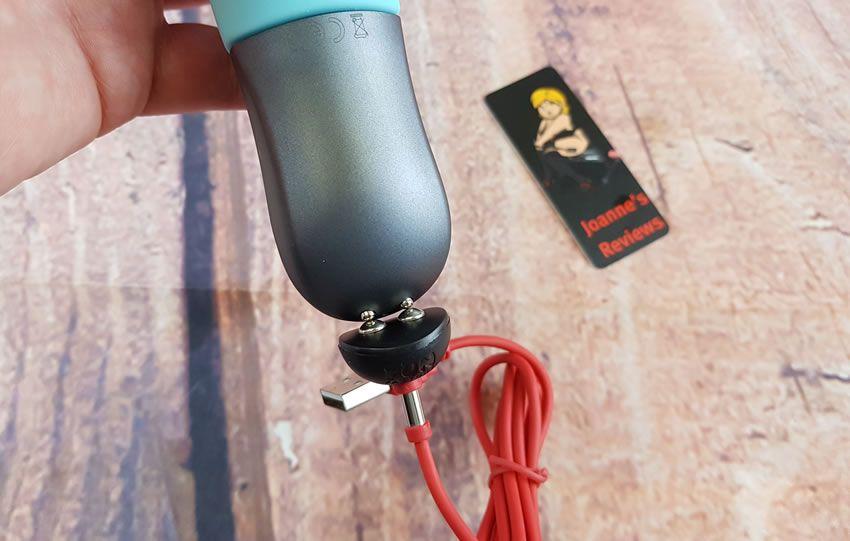 I love magnetic charging cables but this one needs careful placement as the magnets aren't very strong
The initial charge took eight hours which is incredibly long. However, that will give you 45 minutes of play time on its highest setting and up to 16 hours of use on its lowest setting which is pretty amazing. If you don't use it for a month, it will completely discharge though and need a full eight-hour charge again.
It features a travel lock feature which is excellent if like me you always worry about sex toys coming to life at the least opportune moment, especially if travelling through places like airport security. It is easy to use and a great feature.
The controls are well placed and easy to use, they light up in use which is excellent for anyone with sight problems.
The Stronic G features seven speeds and three patterns.
The tip of the toy has been designed to be firmer than the shaft, and it has a lovely shape designed to give you lots of directed g-spot pleasure when in use. I found it very easy to insert, and the sensations that it delivers are unlike anything I have ever experienced before.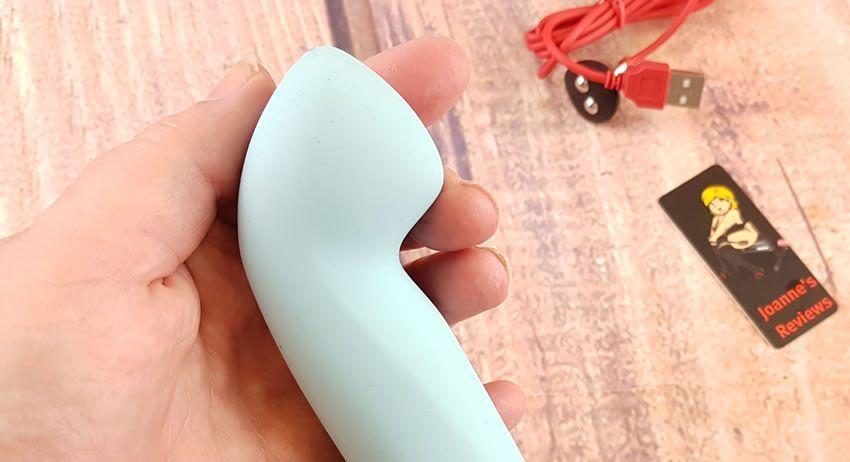 The head of the Stronic G is designed for maximum g-spot stimulation and it does this very well indeed
The Stronic G carries lots of safety warnings about not using it if you have a pacemaker. Due to the strong magnetic fields it uses, you shouldn't use it near a pacemaker wearer and definitely not if you use one.
Use a good quality water-based lube with the Stronic G, and you will really increase your pleasure. I keep referring to this sex toy as a vibrator when it isn't really. It is a pulsator, and that is basically a little handheld fucking machine. Lube is a must, and it really enhances the pleasure that the Stronic G can deliver. I recommend Sliquid H2O and Secret Play Natural Lube.
The handle is easy to hold but it can get a little slippery with lubed up fingers, I would have prefered a handle with more texture which would make it easier to hold with wet fingers.
One surprising thing about the Stronic G is its weight, it is moderately heavy, and when it is operating it can get tiring to hold so anyone with hand arthritis or problems with grip may have to use it hands-free. It is just as effective hands-free, by the way, insert it, switch it on and either close your legs or use a pillow to keep it in place.

The design of the Stronic G makes it easy to hold but it can get slippery
I am tempted to say that as it is so expensive, you could get a fucking machine for a little bit more, but the Stronic G has a few features that make it better than a fucking machine in some ways. Let me tell you just how well it performs in use.
Performance
The Stronic G is a sex toy that is a lot of fun to insert, the silicone glides when some lube is used, and the design of the tip feels fantastic when you push it inside yourself, and it finds your G-spot.
Its shape makes it very easy to target that particular area and the head is firm enough to provide great stimulation without being too firm and causing discomfort. It really is an excellent blend of silicone.
The first time I used it was in the bath as it is 100% waterproof. I had held it in my hand when switched on, mesmerised by the way it thrusts itself back and forth but I wasn't ready for just how good it feels inside me.
I gasped when I switched it on, and the first thing that crossed my mind was it was like being fucked by one of my fucking machines while being surrounded by warm water and that felt amazing.
The targeted attention to my G-spot had me gasping for breath and my toes curling as my first orgasm washed over me and I was delighted when I felt myself squirting. This was to be a common occurrence when enjoying the Stronic G.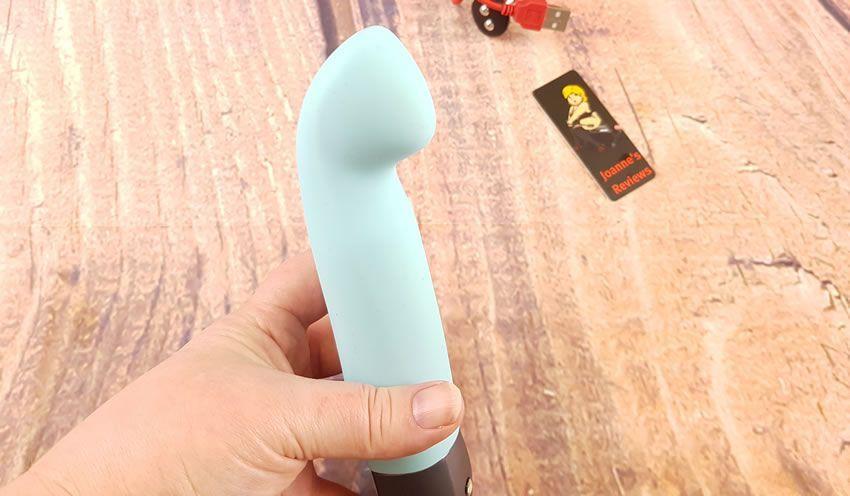 The Stronic G is a fantastic sex toy for g-spot stimulation
I was blown away, this is a different kind of vibrator, and I love it. It can deliver long slow fucking sessions or an incredibly powerful hammering that has me squirting as I orgasm very quickly.
It is incredibly versatile, it also feels incredible when used on my clitoris and it delivers deep vibrations as it glides over my clit and that feels incredible. However, it is definitely best used deep inside my vagina where its uncanny ability to seek out and pleasure my G-spot can be best appreciated.
I can't get enough of it, it's right up there with my fucking machines, but it has the benefit of having no real setting up required apart from a quick rinse under the tap.
If you enjoy deep rumbly vibrations and especially enjoy g-spot pleasure, then the Stronic G is right up your street. It delivers incredibly powerful sensations, and I love the fact that I can insert it and have it fucking me hands-free. This leaves me free to play with my nipples and clitoris. Yes, it has a few niggles, and it is costly, but it is fantastic.
It is also relatively quiet and so would be useful for anyone in a shared household or living with parents.
I am in awe as to how the Stronic G has the ability to give me so many squirting orgasms. Usually, it's sex toys like my Motorbunny that delivers that level of excitement and performance, but this handheld delight really hits the spot for me.

The Stronic G is not suitable for anyone with a pacemaker fitted
I have also used it with my partner, and it felt incredible having him use it on me, being penetrated by both his cock and the Stronic G took things to a whole new level of kinky pleasure. This is also a fantastic couples sex toy too. Fun Factory hasn't disappointed me with the Stronic G, it is a sex toy that will be making its way into my bedside drawer and that is a genuine compliment.
The @FunFactory_intl Stronic G is an amazing sex toy that blew Joanne away. Grab one from @crlmsonprincess and give your g-spot a real treat
Click to Tweet
Key Features
Key features:
Unique pulsation feature generates sensations similar to thrusting
Body safe materials, silicone and ABS
Seven speeds and three patterns
Magnetic USB charging cable included
Contoured for g-spot stimulation
Easy to use controls light up in use
Final Thoughts
I absolutely adore the Stronic G from Fun Factory. Yes, I believe it could have a better handle and instructions, but I cannot fault its performance in any way.
This is a sex toy designed with g-spot pleasure in mind, and it delivers on that concept by the bucket full. I have never had so many squirting orgasms as I have done while using the Stronic G and can honestly say it's a new favourite of mine now.
The way that it actually thrusts back and forth feels incredible, and it has me eyeing up the rest of the Stronic range now with envious eyes.
If you are looking for a luxury vibrator that is unlike anything you have tried before then I am delighted to give the Stronic G and very strong recommendation.
I was sent this Fun Factory Stronic G by Crimson Princess and I would like to thank them for giving me the opportunity to review it for them.
Joanne's rating
Where Can I Get One From?
Grab one of these incredible pulsating vibrators from Crimson Princess for £149.99. It is a lot of money but this is one hell of a capable sex toy that has given me some incredible orgasms. It has to be experienced to be believed.
Check them out and don't forget to check out the rest of the Fun Factory range. Let them know that Joanne says "Hi".
Disclosure
This review does not contain affiliate links, for more information about affiliate links check out my disclosure page.