Delivery and packaging
I did not have to wait long before my Stronic Drei was delivered to my doorstep. To be very honest, these last two weeks have been a blur with one amazing orgasm after another. If you are a squirter like myself, then you may find yourself putting your bedding in the wash a lot as the stronic drei is one incredible ride, oh yesssss.
Like everything from Uberkinky, the Stronic Drei came to me well packed and delivered in very discreet packaging with no indications of what is inside. So if you live in shared housing, then you can have peace of mind knowing that no-one will know what's inside the box.
The one thing I don't like about fun factory's product packaging is that it lacks any in-depth product information, so if you are like myself and you like to buy your sex toys instore, then you may struggle to know if the Stronic Drei is the sex toy for you or not.


The product packaging looks good but it lacks in depth product information
Inside the packaging, you get the Stronic Drei; you also get a USB charging cable, a user manual telling you how to get the most out of your toy so you can just get on with playing with it.
You also get a safety manual telling you how to play safely with your toy. It also provides very relevant health and safety information warning people with pacemakers that the Stronic Drei is unsafe for them to use. This is because the toy users powerful magnets which may adversley affect a pacemaker.
I found the user manual a little hard to read as the text is tiny and is white on a red background. As I suffer from eyesight problems, it was almost impossible for me to read it myself. So I had to get my partner to read it for me, which I found quite embarrassing.


The Fun Factory Stronic Drei packaging is very good and once you open the box your eyes have a feast
I also love this "Blackberry" colour on the Strinoc Drei, I believe it used to be available in three colours but now it seems that this and black are the only colour options, I like it though.
As the Stronic Drei is not a cheap sex toy, (far from it), I was surprised to find that the Stronic Drei does not come with a toy bag.
Fun Factory is selling them separately, so I had to find another way of keeping my toy clean and safe from other people eyes other than keeping it in the box. But putting that aside the Stronic Drei is a fantastic toy, I hope you enjoy the rest of my review.
Materials and Design
The Stronic Drei is made out of 100% pure silicone and also ABS, these are both non-porous, hypoallergenic and also latex and phthalate-free at the same time. I also love that the blend of silicone, is very soft on my skin and vulva, which always helps me get in the mood for some fun. I also love that the silicone is a little draggy at the same time, which is how I love my silicone.
But, the only thing I don't like about silicone is that it's a dust and lint magnet. This is why not having a toy bag to put my Stronic Drei in is such a problem. I will have to rinse it every time before using it.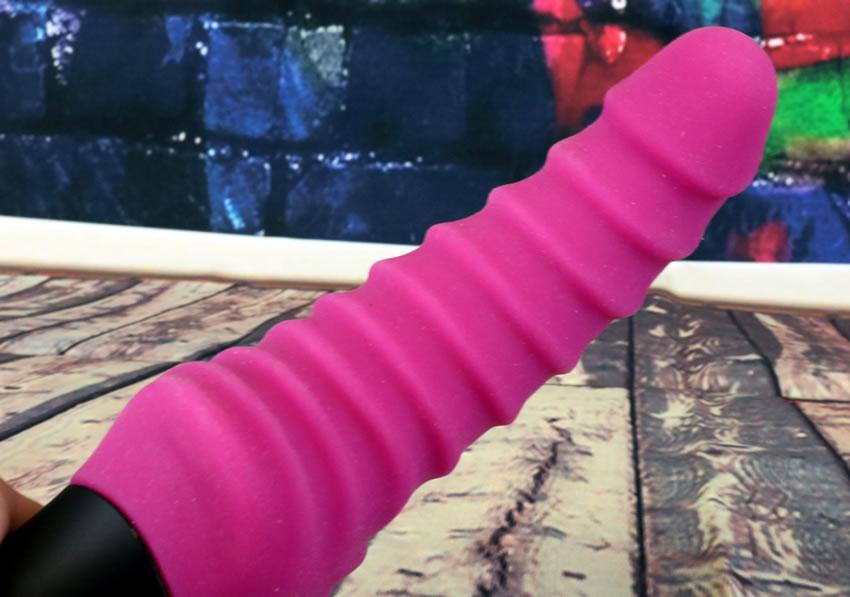 The Fun Factory Stronic Drei is a bit of a dust and lint magnet due to its silicone blend
As the Stronic Drei is 100% waterproof, I thought I would test that out and have some fun soapy play. Let's just say after several orgasms which got more and more intense and some more for luck lol, I was one very happy submissive. I would very highly recommend that you take your Stronic Drei with you next time you pop in the bath/ shower and let's just say bring on the orgasms' oh yesssss.
And as the Stronic Drei is waterproof, it makes keeping your toy clean a lot easier. As always I recommend using hot soapy water or an antibacterial sex toy cleaner, or even antibacterial wipes as they will do the same thing.
The first charge took 14 hours as per the instructions, and when all you want to do is get on and play, 14 hours can feel like 80. But trust me, it will be more than worth the wait. A full charge will give you 45 minutes of playtime on the highest settings. Still, it will provide you with 1-4 hours of playtime on the lowest of settings which is fantastic but if you don't use your Stronic Drei within a month, then it will need its 8-hour charge all over again.


The magnetic USB charging cable is easy to fit and use
I love how easy the Stronic Drei is to use. The controls are very well placed, and they are straightforward to find even when you are in the middle of playing. I also love that the controls light up, which is excellent for anyone who like myself suffers from eyesight problems.
The Stronic Drei also has a travel lock which is a fantastic feature if like me you worry about your toys coming to life at the airport and giving everyone a laugh.
The Stronic Drei has six settings and four different patterns which means there is something for everyone to enjoy.
The Stronic Drei comes with lots of safety warnings about not using it if you have a pacemaker. The Stronic Drei uses powerful magnets which can interfere with your pacemaker. So if you have a pacemaker, please don't attempt to use the Stronic Drei.

The Stronic Drei comes wityh an unmissable warning label about its magnetic action
Like always, make sure that you use a very high-quality water-based lube such as Sliquid H20 and also Secret Play Natural as lube makes playing with your Stronic Drei a lot easier and also a lot safer which means lots more fun.
But the one thing I did find when using lube is that it made the handle very slippery and hard to keep hold of, so please keep this in mind and keep a towel handy.
One thing I found with the Stronic Drei is that it's very heavy, which can make it hard to hold for long periods. So if you have problems holding heavy things for long periods, the Stronic Drei may not be the toy for you.
I like to call my Stronic Drei my "little fucking machine", but in some ways, it's a lot better than a fucking machine.
Performance
I like that the Stronic Drei is so easy to use, the silicone glides into your vagina with help from a little lube. When you push the Stronic Drei inside, it rubs your g-spot which feels amazing I must say due to the fantastic textures on it.
I love that the head targets the right area straight away, so there is no messing about that you get with other toys. It's firm but not uncomfortable so clamping down on it feels very good.


The textures on the Stronic Drei are sublime, feeling incredible as it thrust away inside you
I was amazed when I switched it on; I thought it's like one of my fucking machines, and it's amazing. When using it, I did not want it to end. It thrusts and pulses back and forth.
When you first switch it on, I would always recommend setting it to the lower settings and working your way up. Don't start with it going full speed, gradually work your way up over time.
I loved all the extra attention my g-spot was getting from the Stronic Drei; this alone made me reach orgasm within 20 minutes with only g-spot stimming. That is unusual for me to reach climax so quickly with just g-spot fun.
I love the rumbly vibes on both my g-spot as well as my clit, the vibes start off as little rumbly vibes on lower settings, then finish off as very deep to the core rumbly vibes which leave you wanting more and more every time you use the Stronic Drei. This means It gives me orgasm after orgasm. If you are a squirter like I am, then you may wish to put a towel under your self, or you may be washing the bedding more than once oh yesssss.
The Stronic Drei is very quiet, which means you can get on with playing and not having to worry about other people hearing you. The noises coming out of me on the other hand, were a different story.

The textures on the underside of the Stronic Drei are also lots of fun
I am amazed that my Stronic Drei gives me lots of squirting orgasms. This is what I usually get from my Motorbunny or my Sybian, so I was more then happy that my Stronic Drei gives me just as much fun if not more, bring on the orgasms.
I also love it when my partner uses the Stronic Drei on me. I love having both the Stronic Drei and his cock giving me lots of penetration. This brings kink to a whole new level; the Stronic Drei is an amazing couples toy. It will be making its way to my bedside table with my other favourite toys.
The Stronic Drei feels fantastic on my clit the very deep ridges just glide over my clit and feels amazing. But the Stronic Drei is at it's very best when it's deep inside my vagina, rubbing my G-spot over and over again as it pulses back and forth.
Trust me after one use the Stronic Drei, it will be your new best friend, and you won't want any other toy.
I also found the Stronic on the filling side, which I love. I love toys that fill my vagina, this turns me on big time, so I would very highly recommend the Stronic Dreri for people who like their toys on the big side. Or for anyone wanting to try big toys for the first time.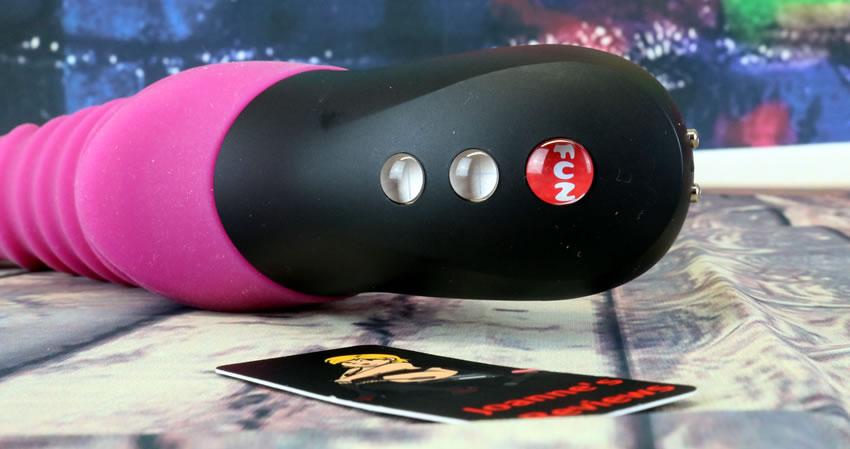 The controls of the Stronic Drei are so easy to use
The Stronic Drei from @funfactory_intl and available from @uberkinky is one hell of a ride, the pulsations are simply divine.
Click to Tweet
Key Features
Key features:
Unique pulsation feature generates sensations similar to thrusting
Body-safe materials silicone and ABS
Six speeds and four patterns
USB charging cable included
Easy to use controls light up when in use
Travel lock
Whisper quiet
Silky smooth surface
Easy to clean and keep clean (a bag would have been nice though)
I would recommend it to:
Anyone who likes G spot stimulation
Anyone who likes very quiet toys
Anyone who likes easy to use toys
Anyone who likes their toys on the big side
Anyone who likes their toys silky smooth
I wouldn't recommend it to:
Anyone who does not like G –spot stimulation
Anyone who does not like toys that will pulse
Anyone who does not like to take big toys vaginally
Final Thoughts
I was blown away by the Stronic Drei from Fun Factory. I love both its design and performance. The Stronic Drei will be getting my very first ten out of ten on everything from design to price, and that is before I start to get chatting about the amazing orgasms.
The Stronic Drei is made with g-spot pleasure in mind, and just like its brother the Stronic G. Trust me it delivers that by the bucket full. I have never had so many squirting orgasms other than on a Motorbummy, Sybian or a Tremor. I can honestly say that the Stronic Drei is a new favourite toy of mine now.
I love the way that the Strionic Drei thrusts back and forth which feels fantastic on my g-spot I also love how full the Stronic Drei makes me feel, which is just another amazing thing the Stronic Drei does for me. I am now eyeing up the rest of the Stronic range.
If you are looking for a fantastic luxury vibrator unlike anything you have ever tried before then, I would very highly recommend the Stronic Drei. Give it a go if you dare (and have some spare bedsheets available).
Joanne's rating
Where Can I Get One From?
Grab one of these amazing pulsating vibrators from Uberkinky for just £144.99.
Check them out and don't forget to tell them that Joanne says "Hi".
---
If you enjoyed reading this review then check out my other reviews of Uberkinky products:
Website links:
---
Disclosure
Disclaimer - I was sent the Fun Factory Stronic Drei to review free of charge and this has in no way affected the outcome of this review. This post contains affiliate links and if you purchase something when you follow one of these links I may receive a small commission at no cost to you. For more information check out my disclosure page.