Fun Factory Sex Toys have a no nonsense approach to product packaging and I find that a breath of fresh air, the box that this sextoy arrives in looks very nice indeed and upon opening it you are greeted with a small product catalogue showing the rest of their range. I have been lucky enough to have been able to review the Big Boss G5 Vibrator in the past and I really enjoyed its performance and of course that it is made out of body safe materials as is the Share XL Double Dildo.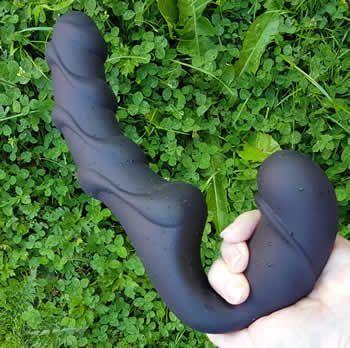 This lovely looking sextoy is made out of 100% platinum cure silicone which makes it body safe, hypoallergenic, phthalate free and latex free as well. All of these are a bonus as I strongly believe that all sextoys should be made out of body safe materials but sadly most are not. The silicone used is not what I would call a silky finish as it's quite draggy when drawn across your skin and it's a bit of a dust magnet, I would have liked to have seen a storage bag included in the box. I can attest to the fact that all of the Fun Factory range are made out of ethical materials which is a great excuse to get some into your own collection - you won't be disappointed.
The most striking feature of this toy is its size, it is a beast with the bulb that is inserted into your pussy being 4cm (1.75") in diameter and with an insertable length of 9cm (3.54"). This bulb features a very prominent ridge around it that feels very nice indeed when you insert it and when in place it's held their with your pelvic floor or kegel muscles allowing for hands free use. It has very little give and is quite solid which feels good in use and helps you to be able to hold it in place.
The business end of the dildo features much more texture that is quite pronounced and again this feels great. It has an insertable length of 15cm (5.9") and a diameter of 4.25cm (1.67"), this toy is designed to fill you and your partner up. Whilst it has a bit of flex, it's solid enough to make using it very easy and straightforward.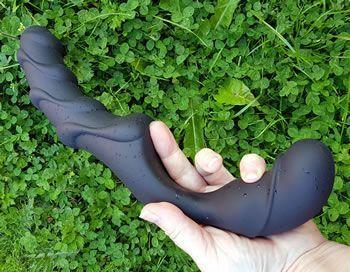 The joint between the vaginal bulb and the dildo is very flexible which causes it to hang down due to its own weight when fitted so you will need to feed the business end into your partner but once inserted you can just thrust away happily.
I recommend using some lube on both ends and as the toy is made out of silicone don't ever use a silicone based lube with it as it will start to dissolve its outer skin. Always use a good quality water based lubricant and I can recommend Sliquid Naturals H20.
Cleaning after use is very simple just use some warm soapy water to wash of any body fluids before using a sextoy cleaner to finish the job. It can be placed in a dishwasher on a sterilise setting or cleaned with a 10% bleach solution or by simply boiling.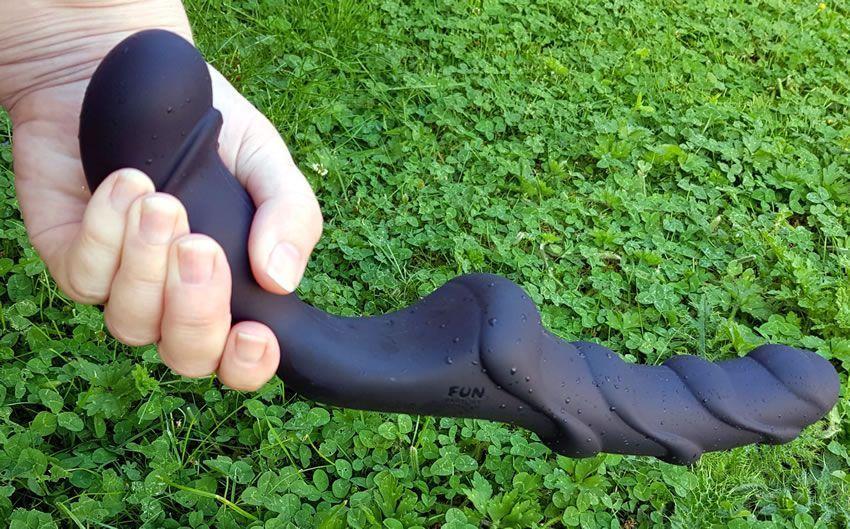 So how did it perform?
I have used it on several occasions now with my friend, both with me using it to fuck her and also on the receiving end and I am not sure which I prefer to be honest. I love the power and domination side of wearing it and using it but I also love the texture of it when it's used on me. I relish the thought of the pleasure it is delivering to my partner as she thrusts it into me with it banging against her clitoris with every stroke and that feels incredible.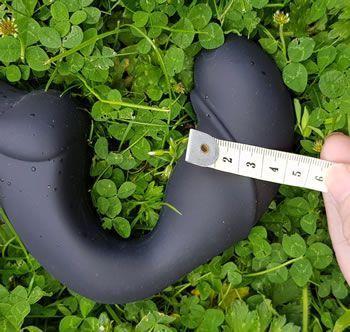 I have pretty strong pelvic floor muscles so I had no trouble holding it in place but my friend had to wear one of her strap ons over it to hold it in place as she isn't quite so 'Garth' lie in the lady muscle department.
Both of us had to guide it in when first presenting it as it has a tendency to droop due to its considerable weight and I was left wishing that the joint between the bulb and the dildo was just a little bit firmer. That said though, it didn't detract from the enormous amount of fun we had whilst using it.
The texture feels sublime in use and as I am a texture queen liking lots of texture to my toys I particularly like this one, make sure to use lots of lube though as the ridges are quite pronounced. I really enjoy the sensations that it also delivers when you are the one wearing it. Thrusting causes direct clitoral stimulation and it also caused a gentle rubbing against my G-spot which I really enjoyed and of course I had my hands free to hold my partners hips whilst I thrusted away like a she-devil.
Key Features
Key features:
100% body safe Silicone
Strapless design keeps your hands free to play
Pronounced texture
Recommendations
I would definitely recommend this sex toy to:
Anyone looking for a larger strapless strapon dildo.
Anyone with moderate to strong pelvic floor muscles.
I wouldn't recommend it to anyone who:
Final Thoughts
This one isn't for the feint hearted due to its size but if you love to feel full and relish the thought of using a strapless strapon then definitely give it some real thought. I like it and it is sure to get more use in the future and that speaks volumes. Lots of toys that I review go back in the box never to see the light of day again once the review is published but exceptional ones go into regular service and this one will get used again.
Joanne's rating
Where Can I Get One From?
I was sent the Fun Factory Share XL Double Dildo 5.9 Inches by Uberkinky and you can grab one for yourself for £81.99 and that is a great price for what is an stunning creation that will pleasure both parties using it. Their range of Dildos is also worth checking out as there is something there for most people.
Check them out and don't forget to tell them that Joanne says "Hi".
Disclosure
This review does not contains affiliate links, I was sent this product to review free of charge in exchange for an honest and unbiased review.