Packaging
I love the packaging that Fun Factory uses for all of their products. They are all bright and colourful, and the back carries lost of product information. I had been looking forward to getting my hands on this kit.
One thing I noticed about the packaging is that the pictures on it are to scale - well done Fun Factory, it might seem like a small point, but when shopping for something to push into your vagina then size does matter.

I love the packaging of the fun cups, it is bright and cheerful
I found the user manual challenging to read due to the small text, especially as it was in white. Anyone with eyesight problems or dyslexia may have to get someone to read it to them which isn't ideal. I had to download the manual online to be able to read comfortably.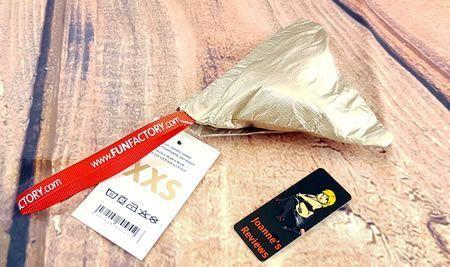 The manual covers the basics but doesn't do much educating, more infographics may improve this. It also comes with a fun and helpful guide.
You only get one bag even though you get two fun cups. Two cups in the bag is a bit of a squeeze.
The bag is a lovely design which is easy to open and keep open. It is a brilliant concept, and it is good to have somewhere to put a worn cup after you insert a new one.
It looks pretty discreet but it does rustle, and I found that I became very self-conscious in a restroom when using it.
Cleaning the bag is very easy, just throw it in the washing machine and then let it dry thoroughly before putting your fun cups away in it.

In the Explore Kit you get two different sized menstrual cups and one bag
Fun Cups
The Fun Cups are made out of boilable body safe silicone, which means that they are not porous, as well as being latex and phthalate free.
I love using menstrual cups as they are great to use as they don't dry you out like tampons can do. This makes them much more comfortable to wear.
One other thing that I like about menstrual cups is that they are much more sanitary than tampons. I would rather deal with a small cup of blood than have to pee on a tampon string and then have it inside my underwear during the day.
Tampons and pads sometimes make me sore or itchy, but I had none of those problems with the Fun Cup.
Another bonus is that you get up to 12 hours of protection, so I spent less time worrying about changing pads or tampons. Of course, on heavier days I did change them more often.
I had to giggle when taking them out of the box the first time though as they do look like little Smurf hats.

You have to admit, they do look a bit like Smurf hats
I find the design of the fun cup hard to grip with my fingertip and thumb to remove it as it is quite short.
The tip of the cup is wet when you remove it, and there isn't much to grip onto which added to the problem of retrieval for me.
After inserting one, I often found it hard at first to get a good seal around the cup which caused some leakage. But with repeated use, I did manage to get them to seal correctly so stick with it if you have problems initially. If found that it took two cycles for me to get to know them well enough to be able to use them easily so it's something you may have to work at but stick with it as it is worth it in the end.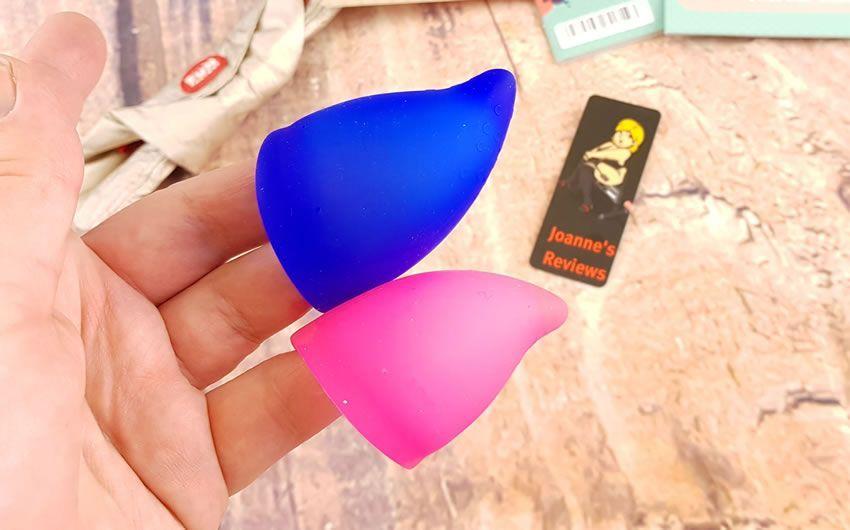 You get two different sized cups in this kit and the tips are tricky to grip
When learning to use them effectively, I suggest using pads as well just in case of any leakage, this way you can learn to use them without risking any embarrassment.
Insertion is easy but getting it to flick open, and a seal is sometimes a bit of a problem. Because of this, I don't recommend these cups to first time users as it could put them off using menstrual cups.
I love the fact that they come in two sizes and there are three pack options. You can get two of each size or go for the Fun Cup Explore Kit which has one of each size, and this is great for working out which suits your body shape best.
I use a little water-based lube to help with insertion, and this makes it a very straightforward process.
Size A
The size A is the smaller of the two cups and only holds 20ml of fluid. I found that it was useful for the last two days of my periods when the flow slows down as I have pretty heavy periods.
To me the size A fun cup felt a little firmer than the size B. I also found this one the easiest to insert and to get to flick open inside me as it is firmer than the size B and so it is springier.

The size A cup is smaller and firmer than the size B cup
I love the pink colour of this one as it fits in with my girly outlook on life.
I would recommend the Size A for first timers as it is much easier to use and easier to get in place correctly.
I would also recommend it for women who have lighter periods with less flow.
Size B
I love the size B as it holds up to 30ml of fluids.
This one is much more difficult to get to open up correctly when inserted and the first time I used it I spent fifteen minutes trying to get it in place. Now though it is much easier, the Size A is much easier to use though.
I have heavier periods, and I found myself needing to empty this cup about every two hours on heavy days.
I had this cup leak a couple of times which was quite awkward, and so initially I ended up wearing a pad with it just to make sure it didn't happen again which defeats the object of wearing a cup.

The size B cup is larger but a little softer than the other one
Again the tip was difficult to grip to remove and on a couple of occasions I had to slide a finger up over the edge to grasp it and remove it, and that was very uncomfortable, to say the least.
For me, the Size B is the better option though due to my flow, and I wish it were a bit more rigid like the Size A to make fitting easier and the tip a bit longer.
I also wish that a 40ml version was available for women like myself who sometimes have very heavy periods.
General Points
It may sound like I am a bit down on menstrual cups, but in fact, I love using them and have been using cups for about ten years now.
One thing I love about them is you are free to do anything while wearing them without bulky pads inside your underwear. You can go swimming, ride a bike or do anything that you can do when not on your period. I love their versatility and the fact that they are good for both the environment and your pocket too.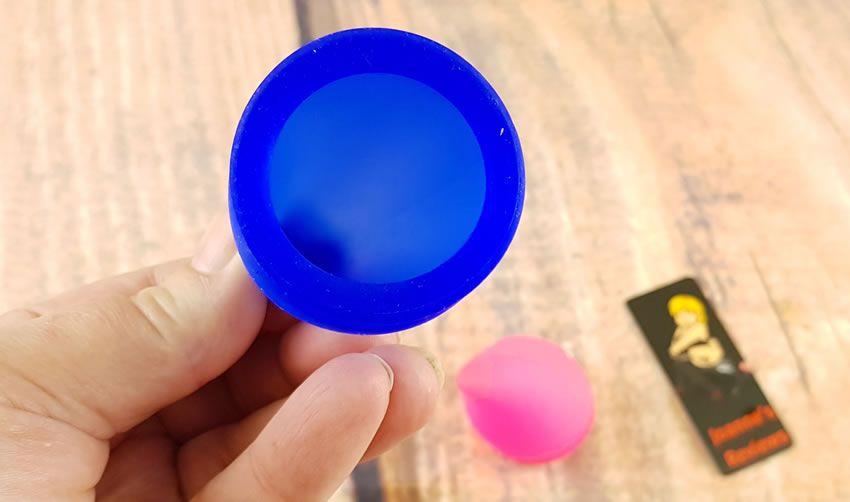 The openings are contoured for comfortable wear
One of the most significant advantages of menstrual cups over tampons is that you cannot get TSS (Toxic Shock Syndrome) which is a potentially fatal condition from them, unlike tampons.
The cups are made of medical grade silicone and are entirely hypo-allergenic and body safe.
They are incredibly easy to clean, when out and about just rinse your used one out and wipe with a baby wipe before re-inserting. Between periods you can boil them or sterilise them in Milton Fluid.
As a menstrual cup doesn't dry you out you can have sex comfortably during your period, just remove the cup and enjoy yourself without any dryness. They are also foreplay friendly, and your partner won't even know you have it fitted unless they slide and finger inside you.
You also lower your chance of infections down there when using menstrual cups over other forms of protection. As tampons can leave micro-tears in the walls of your vagina due to drying you out, you also reduce the risk of bad infections when using cups.
Wearing a fun cup doesn't stop you enjoy your sexual activities. I love oral, toy play, strap on fun, shallow fingering and penetration while wearing mine.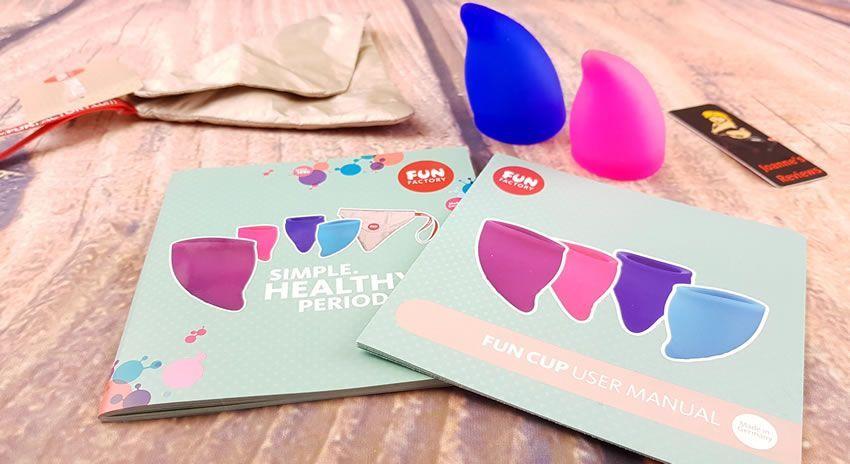 The literature that comes with the fun cups is humorous and fun to read
I love how much money they have saved me over the years, for the £30 cost for a set of menstrual cups which can last you up to 10 years imagine how much money you can save on sanitary products over that time.
They also mean less landfill waste so by wearing one you are caring for the environment too. They are suitable for anyone without an intact hymen who menstruates no matter what age they are.
One statistic I read recently stated that women using tampons generate between 250-300lbs of solid waste over their lifetime which is shocking for the environment.
When I wear my fun cups, I know that they are made in Germany where the most stringent quality control checks are carried out, and these are quality products as is everything I have used from Fun Factory.
For folding the fun cup before insertion, the instructions do show some good images of the two folds. I prefer to use the C-Fold method, but the Punch-Fold method does work equally as well.

The two ways of folding the fun cups for insertion are clearly described in the manual
If it is your first time using a menstrual cup, I recommend trying it on a day when your menstrual flow is lighter, and you have time to relax and get the insertion right.
I find sitting on the loo or edge of the bath a good position for insertion, but standing with one foot on the loo or bath also works very well.
Due to the shape of the cup you need to orientate it so that it is the right way round, as if you get it wrong, it doesn't sit right and can become uncomfortable. This gets easier with practice though.
I did have problems with mine leaking which could be due to a large menstrual flow, but that didn't give me confidence that it would be ok to wear it all night. This meant that I was emptying it in the middle of the night quite often, something I don't have to do with my other cups. Anyone who has lighter flows probably won't have this problem though.
When out and about when using menstrual cups I always have some baby wipes with me to clean myself up after changing cups. They are also useful for cleaning the cup when away from home. I also take a small bottle of water-based lube with me to aid insertion. Make sure that you don't use silicone based lubes as this may damage the surface of your cups.
Menstrual cups are perfect for people with sensitive vaginas as tampons can alter the pH levels inside you which could make you more prone to infections. Menstrual cups do not disturb this balance at all.

I found the C Fold better for making it pop open inside me once inserted
One thing to note when wearing a cup though is that it can get pushed partly out when squeezing on the loo. You can either take it out, clean it and re-insert it or just push it back into place.
I wouldn't recommend menstrual cups for anyone with an intact hymen or for anyone with a very tight vagina as fitting them could be awkward.
I would also recommend menstrual cups for anyone who has very crampy periods. Since I started using them, it has helped to calm my cramps considerably.
If you have a prolapsed uterus, then consult your doctor before using a menstrual cup to be on the safe side that they won't cause complications.
Your Fun Cup can last you for up to 10 years if you look after it and so there is a huge financial benefit to using them. This together with the freedom to do more and worry less about your periods makes their use a no brainer as far as I am concerned.
If I could change one thing about them, it would be to make the tip longer and more textured so that retrieval would be a more straightforward process.
Other than that, they are a nice product that takes a bit of getting used to, but with Fun Factory you know that you are getting a quality product.
The Fun Factory Fun Cups are brightly coloured menstrual cups that take some getting used to but work well once mastered.
Click to Tweet
Key Features
Key features:
Made from 100% body safe silicone
Two sizes of cups available, sold in three different packs, this one has both sizes
Can save you a lot of money
Healthier option than tampons as there is no risk of TSS
Once fitted you can go about your daily business unimpeded
Can be kept in for longer than tampons giving you more flexibility
Joanne's Final Thoughts
The Fun Factory Fun Cups were a mixed bag for sub'r', she found them fiddly to use at first but after two cycles she has now got the hang of them.
This is their biggest problem, you may need to experiment with them to get them to work flawlessly and this may put someone new to menstrual cups off.
I think that more texture and a slightly longer tip would be beneficial as would an extra larger size for people with heavier flows like sub'r'.
So a mixed review, a good product once to get to know and get used to using them and I think I may get myself a set to try them out as well to see if I find them any different to sub'r'.
I love the fact that you can get a kit with two sizes as I would have no idea which to get if there was just the option of packs of each size.
We were sent these Fun Cups by Fun factory and we would like to thank them for giving me the opportunity to review it for them.
Joanne's rating
Where Can I Get One From?
Grab one of these menstrual cups direct from the manufacturer or from your favourite sex toy shop. You can buy a set for €34.90 (£30.53) and that includes free shipping within Europe.
Check them out and don't forget to tell them that Joanne says "Hi".
Disclosure
This review does not contain affiliate links, for more information about affiliate links check out my disclosure page.