I do enjoy Fun Factory sex toys, their use of body-safe materials, as well as great performance, are both excellent reasons to choose adult products from their range. Made in Germany I have always found their products to be first class in every way.
The Buch Dich arrives in a signature Fun Factory box; their packaging looks both cute and artsy at the same time. I love their colour choices, and it leaves you gagging to open the box to see what is inside.

I like the packaging design for Fun Factory sex toys
The Buch Dich comes in two colour options, black and red; I opted for the red one is it looks so sensual.
It's made out of a very pleasing blend of 100% medical-grade silicone making it both latex and phthalate free. As it is silicone which is a non-porous material, it can be sterilised and so it can be used between partners.
Like most silicone sex toys this one is a bit of a lint and dust magnet, but that isn't a problem as a quick rinse before playing sorts that out.
This blend of silicone is nice and draggy which helps it deliver some very pleasant blows. The paddle section is reinforced to give it some rigidity as it is thin and without this reinforcement, it would be floppy.
It's the firm plastimorph core reinforcement that gives this paddle its excellent performance.
The paddles two faces each have a different texture, one side is smooth, and the other is rough, and you can tell the difference between the two when being paddled by it.

This is a seriously fun looking paddle and it also has the performance to match
This dual-texture makes it feel like two different paddles, and that is great. I love having the rough surface dragged over my skin, especially over an area that has just received a strong paddling.
After a good paddling, your skin becomes red and very sensitive, in this state, you can enjoy some excellent texture play, and the rough side feels amazing.
The large surface area of the paddle allows the impact energy to be dispersed over a wide area meaning that quite hard strokes feel very enjoyable.
The Buch Dich measures in at 12.4"/31.4cm long, the dildo handle measures in at 1.7"/4.3cm in diameter and it weighs 390g.Stunt cock commented that my bum cheeks look like a bowl of jelly being driven over a speed bump when the paddle strikes home. The heavy paddle surface feels delicious when it hits home.
You can deliver slow and also swift strokes with this paddle; it is also easy to be very gentle with it. Giving teasing strokes designed to excite and make you wanting more.
Harder strokes come with a fantastic "whack" sound that resonates both physically and audibly. This noise perfectly matches the stinging sensation of accurate and reliable impact play.
The textured handle is formed in the shape of another fantastic Fun Factory sex toy, the bestselling Stronic Drei. This is a very textures g-spot dildo, and it is also a brilliant handle.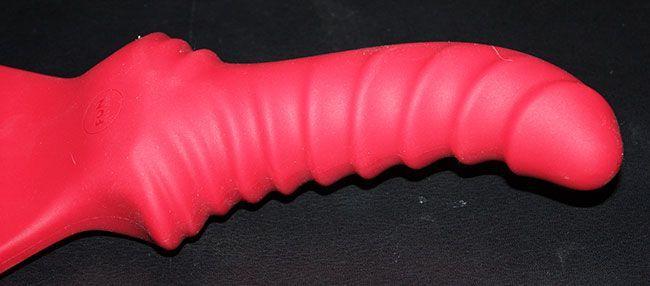 The handle has lots of texture and a fantastic g-spot tip
This handle makes it comfortable and easy to swing this paddle, but it is when it is used for its obviously designed purpose that it actually comes into its own.
This is also a fantastic dildo with loads of texture; the deep ridges provide lots of fantastic sensations when thrusting with it. The upturned tip also gives lots of intense g-spot stimulation and thrusting with it feel incredible although it is not easy to hold and use in this manner. That said though it is still a lot of fun.
You'll probably need to use a bit of lube if inserting the dildo end due to all of that delicious texture. Use a good quality water-based or hybrid lube. I can highly recommend Sliquid H2O and Secret Play Natural if you want to use a silicone lube then check out a small amount on the dildo first to make sure there are no problems.
Stunt cock made me insert it fully and the wiggle my bottom, this cracked him up, and through tears of laughter, he commented that I do a fantastic beaver impression with it inside me.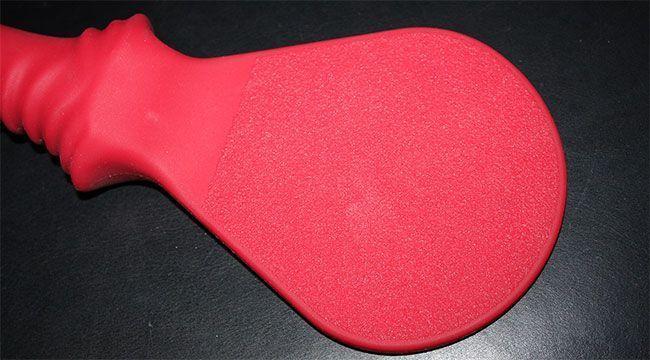 The large paddle face feels amazing against your skin
Cleaning is very simple, just wash with warm soapy water before giving it a quick clean with some anti-bacterial sex toy cleaner. You can even boil this toy or use a 10% bleach solution to sterilise it. It is also dishwasher safe but remember to remove it after cleaning before anyone goes to load the dishwasher or you may have some explaining to do.
Stunt cock has used the Buch Dich on both me and his regular submissive - sub 'r'. Both of us really enjoy the range of sensations that can be delivered using this impact play toy. It's easy to deliver slow thuddy impacts or lots of light, fast ones as well, transferring between these styles of play.
What you end up with is a very versatile impact play instrument that has no adverse qualities. I have several leather paddles, and I love these, but this will be my preference from here on. It's so versatile and practical, and I love the deep thuddy impacts that it can deliver coupled with the loud whacking sounds.

The handle is modelled on the amazing Fun Factory Stronic Drei
Stunt cock commented about how comfortable the dildo is as a handle, he has enjoyed using the Buch Dich on me several times snow but has used it for longer and delivered much harder strokes to sub 'r' as harder impact play is one of the things that really gets her off. Here are his comments:
"I like the Buch Dich, it is a fantastic impact implement and holding the dildo shaped handle is quite comfortable. Definitely more comfortable than being on the receiving end of the wide silicone paddle. Jo loved the sensations, and sub 'r' really loves it too. I can swing it much harder on her behind than any of my leather paddles, and she enjoys the sensations that ripple through her when it strikes home. The Buch Dich is a great impact play toy and one that will be getting regular use in the future."

Stunt Cock
Looking for a kinky impact play implement? Check out the Buch Dich silicone dildo paddle available from @uberkinky. Click to Tweet

The Buch Dich can provide a wide variety of sensations and is ideal for impact play
Key Features
Key features:
Firm but flexible core gives great control
Non-porous and easy to clean
Designed and handcrafted in Germany by Fun factory
100% medical-grade silicone
Easy to clean
Final Thoughts
Check out the Buch Dich if you are looking for a very practical impact play toy that comes with a twist. The dildo handle is a great feature, and it means that any submissive can be put in his or her place using either end of the toy.
Silicone sex toys are the best toys in my books; you can quickly clean and sterilise this item due to its non-porous surface so it would also make a great addition to any dungeon or play space.
Check out Uberkinky for other body-safe sex toys, and you will soon appreciate the vast variety of toys available on their site.
Joanne's rating
Where Can I Get One From?
Grab one of these amazing silicone paddles from Uberkinky for £71.99, this is a fantastic impact play instrument and one that I have absolutely no problem with giving a very strong recommendation.
Check them out and don't forget to tell them that Joanne says "Hi".
Disclosure
This review does not contain affiliate links, for more information about affiliate links check out my disclosure page.