My disabilities - way to take a darker turn in this article
Lots of people don't realise that I am disabled (although I prefer the term differently-abled). I have had both knees replaced, and that procedure didn't go to plan, leaving me with problems I will have to face for the rest of my life.
I also suffer from fibromyalgia, which means that I want to curl up in a ball and die some days. So I live for the good days, and my sex life has adjusted to my conditions.
I love penetrative sex, but I find it incredibly painful to have someone between my legs giving me a good rodgering. I also can no longer enjoy doggy style fun (because of my knees). My incredibly understanding partner Stunt Cock suggested that we try a fucking machine to satisfy my "horn".
Rise of the machines
So I decided that I would try one and see if it could satisfy my need for penetrative pleasure.
OMG, it blew me away, and I relished the feeling of being pounded relentlessly by a robo-cock.
It meant I could once again enjoy the delicious feeling of my pussy being penetrated and fucked hard.
That very first session with a fucking machine was the seminal reason for my blog, hence its name. I wanted to tell everyone about this fantastic way to get off, and I have never looked back.
I consider myself incredibly lucky to have been able to experience so many different types, and each has both positive and negative points to its design. One thing that all (bar one) achieve, though, is they provide a relentless fucking with whatever dildo you opt to enjoy.
Now fucking machines feel very different from being fucked by a real cock. Unless you have one of the expensive ones with built-in routines and the ability to vary the stroke depth as with the Shockspot, some people may find it a bit repetitive.
Most fucking machines allow you to adjust the stroke length but to do so, the machine must be not moving, and that can ruin the 'moment' if you know what I mean. Speed adjustments are easy, though, and it can be fun edging yourself for long periods by just slowing or stopping the machine until you are ready to enjoy a good hard orgasm.
I love a good Robo-knobing
For me, though, it was like even the cheaper machines were sent from heaven to spice up my sex life. With my conditions, they are perfect for just using to satisfy my lust for penetration, and with so many dildos available, I have never been bored of machine sex.
I also love vibrating sex machines like the Sybian, Cowgirl and Motorbunny, but I can't straddle them. I use them on my back with them resting against me. Unorthodox maybe, effective, most definitely yes!
For some people, fucking machines are a great way to add some kink into the bedroom. But for others, they can be a lifesaver and a way to rekindle your sex drive and enjoyment if you have a disability.
I also relish using my machines on others, and sub'r' does enjoy some mechanical kinkery at my hands. A fucking machine is a great way to pleasure others or to introduce an extra cock/dildo into a play session.
The truly relentless nature of fucking machines is also something I love. They never tire, never want a break, and keep on ploughing whatever hole is in front of them for as long as you need them to.
They are, therefore, perfect for forced orgasm play; just don't forget the lube (and lots of it).
Kinky scenes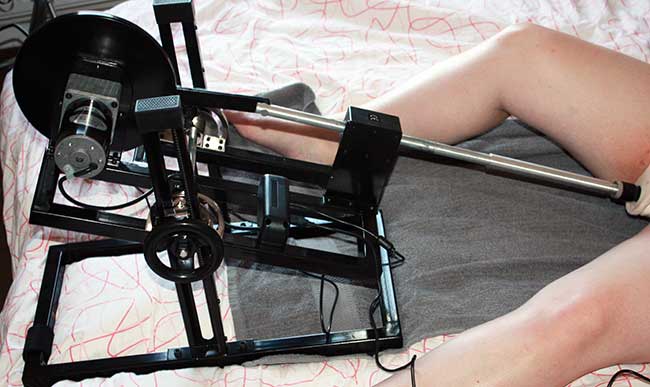 Thinking about it, though, fucking machines are not only perfect for solo fun; they can also be incorporated into so many fantasies to allow you to live out some of them.
Fancy trying double penetration or a spitroast? Well, with a fucking machine, you can experience just that.
Lots of the newer fucking machines also can be controlled remotely through an app. that can be a godsend for anyone in a long-distance relationship, allowing intimate play to continue even if your partner is not physically present.
If you are curious about sex machines and fucking machines, they can add a lot of variety and kink to your playtime. For some, it can even be a game-changer where penetrative sex is concerned.
I love my machines, and whether I am using them on myself or others, I will never tire of the sight of a dildo relentlessly sliding back and forth, delivering so much pleasure.
Fucking machines - bring it on!
Read My Reviews
If you want the low down on lots of different sex machines that I have reviewed including classics like the Sybian and Shockspot, check out my Sex Machine Reviews. I have got quite a collection now, and have really enjnoyed reviewing them over the years.
Ever thought about trying out a fucking Machine? Joanne loves them, and you'll be surprised at why she loves them so much. #KinkOfTheWeek
Click to Tweet