For anyone not sure, a spreader bar does exactly what its name suggests. You can use it to force and hold limbs in extended positions preventing a submissive from being able to close their legs for example. But, they are much more useful than that, and I will cover some of the myriads of uses later in this review.
This is yet another product from Meo.de that I am delighted with regarding quality, materials and above all functionality. They have never let me down, and I can highly recommend their wares to anyone.
So, why do I rate this spreader bar? Well firstly let me talk about its materials and how it is constructed. The Meo.de website has some good pictures of it in use, and I was expecting it to be quite substantial. I was extremely surprised when I opened its simple packaging (bubble wrap and a plastic bag) to find out just how light it is. It seems like a small point but if you are taking your BDSM equipment with you to a meet or dungeon session then having light equipment is a real bonus.
I was surprised by its appearance and lack of weight, it looks fantastic and is polished to a very high shine. At each end of the stainless steel bar there are holes drilled to take a very sturdy stainless steel ring and these attachment points are ideally positioned for some very kinky fun.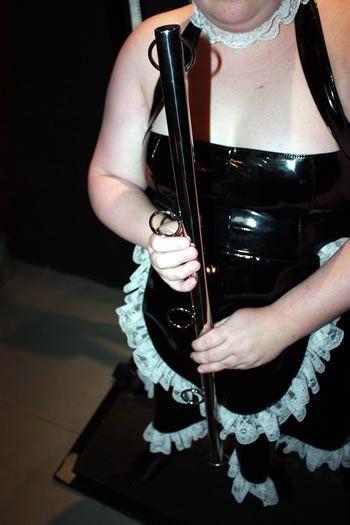 The metal rings on the ends are free to move and rotate, and they make an enjoyable chinking sound as you set it up which is deliciously exciting if you are a blindfolded submissive waiting to be restrained.
The spreader bar is 30"/75cm long and it is roughly 1"/2.5cm in diameter.
The lack of weight doesn't make this a weak spreader bar in anyway; it is firm and unyielding in use.
It also has three other stainless steel rings that are welded to the bar to act as additional attachment points, and these are very useful. One being welded to the center of the bar, and this is perfect for use either if you are suspending the bar over your submissive so that his or her arms are above their head or for applying tension to a set of ankle restraints. Two other rings are welded on either side of this center ring giving you five attachment points in total.
Having five attachment options means that you can get creative. I love using it to lock me into the doggy position with my ankles attached to the outside rings and my wrist cuffs attached to the left and right welded rings. This gives me a very head down and bottom up position which is very submissive and leads to some fantastic sex. It is also a lot of fun to be hog ties using it as it means you are restrained with your legs locked open.
I have also really enjoyed using it to hold my arms apart above my head for nipple play and flogging fun. So you can see it has lots of potential uses.
It's one of those BDSM pieces of apparatus that once you have one, you never know how you got on without it. Getting creative with it is a lot of fun, and I'm always coming up with new ways to incorporate it into a session.
So what is it like to use this spreader bar? Well, just the sight of it gets me excited, and I end up longing to be restrained with it. It just looks so inviting and awakens my submissive side.
The chrome finish on it looks incredible and is an excellent contrast to my black leather cuffs. In use, it's wide enough to put you in a position where you feel vulnerable and intimidated without it being cumbersome.
I use carabiner clips to attach the spreader bar to my restraints, and these aren't included so you will need a few, or some nice lengths of rope will also do the job nicely.

Spreader Bars are a great way to immobilise a submissive whilst giving you perfect access to them. Check out this one from @MEO_TEAM.
Click to Tweet
Key Features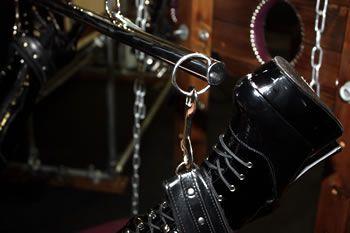 Key features:
Solid metal construction
Five restraining rings
Chrome like finish
Lightweight
Final Thoughts
Once again, I have been blown away by another product from the Meo.de range. I often have little gripes or criticisms with products that I like to vent as it makes companies aware of ways to improve their products, but with this one, I just have no bad points to convey whatsoever. It looks glamorous and is exceptional quality, but the best bit about it is that you will continue to find new ways of using it long after your first play session with it. There is no better way to immobilise a submissive and to put them exactly where you want them.
It is great to be able to review and experience what are without a doubt the best of BDSM products available. I was sent the Fuck & Play Spreader Bar by Wolf at Meo.de and I would like to thank him for giving me the opportunity to review it for them.
Joanne's rating
Where Can I Get One From?

Grab one of these Fuck & Play Spreader Bars from Meo.de in Germany for just 49,00 € (£43.45) as they are currently on sale saving you £17.73 on the purchase, they stock all manner of amazing BDSM products and there is something on their site for everyones kinky wishes. You should see their range of dildos as they are pretty special.
Check them out and don't forget to tell them that Joanne says "Hi".
---
---
Disclaimer - I was sent the Fuck & Play Spreader Bar to review free of charge and this has in no way affected the outcome of this review. This post contains affiliate links and if you purchase something when you follow one of these links I may receive a small commission at no cost to you. For more information check out my disclosure page.