Delivery
The Flex G-spot Vibrator arrived discreetly packaged as you would expect from a major internet retailer.
Privacy and customer discretion are paramount, and it is usually the number one concern people have when placing an order for an adult product over the internet. So, well done Ann Summers.
Packaging
The Flex G-spot Vibe arrives in a nicely designed retail box with a smaller than life picture of the vibrator on the front. I like the branding it is both clean and enticing.
The sides of the box and rear carry useful product information. It advises that you store the vibrator either in its box or in an Ann Summers toy storage bag because "plastic bags or other toys can damage the toy's surface".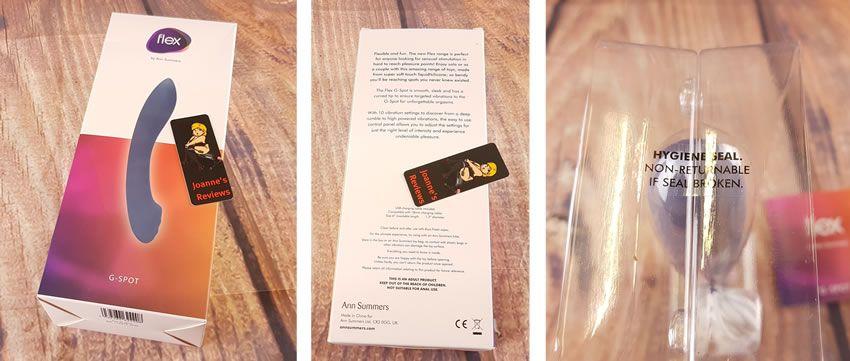 The packaging is basic but the box carries lits of useful information
Now that is a little weird as silicone doesn't react to plastics or other silicone toys. I can only imagine they are referring to cheap jelly dildo and vibes that leach phthalates.
The Flex G-spot vibe is held inside a plastic clamshell holder to keep it safe and secure. You also get a USB charging cable and a set of instructions included.
The instructions are simple and easy to follow but printed in a tiny font so if you have eyesight issues you may need to use a mobile phone to take a snapshot of them to enlarge the text to make it easier to read.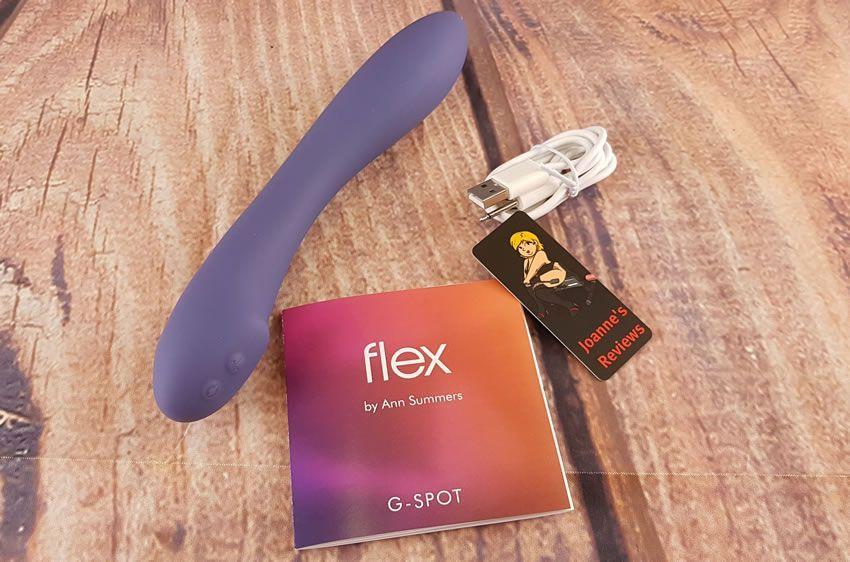 You get the Flex G-Spot Vibrator, a USB charging lead and of course a set of instructions
Charging
The Flex G-spot Vibrator contains a lithium-ion battery, and these are fantastic if looked after correctly. The first thing you need to do when your Flex G-spot arrives is to give it a full charge.
I know the temptation will be to switch it on and then get it on, but your toy and its longevity will thank you for a little bit of patience.
The charging cables pin style plug is inserted into the charging socket on the back of the Flex G-spot Vibe. You can find it by looking for the letters DC and CE. There is a dimple roughly halfway between the two, and that is where you insert the plug.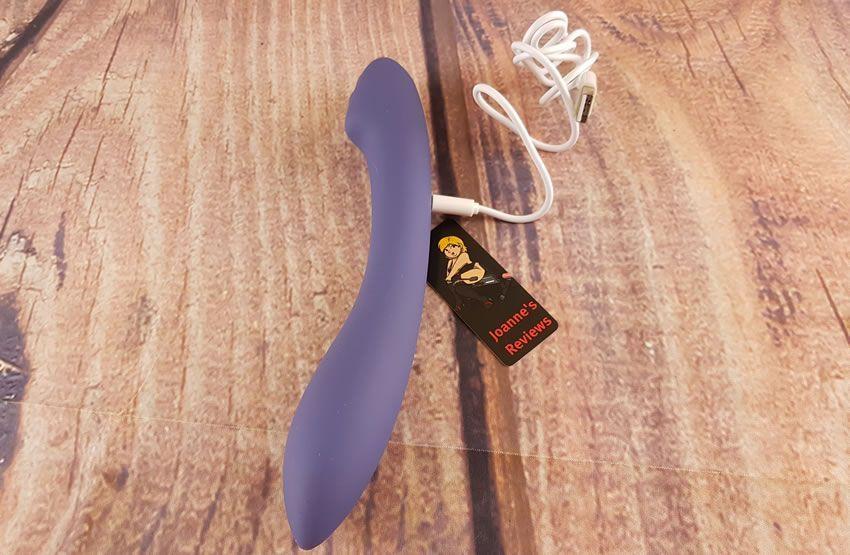 Charging using the enclosed USB charging lead is simple
Once inserted, just connect the other end of the charging lead to a USB power source and a light will start flashing on the toy to show you that it is charging.
This light will stop flashing and illuminate steadily once the toy is fully charged. Don't try to use the toy while it is charging though. Once fully charged just unplug the charging lead and you are ready to go.
Design
This is a very nicely proportioned vibrator, it's actually quite modest in its dimensions so it will appeal to a wide range of users.
It has an insertable length of 6"/15.2cm and a diameter at its widest point of 1.3"/3.3cm. So it is an ideal vibrator for anyone who isn't into more girthier sex toys.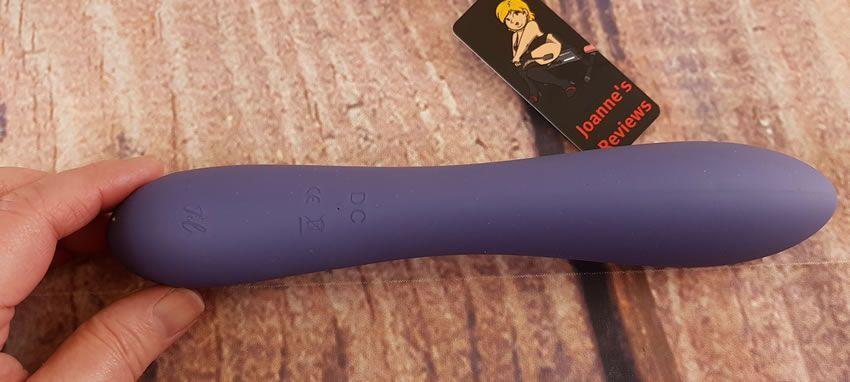 The shape is lovely and the charging socket is easy to find
The Flex G-spot Vibrator is made out of body-safe silicone, and that is fantastic as silicone is non-porous and also hypo-allergenic. It is also latex and phthalte free so anyone with allergies can enjoy this vibe. It is effortless to clean, just use warm soapy water followed by an anti-bacterial sex toy cleaner.
Make sure the vibe is thoroughly dried before storing it away though.
Ann Summers says the material is "super soft touch liquid silicone" which is a bit of an advertising gimmick as the silicone is solid and not liquid. It does, however, have a very low Shore hardness number, and this makes it extremely flexible and soft to the touch.
I actually really like this blend of silicone as it's so flexible I could actually fold the Flex G-spot Vibe in half with no problems whatsoever.

The Ann Summers Flex G-spot Vibrator is incredibly flexible
The shape of the Flex G-spot is lovely, with its long flowing curves and a bulbous end that helps to apply pressure on your g-spot.
It also has a nice tapered tip to aid insertion, and at the other end the two control buttons are raised and very tactile. Delivering a nice click when pressed.
These two buttons are easy to use, the one closest to the end is held in for two seconds to turn the vibe on and held in again for two seconds to turn it off again.
The second button allows you to cycle through the ten vibrating patterns. You get three power levels of continuous vibration power followed by seven interesting vibration patterns.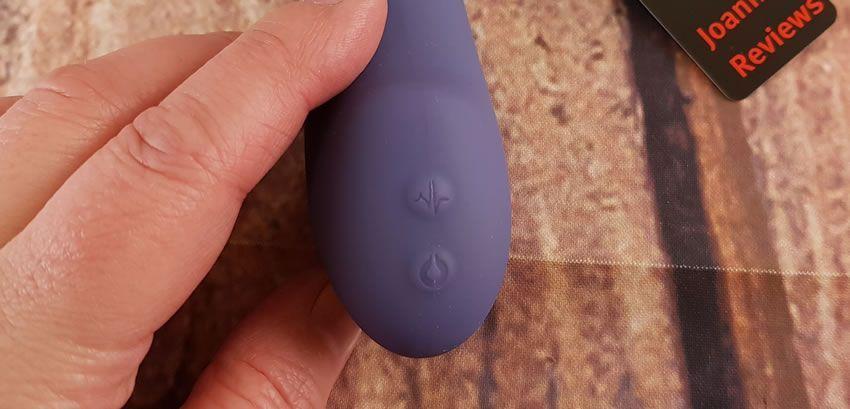 The controls of the Ann Summers Flex G-spot Vibrator are clear and easy to use
Performance
This is the crux of the review, how does the Flex G-spot Vibrator perform when in use? Well, I have really enjoyed reviewing it and let me tell you why.
After applying a good quality water-based lube like Sliquid H2O or Secret Play Natural, I found the silicone becomes very slippery, and the tapered tip made insertion very easy.
I relish the feeling of inserting it, feeling the bulbous tip stretch me open and then it is almost drawn inside as the broadest part passes the entrance to my vagina.

The tapered tip makes insertion easy
The flexible nature of the shaft means you can't apply intense pressure on your g-spot, but the shape and vibration patterns do all the work for you.
Thrusting with it feels very nice, and I love toys with different diameters as I relish that feeling of being stretched open and then allowed to relax again. Thrusting is easy as the chin just under the controls makes it easy to hold securely.
It is when you switch it on though that it takes your breath away. The three speed settings were nice, and I enjoy slowly building up the power levels until an orgasm washes over me.
The patterns also feel great with the second pattern being my firm favourite, it sort of goes "-...-...-...-...-...", this pattern has me biting my lip in no time at all and clutching at the bed sheets.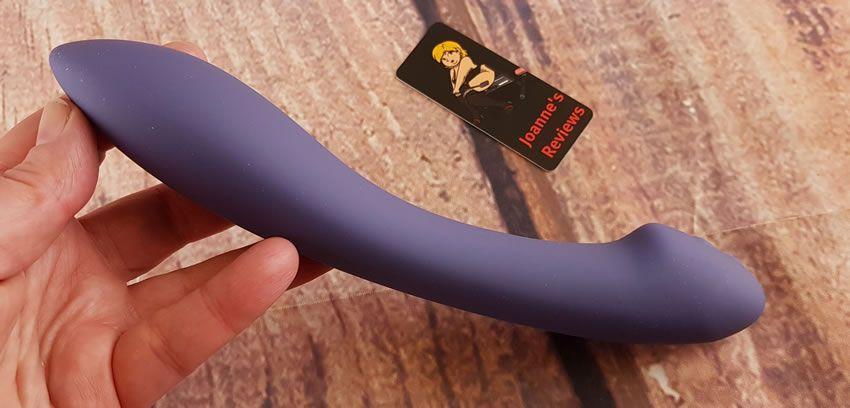 The bulbous tip feels very nice as you insert it
The Flex G-spot Vibrator is also waterproof, shower and bathtime fun is delightful. Masturbating in the bath is something we all do, and with the Flex G-spot, you can take your play to the next level.
It's pretty quiet, especially at the lower levels, and of course, once inserted it is much quieter anyway. You can't hear it through a bedroom door when it is inside you and under a duvet cover. So this is a pretty discreet vibrator if you live in a busy household or in shared accommodation.
You can, of course, use it on your clitoris for direct clitoral stimulation, and the rumbly vibrations that it delivers are fantastic.
It is marketed at vagina owners, but this sort of vibe is also fantastic when used on an erect penis. Try holding it against a partners frenulum for some intense stimulation.

The Flex G-spot vibrator is so much fun to use and is a great first time g-spot vibe
The Flex G-spot vibe from Ann Summers has been a lot of fun to use, and I just love the blend of silicone used on it.
The Flex G-Spot Vibrator from @AnnSummers is a powerfull g-spot vibe with a great design that delivers some fantastic orgasms.
Click to Tweet
Key Features
Key features:
Made out of soft and flexible body-safe silicone
10 power and speed settings
USB rechargeable
Waterproof
Easy controls
Final Thoughts
I have really enjoyed reviewing the Flex G-Spot Vibe, it is a very comfortable and capable g-spot vibe that has some lovely design features.
If you are looking for a modestly proportioned g-spot vibe that delivers deep rumbly vibrations, then it is definitely one to consider.
It has lots of power, and it almost feels like it is throbbing against your g-spot and some of the patterns really highlight this sensation.
It is a very lovely g-spot vibrator that I am delighted to recommend.
I was sent the Flex G-Spot Vibrator by Ann Summers and I would like to thank them for giving me the opportunity to review it for them.
Joanne's rating
Where Can I Get One From?
Grab one of these fantastic little g-spot vibrators from Ann Summers. You can grab one for £70 and then lay back to enjoy some fantastic g-spot play that will take your breath away.
Check them out and don't forget to tell them that Joanne says "Hi".
Disclosure
This review does not contain affiliate links, for more information about affiliate links check out my disclosure page.