I picked up this Fleshlight in person when I visited Latex, Leather and Lace with Joanne last week, and since then I have been one happy chappy.
I have to add that if you can, then get yourself down to the Latex, Leather & Lace showroom. Not only will you receive a warm welcome but you can get your hands on the very best sex toys and amazing kinky outfits.
Any excuse to whip it out and enjoy myself and so I threw myself into the reviewing process with enthusiasm.
The Fleshlight arrives in an attractive black retail box that shows the internal texture together with product information and a QR code to take you to the Fleshlight site.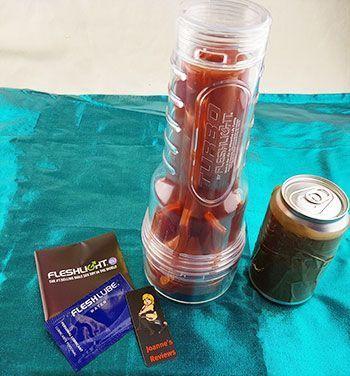 When you open up this packaging, you get to see and admire what a very intriguing masturbator this is. Fleshlight is in a league of its own, and they are often imitated but never surpassed.
This Fleshlight looks impressive; it comes in a clear case which allows you to see the insert inside. The insert is made out of TPE which is a very soft material, much softer than my other Fleshlights in fact. It also features a non-atomical orifice which I think is excellent. I'm not a fan of the pussy and ass orifices as I'm sorry, but no matter how good they look they are not the real thing so why try to pretend to be? That's just my personal preference; I know some guys enjoy the realism of anatomically correct orifices but not me.
You should only use a good quality water based lube with this type of material. You get a sachet of Fleshlights own brand of lube to try but trust me you are going to want to get a bottle of lube. The Fleshlight Turbo is one toy that you are going to be using over and over again.
The secret to the success of the Fleshlight range though is the imagination put it to the internal textures as let's face it, that is what gives you the pleasure when you use it.
The Turbo features three distinct sections to it that are designed to mimic the sensation you get when on the receiving end of a great blowjob. These are the Lips, Tongue and Throat.
The outer section features a round hole in the centre that floats over the rest of the insert on three swirling legs. These legs allow the 'lips' region to be able to move freely about the rest of the insert.
Once your penis slides through the 'lips', it then passes through the next section that Fleshlight describe as feeling like a tongue. This section is tighter than the outer 'lips', and this one can move away from the rest of the insert when you withdraw your penis.
You then enter the 'throat' part of the insert, and it's this section that contains some fantastic textures, each one different from the others.
This area is the best part of the insert and feels very nice in use where it massages the glans of your penis as you use it. These three sections do give it a very distinct feeling that's different from my other Fleshlights.
This Fleshlight is 9.75"/24.8cm long, of which 8.5"/21.6cm is available for you to thrust into with your happy chap.The base of the fleshlight has a screw on cap that you can open to let air escape as you slide your penis into the sleeve. If you then tighten it once you are entirely inside you get a lovely suction effect as you stroke with it.
This cap can be removed altogether so you can fit the Fleshlight VStroker. The VStroker is a motion sensor that ties your fleshlight into interactive porn on your PC or tablet, and it sounds like a lot of fun. You can get lots of other accessories for your Fleshlight, but some of the more notable ones are the Fleshlight Shower Mount and the Fleshlight Warmer which warms your Fleshlight up before use so you can slide into something at body temperature and that can entirely change the whole experience.
So with the basics out of the way what is it like to use I hear you ask?
Well make sure you lube your Fleshlight up, it does feel better with lots of lube. If you feel it drying out, then add some more lube.
Sliding into this Fleshlight, you do get the three separate sensations, and these feel great. As you stroke with it, the lips and tongue section move independently of the central portion of the stroker. This feeling quite frankly feels incredible, and while to me it doesn't feel like oral sex it does feel terrific. Much better than any of my other Fleshlights.
The textures in the throat section are exquisite. Couple this with the sensations from the free-floating lips and tongue section and you are on to a winner. You can feel each section doing their own thing when you stroke with this Fleshlight. That can bring you to a great orgasm very quickly if you just want a quickie.
Or, you can also edge yourself for extended periods of time comfortably. When you do come after doing this, it's a real knee trembler.
As with all Fleshlights, you can either wear a condom or just let yourself go right into the sleeve which is what I prefer to do. You are going to have to clean out the lube from the sleeve anyway so why not enjoy it as Fleshlight intended. I always have intense orgasms when using Fleshlights which is one of the reasons why I enjoy them so much.
Cleaning at the end of a session is a chore but an easy one. Just pull the sleeve from the case and then rinse it through under a tap. Use warm water to flush it through and then use a sex toy cleaner to sterilise it. Fleshlight have their own branded fleshlight cleaner called Fleshlight Wash.
Ensure that your sleeve is dry inside and out before placing it back into the case and closing it up until next time as you don't want to encourage any mould growth.
A light dusting of cornstarch can stop the material being sticky to the touch, and it can also help to prolong its life.
Using the Fleshlight Turbo Thrust Copper is a perfect example of "slipping into something more comfortable".
Click to Tweet
Key Features
Key features:
Clear Fleshlight case and lid
Copper coloured sleeve with Ignition texture
Three entry orifices - Lips, Tongue & Throat
Sample sachet of Fleshlight Lube
Final Thoughts
Fleshlight has done it again. I am once again blown away by another of their creations, and they seem to be getting more and more inventive. I loved the Alien Fleshlight but this one I'm afraid beats it hands down. The three orifice entry feels incredible, and the inner texture is brilliant, and it does provide a lot of stimulation.
If you are looking for a new Fleshlight or are even considering your first purchase of one, then get this one as it won't disappoint. I have no problem with giving it a very high mark and can highly recommend it to anyone who wants to give their little fella a real treat.
I was given the Fleshlight Turbo Thrust Ignition Copper Oral Sex Masturbator by Patrick at Latex, Leather & Lace to review, I would like to thank him for giving me the opportunity to review it for him.
Joanne's rating
Where Can I Get One From?

Grab one of these fantastic male mastrubators from Latex, Leather & Lace for just £59.99 and slip inside something very comfortable indeed. Whilst you are at their site be sure to check out the rest of their amazing line of products. They really do have something for everyone and if you can do then I'd definitely recommend dropping by to see them in person.
Check them out and don't forget to tell them that Joanne and her Stunt Cock say "Hi".
Disclaimer - I was sent the Fleshlight Turbo Thrust Copper to review free of charge and this has in no way affected the outcome of this review. This post contains affiliate links and if you purchase something when you follow one of these links I may receive a small commission at no cost to you. For more information check out my disclosure page.