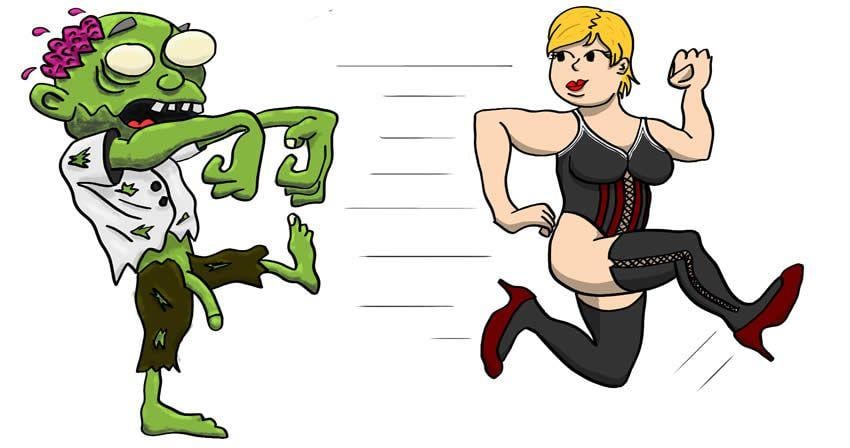 Update 20/10/17
I have managed to outrun the zombie hoard once again but this time they almost got me.
I was lucky though, the lead zombie tripped over his pants after they fell around his ankles whilst he was chasing me. I can still hear the noises that they were making buzzing through my head. That noise went right through me and is burned into my memory.
They just kept moaning - "Puuuuussssssssssy" over and over again. I don't know how long I will be able to keep this up.
Yes, this is a review of a Zombie cock and yes I have used it and here are my thoughts about it. Firstly I'm going to mention some negatives before moving on to the positive points about this shall we just say 'unusual' looking dildo.
OK, I can't contain myself any longer, it's simply hideous to look at!
There I said it, this is the last thing most people would think of as a great dildo. It wouldn't look out of place in a zombie film in a glass jar in some weird scientists laboratory. That said though, the detail on it is really quite incredible. Fleshjack® are to be commended for their artist's rendition of a rotting piece of flesh from between a zombie's legs. They didn't stop there though as you will see later in this review. They also sculpted a rotting Foof for anyone who fancies sticking their manhood into a zombies rotting pussy.
Joking aside though, the textures and details on this dildo whilst not being to most peoples tastes is incredible. It's a real work of art.
It's also gruesomely anatomically correct. With rotting flesh tearing, splitting and with chunks missing, showing you the internal elements of an erect penis. It even features spots, boils and pustules. So it appears that the artist who created it wanted to put as much stomach-churning detail into it as possible.
I'm seriously glad that this isn't a scented dildo as looking at it really does make your stomach churn. I don't even want to try to imagine what a rotting zombie cock would actually smell like. Moving swiftly on....
This phallus is modelled on a very well endowed zombie though, albeit one that has let himself go a little bit. But that's to be expected with the living dead I suppose.
This dildo measures in at a very pleasant 8"/20.3cm in length of which 7.5"/19cm is insertable. It's also quite filling with a girth of 5.25"/13.3cm.
Now unlike a real zombie, this dildo is body safe, being made out of 100% silicone. This makes it non-porous, as well as being phthalate and latex free. It's quite a blend, the colouration is brown and green simulating rotting flesh and it looks slick and wet. It almost has a translucent look to it and this adds to the desired look of this dildo.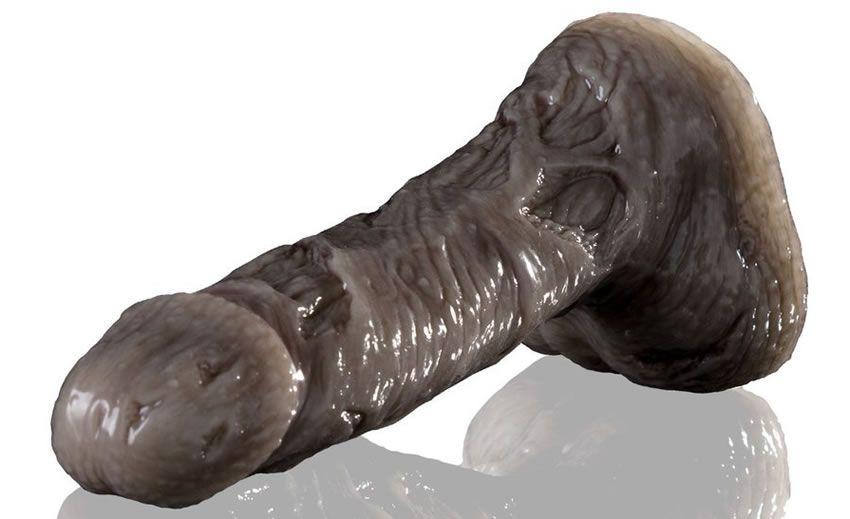 It's quite a springy silicone and the dildo has a good amount of flex to it, you can almost fold it in half. It features a pair of balls and you can see one of the testes through the scrotum where it's ripped. Grabbing it and squeezing it you can see just how firm it is.
The more that you look at this dildo the more detail pops out of it and it truly must have taken them ages to sculpt. I'm never going to be able to watch an episode of The Walking Dead, in the same way every again though - I'm ruined.
No doubt there are people reading this thinking did she or didn't she go 'quimsticking' with this dildo. Well yes, I did and here is how it felt.
The first time I used it I cheated, yes I know, bad Joanne. I couldn't help it, I used a blindfold so I didn't have to look at it. Needless to say, I got lube everywhere - well have you tried putting some on a dildo when blindfolded?
But, I have to hold my hand up and say that I did enjoy it. The thing is, all that detail and texture makes it one hell of a good dildo for thrusting. I love the way that it really causes the inside of my vaginal walls to try and keep up with the changes in girth. The texture feels great and it wasn't long before I was sounding like a zombie myself - "Nnnnnnn, mmmmmm" etc.
Update 21/10/17 11:27am
It appears that you can hurt these zombies. So rather than trying to destroy the brain, I will try kicking them in the balls instead. What could go wrong?
Update 21/10/17 1:13pm
That didn't work as I had hoped and it almost cost me my life. When I kicked a zombie in the balls it seemed to smile and his rotting todger became erect. This is seriously messed up. They are still all moaning - "Puuussssssyyyyyyy".
I surprised myself with quite a nice little orgasm and I decided there and then that this dildo has potential. If you can overlook the creepy looks to it you'll find it's actually a lot of fun. I have also enjoyed strapping it to one of my fucking machines for a hard thrusting session and it didn't disappoint.
But, and there is always a but, this thing is a vag-goo magnet. All the recesses and ridges fill up with lube and my own juices and that makes cleaning a bit of a problem. I actually have a dildo toothbrush (no, not a dildo handle on a toothbrush) I use for cleaning toys and I needed to use it a lot on this dildo. Cleaning definitely takes longer on this that with most of my other dildos. The one notable exception to that is the Sea-Horse dildo.
As I mentioned earlier Fleshlight have also brought out a Zombie pussy in their Freaks range. Its internal texture looks interesting and it leaves me wishing I had a cock to enjoy one. Check out the Freaks range as they are special that won't be around for long. They brought them back again this year but who knows for how long. They have added to the old range this year with new fleshlights including the Predator and zombie mouth.
I'm tempted to get myself a Frankenstein dildo and the Cyborg or maybe even the Drac. Each dildo has its roots firmly secured in horror or sci-fi lore. Each also has a corresponding fleshlight design so that everyone can enjoy the fun.
In conclusion, I quite enjoyed my time with a zombies cock inside of me. Yes, it may gross some people out and believe me it did have that effect on me too. But, I have to admit that it's a great thrusting dildo and I have enjoyed reviewing it. It probably won't end up in my bedside drawer though as it would give me the fright of my life if I looked inside in the gloomy light whilst half asleep.
Worried about Zombies? Joanne knows just what to do, she's a "Zombie cock wrangler".
Click to Tweet
Update 22/10/17
I have met up with a group of survivors and we are all holed up together in an old sex toy shop. Last night I finally had the opportunity to try a Doxy for the first time in my life, but there was no bloody power Arrrgh! My life sucks.
A hoard of zombies is at the door and everyone is scared, it sounds like they are breaking in. I haven't got much time left. I have never been calmer hornier in my life though and I think I know what I must do to allow the group some time to escape. Wish me luck....
So if you ever find yourself in a post-apocalyptic survival struggle with me in your group you'll be just fine.
If it ever looks like we are going to be over-run with zombies then I'll know just what to do. You'll have no need to worry as I'll take control of the situation and ask you to hold my beer.
I'll then I hoist my skirt up, pull my knickers down and shout - "Run, I'll slow them down for as long as I can!"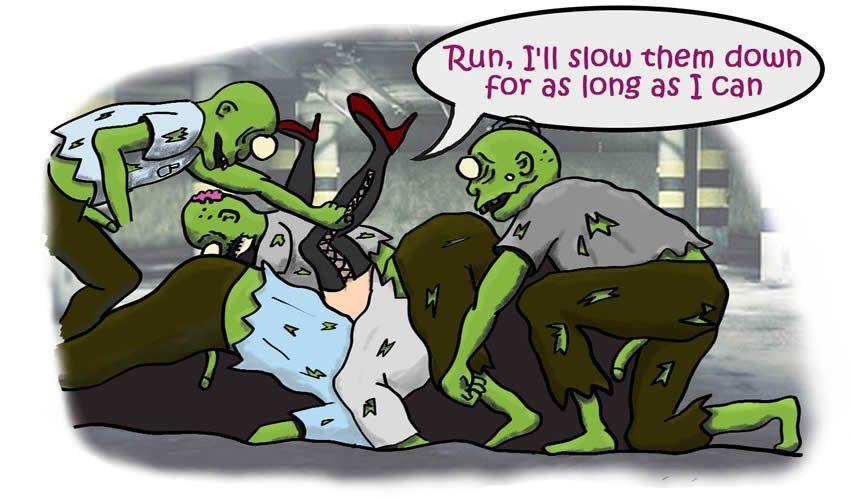 The End - of Joanne the Zombie Cock Wrangler that is.
Key Features
Key features:
Silicone fantasy dildo
Amazing but morbid detailing
Soft flexible silicone blend
One of six dildos in the Freaks range
Final Thoughts
This dildo is a first for me, it's the first sex toy that I've had to think long and hard about actually using. Which is weird as I have used horse dildos, dragon dildos and even a seahorse dildo before but this one just looks so revolting. That said, I'm glad that I did give it a go as it has a lot to offer for texture queens like myself out there.
Zombie Jo, highly recommends this rotting Zombie phallus. Rotting flesh has never been so much fun. It isn't for the squeamish though.So, that's a huge bonus with this dildo, if you are a Walking Dead fan then double bonus points for you as this one will be a must-have.
Yes, it doesn't look very appealing but I class it as art and this thing is movie quality in its detailing. You're getting something to admire as well as use when you purchase one.
If you enjoyed this review then please consider following one of its links and leave me a message in the comment form below to give me your thoughts on this silicone dildo. Do you think I should include more 'Jo' sketches in future reviews? Oh, and I hope that everyone has an amazing Halloween - don't let the zombie cocks get you!
I was sent the Zombie Dildo by Fleshlight through Scandarella and I would like to thank them for giving me the opportunity to review it for them.
Joanne's rating
Where Can I Get One From?
Grab one of these grousome dildos from Fleshlight.com and whilst you are there check out the rest of the Freaks range to see some truly bizare dildos and masturbators.
Check them out and don't forget to tell them that Joanne says "Hi".
Disclaimer - I was sent the Zombie Freak Dildo to review free of charge and this has in no way affected the outcome of this review. This post contains affiliate links and if you purchase something when you follow one of these links I may receive a small commission at no cost to you. For more information check out my disclosure page.