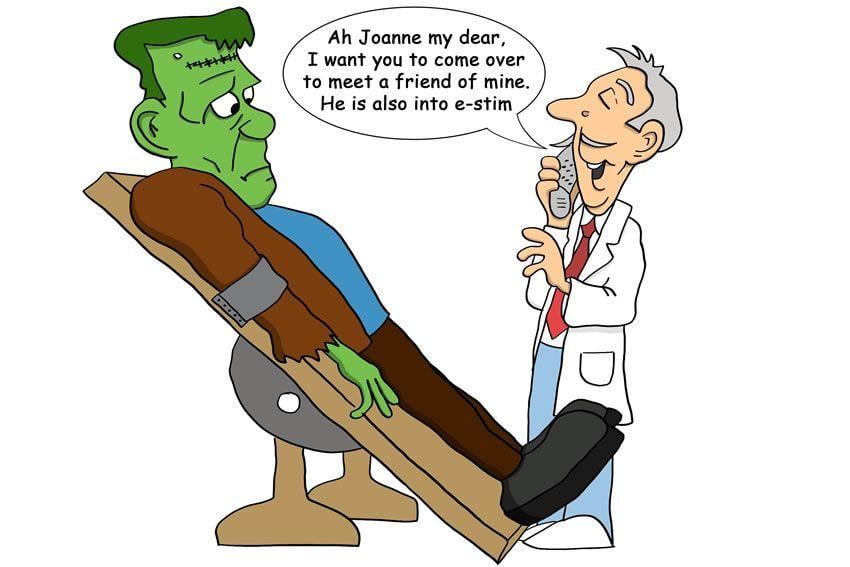 Update 30/10/17
It was a cold wet October night when I knocked on the heavy wooden door of Dr. Frankensteins laboratory. I looked like I had just entered a wet T-shirt competition.
Earlier during the day I had received a phone call from the good Doctor telling me that he had a friend who is also into electrosex and that he wanted to meet me.
What I saw when I went inside took my breath away. I have never seen e-stim equipment quite like the good Doctors, it looked incredible.
The door slammed closed and locked itself behind me and I immediately knew something wasn't right.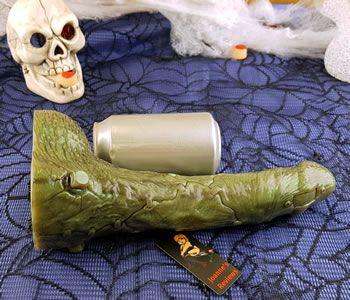 Firstly I need to apologise for not taking pictures of the packaging for the Frankenstein dildo. My dog decided that whilst I was pre-occupied trying the dildo out that it was the perfect chew toy.
Not even Dr Frankenstein would be able to stitch all of the bits back together again. The box was very similar to the Zombie dildo one carrying information on its back and it was quite nice. Oh well, moving swiftly on.
Fleshlight have outdone themselves yet again with this design. Whilst it may not appeal to some people it's a fun homage to the monster from the book. What you get is a fantastically detailed representation of what could have been lurking down its pants.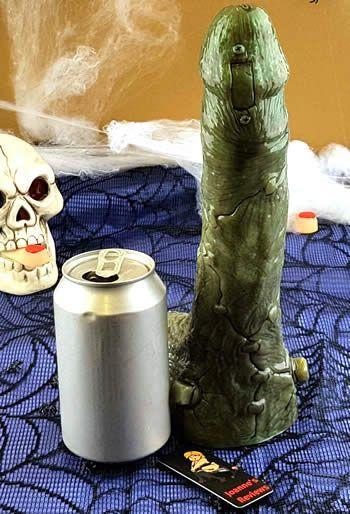 The various parts of the penis and scrotum are shown stitched together in a hap-hazard fashion. There are even screws, bolts, staples and metal plates too. The detail is staggering though and I spent a lot of time just admiring it - yes I'm a bit weird like that.
Like the rest of the Freaks range (Zombie, Dracula, Bigfoot, Alien and Cyborg) you can also get a corresponding fleshlight pussy to enjoy. The dildos are made of 100% platinum cure silicone.
This makes them non-porous as well as being latex and phthalate free. Silicone is my go-to material for sex toys as it is body safe and very easy to clean. Contrary to popular myth you can also store silicone sex toys touching and so storage is also very easy.
The colouration of this dildo is beautiful, it is a mottled green and it's very shiny giving it a slick wet look. The detailing includes cracks, scars and metallic grafts all of them looking amazing.
The blend of silicone used is a bit of a dust magnet but that is common with lots of other silicone dildos that I have. It's firm when you squeeze it but you can almost fold the dildo easily in half with one hand. This makes alignment not so critical if you do use one on a fucking machine or if you are riding it.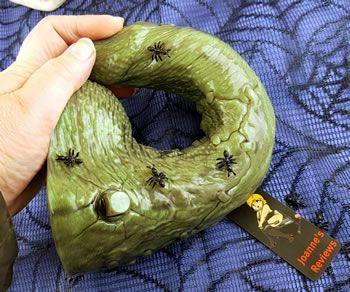 The textures on the surface are very nice indeed but they do have one drawback and that's when it comes to cleaning after use. It is another vag-goo magnet and whilst that is to be expected on a textured toy like this it means cleaning takes a bit longer. I have a dildo toothbrush that I use to clean my toys and that gets into the cracks to remove any residue. Make sure that you dry the toy before putting it away for future use.
As is only right, you get a lot of dildo with this one, it's a monsters cock after all! It measures in at 11"/28cm tall of which, if you can, you can insert a whole 10"/25.4cm. That's enough for even the deepest of orifices. With a circumference of 6.25"/16cm, it makes it a very nice dildo in my books. I wouldn't recommend it to users who are not used to toys of that girth though.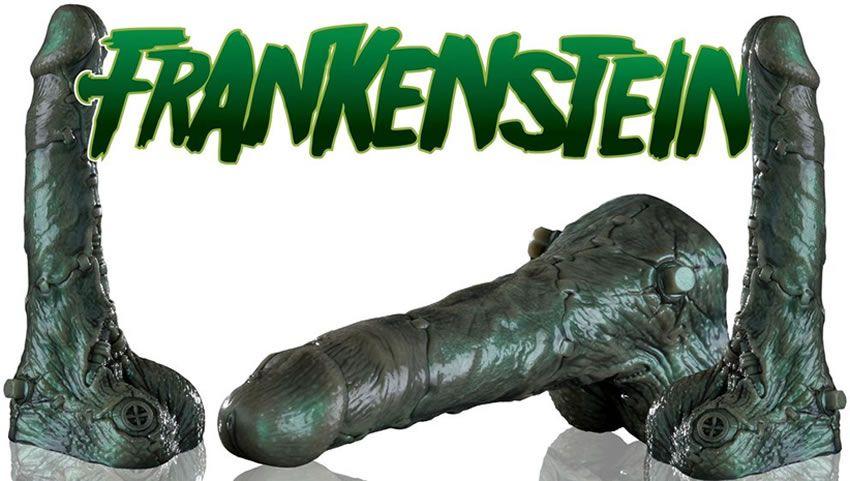 Looking for a fantasy dildo to give you the monster mash?
Click to Tweet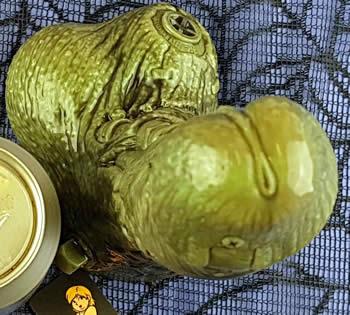 In use, I found that the coronal ridge felt good against my G-spot when thrusting with this dildo. It's something that surprised me as it isn't that pronounced, but it does work for me.
I also enjoyed the texture of the dildo gaining a lot of stimulation against my vaginal walls. There is no way that I could even contemplate taking it anally though but I know some of my readers will. The tip of the penis is fairly flat and so you will need to take your time when inserting it anally using plenty of lube.
The girth is very pleasing and you need to take it slow when inserting it. You will feel every bump, ridge and feature as you insert it though. Use a good water-based lube with this dildo. I can recommend Sliquid H2O or Sliquid Sassy for anal play. I actually prefer the Sassy for vaginal play as well due to its thicker consistency, it's a great lube.
Update 31/10/17
I don't know where the Dr is but a big brute of a monster grabbed me and threw me into a small cell whilst grinning through broken teeth.
He is utterly ghastly but there is something about him though, the way that he dragged his left foot is so enticing to me. I don't know why, maybe it was the sight of all of that powerful e-stim equipment that has messed with my head.
I wonder what the big brute has in mind for me. Maybe I can escape and try the Dr's e-stim equipment on the way out, that would be shockingly good fun.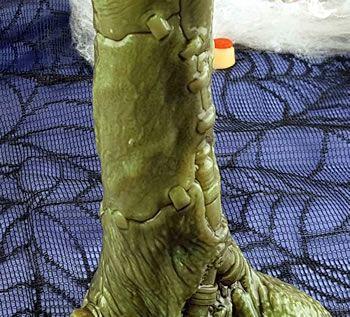 There are a series of staples on the underside of this dildo that also feel very nice when you thrust with it. They give lots of sensations as each pops into you.
The balls are bolted to the cock and this area needs special attention when cleaning. These balls cover a nice area though and this makes it a very stable base when standing the dildo upright. This means that you can enjoy squatting and lowering yourself onto it or using it whilst on all fours.
As well as using it by hand I also mounted it onto one of my fucking machines using a universal adapter plate and some medical cohesive bandages. This is a great mounting solution and with it, I can fix basically any dildo to a fucking machine.
The Frank (I name thee Frank) feels amazing on a fucking machine. I have enjoyed some lazy slow fucks with it as well as some good hammerings. Both feel very satisfying and if I close my eyes I can almost imagine the smell of ozone in Dr Frankenstein's laboratory.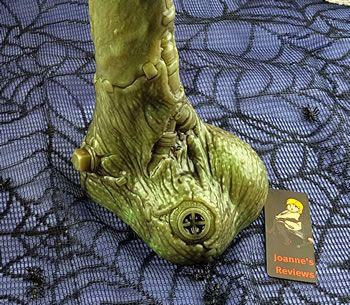 I guess I have something in common with the monster as well. I also have metal parts in me and a bit of e-stim really brings me to life as well.
Whilst this dildo might not appeal to many people simply because of its looks. I know that it will definitely appeal to geeks around the world who will enjoy its homage to this great story.
The look, materials, packaging and everything about this are a testimony to Fleshlight. Not only can they be proud of being the worlds most recognisable male masturbator. They also make some damn fine dildos too.
Check out the Freaks range to see what I mean. I love the bigfoot and the Drac and would dearly love to try those too. Ive also reviewed the Alien Fleshlight and that is another work of art too. For penis owners there are some amazing designs of Freaks fleshlights. They have me whishing I had something swinging between my legs as the inner textures look amazing.
Update 31/10/17
I can hear the monster coming back, he is dragging something heavy along the ground. It's the unconcious body of the Doctor, he's been placed into another cell.
The monster is laying a sheet out over the floor. Yes, I think it's one of those Sheets of SanFrancisco sheets (I've always wanted a set of those). He's also produced an e-sitm unit and some cables. I am starting to like this guy, he may look like a patchwork quilt that has gone through a blender but he certainly has taste.
He just unbuttoned his trousers.....Oh my, he is a big boy, I think I may like what is to come next.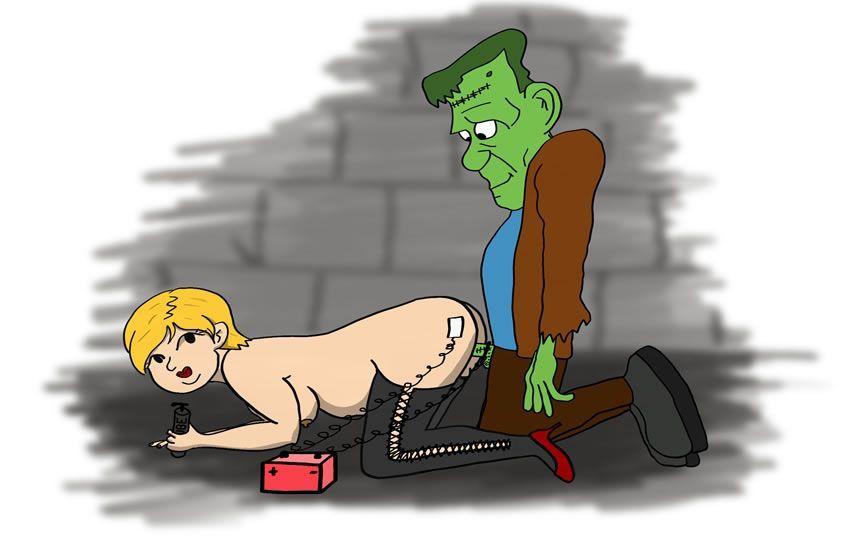 Key Features
Key features:
Silicone fantasy dildo
Amazing but morbid detailing
Soft flexible silicone blend
One of six dildos in the Freaks range
Final Thoughts
This dildo was a pleasure to review, I love its look and the textures feel great in use. It will appeal to any geeky film and book fans out there who are looking for a themed fantasy dildo.
The bride of Frankensteins Monster highly recommends his patchwork cock to anyone who likes a beefy dildo. It's got loads of texture but it isn't for the squeamish.The detailing on it is amazing and you will spend ages just looking at it up close. But it's when you start to use it that you realise just how much fun it can be.
Whilst it is not be everyones cup of tea it's a great addition to the Fleshlight Freaks range of dildos. Check out the male masturbators in the range too.
If you enjoyed this review then please consider following one of its links and leave me a message in the comment form below to give me your thoughts on this silicone dildo. I hope that everyone has an amazing Halloween - watch out for those Freaks cocks!
I bought the Fankenstein Dildo from Fleshlight and I had a lot of fun reviewing it.
Joanne's rating
Where Can I Get One From?
Grab one of these grousome dildos from Fleshlight.com and whilst you are there check out the rest of the Freaks range to see some truly bizare dildos and masturbators.
Check them out and don't forget to tell them that Joanne says "Hi".
Disclaimer - I purchased the Frankenstein Freak Dildo to review and this has in no way affected the outcome of this review. This post contains affiliate links and if you purchase something when you follow one of these links I may receive a small commission at no cost to you. For more information check out my disclosure page.