This vibrator is part of the Fifty Shades of Grey Official Pleasure Collection approved by author E L James.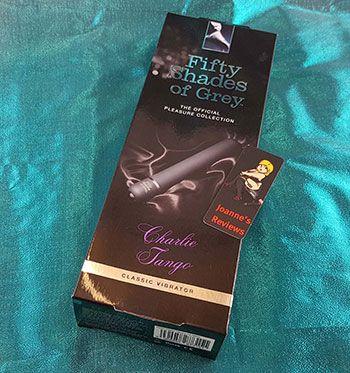 I was pleasantly surprised at its packaging, and the box is very nice to look at, playing on the dark theme of BDSM which runs throughout the books. I like its look but it doesn't carry much in the way of product information, it is just brand marketing, and it plays on this heavily.
The only product information about the vibrator is on the base in a font almost too small to read. That said though this is only the box so hopefully things would get better once I got my eyes on what was inside.
A quick comment on the delivery from Pleasure Attic, the Charlie Tango arrived quickly, and it was very well packaged in a very plain cardboard box. They naturally give customer discretion a high priority so top marks there.
The Charlie Tango Vibrator is held securely in a plastic former inside the box together with a set of instructions and a lovely satin storage bag.
I love sex toys that come with storage bags (yes I know, I'm easily pleased). This satin drawstring bag is grey of course and carries the Fifty Shades Of Grey branding. I like it as it's a great way to store your vibrator outside of the box preventing it from getting covered in all sorts of things while waiting for its next session in your bedside drawer.

The Charlie Tango comes with a nice satin storage bag
Moving on to the main event, the Charlie Tango vibrator is made out of ABS and covered with a thin silicone coating. This is a great sex toy material as it's non-porous, as well as being free from latex and phthalates.
It has a grey matte finish which looks really, really nice. I love the dark look, and the matte finish makes it easy to hold.
The cap carries the Fifty Shades branding, and it simply screws off so that you can gain access to the battery compartment. This vibrator takes two AA batteries (not included), and these are inserted positive end first. These fit very snugly which is great as I hate it when batteries rattle around inside a vibrator.
When you refit the cap make sure that it's securely tightened. This is a waterproof vibrator as long as the cap is fitted securely. Being waterproof it means that you can really brighten up your shower or bathtime routine and it takes cleaning your intimate areas to a new level of fun.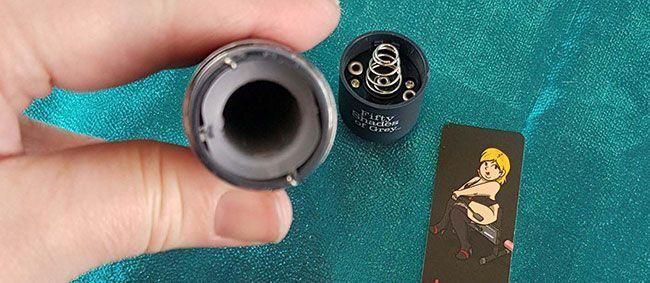 The Charlie Tango takes two AA batteries that are easy to fit
It was after inserting batteries when I realised that is wasn't going to be a mediocre review of a generic vibrator. This is, in fact, a review of a very capable vibrator that has some very endearing features. So read on to see why I think this is a vibrator that should grab your attention.
The controls are incredibly simple, no complicated travel locks or multiple buttons. You have one soft silicone push button on the cap that is used to switch the unit on and off. You also use this button to cycle through the three speed settings and four patterns of vibration.
It is also very easy to control even when buried deep inside you.
I recommend using a good quality water-based lube such as Sliquid H2O with this vibrator as lube really does help you to enjoy your playtime.
The vibrations while not earth-shattering are pretty good and mainly focussed at the tip of the vibrator. It's therefore easy to deliver strong vibrations exactly where you need them using the well-rounded tip. The sensations delivered travel fairly deep and are very enjoyable.
I like to circle my clitoris with it before moving it over my clit when I am ready to come. Inserting it is also a lot of fun, and the tapered tip makes that easy. The smooth sides don't do much for me when thrusting it though as I prefer lots of texture to my sex toys and so I much prefer to use it externally.

The Charlie Tango is a slim smooth and hard vibrator with a nicely tapered tip
Try using it on your nipples as well as your clitoris for lots of fun, and you can even use it on a penis. Concentrate the vibrations on the frenulum and or the perineum as that feels really nice so don't think that this vibrator is just for vagina owners, anyone can enjoy it.
Length 7.25"/18.4cm, with an insertable length of 6.25"/15.9cm and a circumference of 3.35"/8.5cmNow I hate the term 'beginners vibe', but in this case, I feel that you could use that description for this vibrator. But before chewing me out for saying that let me justify myself. The narrow diameter, coupled with easy controls and body safe materials means that this is indeed a great first-time vibrator.
It's easy to clean, just use warm soapy water and follow up with a sex toy cleaner. This makes this a very low maintenance sex toy.
It would be perfect for someone looking for their first vibrator, something that is pure enjoyment and not a struggle or challenge to insert. Its dimensions are perfect for anyone new to masturbating with insertable objects.
The performance is more than adequate, and I had no problem reaching some good orgasms while using it. Using it alone is fun but using it with a partner is much more enjoyable.

The gently rounded tip makes it easy to apply the vibrations just where you want them
Try holding it against your clitoris while being fucked hard for some incredible extra stimulation. Or get your partner to rest it against your anus while fucking you doggy style for some fantastic new sensations. I never tire of finding new ways to kink things up a bit, and a simple vibrator is often the best tool for adding some extra spice.
This is a capable and cheerful sex toy that is also surprisingly cheap at Pleasure Attic where you can get one for just £17.50 which makes it excellent value for money. Some of the more prominent UK companies are selling this vibrator for £26 so you can save yourself a tidy amount by going to Pleasure Attic.
You may not have enjoyed the books or films but check out the Fifty Shades Of Grey Charlie Tango Vibrator from @pleasure_attic.
Click to Tweet

The Charlie Tango is a great vibrator and one that I am happy to recommend
Key Features
Key features:
Three power settings and four vibration patterns
ABS vibrator coated in matte silicone
Powered by two AA batteries, not included
Waterproof
Final Thoughts
This vibrator is a surprising gem and one that I am delighted to recommend to anyone looking for a cheap, simple vibrator that delivers quite a punch.
It is ideal for anyone looking for their first vibrator or for anyone wanting to get into a Fifty Shades Of Grey roleplay scenario.
The vibrations are powerful and easy to focus precisely where you want them, and I have had some delightful orgasms with mine. I even used it on Stunt Cock, and he enjoyed being tied up and teased with it.
I was sent the Fifty Shades Of Grey Charlie Tango Vibrator by Pleasure Attic and I would like to thank them for giving me the opportunity to review it for them.
Joanne's rating
Where Can I Get One From?
Pleasure Attic is a UK based retailer of adult products and sex toys, and they concentrate on bringing body safe sex toys to the masses at fantastic prices.
They are based in the heart of Yorkshire on the edge of the beautiful Yorkshire Dales, and they have been established since 2014. Bringing a bit of Yorkshire sensibility to the adult product marketplace.
Grab one of these Fifty Shades Of Grey Charlie Tango Vibrators from Pleasure Attic for just £17.50 which is a cracking deal, and you get free P&P as well.
Check them out and don't forget to tell them that Joanne says "Hi".
Disclosure
This review does not contain affiliate links, for more information about affiliate links check out my disclosure page.