Delivery & Packaging
I am happy to say that the delivery did not take long at all. It came packaged in a plain box, with nothing on the box indicating its the contents. I am always happy when I know that the postie has no idea what is arriving. If only he knew.
I excitedly opened the box and was greeted by a stylish looking product box. The front clearly shows a picture of the vibrator with the title of 'Fifty Shades Freed, The official pleasure collection'.
With more information on the sides, so that you have a good idea about this vibrator if purchased in store.

The box that that Lavish Attention comes in is on brand and carries lots of product information
The packaging is minimum, but that is not a bad thing as it means less waste. This is a positive as far as I am concerned. To be honest, I do not personally think you need more, and it is always nice to see a company think about the environment.
On opening, the box holds the Lavish Attention held securely in a thin plastic housing. Underneath which is a deep purple drawstring bag made from a silky style of fabric, with gold branding. There is also a USB charging lead and a small instruction booklet.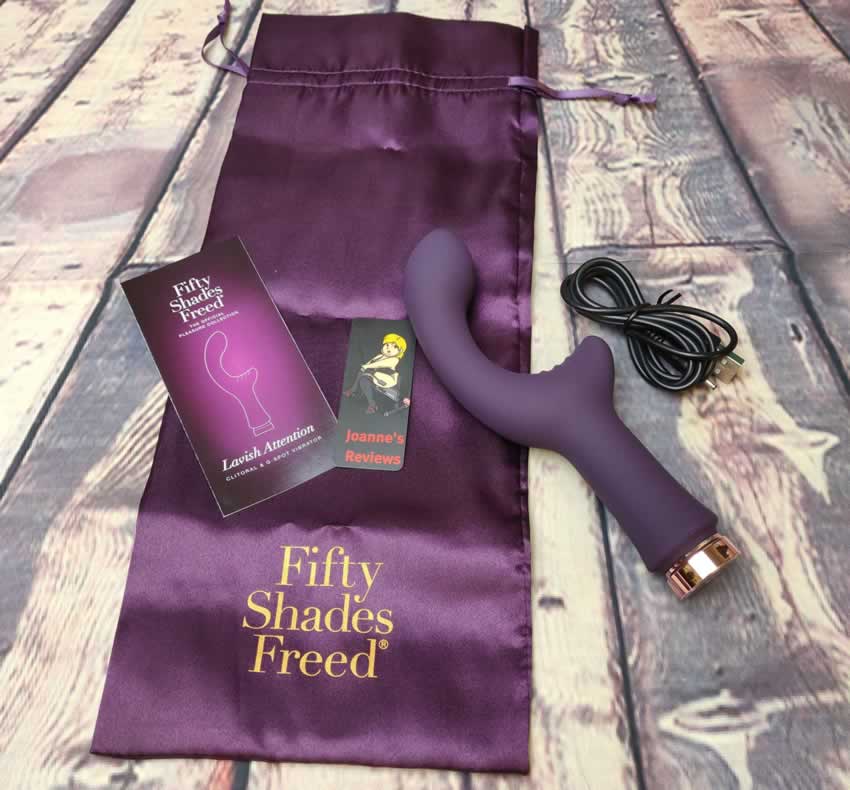 I really like the included storage bag, it looks great and has plenty of room
Materials & Design
Now forgetting the furore over the books, one thing they did do was to raise awareness of kink and BDSM in general as well as spawn a nice range of sex toys.
At first glance, the design looks interesting and different from other toys I have tried, so I knew it would be fun to try out. The deep purple silicone looks terrific with the contrast of the gold-coloured ABS plastic base.
I always prefer for insertable sex toys to be made from silicone, and I am happy to say this one is. It is also made with ABS plastic a good body-safe choice. The silicone is a silky smooth texture coloured deep purple that glides nicely over dry skin.
Both of these materials are, of course, non-porous as well as being both latex and phthalate free.
The top of Lavish Attention has a bulb type head, this is to stimulate your g-spot, it has a slightly pointed tip to really concentrate those vibrations. The bulb is reasonably rigid with a minimal amount of squish.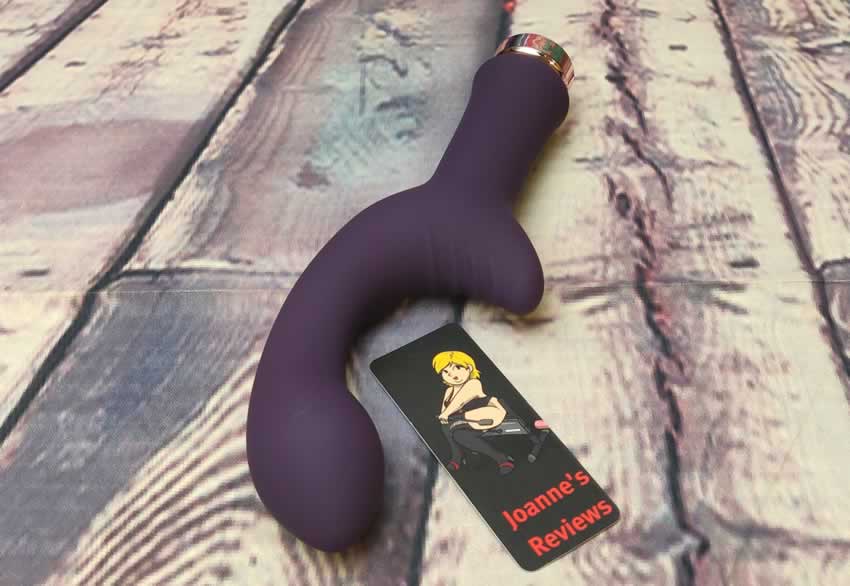 The g-spot bulb feels great when rubbed against my g-spot
The curved neck gives you the insertable depth, and is thinner than the tip as well as being flexible enough for a comfortable fit. Then we come to the ribbed clit stim, where the vibrations really do congregate. The clit stim provides the only ribbed area, the ribs are spaced out evenly, and are nicely raised to give great sensations. It is reasonably rigid with a slight amount of give.
Then we move down to the ergonomically shaped handle, which is a reasonable length allowing for comfortable, easy use. The whole toy is light to hold, making it so easy to use even for extended sessions of edging fun.
At the base is a gold-coloured ABS plastic button, which also covers the charging socket. Lavish Attention is waterproof as long as the base is placed securely back on and screwed in place securely.
The silky fabric storage bag looks stylish with the gold-coloured print accentuating the design. The bag has plenty of room for the G-spot and Clit Vibrator, together with the charging cable. You are provided with a decent length charging cable, so it makes it easy to reach a plug or computer. To charge you need to unscrew the gold base, where you will find a small hole just large enough for the pin to fit. The pin does not push all the way into the charging socket, but you do need to ensure it is pushed in as far as it will go.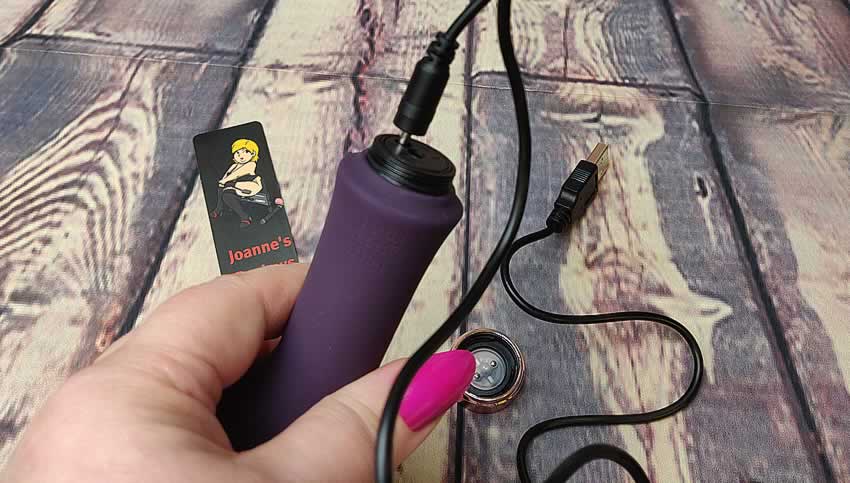 The charging plugs doesn't insert fully, just push it in until it stops
When charging, there is a small red light which shows you it is connected and charging. This changes to green once the toy is fully charged. It takes approximately 150 minutes to fully charge, which should give you around 90 minutes of play depending on the power levels you are using.
I also really like the travel lock feature, simply press the button twice, the vibrator vibrates briefly to let you know it is locked. To unlock you just need to repeat this process.
Performance
As with any sex toy, the most important questions I ask myself is how does it perform. After having thoroughly tested Lavish Attention, I can now give my honest thoughts on this vibrator.
I was pleasantly surprised at how quiet this g-spot and clit vibrator is. Simply push the power button on the base to switch it on, and to cycle through the various options. It has three-speed settings and an excellent range of seven patterns to enjoy.
The position of the button makes it very easy to use in play, and it only takes a small amount of pressure to operate it.
Using a small amount of water-based lube, it inserts easily and does not take very long for me to find the perfect position for my g-spot to feel the vibrations.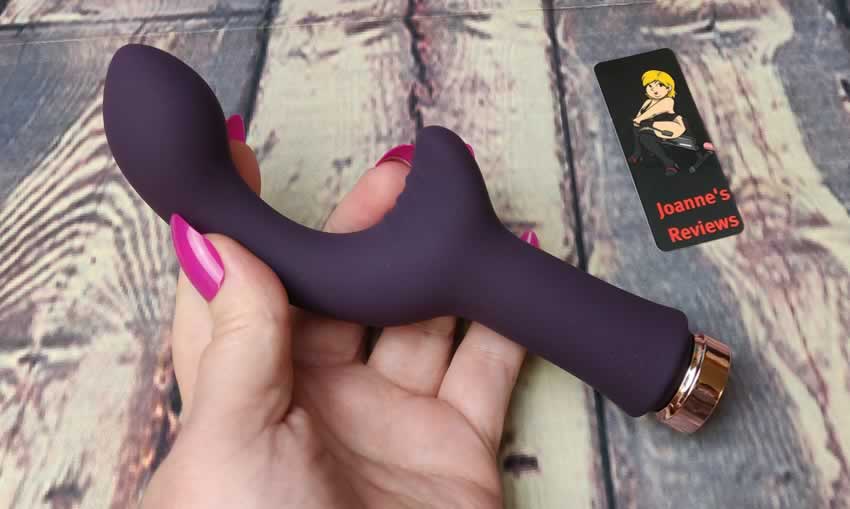 The Lavish Attention vibe is nicely proportioned and easy to insert
The vibrations are not quite a deep rumble but are a lighter vibration. They do pleasantly vibrate, and the sensations travel easily to the g-spot tip and the clit stim. I did notice that the vibrations are felt more intensely on the clit stim than the g-spot bulb. But to be honest, I prefer this as I enjoy the vibrations this way around more than the other. I thoroughly enjoyed the ridges on the clit stim section, they feel amazing with or without the vibrations.
The handle makes it very easy to use and to move in play. Having the control button on the base actually makes using it so much easier than I first thought. The button does not need to be pressed hard, so I found the best option for me was to get the settings I wanted then move my hand to the sides of the handle.
The handle also makes it easier to move around to find the best position for you and to add additional pressure to the desired area if and when needed.
Because Lavish Attention concentrates on the g-spot and clit I found the choice of settings to be enough for me. I mainly felt the vibrations on my clit, but they were still powerful enough on my g-spot for me to enjoy.
The fact that this vibrator is waterproof is a plus as it means you can enjoy it in the shower, bath or even hot tub. The smooth texture also makes it very easy to clean, you just need to ensure all the vag-goo is cleared from around the ridges.
Looking for a stylish clit and g-spot vibe? Check out the Lavish Attention from The Happy Willy Company.
Click to Tweet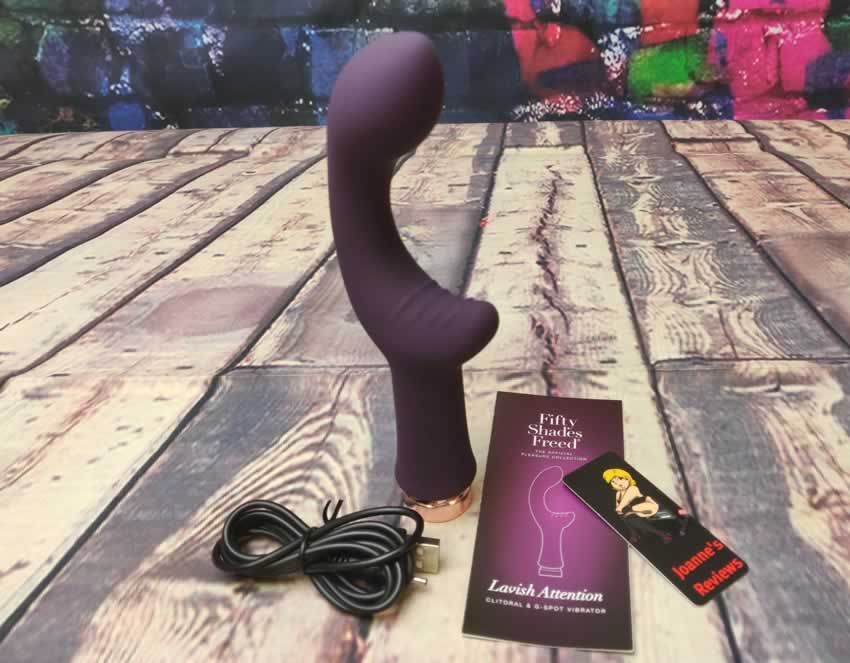 I had a lot of fun getting to know the Lavish Attention vibe
Key Features
Key features:
Made from body-safe silicone and ABS
USB rechargeable
3 power levels
7 patterns
Waterproof
Travel lock feature
Drawstring storage bag
I would recommend it to:
Anyone looking for a small discreet vibrator
Anyone who enjoys clit and g-spot play
Anyone who likes toys with less girth
Anyone looking for a sex toy to use in the bath/shower
I wouldn't recommend it to:
Anyone who needs rumbly vibrations to get off
Anyone who likes girtheir sex toys
Final Thoughts
At first glance, the Lavish Attention was going to be a toy that I either loved or hated. But I can confirm that I found that it works very well for me and my body shape.
The bulb is not as big as most standard dildos, so if you need or prefer smaller toys, then give this one some thought. Of course, it works best if you enjoy g-spot and clit stimulation on their own, as this is not really a vibrator designed for you to fuck yourself with.
Three vibration speeds and seven different patterns are all a pleasure, and even on the highest settings, this vibrator is very quiet.
The travel lock comes in very handy to ensure that it does not get accidentally set off in your bag. This vibrator is small and light enough to fit in hand baggage without taking up much room or weight, so it makes it ideal for travel as well.
My final conclusion is if you are looking for a stylish silicone g-spot and clit stim vibrator then I recommend looking at buying a Lavish Attention.
I was sent the Fifty Shades Freed Lavish Attention by The Happy Willy Company and I would like to thank them for giving me the opportunity to review it for them.
Joanne's rating
Where Can I Get One From?

Grab one of these cracking little g-spot and clitoral stimulation vibrators from The Happy Willy Company for just £59.95 and see just how good it feels on your bits.
Shopping with the Happy Willy Company makes a lot of sense and not just because of the cool name, they give your free shipping on orders over £40. You also get free returns if you have a problem and you can even get next day delivery for those times when you just can't wait to get off.
Check them out and don't forget to tell them that Joanne says "Hi".
Disclosure
This review does not contain affiliate links, for more information about affiliate links check out my disclosure page.