These Fetish Pads come in a pack of fifteen individually folded pads and each measure 23.5"/60cm by 35.5"/90cm. This means they are very large covering a good area when unfolded and laid out on a flat surface.

You get 15 black fetish pads in each pack
They feature a waterproof backing and an absorbent covering and core that is black. These pads when laid out look the part, they absorb all liquids and protect the surface under them from stains, damp and anything else that you can catch with the pads.
The beauty of these pads is that once used you can merely scrunch or fold them up and place them in the bin. They retain the liquid, and you don't get any spills as you carry it to the waste bin.
During testing, I poured a glass of yellow liquid (I will leave it up to your imagination as to what it was) onto the pad and then held it vertically with no leaks whatsoever.
These pads are designed to soak up and hold liquids during your sex play. They are lightweight and when folded can easily be slipped into a play bag for later use.
They are ideal for squirters as you can go with the flow, safe in the knowledge that you aren't going to be washing the bedding after your primaeval orgasms.
They are also great for fisting fun and games where you often have to use copious amounts of lube when warming up and for the main event. This type of play is always very messy, but the Fetish Pads catch up all fluids that land on them allowing you to play without having to worry about the mess.

The packaging has several 'serving suggestions'
If pet play is more to your liking they can be used to place your pets water bowl on so that any spills are soaked up or maybe for even kinkier fun put your puppies pee hydrant in the middle of a pad. Then you can your puppy do their business safe in the knowledge that things are going to be easy to clean up afterwards.
Versatility is the name of the game with the Fetish Pads. Another good use is for when you indulge in some wax play, which is something notorious for ruining bedding. Wax can land on the pads safely and then it is easy to clean up and dispose of.
Golden shows and watersports can be enjoyed on the pads with stray fluids being soaked up. Getting even kinkier they also make an excellent base for Bukakke play whether on your back or kneeling. They pads soak up all liquids so you won't ruin your favourite rug.
Here's a thought, if you enjoy period play but again worry about your sheets, or you end up ruining a towel then these sheets could be just for you.
You can also use these pads outside or even in the car to keep the back seats clean when having some really kinky dogging fun and games. Placing one over the bonnet will keep the bonnet and bumper vag-goo and cum free as well.
If you are into any other form of messy play including one that I won't mention then these pads, make cleaning up a doddle, and due to their large size, they help to keep messes contained.

Each pad comes neatly folded to minimise its size
Performance
I had one preconception about these pads before I tried them. I assumed that the upper layer would have some form of lock-in technology as used in female sanitary products or nappies. In reality, the top surface doesn't lock in liquids; it just assists in their absorption.
If you press on an area that contains fluids, then your fingers will get wet. That isn't a problem as the pads do what they are designed to do and that is absorb liquids. Having a lock in layer could also prevent the pads from absorbing oil based lubes as well so it's just an observation about my preconceptions about them.
The absorption rate is pretty fast as you can see in this video of me emptying a 150ml glass of a particular liquid that shall remain nameless. All of the fluid was absorbed, and while I got wet fingertips when pressing on the area of the fluid, nothing emerged from the back when I lifted the pad.
Indeed nothing ran down through the pad when I held it vertically showing that the fluids are absorbed and held in place. This makes clean up an easy process, just fold the edges of the pad into the centre and then scrunch it up before placing it into a waste bin.
I enjoyed using the pads when both masturbating and when using my fucking machines. Using them meant I could relax and edge myself building up to some incredibly gratifying squirting orgasms when I could just let myself go and enjoy the moment. It was a delight to be able to squirt like that and then not to have to strip the bed to change the bedding.
Each pad works out at £1.70 which is a small price to pay to be able to squirt my evening away without having to have the hassle of stripping and cleaning the bedding.
The black colour of them makes them natural allies to anyone into BDSM and especially forced orgasm fun and games. With fifteen pads in each pack, you can really let your hair down and enjoy as much mess as you want before getting some more in. They are so flexible that I think everyone will see a use for them in their particular play style.
If you like messy play or are a squirter then these fetish pads from @MEO_TEAM could save your sheets.
Click to Tweet

These pads cover a huge area, not even fitting in to my photo booth, but that's good news when playing
Key Features
Key features:
Pack of 15 large pads 23.5"/60cm by 35.5"/90cm
Waterproof backing
Fast absorbtion
Absorbs all fuilds and holds them in place
Final Thoughts
These absorbent fetish pads are possibly the answer that you have been looking for to mop up all of that lube and body fluids during play sessions. They are so versatile and hold liquids well that I will be using them all. I find them perfect for catching lube, cum and squirt enabling me just to lay back, relax and go with the flow.
They are a great product that has a definite use for most people when they put their minds to it, and I have no problem in recommending them. They should feature in any dungeon or playroom where their dark looks can be utilised to compliment a BDSM scene. But they are also equally as useful in the bedroom.
I was sent this pack of MEO Black Fetish Absorbent Pads by Wolf at Meo.de and I would like to thank him for giving me the opportunity to review it for them.
Joanne's rating
Where Can I Get One From?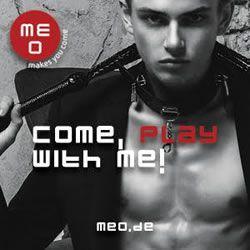 Grab a pack of Meo Black Fetish Pads from Meo.de for just 29,00 € (£25.61). They are incredibly useful and versatile for all sorts of wet and messy play scenarios. You can lay back an know with confidence that you are going to prevent staining and fluids soaking into your play surface. That means that you can relax and go with the flow.
Check them out and don't forget to tell them that Joanne says "Hi".
---
---
Disclaimer - I was sent a pack of MEO Black Fetish Pads to review free of charge and this has in no way affected the outcome of this review. This post contains affiliate links and if you purchase something when you follow one of these links I may receive a small commission at no cost to you. For more information check out my disclosure page.