The Fantasy C-Ringz Ultimate Couples Cage Vibrating Cock Ring (crickey that's a mouthful, I shall from hereon call it "this cockring") is manufactured by Pipedream in the US and it's made out of ABS and body safe Silicone. This means that it's phthalate and latex free and so it's safe to use if you have an allergy to latex. It comes in a pleasant purple colour (my favourite sex toy colour) and the silicone blend used is very stretchy which is handy for fitting it but it can be a bit of a dust and lint magnet, but that is common to a lot of silicone sex toys.
Only use water based lubes with this cock ring and never use a silicone based lube on a silicone sex toy.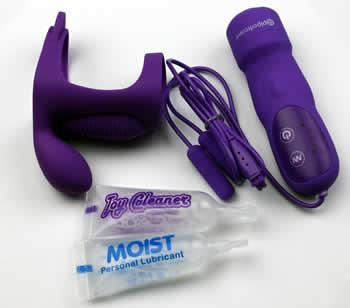 As I said earlier the product box whilst it carries a wealth of product information on it is small for what is inside and I am amazed that everything fits inside. Everything is tightly packed in three separate sealed bags. I was absolutely delighted though when upon opening the box I found that as well as the toy inside it also comes with a lube sample (yes I know nothing unusual there) as well as a sample of a sex toy cleaner. Whoohoo, this is the first sex toy that I have ever received where the manufacturer has actually thought about product cleanliness and hygiene so well done Pipedream you have just gone up in my estimations.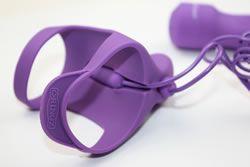 The cock ring portion of the toy features a raised thumb which is similar to a clitoral stimulator on a rabbit vibe and this is nicely textured together with a ridge on the top of the cock ring that is also textured for added stimulation. There is two recesses in the toy that will accept the wired vibrator motors that are attached to their battery box and controller. It's a very simple process to slide both vibrators home into their respective recesses.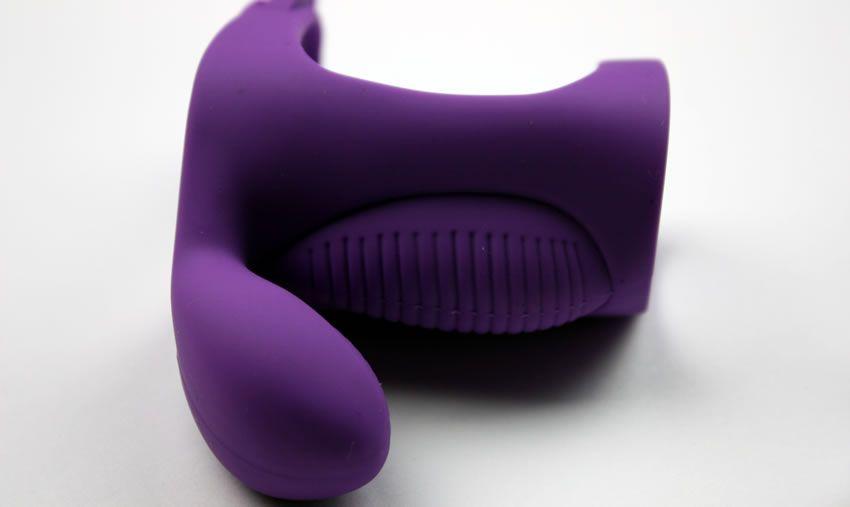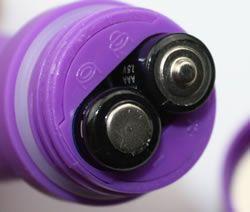 The controller takes two AAA batteries (not included) and you unscrew the end cap to fit the batteries after observing the polarities of them both. Once fitted, refit the end cap and you're ready to switch it on and try it out. It has five vibration settings and two tactile buttons. You press the power button to switch on and off again and the mode button allows you to cycle through the five operating modes.
There are five LED lamps that give you an indication as to which operating mode you are in but I don't use them as lets face it with five modes it's pretty easy to work out which one you are in and as you can only change modes in one direction you have to keep cycling through them all anyway to get to the one you want.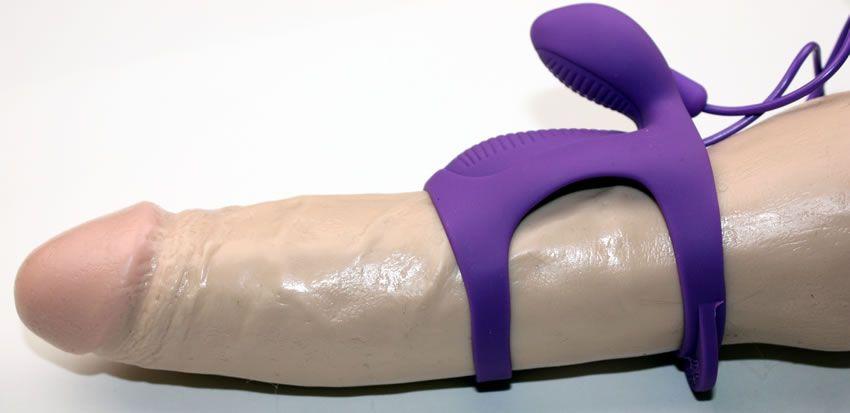 The two vibrators are very powerful for their size but a bit noisy on the higher settings, that said though this isn't a noisy toy at all but the vibrators do emit a high pitched noise when operating. The vibrations are fast but shallow but that is probably the silicone acting as a damper around them. Using one of the vibrators directly on your clit is a lot of fun.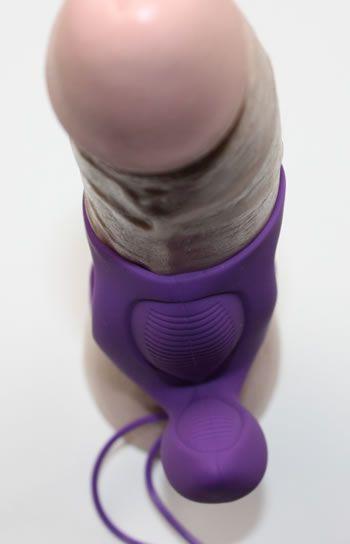 Fitting the cock ring is easy, just get your partner hard and then as the two cock rings are stretchy it is relatively easy to slide it down the penis to the base. The rear loop is larger and it has a tab to aid either placing it around your penis and balls or just around your penis. Alternatively it can be fitted over the penis and balls prior to receiving stimulation in order to aid in gaining and keeping an erection.
Cock rings can give you a harder, longer lasting erection as they restrict the flow of blood out of your penis and so they can be used as an aid for anyone with any form of erectile dysfunction. The front cock ring grips the penis tightly whilst the rear is also tight around the penis and scrotum and both I have it on good authority feel amazing in use.
It's when you turn it on whilst enjoying intercourse that this cock ring really comes into its own as it stimulates both partners so you both get to enjoy the vibrations. The guy enjoys them through his penis whilst the female enjoys the clitoral vibrator as well as internal vibrations as the cock ring enters her vagina and these sensations together coupled with the intimacy of the moment mean for a very pleasurable experience indeed.
We both really enjoyed it as it's not often that we get to enjoy using a sex toy together and both of us had no problems in reaching an orgasm, indeed we have used it on numerous occasions now.
This is one of those nice occasions where I wasn't expecting a product to actually delivery on its promises but this cock ring really has opened my eyes to how much fun that a cock ring can actually be. My stunt cock did enjoy the feeling of the rings squeezing his cock as well as the added vibrations delivered by this sex toy so its a big thumbs up from us both.
As it's waterproof you can use it in a hot tub or if you shower together for some very kinky times together. Cleaning is easy but goo does collect in the vibrator recesses so make sure you clean them out properly. Just use warm soapy water to remove body fluids and goo before cleaning with a sex toy cleaner. Make sure that it's dry before putting it away until next time. The silicone body can be cleaned in a dishwasher on a sterilise cycle but remove the vibrators and batter pack first.
Key Features
Key features:
Silicone and ABS construction
Internal and external stimulation
Two powerful vibrators
Five operating modes
Battery operated (2 x AAA not included)
Waterproof
Final Thoughts
As this was out first of hopefully many cock rings we weren't too sure as to what to expect from it but it does actually work. It makes for harder erections and feels very exciting in use and the added vibrations blew us both away, the feeling of the clitoral thumb and pad stimulating me as my partner thrust away was pretty much mind blowing. So fi you are looking for a toy that both partners can enjoy or if you are a guy who just likes to give pleasure to his partner then check out this great toy over at Uberkinky.
Joanne's rating
Where Can I Get One From?

Grab a Fantasy C-Ringz Ultimate Couples Cage Vibrating Cock Ring from Uberkinky's excellent range of Vibrating Cock Rings for only £34.99.
Check them out and don't forget to tell them that Joanne says "Hi".
---

If you enjoyed reading this review then check out my other reviews of Uberkinky products:
Website links:
---
Disclosure
This review contains affiliate links, these links allow me to get a small commission if anyone uses them and then goes on to buy one of these units at no added expense to the shopper. It is common practice to use affiliate links and the small fees I earn this way go towards the running costs of my site, anything left over goes towards buying in more toys to review.