We quickly decided that his Mum would need help to get through the funeral and the immediate aftermath. So even though international travel is frowned upon, we had to do something. Funerals do fall under the permitted reasons to travel but doing so is a right song and dance.
After shelling out a considerable amount in terms of flights, bureaucratic paperwork and covid fit to fly tests, Stunt Cock and his brother finally managed to hop on a flight and fly to Bulgaria. They planned to comfort their mother and to attend the funeral, having got it delayed until their arrival.
Not good circumstance at all, as you can imagine. Now throw in a bit of Covid bad news to add to the problems and confusion.
Add a sprinkle of Covid to the pot
When they landed (on my birthday - yay for me), they got a text message saying that their mother had just been diagnosed with Covid and needed to be admitted to a local hospital as her condition was pretty bad.
Unphased by that, the brothers got a hire car and drove four and a half hours to the little village that their parents lived in, arriving in just enough time to say a socially distanced farewell to their Mum as she was taken into hospital.
Now anyone flying into Bulgaria has to quarantine for ten days, and as such, they are stuck in our house over there until the 28th of March, (luckily we bought the one next door to Stunt Cocks parents a few years back). At least they have a relatively safe space to wait until they get a Covid test for themselves at the end of the week.
They managed to get their fathers funeral put back until the 28th so that they could get to the graveyard. It would also mean that it would give their mother something to focus on in the hospital. As if she could get well enough to be discharged, she could see the coffin drive past.
Now they are faced with a huge new problem. They were due to get tested again and then fly back to the UK on the 30th of March. But, if their Mum makes it through Covid (fingers crossed that she will), one of them will need to stay out there to look after her for the immediate future until she gets over the illness. She will also face two weeks of quarantine when she comes out of the hospital.
That will probably be Stunt Cock, as he is totally selfless and will always put himself into harm's way for the benefit of others. That's probably something that was drummed into him in his 23 years of military service.
With Europe on the verge of its own third wave of Covid cases, there is talk of stopping all flights again or even preventing people from flying if they haven't received their Covid vaccine, and that throws another spanner into the works.
Stunt Cock hasn't had his vaccine jab; ironically, he was set to get it on the 25th of March, but the bereavement last week sort of laid waste to those plans. I'm obviously beside myself with worry for Sunt Cock, his brother and their Mum, of course, and this is one of those situations that I fear may worsen before it gets better.
The best outcome from this would be all three of them get through this and for us to be able to bring their Mum back to the UK when she can eventually travel to settle her back in the UK. But I fear she may not welcome that option, so there will be some very tense conversations in the future, I fear.
I pray that all three of them make it through this in one piece in the short term.
Some heartfelt thank you's.
I want to thank all of my readers who have sent their best wishes; they are very much appreciated in these tense and worrying times.
I especially want to thank E-Stim Systems for their kind words in private.
John Thomas Toys sent me these flowers, and they are amazing and such a nice thought; they brought a tear to my eyes.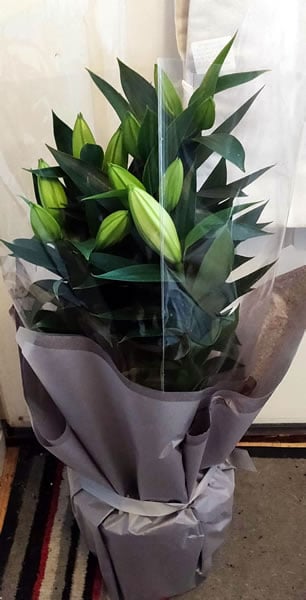 Thank you John Thomas Toys, these were a lovely gesture.
These two companies are amazing and I hope everyone supports them.
I will bury myself in work to keep my mind off things, but both sub'r' and I am missing Stunt Cock really badly. We can't wait to have him safely back here and trumping around us again soon (his other nickname is Pumba).
Please keep your fingers crossed for us, and if I am a little quiet on social media, you now know why.
I will try to keep everyone posted as things develop.
Stay safe, everyone.
RIP - Tom. Joanne has lost her father in law and it has huge consequences for the family.
Click to Tweet