This metal collar is stunning, it's very shiny and well made. It features a hinge at the back which is fairly unobtrusive, the main feature though is the two magnetic balls at the front. Each contains a powerful magnet embedded inside that is used to hold the collar closed.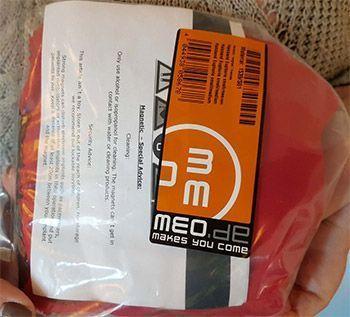 Now firstly I have to give you a little bit of advice and safety information about these magnets. They are very powerful and I believe that they are neodymium magnets and these tarnish easily. This means that you can't clean this collar with water, you will need to use alcohol to clean it otherwise the balls will tarnish. The Euphoria collar is supplied with some alcohol cleaning pads, the type that is used when you get an injection and they make cleaning easy. You could just use some alcohol and a cotton wool pad for the same effect. Or get a can of coke and enjoy the alcohol the way that it should be enjoyed.
Now, on a much more serious note very strong magnets can have an effect on electronic devices such a pacemakers, implanted defibrillators or activatable implants affecting their operation. So, unfortunately, if you have any of those then this isn't the collar for you as it needs to be kept at least 20cm from them.
The magnets are very, very strong so take care when fitting the collar so that your fingers or skin don't get trapped between them as you close it. Finally, never rest the collar on your purse or wallet as the magnets could wipe your bank cards clean.
I'm glad I got that out of the way. You are probably thinking why the heck would I consider getting this collar with all those negative points?
Well, I know where you are coming from with that but let me just tell you how this collar feels and looks in use and then you can make your mind up.
Fitting it is an absolute breeze, just separate the magnets and open the collar up. Place it around your submissive's neck and then close the collar, the balls will snap together and the collar will be held very firmly in place.
I love the cold feel of steel when it's against my skin and this one delivers that feeling well. It's also quite substantial and so you really know it's there, its weight and hardness are a constant reminder of its presence and that is one of the things that I really like about it.
It looks so sexy when you wear it and people will wonder how it is fitted as you can't see between the locking balls and they hold it tightly shut.
The stainless steel bar used is approximately 10mm or 3/8" thick and it has a round cross-section. The magnetic orbs are 30mm or 1.2" in diameter and they form a very pronounced focal point on this collar. They make the collar sit down at the front because of their weight and this forces the sides and back against your neck.
I love the symbolism of this collar. When you fit it you feel the chill of the cold steel on your skin and when you eventually remove it at the end of a session it has been warmed up by your body heat. So, in reality, when a Dominant removes it, he or she takes a little piece of your warmth with them and from a submissives perspective that is a lovely thought.
The Euphoria collar comes in two sizes with a smaller sized one which is 12cm or 4.75" for anyone with a small neck and a larger one measuring in at 14cm or 5.5" in diameter.
Wearing this collar gives this submissive a huge sense of belonging and I love how it looks. It's quite hard to remove, just as it should be of course. The magnetic orbs do a good job of sealing you inside its cold hard grip.
I enjoy wearing this collar for kajira scenes and together with metal ankle and wrist restraints it really gives you an almost feral feel to your restraints.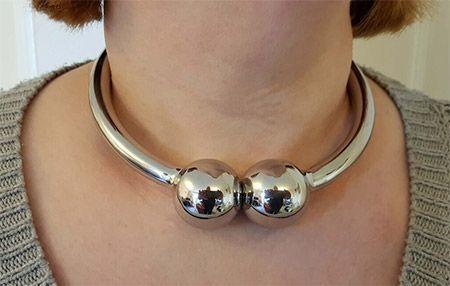 There is something about metal collars and restraints that really gets me excited. I think it'is the unyielding solid feel to them coupled with their cold temperature and weight.
A metal collar isn't as comfortable as a leather one and that isn't a bad thing depending on your play style and how you want to feel whilst wearing one. This one is a good example of how a little metal and ingenuity can make you feel incredibly sexy.
This collar makes a defined statement and it is look at me, I am owned and proud.
This magnetic Euphoria collar uses strong magnets and a hidden hinge to allow easy fitting and it looks and feels amazing.
Click to Tweet
Key Features
Key features:
Stylish metal collar
Hidden hinge and magnetic ball closure
Powerful magnets
Cleaning alcohol wipes included
Final Thoughts
This is my second metal collar and it is now my favourite. It looks incredible and makes me feel so submissive. I love its snug fit and the look of it around my neck. Its two magnets hold it securely closed and it really does get some nice admiring looks when people see me wearing it. If you are looking for a metal collar that is almost a fashion statement then this is definitely one to consider.
I was sent the Euphoria Metal Collar by Meo.de in exchange for a fair and honest review and I would like to thank them for giving me the opportunity to review it for them.
Joanne's rating
Where Can I Get One From?

Grab one of these stunning metal collars from Meo.de for just 89,00 € (£78.31). With Christmas just around the corner it would make an ideal present for yourself or a submissive.
Check them out and don't forget to tell them that Joanne says "Hi".
---
---
Disclaimer - I was sent the Euphoria Collar to review free of charge and this has in no way affected the outcome of this review. This post contains affiliate links and if you purchase something when you follow one of these links I may receive a small commission at no cost to you. For more information check out my disclosure page.