Before I review the cable, let me give you a brief introduction to tri-phase play.
So what is tri-phase stimming?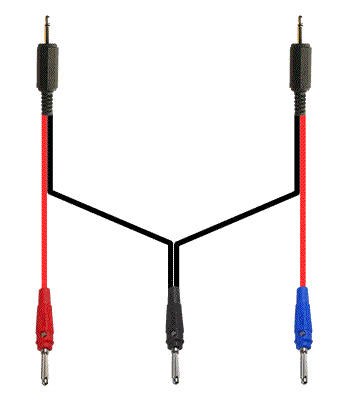 In essence, as its name suggests, it involves using three electrodes.
These electrodes are connected to two isolated channels from an e-stim control box like the 2B.
The astute among my readers will know that two channels mean four plugs. For tri-phase play, two pins (from separate channels) are joined together.
So your two output channels from your control box now share a common electrode.
This allows you to use only three electrodes in your play session. In this manner, the output waveforms from your two-channel control box can combine and interact with each other.
This can produce a third ghost sensation, often described as giving a more 3D feeling.
Let me give you two examples of tri-phase electrode configurations; firstly, let's talk about penis owners.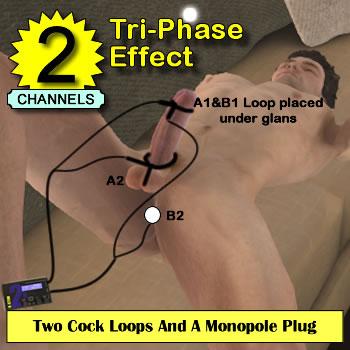 A simple tri-phase electrode configuration could be a cock loop placed just under the glans, another cock loop around the base of the cock or around cock and balls.
The third electrode could be a bipolar insertable electrode using one of its electrode surfaces.
One plug from each cable could be connected to the upper cock loop, and the lower loop and head of the insertable could take the other pins.
In this configuration, the top cock loop is common and will feel most intense. You can of course mix things up by making the lower loop or even the insertable electrode the common one. Experimentation is key to getting the most out of your stimming sessions.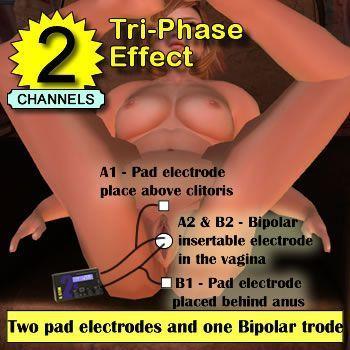 For vagina owners, you could place one pad style electrode just above the clitoris and another just behind the anus. An insertable electrode could be used as the common electrode, and this would cause nice sensations through the clitoris, g-spot and anus.
Both of these configurations use three electrodes in conjunction with four wires. So you will need either a two to one adaptor to allow two plugs to be attached to one electrode. Or you will have to make up a special cable for yourself, but if you had the means to do that, you would probably already have one.
The fact that you are reading this review probably means that you are looking for an easy way to enjoy some tri-phase play. That, my lovely readers, brings me right up to date and leads me on to my review of the E-Stim Systems Tri-Phase Cable.
Delivery & Packaging
Usually, I praise the delights of receiving packages from E-Stim Systems. They always ship products quickly and extremely discreetly, but for this review, I cheated.
You see, I like E-Stim System's kit so much I now sell it, and while that may seem like a conflict of interests in a review such as this, it isn't. My reviews are always honest, informative and frank, but I digress.
For this review, I dipped into my stock and pinched one for my own use.
Packaging
The E-Stim Systems Tri-Phase Cable comes in a nice blister pack branded with their logo and product information. Inside the package, you get the cable itself which has two 3.5mm plugs on one end and three colour coded 4mm banana plugs on the other end.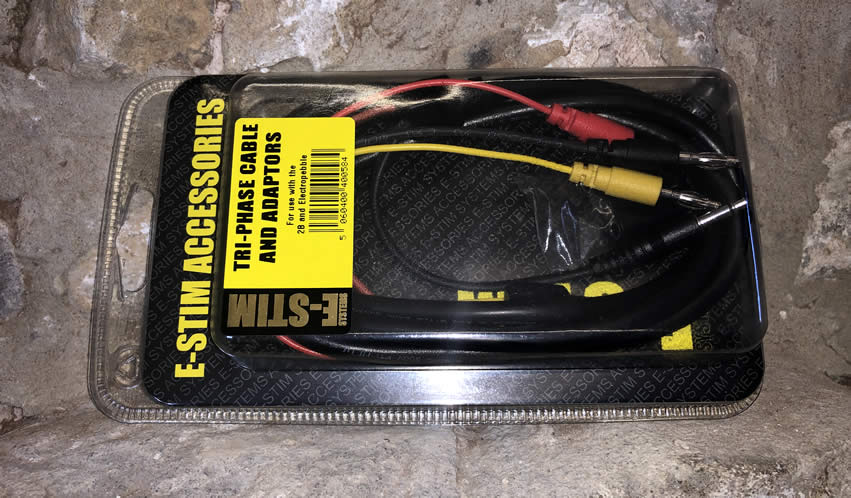 The packaging of the E-Stim Systems Tri-Phase Cable is very functional and perfect for brick and mortar stores.
Design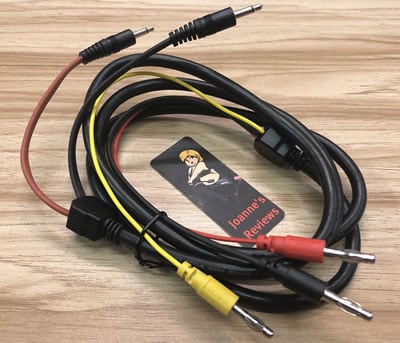 What I love about this set is the fact that you also get three 4mm banana to 2mm TENS plug adaptors. This makes this kit extremely flexible.
You can mix and match electrodes without having to think about matching socket sizes. So you can easily use pad electrodes with electrodes like the Moaner.
These adaptors are branded with the E-Stim Systems logo, and they are of excellent quality. Plugging in the cable is easy, and the plugs stay securely in place, so if you are a wriggler like me, they aren't going to separate.
All the plugs on the tri-phase cable are excellent quality too. I love that where the wires go into the main cable umbilical; they are secured in place with injection moulded blocks to secure them.
You get a red and black cable that attaches to your control box through two 3.5mm plugs.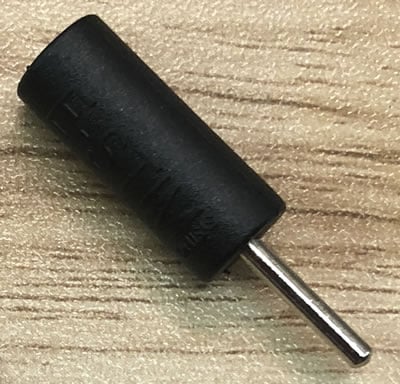 The other end of the cable features a red and a yellow cable that corresponds to each channel (red-red and black-yellow). The black cable and plug is the common cable that joins both channels together.
You can attach these cables to your electrodes in any combination that you desire. I highly recommend experimenting with different ways of wiring them as it can change the perceived sensations. Remember, though, that the electrode connected to the black cable will always feel the most intense. It is common to both channels and can have twice the current flowing through it over the other two electrodes in the circuit.
Quality, as you would expect from E-Stim Systems, is second to none. While their electrodes and control boxes have a lifetime guarantee, you only get a three-month guarantee with their cables. This is because they can have to put up with a lot of abuse in use. Look after it though, and it will last you for a very long time as it is a quality product.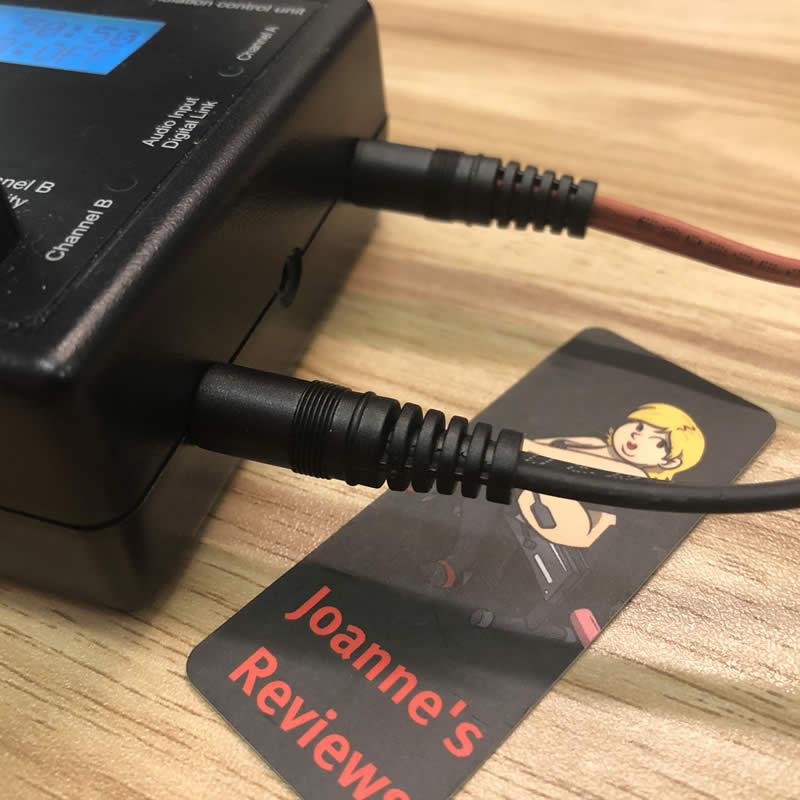 The Tri-Phase Cable was designed for use with the 2B control box from E-Stim Systems but it will also work with any control box with isolated channels that takes 3.5mm jacks.
Performance
This tri-phase cable kit is straightforward to use, and it helps prevent some of the "birds nest" cable management problems often associated with stimming with two channels.
I love the umbilical design, and having the three colour-coded plugs on the end makes it so easy to wire up for play.
I have no issues with intermittent connections when using it with my 2B or any of my other control boxes.
Having a quick and easy method of rigging up three-electrodes in a tri-phase configuration means you can get creative.
My favourite so far is the head of the Moaner Bipolar Electrode inserted vaginally (there is another hole option, obviously) and two pads. One placed just above my clitoris, and the other in the crack of my bum cheeks about an inch from my anus.
The head of the Moaner is my common electrode, and the other two go to each channel. When stimming with the Waterfall mode on the 2B, I could literally melt. It feels sublime; I love it.
Tri-phase play is all about getting creative, and it can produce some incredible sensations as the two channels sometimes overlap. For some electrode placement ideas, check out my Electrode Placement Guide, which has some tri-phase configurations that you can use as starting points with which to experiment.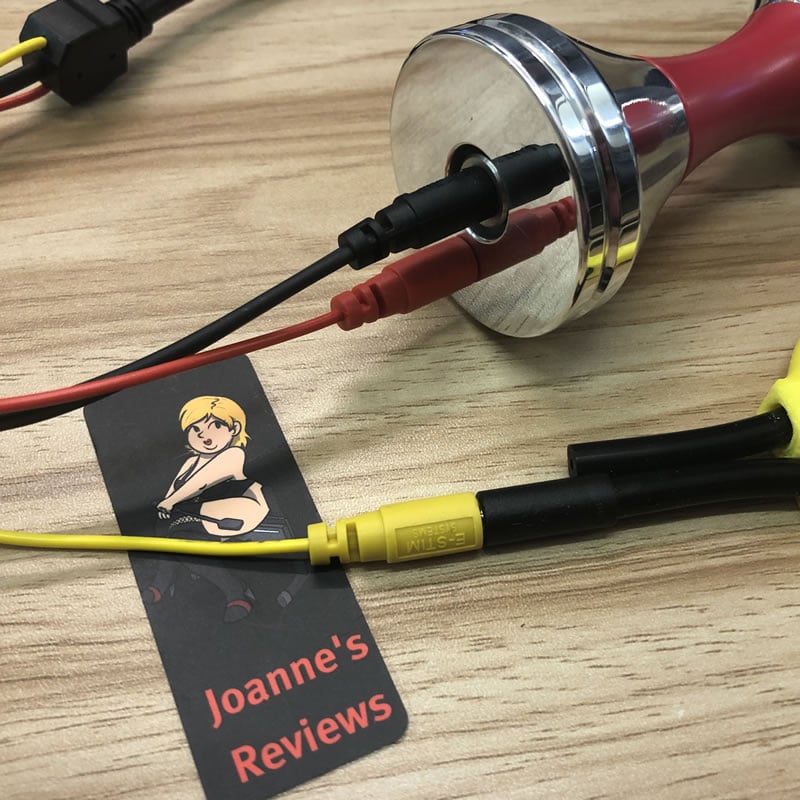 The Tri-Phase Cable and its adaptors make it easy to mix and match electrodes with 2mm or 4mm sockets with ease.
The Tri-Phase Cable from @EstimSystems is a quick, easy and flexible way to connect your #estim electrodes for tri-phase play. Check out Joanne's review of it.
Click to Tweet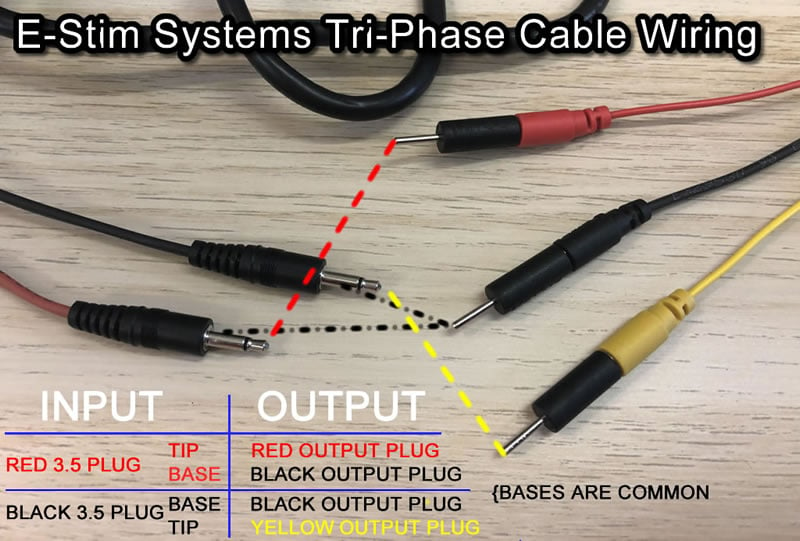 This image shows the relationship between the plugs.
Key Features
Key features:
For use with control boxes that accept 3.5mm plugs and have isolated outputs.
Converts two isolated channels into three non-isolated contacts.
4mm banana plugs on the output side of the cable.
Three 4mm to 2mm pin adaptors supplied allowing you to easily mix and match electrodes.
Comes with a 3 month guarantee.
I would recommend it to:
Anyone with a 2B looking for an easy way to wire up for tri-phase play.
Anyone with a control box with isolated channels looking for the same.
Anyone who likes the idea of keeping cable runs tidy.
Anyonw wanting to experience tri-phase play but who doesn't want to go the DIY cable route.
I wouldn't recommend it to:
Anyone who has a control box that doesn't accept 3.5mm mono plugs.
Anyone who has a control box without isolated channels.
Final Thoughts
I am thoroughly impressed by the quality of the TriPhase Cable & Adaptor Set from E-Stim Systems. It is very well made, and the inclusion of the 4mm banana to 2mm pin adaptors makes it incredibly flexible to use.
It allows all sorts of different electrode combinations to be used effortlessly. The neat way that the single umbilical cable connects your control box to the electrodes makes for a much tidier play session. Reducing the chances of cables catching on things during play.
Yes, you can make a tri-phase cable yourself, but I can pretty much guarantee that most DIY cables won't be as neat and reliable in use.
I love this one, and it's now in my play box, ready for use.
You can grab one direct from E-Stim Systems, or they are also available in my shop.
Joanne's rating
Where Can I Get One From?
Grab one of these fantastic cables for £49.00 / $74.99 (USD).
Website links:
| | |
| --- | --- |
| If you are looking to buy one of the E-Stim System Tri-Phase Cables and you are within the UK/EU then check it out in their online shop, grab a Tri-Phase Cable & Adaptors for £49. | |
| If you are in the USA/Canada then E-Stim Systems have got you covered and you will save 20% by not having to pay VAT. Buy the Tri-Phase Cable & Adaptors for $74.99 (USD). | |
From their humble beginnings in a garage back in 2004 E-Stim Systems has grown and grown with an army of loyal customers. They manufacture their goods themselves in the UK, and that gives them total control of their range of equipment, they even offer a lifetime guarantee (how's that for confidence).
Check them out and don't forget to tell them that Joanne says "Hi".
---
If you enjoyed reading this review then check out my other reviews of E-Stim Systems products:
CONTROL BOXES
PUSSY & ASS ELECTRODES
PENIS/BALL PLAY
OTHER
Website links:
---
Disclosure
Disclaimer - This post contains affiliate links and if you purchase something when you follow one of these links I may receive a small commission at no cost to you. For more information check out my disclosure page.