---
UPDATE: 24/01/20
E-Stim Systems Have Just Brought Out A New Remote
E-Stim Systems have just released a newer version of the E-Stim Systems Remote and the one in this review has now been renamed the Classic Remote. It is still a fantastic e-stim control box and it will still suit lots of stimmers.
I highly recommend that you read my review of the NEW E-Stim REMOTE as well so that you can decide which one is for you.
Joanne xx
---
Delivery and packaging
Whenever I have received products through the post from E-Stim Systems, they have been discreetly packaged. They understand the need for customer discretion and privacy. So there is never anything on the outside of the box to say what delights await inside.
The E-stim Remote System comes in a black plastic case that incorporates a handle and to locking clips to keep it closed.
When you open it to look inside, you will find foam padding with cut-outs for the components of the system. You get E-Stim Remote Control Box together with the Remote Key Fob held securely within the black foam padding.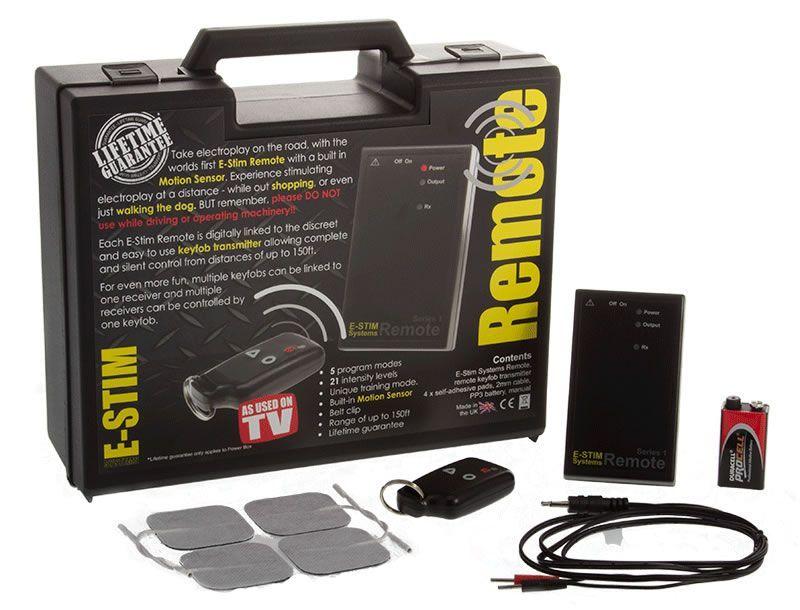 The handy storage box contains everything keeping it safe and secure
You also get a 9V PP3 battery, a 3.5mm to 2mm Tens plug cable, a set of four self-adhesive monopole pad style electrodes and a comprehensive manual.
So basically, you get everything you need to start having some fun straight out of the box. It is a complete kit, and it can be so much fun to use.
So why have a remote system?
Most people stim at home, often in the bedroom alone. While that is a lot of fun, imagine the excitement that can be had if you hand over the control to someone else.
The E-Stim Remote System lends itself perfectly to power play, especially in a Dom/sub scenario. One person can control the other, rewarding or punishing as they see fit.
While you can stim while out and about using other e-stim control boxes, you don't have any interaction with anyone else. This is where the E-stim Remote System comes into play.

You get everything you need to start playing straight away
With its range of up to 50m (some people have reported theirs working up to 80m in open terrain), you can have so much fun.
Now imagine being wired up and walking around your local supermarket pushing the trolley. Get too far in front and ~~Bzzzzt~~ you can be quickly brought back into line.
Imagine being given a task that requires total concentration and ~~Bzzzzt~~ someone is trying to put you off. Maybe further punishment could be in order if you fail to complete the task.
Your imagination is the limit to how much fun you can have with one of these units. So, let's look at what it does in more detail.
Safety
This is an important subject, and when you buy from E-Stim Systems, you can rest assured their equipment has been individually verified as being safe to use. All of their control boxes carry the CE mark which denotes as such.
It has inbuilt current limiting, and the output is BiPhasic AC (never use a DC current for stimming). It also reduces the power output to zero when you change modes of operation to prevent any shocking surprises.
Key Features
Receiver Size: 110mm x 61mm x 34mm
(4 1/3" x 2 1/2" x 1 1/3")
Receiver Weight: 250g
Transmitter Weight: 50g
Channels: 1
Socket: 3.5mm
Output: BiPhasic current limited body-safe pulsed ACThis system revolves around an E-stim Control Box that I believe is based on one of my favourites, the Series 1. It has a receiver element to it.
This allows a powerful keyfob transmitter to be used at distances of up to 50m to control and interact with the control box through three simple buttons.
The control box has one output with a standard 3.5mm socket and a low profile switch which means clothing or roving fingers will have problems switching it off.
The box has a sturdy belt clip on the back which is essential for use out and about. It securely clips the box to your belt.

The battery is easy to fit and change when it goes flat
The control box takes a 9V PP3 battery (included), and the transmitter takes a small 12V battery (included).
As with all control boxes from E-Stim Systems, this one comes with a lifetime guarantee as they are so confident about their products and quality control.
All of their boxes are made in the UK, and I love that fact.
This is a control box where you really should read the manual as it explains in great details the five modes of operation.
The control box has an internal motion sensor that is very precise, and this can be a lot of fun to use. Any movement will entice shocks when in this mode.
One fantastic feature of this system is its ability to learn and communicate with new transmitters. This allows one fob to control multiple control boxes or multiple fobs can control just one box. Insert devious ideas here as to just how much fun those two scenarios can be.

The transmitter and receiver system is very flexible and you can have multiple ways to play with others
You can buy additional key fobs for just £29 from E-Stim Systems.
I was impressed by the performance of the transmitter in terms of ease of use and range.
It basically works as follows:
The red button at the top is the 'Fire' button, and it is used to switch on the output of the control box shocking the wearer. Some operating modes change the function of this button.
The triangle button raises the power output incrementally.
The circle button lowers the power level.
Pressing the triangle and circle button together allows you to select which of the five modes you want to play with

The transmitter is easy to use and understand with its three simple buttons
Operating modes
The E-Stim Remote System has five modes of operation, and I will cover them briefly below:
Mode 1: Fire
This is the mode that the control box defaults to when you switch it on and it is so much fun.
When in this mode the triangle and circle buttons control the output power levels of which there are twenty.
The red 'Fire' button does exactly that it switched on the output as the selected power level, a light will indicate the output is live on the control box.
The output will be live for as long as you hold the red button in. However, it will time out after 23 seconds. This is not a fault; it is a feature to save battery life if the button is operated inadvertently. Just press the button again if you want to continue.
This mode is what sub'r' calls punishment mode, and it's perfect for delivering short sharp shocks to bring her back into line.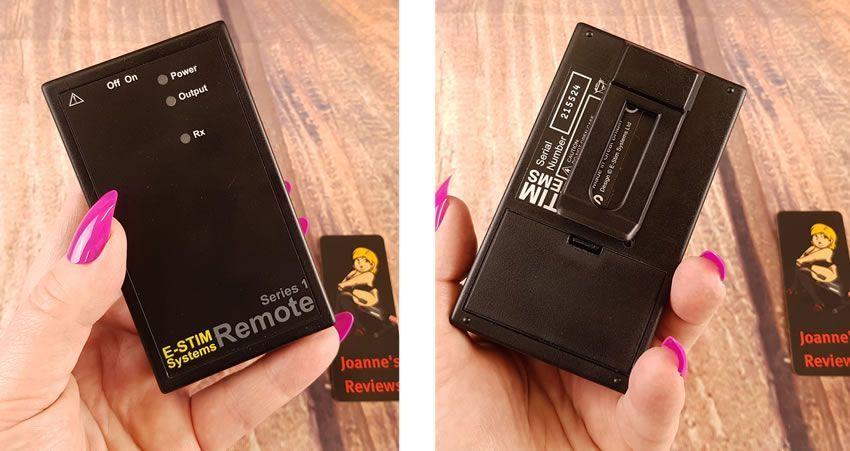 The receiver/control box is a handy size and the belt clip works well
Mode 2: Continous
In this mode the power as suggested by its name is permanently on, this is indicated by the LED on the control box.
The red button alters the feeling of the output in this mode while the other two buttons control the output levels. Again you get 20 levels of power, so this mode can deliver tingling touches designed to tease or all the way up to painful cramps.
The red button alters how the sensations feel, and it can be tuned to find something the person being stimmed likes or of course hates.
This mode can be a real teaser, the constant stimulation can feel good, to begin with, but can be used as punishment over long periods.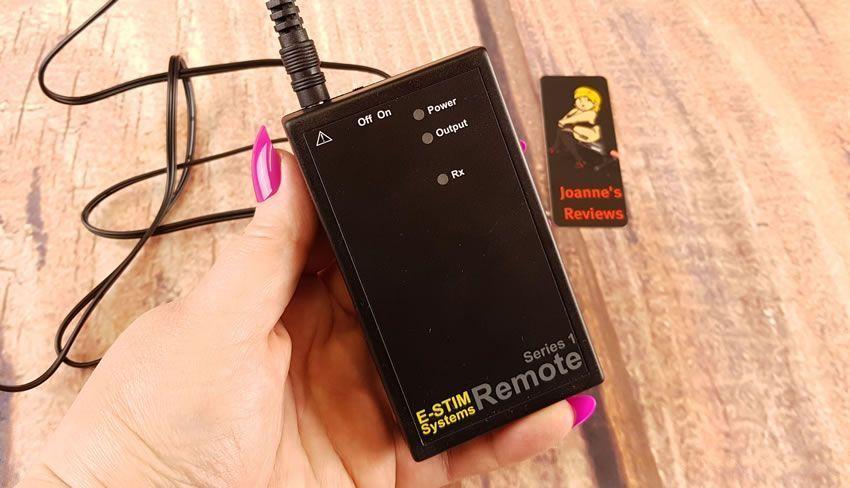 The cable comes with a 3.5mm plug for the receiver end and two 2mm plugs for the electrodes
Mode 3: Pulse
This mode is one for pleasure, but it can also feel bad on high power levels. This mode pulses the output, and that can feel amazing.
The red fire button changes the speed of the pulses in this mode, and the output LED flashes in time with the outputs.
Again the left and right buttons adjust the output power with twenty power levels to choose from. Anyone who can take the higher levels is a legend in my books.
I have so much fun using this mode on sub'r' especially when out and about as it really turns her on. When she orgasms from it while out and about, she gets so embarrassed and her face turns a lovely shade of red.

The power switch is low profile so it can't get snagged on clothing and the output socket is easy to find
Mode 4: Motion Sensor
This one is a bastard if I am honest. It is perfect for predicament bondage and can lock you into a spiral when you can't stop yourself from being stimmed. I love it.
In this mode, the left and right buttons control the output through its twenty levels of power.
The fire button gives you manual control of the output so you can shock someone even if they are being very still. Again the output LED illuminates to show you the output, and this can be fun to watch.
The internal motion sensor is very sensitive, and it will work in any orientation. As well as sensing quick or sharp movements it will actually monitor even the tiniest movements, adding them up over time before firing the output.
This is the perfect operating modes for sadists as when you hit the fire button, the electrical shock will cause the person on the receiving end to jump, and this kicks off the movement sensor.
It is utterly devious and oh so much fun. You have to really force yourself to stop jumping around and ride the pulses to keep still. Who knew torture could elicit so many swear words and laughter too.
I call this one "Tourette Mode" as it will have you f'ing and blinding as you jump around trying to control yourself.

The Rx led on the receiver lights up when you press a button giving you confidence that you transmitter is working
Mode 5: Training
This mode is pure evil, use with care as it can deliver very sharp shocks.
In this mode, the three buttons are all preconfigured to give shocks at different power levels. This mode is used to punish while all the others can be used for pleasure or punishment.
Pressing the left button will deliver 33% (level 7) output power.
Pressing the right button delivers 66% (level 14) output power.
The red fire button delivers the maximum current 100% (level 21), and it is not for the faint-hearted. Depending on where the electrodes are placed, it could have you squealing.
This mode can be devilishly good fun. You should have seen sub'r' trying to pour the drinks while being zapped. Poor thing, she was suitably punished for the spills though I hasten to add.
Performance
I love the E-stim Remote System, it is so much fun to use, and with its five modes of operation, there is something for everyone. It is hard to find any faults with it at all as it is so straightforward and easy to use, especially with a partner.
Even using it on your own can be so much fun, setting it to pulse or using the movement sensor can really spice up your masturbation sessions.
It's when you hand over the transmitter to someone else though that things get really exciting and kinky though.
This is a tool that every Dominatrix or Dom should have in their toolbox. It is perfect for power play, and it really does lend itself to BDSM and Dom/sub play in general. It can take predicament bondage to the next level with the motion sensor too.
Handing over the controls to someone else can be both terrifying and also highly exciting too. Being at the mercy of someone else at the controls can really heighten your arousal and pleasure too.
The E-stim Remote System from @estimsystems is a fantastic way to play with e-stim and a partner. Give them the transmitter and you are at their mercy. This is the ideal kit for BDSM sessions and powerplay.
Click to Tweet

The storage case does an excellent job of holding everything neatly and safely in place
Key Features
Key features:
Remote control e-stim control box
50m (150ft) range
Five operating modes
Twenty power levels
Inbuilt motion sensor
Belt clip
Lifetime guarantee
I would recommend it to:
Anyone who fancies handing control to someone else
Anyone who wants to stim while out and about
Anyone who wants to spice up their BDSM play
I wouldn't recommend it to:
Anyone looking for a two channel control box
Final Thoughts
Once again E-Stim Systems have come up with a fantastic e-stim control box.
Having a transmitter that someone else can use from close range or even far away really ups the kink levels of your stimming session. Handing over control to someone else can be terrifying and also highly arousing. Letting them control the sensations that you feel means that you have to give in and enjoy the ride.
It's a quality product backed by a lifetime guarantee which is fantastic and in my experience with equipment from E-Stim Systems it will be very reliable, giving you many years of pleasure, or pain.
I have absolutely no hesitation in giving the E-Stim Remote System a solid recommendation because of its performance and features. I have had so much fun reviewing it.
Joanne's rating
Where Can I Get One From?
If you are looking to buy an E-Stim Remote System and you are within the UK/EU then check it out in their online shop E-Stim Remote System.
If you are in the USA/Canada then E-Stim Systems have got you covered and you will save 20% by not having to pay VAT. Buy the E-Stim Remote System.
From their humble beginnings in a garage back in 2004 E-Stim Systems has grown and grown with an army of loyal customers. They manufacture their goods themselves in the UK, and that gives them total control of their range of equipment, they even offer a lifetime guarantee (how's that for confidence).
Check them out and don't forget to tell them that Joanne says "Hi".
---
If you enjoyed reading this review then check out my other reviews of E-Stim Systems products:
CONTROL BOXES
PUSSY & ASS ELECTRODES
PENIS/BALL PLAY
OTHER
Website links:
---
Disclosure
Disclaimer - This post contains affiliate links and if you purchase something when you follow one of these links I may receive a small commission at no cost to you. For more information check out my disclosure page.