Nylon has several advantages as a material to be used in e-stim electrode products. It's very hard-wearing so that it won't wear out quickly and Nylon in a non-porous and body-safe material.
So why did I design my range of products? Well, firstly I often get messages from guys who are having problems achieving hands-free orgasms using electrostimulation.
That lead me to do a lot of research into genital nerve groups, and I found that it really does make a difference where you drive an e-stim current through the body.
Simply putting two cock loops around a penis feels nice, with the current going through the dorsal nerves running along the top of the penis. But it can feel so much better if you involve other nerve groupings in your stimming session.
"Wow this thing is fantastic! Great idea. It feels incredible."

Dave, UK.
By simply moving the lower loop from just being around the base of the penis to being around the penis and behind the testicles/scrotum, you can involve the Perineal nerve groups too. By insulating the top half of this lower loop, you can directly force the current to stimulate both the Dorsal and Perineal nerves. This increases the pleasure of a session and can help you achieve the holy grail of a hands-free orgasm. I talk about this more in this article - Electrosex Penis Play Guide For Hands Free Orgasms.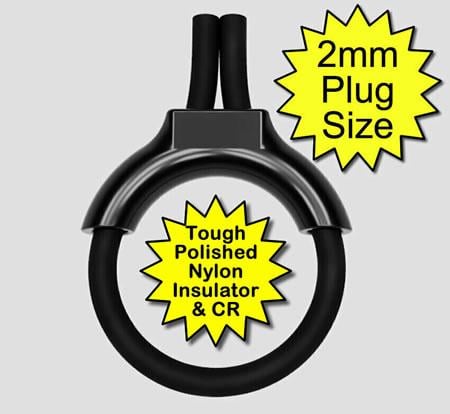 My Nylon cock loop insulator has been very well received and I think it is time to make another nylon electrode
Now you don't need my cock loop insulators to achieve this effect, but they do make a neat and simple solution. Some other ways of insulating the lower loop include using insulating tape, heat shrink tubing or anything non-conductive.
"Thank you, Joanne. The insulator has really allowed me to up my game, and I have just experienced my first HFO - Woohoo!"

George, NL.
Using this electrode configuration, most of the sensations are still felt in the glans of the penis, but the brain interprets the stimulation of the perineal nerves and helps you on your way to a hands-free orgasm. Let's face it; why would you not want to stimulate more nerve groupings when you stim?
What's next?
The Nylon versions of my cock loop insulators have been exceptionally well received, and so I am considering making my bipolar cock loops available in Nylon as well.

My Bipolar Cock Ring creates a neat and tidy way to stimulate your cock
The bipolar cock loops sit just under the glans with one electrode going around the glans with the other focussing the sensations on the frenulum (banjo string). This feels very intense, and again this electrode is really getting some great feedback.
"The bipolar cock loop is amazing. The sensations are so intense, it's a real game-changer. Thanks for the advice and superb electrode."

Matthew, USA.
So, I think it is the one I will get made in Nylon next, so watch this space.