Disclaimer - I was sent the Esthesia to review free of charge. This post contains affiliate links and if you purchase something when you follow one of these links I may receive a small commission at no cost to you. This has in no way affected the outcome of this review. For more information check out my disclosure page.
The Esthesia is a stunning mid sized rabbit vibe that is coated in a very nice blend of silicone that makes it a little draggy but with some lube it feels so good. I simply adore silicone sex toys, it is my material of choice as it's both phthalate and latex free whilst also being completely body safe.
It is available in two colours, these being pink and purple, I opted for purple as it is my favourite colour and it is a very nice shade. The first thing that you notice when you order a Vibease product is the nice packaging that they use and the attention to detail that they have put into it.
You only get one chance at a first impression and so far we are off to a good start. Upon opening the box you get to see the Esthesia nestled securely within its soft packaging. Inisde the box you will also find an instruction manual and a USB charging cable - no power adaptor though so you will need to have your own USB charger. It also doesn't come with a storage bag which is a little disappointing for a toy with an RRP of $139 so you will have to make do with storing it in its own box if you have the room to do so.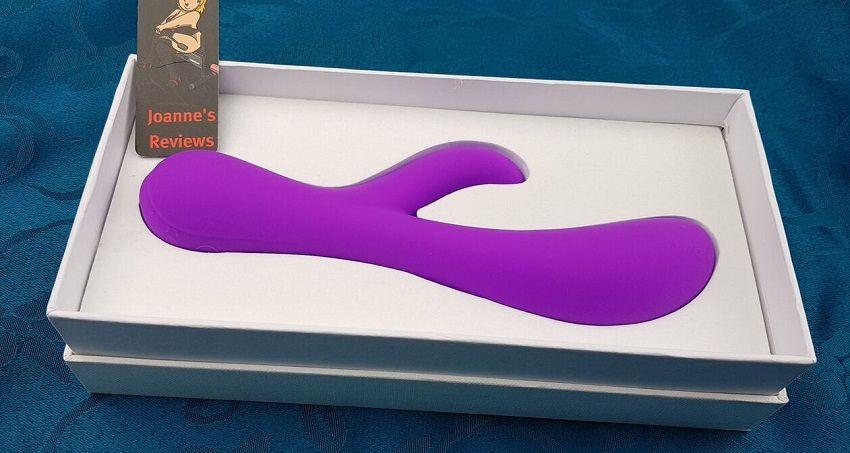 This curvy and smooth design really doesn't just look good, but also feels great too. The dual motors work together, but depending on the pattern selected you may get more of a gspot vibration than clit stimulation. The amazing thing about this toy is that it really is very quiet indeed, and with the additional benefit that it is waterproof you really can enjoy this in the shower or bath too. I found that with my physique the clitoral stimulator portion of the toy lined up well with my clit so I got to enjoy its full benefit.
It charges very quickly, it really does only take about 60 minutes of charge to give you about 2 hours of fun but that life depends on which program you are enjoying. The charger pushes into a small spot at the back of the toy, however, when I first tried to charge it I made the mistake of fully inserting the plug. Which weirdly resulted in it not charging overnight on its first charge. After realising it hadn't charged I removed the pin by a couple of millimeters I found that suddenly the lights at the front of the vibrator lit up and it started to charge.
To switch on simply press and hold the power button (the button closest to the base), once switched on some very nice lights come on to show it is switched on. Then press the other button to select one of the five inbuilt patterns.
1st:- Pattern starts as a slow light rumble developing into a stronger and faster rumbling vibration. The same pattern and strength at both tips of the toy, although it can be felt towards the base it is only slightly vibrating, with most power is directed at the tips.
2nd:- This pattern is a slightly faster pace than the first setting, with a mildly stronger rumble to start with changing into a stronger and faster rumble vibration. Same pattern and strength at both tips of the toy, although it can be felt towards the base it is only slightly vibrating, with most power is directed at the tips.
3rd: This pattern is a slightly faster pace than the second setting, with a much stronger rumble vibration. Same pattern and strength at both tips of the toy, although it can be felt towards the base it is only slightly vibrating, with most power is directed at the tips.
4th:- Fast pulses and a deep fast rumble whilst still being extremely quiet. This one really does make my clit tingle wonderfully.
5th:- Constant fast vibration, with a very powerful rumble type of vibration. This is still quiet but not as silent as other settings.
In use you will find that this is a very quiet vibrator, it's in fact the quietest rabbit vibe that I have ever reviewed and so it is very, very discreet.
As it's a silicone coated sex toy never use a silicone based lube as it can damage its surface, always use a good quality water based lube. After use you will find that cleaning is very simple and as it's waterproof simply wash any body fluids off it with warm soapy water and then clean the surface with an antibacterial sex toy cleaner ensuring that it is completely dry before storing ready for next time.
Specifications
Height - 2.4" (6.1cm)
Width - 1.4" (3.6cm)
Length - 7.5" (19cm)
Insertable Length - 4" (10.1cm)
Diameter - 1.4" (3.6cm)
Weight: 5.54oz (157g)
Vibease App
This little rabbit has great functionality and whilst it can be used on its own you will want to download and install the Vibease app and then link it to your Esthesia. The app will give you full control of the range of vibrations available and you can even design your own. You can listen to your own music or download an audio book through the app and the Esthesia will buzz away whilst you listen to an erotic story.
You can use it without downloading the app, but it only has 5 patterns choose from. However if you download the app you not only have 11 pre-programmed patterns but you can modify and save your own patterns for future use. The app is available for iOs and Andriod devices.
To connect your vibe and app, first switch on the vibe by pressing and holding the power button until the lights flash, open the app. Go to the picture of the vibe on the app, this allows you to connect to the vibrator, then just follow the instructions or click on the connect button to connect them both. You need to make sure the vibrator is switched on and placed near your phone/tablet. You can then choose to use the pulsation settings, which takes you to the pre-programmed settings in the app, simply click on the one that you want to use, then click play. But if you want to edit the pattern you can do so by pressing on the small circles on the pattern and moving it up or down to a new position, it will automatically start playing the new pattern. You can then save the new pattern or select cancel if you don't want to save it to reuse again. However, I cannot find where the patterns have been saved as I wanted to back-up my creations, which was a bit annoying.
The app has 11 programmes, each of which you can adapt and save to a preferred pattern which is a great way of personalising this great little device. Check out the screen shots to see the choice of patterns, they have a good selection for most people but it is really easy to adapt one for yourself to enjoy at the time you edit the setting. This flexibility is a great feature.
One fun option with this little rabbit is the fact that it does also work with the vibease audio books. You can download these audio books through the vibease store. I couldn't work out how to use audio books I have downloaded from other apps which is a shame. It's very difficult to put your finger on how it actually works with the audio books, its performance varies from book to book.
That being said though the vibrations are quicker and more intense when the action starts as well as with the naughty descriptions and comments which makes listening to an audio book even more exciting. I think that this is a great feature.
The store is not so easy to navigate on your phone as you can't seem to use filters to help you find the type of stories you like, so you literally have to scroll through everything. Not all the books are free, the prices aren't high though and are easily seen before you click on the option to see more details. The prices start from free then 10 credits which is 77p, up to 85 credits which is £5.49 so be careful when you go through the selections. You can download a free sample of a paid book to see what you think before you buy and this is a nice feature.
Another option is that you can use music you already have on your phone/tablet. If you are using music it seems to work like a graphic equalizer which can be very enjoyable. Simply use the + button at the top of the screen on your phone and select the music you want to add to your app. Once it is on the app make your selection, the vibe starts as soon as the music does. The nice thing with this is you can listen to your music whilst the vibe is buzzing away, or you can turn off the volume to just enjoy the sensations, which works for the books too.
The app also offers the use of a quick play option by pressing the V towards the bottom of the screen. swirl your finger over the screen to change the vibrations.
The app allows you to chat with your partner by text, voice or even video calling in a similar manner to Skype. Your partner can even control the Esthesia giving you a chance for intimate moments even when you are apart. The text messages sent stay in the app and do not go into your standard sms message system, so you can be naughty without worrying about someone seeing your kinky messages by accident. You can even invite your partner to join you in the app by choosing to add a contact and sending either an email, text message, facebook message or by a vibease nickname. This will send a message and a link to the person or people you have selected, to allow them to chat with you through the app. It sends this as an automated message, however, you can edit this message before it's sent if you want to send something a little more personal.
I found the instructions a little lacking on how to set it up with a partner, but found that your partner has to send a chat request to you through the app (you being the person with the toy). You can then go into your pending chats and accept the request allowing your partner full control of the toy without being anywhere near you. Once you have the second phone set up it looks like a standard text message type screen, however if they press the + button next to the text window they will get three icons appear, press the one one the left to allow them to control the vibe. They can then use the slide bar to go through the different set patterns or use the circular button on the bottom of the screen to make your own vibrations, move it around the screen to play with the different options, they don't know what the vibration patterns are but that is what is so fun about this, they can sit back and enjoy listening to the effects each one has on you. This is a great feature for anyone in a long distance relationship (LDR).
You can even take naughty photos through the app to send to the chat screen of your partner, or send one from your album already on your phone.
Key Features
Key features:
Silicone body safe exterior
Strong and quiet motors
Rechargeable
Waterproof
Wi-fi and App control means its great for anyone in a LDR
Audio book play capability
Final Thoughts
The Esthesia is a nice little rabbit vibe, the app really expands its functionality and allows you to exploit its best features which are its audio book capability and its ability to be controlled by a partner from afar. The instruction in the app need to be a bit clearer as to how to use, save and then file vibration patterns but you can get by with them.
However, the positives with this toy definitely outweigh the negatives. If you are looking for a rabbit vibe that is super quiet, powerful, with lots of vibration options and that your partner can even get involved with even when they are away from you then this is the one to get. I really was amazed with the thought and effort put into this toy, and have no problem highly recommending it.
I was sent my Esthesia Rabbit Vibrator by Vibease.com in exchange for a fair and honest review and I hope that you have enjoyed reading this review and that is has hopefully left you curious to try one out for yourself.
Joanne's rating
Where Can I Get One From?
Grab a Esthesia Rabbit Vibrator for yourself from Vibease.com for only US $139, by clicking on one of the links in this review you will automatically get a 10% discount on that price. Or simply use this discount code during the checkout process to get your 10% discount - JOANNESREVIEWS.
Are you in a long distance relationship? If you are and you enjoy using sex toys like this one I would love to hear what you think of it and how it can help cope with the separation in the contact form below.