Delivery and Packaging
The day of delivery came, and a very discreet, plain cardboard box was delivered. On opening it, I found three fun books to read (ohhhh yeahhhh).
I was impressed with the fact that the books arrived in a box, there was even some paper to keep the books flat and to stop them from moving around.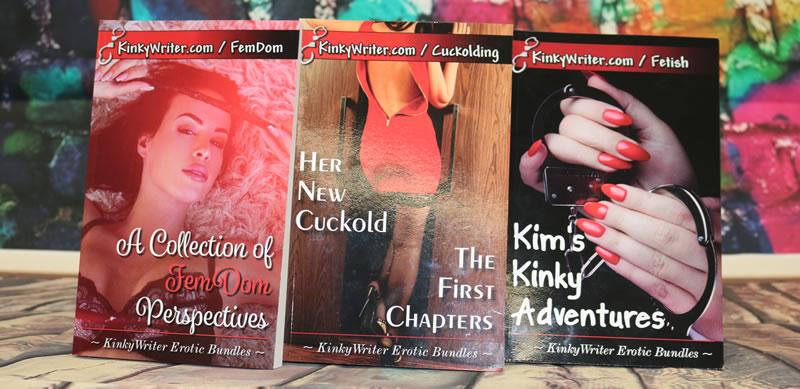 The front covers of all three books look fabulous
A Collection of FemDom Perspectives by kinkywriter.com
This review will be on the book entitled A Collection of FemDom Perspectives.
The cover of 'A Collection of FemDom Perspectives' is enticing, to say the least. With colours that stand out, with the beautiful woman in a bra and holding a crop seductively letting you know that it is going to be an erotic read.
That is before you even read the title :-). I do not know if Kinkywriter signs every book, (if so they must have a very sore wrist), but they were kind enough to sign the first page of this book for me which I felt was a nice touch and I appreciated it.
As someone who wears glasses, I really appreciate the very easy to read font in these books, so no squinting, or struggling with the text.
This book contains 30 short stories within 183 pages, every one slightly different. Still, all stories focus on different aspects of a FemDom's world. The book includes individual tales of spanking, mummification, cuckolding, e-stim, teasing and lots more, including the occasional FemDom on a female story.
If you enjoy reading about domination, you will enjoy this book. Especially if you need a quick fix, maybe a quick read in a coffee break, this one could be ideal.
The stories delve straight into the heart of the matter and are a great quick light read. The only problem would be if you are reading in a reasonably public area you will have to cross your legs as they are very arousing :-)
Kinkywriter has the astounding capability to really draw you into the story, the detail and descriptions make it so easy to picture that you are either the Dom or the sub. No matter which you prefer, you will enjoy the way these short stories are crafted.
I enjoy reading a variety of genres, but I can get bored when the descriptions go on and on to an extreme you really do not need, these books do not do that. You get a quick peek into the scene—for example, a short quote from the book.
"The intoxicating scent of leather overwhelms our bedroom, from the sheets to the restraints to even the beautiful leather corset dress that I am wearing. It seems only fitting that I should get to enjoy some of the fun, too, while he's bound from head to toe in those massive, unyielding restraints, and this dress hugs my body like an old friend who I just can't keep away......"

Quote - A Collection of FemDom Perspectives
To me, this sets the scene beautifully, I can almost smell the leather, and feel it against my skin. My skin starts to feel warm as the temperature rises, with every page I read.
Each page draws me into the world that the story I am reading is about. Sometimes I am the FemDom very occasionally the sub. Still, I do believe it does not matter which your preference you will enjoy each story in the same way.
I do have two complaints about these stories though, they really leave you desperate to know more. The second is that they are so enjoyable I struggled to put the book down.
The final few pages of the book provide a list of a few more of Kinkywriter's books plus a small description. And finally an about the author page.
Now if you will excuse me, I need to get comfortable and set to read the next book. I believe I am going to enjoy the next one too :-)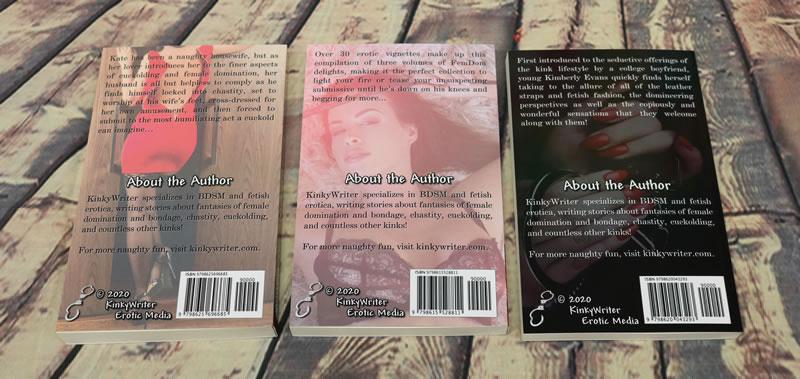 The rear of all three books give you a taster of what is to come
Book 2 - Her New Cuckold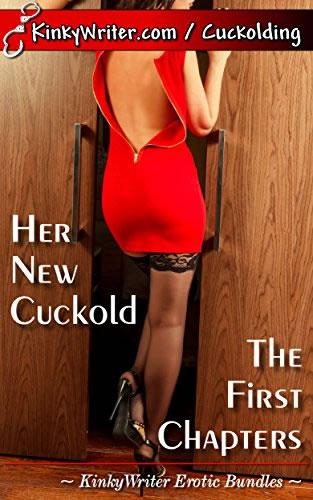 The cover of the book features a slim brunette wearing a short tight red dress, with the back zip fully open exposing her bare back. She is also wearing black lace top stockings and heels. All this is leading you to realise it is a sexy book, that is if you do not know what cuckolding means.
After reading the short stories earlier, I could not wait to sink my teeth into this 227-page book. Being a single story, I was looking forward to being transported into the world of cuckolding.
To be honest, this is not something I have considered doing before, I am now understanding the joys that it can bring ;-)
I enjoy the fact that you are injected into the fun from the first page, no long introduction about the background of the character or situation. Once again, the font is very easy to read, which helps me not to lose my place on the page. It's still strange for me to read a physical book, as I usually read ebooks.
The story starts with two lovers discussing putting the woman's husband into chastity. Kate is not sure, but Marcus is quite persuasive. Marcus takes her through the different types and styles together with the pros and cons of each.
As you may expect from the title, it is not long before a chastity belt is purchased to Kate's husband, Andrew. But it does not end there. The book transports you fully into the world of these three people and takes you through the transformation of their lives.
I really enjoy the way Kinkywriter captures not only the moment, the scene, but also the emotions going through everyone for that moment in time.
I will admit that the beginning of this book brought out the evil smile ?. I just could not help it. Could you not say the same if you read this.
To set the scene, Kate and Marcus are discussing the purchase of a chastity device for her husband. Kate decides on the one she likes, but comments on the cost. Marcus tells her that he had no intention of letting her pay for it.
"Nothing's too expensive for my lover...."

"If that's the case", Kate purred back, "can I get the one with the spikes in it, too?"

Quote - Her New Cuckold
I would love to know how many men winced at that comment. But I bet more than a few like the idea.
Now do not get me wrong while I thoroughly enjoyed Kate's transformation into her new role, as well as Andrew's. He was never forced to do anything, he could have refused at any time. Andrew is not beaten, blackmailed or anything in between. To be honest, there were a lot of times that I was expecting Andrew to do just that.
If you like the idea of cuckolding your husband/partner, even if you would never actually go through with it. Let us face it the man has to be the correct submissive for this type of power play. I believe you will really enjoy this book.
I also believe that a male who likes the idea of being cuckolded will enjoy reading this story. For a submissive male, the scenes are enticingly erotic, especially if you have a foot fetish.
'Andrew carefully shifted his lips to just barely touch the freshly painted, sparkling red nail on her little toe, and only held it in place for what felt like half a second before Kate stepped away and left him staring at the tile floor.'
The characters are both loveable and controlling as they should be in this genre of book. Every page had me dying to know what would happen next. I was totally captivated until the end.
Book 3 - Kim's Kinky Adventures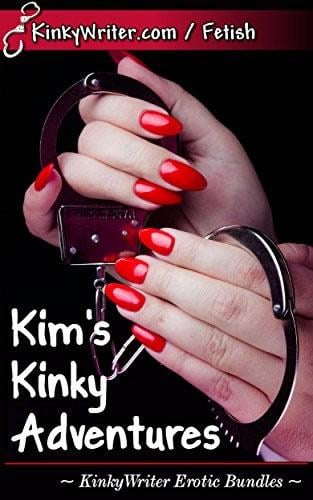 Hi, sub'r' here and I will be reviewing this book for KinkyWriter.com, now please bear with me as this is the first book review that I have ever written. So, I may get a bit rambly, is that a word?
Joanne decided that I might enjoy this book being a submissive myself, and she was totally right. I was thoroughly engrossed with it and did really enjoy reading it.
I read a lot of erotic fiction, primarily BDSM stuff as that is what really gets me off.
My first point is that I found this book to be much more realistic than others that I have read. As such, I found myself getting drawn deep into the story and scenes rather than picking holes in it. In fact, I enjoyed reading this book so much it sort of turned into a masturbation-fest with my clit being the star attraction.
I also like that there were three different stories in one book, this provided some nice change of scenes and pace in one book. I also loved how they were told by both the sub and the Top.
As each story was manageable in terms of size, I found myself riveted to each in turn, not wanting to put the book down or take a break.
The books cover is lovely, being pretty tame but also kinky at the same time, this means I don't have to hide the book away.
The way the author describes each scene and their realism ensured that I got very turned on while reading this book. I guess that's the idea, but I want to state for the record that I did end up masturbating while reading it (naughty submissive).
Like Joanne, I also wear glasses to read, and I found the font typeface and size very comfortable, which makes a nice change from other kink books I have read. I do have quite an extensive collection of them, but some I just don't re-read as they were tough going for me. This is a book I can and will read again, though. The quality of the paper and the overall feel of the book, in general, are excellent.
I also loved that the book gives me a new side to BDSM and some things I would not mind trying so it helps to keep things very fresh and new. That is one of the things I love about these three books, they inspire, titillate and bring up some really lovely kinks to try out myself.
This is a book for anyone no matter if you identify as a Top, bottom or switch. Anyone can enjoy it, and I really enjoyed reading and reviewing it.
I am definitely going to have to get to know some of KinkyWriter's other books.
Check out Joanne's review of three BDSM and kink related books from KinkWriter.com.
Click to Tweet
I would recommend it to:
Anyone who enjoys domination/subsmission stories
Anyone who enjoys short kinky stories
I wouldn't recommend it to:
Anyone who does not enjoy domination stories
Anyone who wants a book to titillate
Final Thoughts
While on occasion I really wanted to know more about a story, I was still captivated by every one of them. I have also enjoyed re-reading some of the stories. These are books that have captured my imagination and given me lots of ideas of things to try.
Check out the rest of the KinkyWriter books, I was amazed at the variety of topics available, there really is something for everyone.
Each is crafted and written with great attention to details and realism that is often missing in other kink publications.
We both thoroughly enjoy reading all three books, and I now have a list of kinks to try so we will be living out some of the scenes very soon.
I was sent these three books by KinkyWriter.com and I would like to thank them for giving me the opportunity to review it for them.
Where Can I Get One From?

Grab one of these amazing books over at KinkyWriter.com. They are available in hard copy format or digitally too.
Check them out and don't forget to tell them that Joanne says "Hi".
Disclosure
This review does not contain affiliate links, for more information about affiliate links check out my disclosure page.