Packaging
Well, as you can see the packaging of the 6oz/175ml bottle of Eros Aqua has a distinctive shape. It is very reminiscent of a dildo, and I actually like that. Yes, it isn't very discreet, but that said I don't tend to leave bottles of lube lying around on display about the house.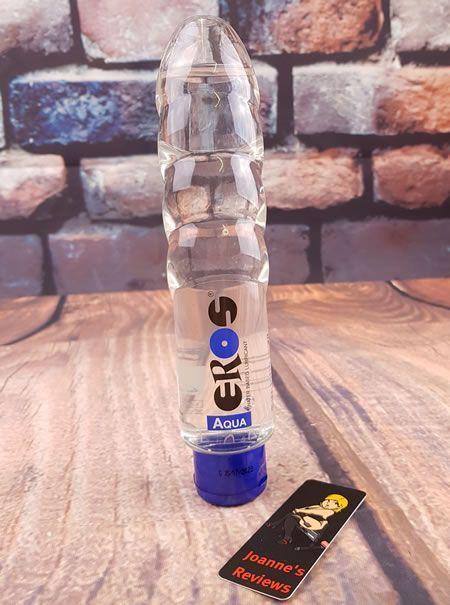 This is certainly a bottle of lube like no other and I enjoyed it so much
It is nice to have a bottle of lube that is different, and this one is certainly that. You can, of course, get Eros Aqua Lube in other containers that are shall we say, more regular in appearance.
This bottle has a lot of lube in it, and it will last you a long time.
The ridged bottle has a nicely tapered tip, and I know what you are thinking - did she masturbate with the bottle? To answer that question, yes of course I did. The bottle is relatively flexible and excellent for vaginal use, but I wouldn't recommend using it anally due to no flared base and also it isn't rigid enough.
Here I am talking about actually fucking a lube bottle LOL. I guess that is what the manufacturer had in mind when they brought out this distinctive bottle, so I am happy not to disappoint them there.
Note: This bottle is made out of PET plastic, this is the same plastic as used for soft drinks bottles and it does not leach Bisphenol A (BPA) which a chemical that can affect hormones.

The design of this bottle just screams out loud that it is just waiting to be inserted
The bottle comes with a flip lid that once open allows you to squeeze the bottle to dispense the lube onto your finger or toys.
The lid seals well once the bottle has been closed again after dispensing lube and I haven't had it leak in my bedside drawer.
It is easy to dispense the lube as it's a nice and thick creamy blend. One nice thing about the clear bottle is that you can see how much lube you have left at a glance.
Ingredients
Ingredients: Water, Glycerin, Hydroxyethylcellulose, Phenoxyethanol, Ethylhexylglycerin
Eros Aqua lube has some pretty simple ingredients, and the only one that I am not too happy with is the addition of Glycerin which is a sugar, and there is anecdotal evidence of it increasing the chances of UTI or yeast infections.
That said though I have had no problem with it at all and I have a very sensitive vagina and have issues with dodgy lubes. So my vagina gives it the thumbs up.
Performance
Eros Aqua is a nice and thick lube. I usually hate bottles that you have to turn upside down to dispense lube as with runny lube it can go everywhere. The viscous nature of this lube makes that not an issue.
It's very easy to dispense just the right amount, and that means you have no waste, the benefit of which is that you lube bottle lasts longer making this a cost-effective lube.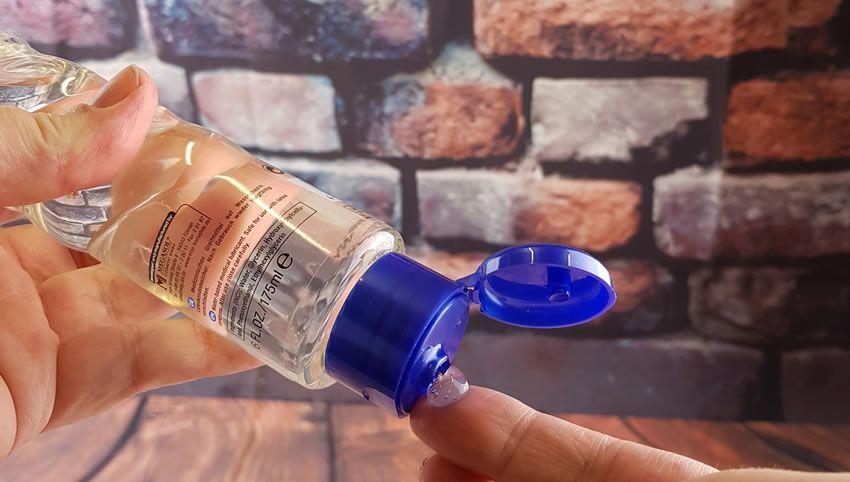 It is really easy to dispense the right amount of Eros Aqua Lube
Dispensing a drop onto my finger is easy, and I found that as it warms it gets a bit thinner and tends to drip. When spreading it out, it feels very nice, instantly spreading and coating your bits with a nice and slippery coating.
Trying to pull it between finger and thumb shows that it goes from being thick to runnier as it warms which is what you would expect.
So how does it feel in use?
I like this lube, I found that it lasted for quite a while but as with all water-based lubes it does dry out, and you will need to re-apply it. Its lasting power is about average, and I generally don't have to apply more during masturbation, but for a long session of edging myself, I would have to do so.
Eros Aqua Lube is condom safe and also safe to use with any sex toy material, most of my dildos are silicone but I have used it with glass, wood and metal dildos as well and it performs just as well with each material.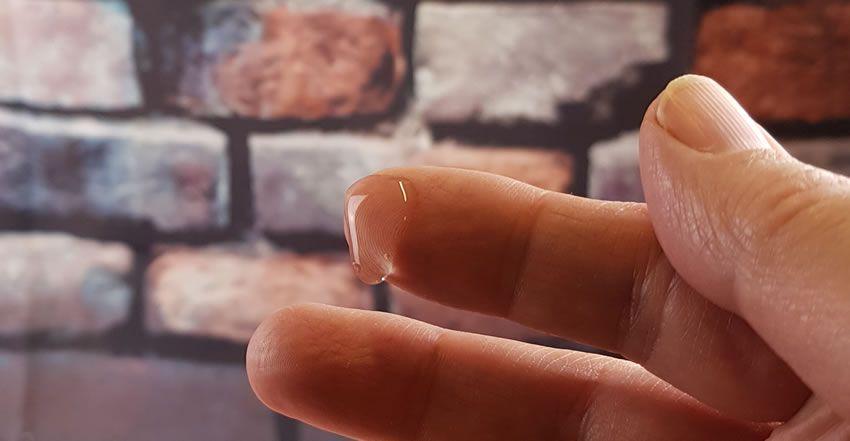 Eros Aqua Lube changes its viscosity as it warms up
I like how it glides and lets you really enjoy thrusting or rubbing without worrying about friction at all. A good lube makes everything feel better in my opinion.
It doesn't have any real taste or smell it is pretty neutral in that respect. It is absorbed well and also easy to clean off with a warm wet flannel or warm soapy water. So clean up after a play session is easy.
I found it tingled a bit when first applying it and that felt nice on my clitoris, but the sensation quickly faded.
I have used this lube anally as well as vaginally, and it works very well for some bum fun. That said you will want to make sure it doesn't dry out in the middle of your session so keep the bottle handy.
It's more than capable of taking care of your lube needs during some pretty hard anal fun and vaginally it feels great.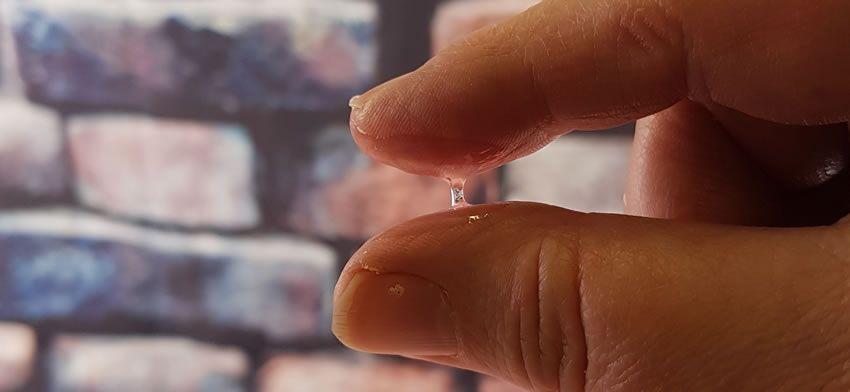 Eros Aqua Lube has a nice thick texture
I Loved masturbating with the bottle and have used it several times, enjoying the gentle ridges as I thrust. It's unusual to have a lube bottle that arrives together with the means to enjoy it internally. Eros has done an excellent job designing a bottle that not only looks good but feels good as well.
My partner has also used it with his Fleshlights, and he enjoyed it but found he needed to refresh it more often than when enjoying my orifices rather than the Fleshlight one - yay for me.
Grab a bottle of lube that you can actually fuck. It's certainly different, but the Eros Aqua lube from @bondara is actually a great lube in a very kinky bottle.
Click to Tweet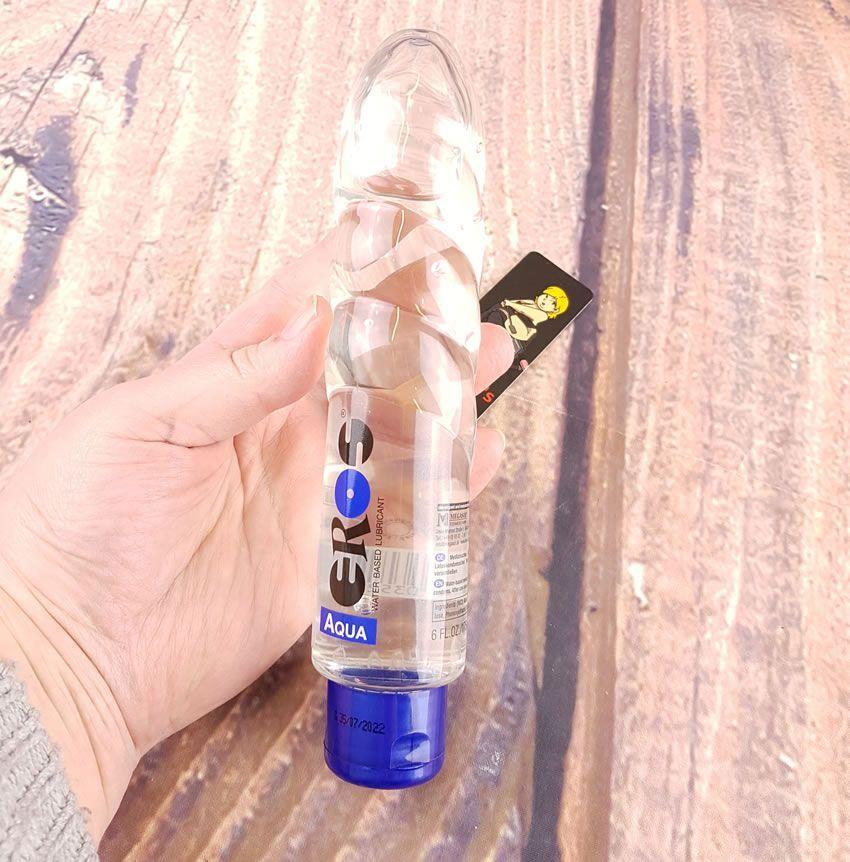 I must say I like this lube but I love its bottle, so kinky
Key Features
Key features:
Water-based lube
Paraben free
Kinky bottle means you can enjoy that too
Long lasting and easy to clean up
Final Thoughts
This is the first Eros product that I have reviewed, and I like it, the combination of a great lube and the novel bottle really caught my attention, and I am happy to say it performs as well as it looks.
If you are looking for a long lasting paraben-free water-based lube in a bottle that is certainly different, then this is the one for you.
I love the fact that you can actually masturbate with the bottle and not just its contents. I like this lube and look forward to trying out more of the range soon.
I received this bottle direct from Eros Lube and I would like to thank them for giving me the opportunity to review it for them.
Joanne's rating
Where Can I Get One From?
You can grab a kinky bottle of Eros Aqua Lube from Bondara for just £9.99 and that makes this a very cost effective bottle of lube as it will last a long time.
Check them out and don't forget to tell them that Joanne says "Hi".
Disclosure
Disclaimer - I was sent this bottle of lube to review free of charge and this has in no way affected the outcome of this review. This post contains affiliate links and if you purchase something when you follow one of these links I may receive a small commission at no cost to you. For more information check out my disclosure page.