Booking in
Last year there were some pretty big queues with people registering and getting their lanyards, but this year it was much smoother. With computers and scanners on self-help desks, you simply scan the QR code in the registration e-mail and a machine prints out your badge in front of you. So from entering the door to entering Erofame badges in hand was only about 10minutes.
Goody bags
As with last year, we were met at the entry by security, and upon checking our credentials, it was in, and we were each given a goody bag sponsored by Satisfyer. It contained a catalogue and a Satisfyer Sweet Treat which is a sex toy with a rotating head made to look like an ice-cream.
The bag also had a new Satisfyer product called the One Night Stand, and it is an airwave tech sex toy that sucks on your clitoris. But this one is not rechargeable ,and is designed for a single-use (90 minutes of charge) before being thrown away.
I am not sure how I feel about this. On the one hand, cheap sex toys, especially if it is made from silicone is a good thing. But, single-use throw-away devices are a terrible waste and not good for the environment. I believe we should be moving away from single-use products designed to help fill landfill sites.
So, bags in hand, it was time to tour Erofame to get the lay of the land. We decided to use Monday morning to drop in on some companies that we have worked with in the past. We also used it to find out where everything was.
Our first stop was to E-Stim Systems as Joanne had made them a special present in the form of one of her doodles to celebrate their 15th Anniversary. It was delightful to see Caz's face light up when she unwrapped it in front of us.
We were then shown their new control box, an E-stim Remote that is completely redesigned and with some exciting new features. More information about this control box when we get our hands on one for review. First impressions are excellent, though.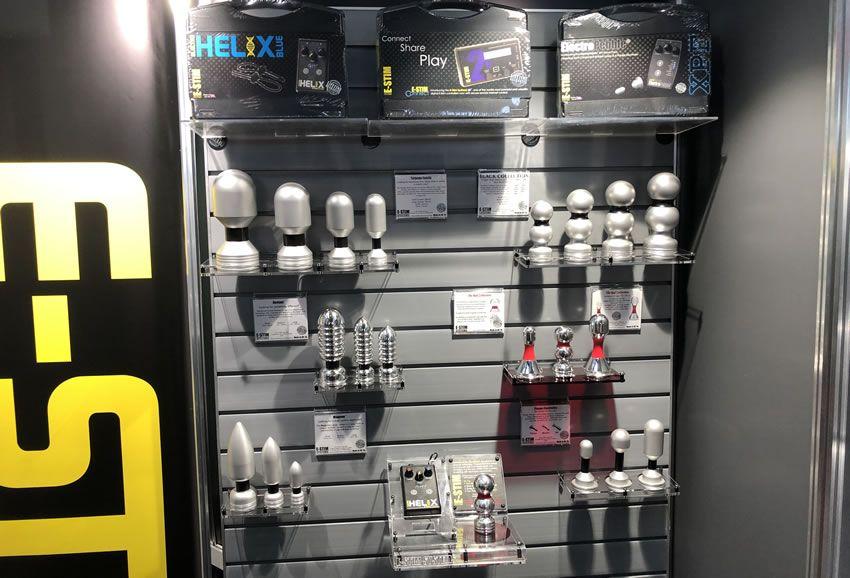 Electrastim
It was nice to catch up with the people from Electrastim and to get our hands on their new Fusion range. This is a range of silicone e-stim electrodes, and they look incredible with their red and black silicone.
Both of us got to experience their silicone pinwheel on our arm, and it generates some very sublime sensations. We hope to one day review this range so we will see if we can arrange that.
We also saw the new Electrastim Flux, which looks like a very tidy little control box.
Doxy
We then gatecrashed Doxy's party and were delighted to be able to try the new Doxy cordless, yes you heard that right a rechargeable Doxy, and it looks incredible.
It comes in a machined aluminium tube with a screw-on lid, and the one we saw was in a metallic blue, and it looked amazing.
You get Doxy performance in a small form and its mobile so you can use it anywhere, which is fantastic. We also got to see the two new Doxy metal butt plugs, and I know just where they are going if we get the opportunity to review them one day.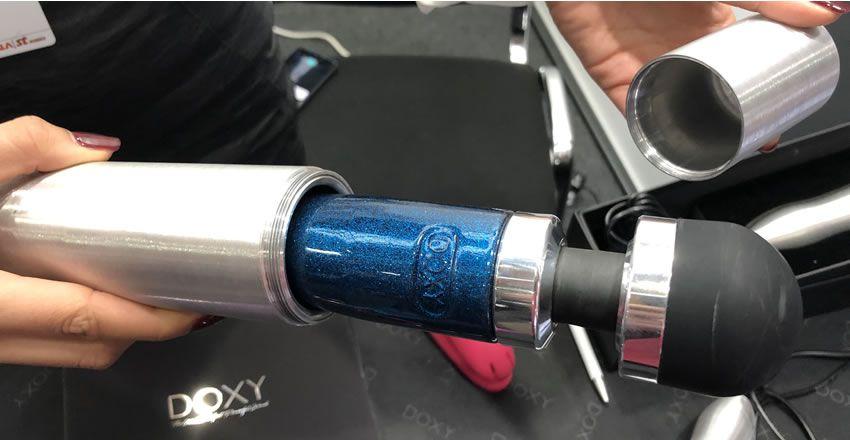 MyStim
We still haven't reviewed anything from MyStim, but we had to drop in to see their new male masturbator and of course the OpusE which I hope to review one day as electro cock play can be so much fun.
On their stand, we saw the biggest vluva I have ever seen in my life, and well, I just had to.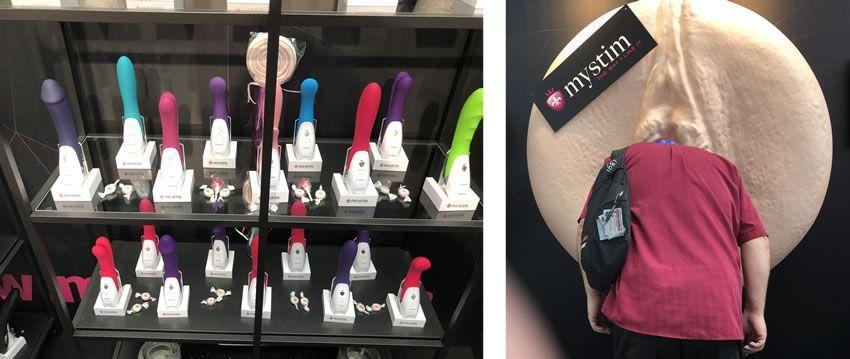 Yes, I can be very childish, but I am in a vast room filled with kink and sex toys, so I guess having a sense of humour is ok.
Honour
We had to drop by Honour as Joanne has been having so much fun working with them on some things and their outfits are simply incredible.
So with sub'r' drooling over all of the latex, PVC and rubber wear I had a lot of fun talking to them about plans that they have. Stay tuned as they have an incredible new range of outfits coming very soon.
MotorBunny
We love the Motorbunny and last year sub'r' almost got whiplash while having a break when she heard one fire up from the other end of the hangar.
This year we saw the improvements that they have made to the Motorbunny, Adding a removable plastic adaptor so that it can be used on its side without damaging the cable.
Their new attachments look amazing too but what stole the show for us was the Motorbunny Buck. Imagine a Motorbunny that vibrates like a diesel whacker plate, while also moving the attachment in and out of you. Think Motorbunny/Fucking Machine cross over, and you are not far off.
It looks very similar to the original Motorbunny, but the new mechanism has two modes of operation, the first is like a fucking machine. It moves the attachment up and down into whichever orifice you choose. The second mode is impressive, instead of vertical movement, it tilts the attachment back and forth. This taps the g-spot for want of a better description, and I imagine it would feel incredible.
Motorbunny if you want one of those reviewing I have just the willing submissive to strap to it - for testing purposed and scientific reasons only of course.
It was nice catching up with them again.
Gvibe
We love Gvibe, last year they brought out their lightbulb vibe, and we loved it. This year we caught up with them again to see what they were up to.
Sub'r' got to play a game and won a t-shirt which she proudly wore around Erofame and she also came away with a limited edition 24k Gold Plated Gvibe Mini to review.
No matter what I try, nipple clamps, floggers and even canes, I can't seem to be able to wipe the smile off her face. Thank you Gvibe we will be reviewing it for you very soon.
Evening Meal
There is a nice Chinese restuarant bhind our hotel and so we decided to pay it a visit and sample the all you can eat buffet. As we got inside we saw the guys from E-Stim Systems and they waved us over and so we spent a very nice evening chatting to them and enjoying some rather delicious Chinese food. This makes a change as last year we lived off McDonalds LOL, so we are going up in the world.
Let's see what Day 2 brings...
#Erofame, #Erofame2019
Disclosure
Disclaimer - This post contains affiliate links and if you purchase something when you follow one of these links I may receive a small commission at no cost to you. For more information check out my disclosure page.