Joanne diligently e-mailed lots of companies that we have reviewed for in the past asking for meetings with them, and all of them have been amazing, most saying just drop in for a chat.
Concurrently, she was booking hotels, flight tickets, hire cars, parking and a myriad of other little details with almost military precision, she is fantastic.
Well finally the day has arrived, and I picked up sub'r' and her suitcase of kinky outfits, sex toys and jelly babies early in the morning before driving to Manchester airport for our flight to Hamburg in Germany.
Hamburg, you say?
Now before everyone screams "but Erofame in is Hannover", here is the logic for planning the trip this way round. Firstly flights were a hell of a lot cheaper and secondly driving down from Hamburg to Hannover takes me past where I used to be stationed in Germany - Fallingbostel. I wanted to stop by there for old times sake and to show sub'r' a bit more of Germany than just the centre of a big city. So that was the plan, and it worked out very smoothly.
We arrived at Manchester airport in good time and parked the car before hopping onto one of the shuttle buses that frequently take you onward to the Terminal. I usually forget where I have parked the car but sub'r' being the bright thing that she is, took a photo of the nearest carpark zone sign with her phone (why didn't I think fo that)?
Metalwork can be fun.
Having checked our hold bags in it was through security which turned out to be hilarious (for me anyway) as sub'r' got flagged for a pat down as her intimate piercings set off the metal detector when she walked through. I made sure to rib her just enough to give her very rosy cheeks.
Nom, noms
We had arrived with plenty of time before our flight so having been frog-marched through the perfumes and sunglasses in true Ikea style we did a little shopping for snacks before getting a nice meal at Franky & Bennies.
Easyjet, easy times
We boarded our flight and sat near the front (i like my extra legroom), and we settled in for one of the shortest flights of my life. A whopping one hour and thirty minutes, it was almost up, flat for a bit and then we were descending again ready to land.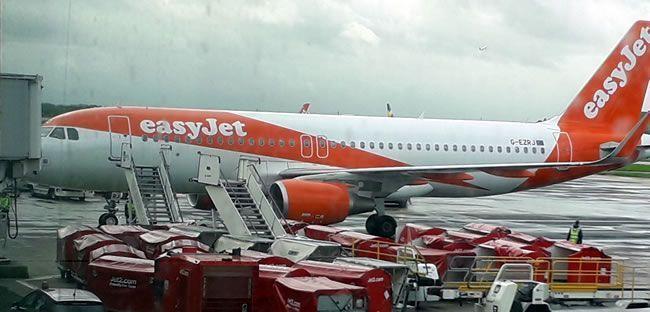 Our Easyjet plane actually has the same initials as sub'r' in its registration number - spooky
Still, Easyjet never missed an opportunity to flog us a ham and cheese toasty and drink each and that helped the flight seem even shorter. I loved it but sub'r' isn't keen on flying but she admitted that it wasn't too bad after all.

Finally we arrived in Hamburg to one of the cleanest airports I have ever visited
We were almost there, well in Germany at least with a two-hour drive ahead of us, so it was on to collect our hire car, a lovely Ford Fiesta with an amazing sat nav.
Entering the postcode for the town of Fallingbostel we set off, on the right side of the road of course (mostly) and we were soon out of the city and on to the autobahn travelling through rolling green countryside on our way to my old camp.
Arriving there was a bit of a letdown, it seems the British Army bugged out of Fally a few years ago, and the last man even switched the lights off when he left. It was nice though to visit the town I remembered to see how much it had changed and it certainly had.
The sex shop
Next stop was a German Sex Shop that I had identified along the Autobahn about 20km closer to Hannover. I wanted to show sub'r' how attitudes to sex in Germany are so different from our own over here in the UK. They are much more relaxed and their sex shops are like supermarkets, it was an amazing sight to see her face as we perused the products on offer.

The lovely sub'r' standing outside of her first ever German sex shop
Next to the sex shop was a McDonalds and so in the interest of trying some German food again we got a German McDonalds, and I enjoyed a legendary "Hamburger Royal" of Pulp Fiction fame. I have plans for some real German food (Rost Bratwurst from a Schnell Imbiss) on this trip, but as we were hungry, it just seemed like the right thing to do to grab a McDonalds (I am a big spender LOL).
The rest of our journey was uneventful, and we were soon arriving at the prestigious Raddison Blue Hotel which is actually on the Messe grounds in Hannover. Booking in was a simple process, and then we got the first sight of our digs for the next three nights and woohoo is it a nice room.
Mini-bar, large bathroom and all the nice extras you would expect from this hotel chain we knew that this was going to be a nice trip.
So after unpacking and settling in it was time to write this blog post to keep you all informed of the trip so far and the hardest thing has been choosing which pics to use as we have taken so many already.
Tomorrow is day one of the trade show, and we are looking forward to booking in and visiting some fantastic companies. With over 160 companies displaying there we were going to be putting in some legwork.
So it's goodnight from me, and goodnight from sub'r', I can't wait to see her face when she sees the stalls and what new products will be on display.
Stay tuned for the next Erofame blog post.
Other Erofame 2018 Posts
Erofame - Day 1 And We Need A Wheel Barrow