The first thing we did was look at our map to work out who we were going to visit first as we had a long list of great companies that we wanted to introduce ourselves to.
It was nice to see sub'r' turning heads, and she ended up having lots of people wanting photos with her, she was in selfie heaven.

It was nice to see sub'r' so relaxed and enjoying the stands
Halfway through the day we stopped by the E-Stim Systems stand for a chat and we ended up leaving with E-stim lanyards that promised instant orgasms to anyone we touched.
Doxy
We found Doxy and had to stop and say hi as we love their kit. The new range of screw on adaptors for the Doxy 3 made by Nexus are fantastic, and we hope to review them soon. It was nice to catch up and find out what is in the works. Well, that is what Erofame is all about.
Eros
We stopped for a chat at the Eros lube stand, and they have an exciting range of lubes in a very new kinky design of the bottle. Think dildo, and you won't be wrong, I love the idea of a bottle of lube that you can fuck if you want to. One good thing about that thought is that you will never be far away from some lube.

It was fun to find a cock shaped lube bottle
Shunga
We had a long chat with a Shunga rep, learning about the history of the company and we mentioned that we had revied some of their massage candle products for the fantastic Latex, Leather and Lace and we left with three of their products to review. So it was a good meeting, and we get to try some new products out ourselves.
We love their branding, and everything they do including their business cards are stunning.
Kiziti
I enjoyed Cara Sutra's review of the Kiziti Sex Stool; it is absolutely stunning. When we saw their stand, we had to drop in and introduce ourselves and to let them know how much we enjoyed reading Cara's review of it and how beautiful it looks.
Seeing the stool in the flesh as it were, made them even more impressive. It's incredible how they have managed to fold and shape the thick acrylic into such beautiful curves.
This is a piece of sex toy furniture that you can leave around, and no-one will know its actual intended purpose as it looks so lovely. Check out their wares to see what I mean.
We visited several BDSM equipment manufacturers and sub'r' loved looking through their products, she was really in her element.

It was the BDSM manufacturers that sub'r' enjoyed visiting the most
LED Design
We love quirky, and the Lust & Joy Loopy Bounce is one of those sex toys that you look at it and know that it will be a lot of fun and probably involve a lot of giggling.
It is an inflatable sex chair that you bounce up and down upon, and it fucks you. Think kinky space hopper on steroids and you will be close to the mark.
We loved the design and its quirky nature; it is the sort of thing that would be fun at sex parties or in the bedroom.
UPDATE - We have now reviewed the Loopy Bounce TrioPack.
Hismith
We have had our eyes on Hismith for a while now as they are producing a lot of fucking machines and both Joanne and sub'r' love to be on the receiving end of one. I must admit I do enjoy being the controller, relishing in the way that a fucking machine can deliver intense pleasure.
We love their designs, and I satisfied my curiosity about the weight of their machines, you see, a light fucking machine is no good at all. A light machine will have the dildo stall, and the machine will move back and forth which is not good if you want a hard pounding.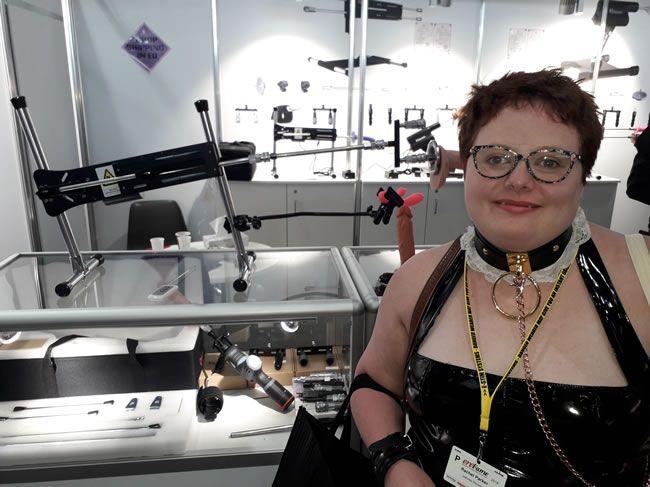 It was nice to see some fun sex machines at the Hismith stand
The Hismith machines are really heavy, and that put a big smile on my face, they are stable, and they have some very kinky designs. Hopefully, in the future, we may end up reviewing some of them, and that will be nice if we do.
One jammy little submissive
The highlight of the day without a single doubt would be the raffle that we entered on the ST Rubber stand. Three prizes were on offer, two lovely sex toys and a secret prize which was the top prize.
We watched as the two sex toys were won and then when it came for the grand prize a business card was drawn, and it was announced that an "Auslander" (foreigner) had won. The next thing we heard was "United Kingdom" and our ears pricked up. Finally sub'r' was announced as the winner and she was blown away. "I never win anything," she said as she went forward to collect her prize which turned out to be a brand new iPhone X 64Gb.
She returned to me with a look of shock on her face to a massive round of applause, and I think that it still hasn't sunk in that she has won it. It is now in the hotel safe as she is taking no chances LOL. Well done sub'r' it was worth coming to see the look of surprise on your face.

sub'r' achieved the impossible by winning an iPhone X
Day 2 has been amazing, and we have tomorrow morning to go before we head back to Hamburg airport for the flight back to blighty. I can almost smell the fish and chips.
Tomorrow's post will be delayed as once we leave the hotel at lunchtime, and we will be without internet as after coming over here we are now paupers. It has been a fantastic trip and one that I can highly recommend. Hopefully, in the weeks to come, we will have a closer working relationship with some companies, and that will lead to more reviews.
Thanks for reading this post.
Other Erofame 2018 Posts
Erofame - The Journey To Hannover
Erofame - Day 1 And We Need A Wheel Barrow