We enjoyed breakfast but I think sub'r' may outlive me
We had decided to take the 10 am bus to Erofame, and we were treated to a cracking ride on the cleanest coach in the world, very nice indeed.
The check in process went pretty smoothly with German efficiency the words of the day, well done to the organisers for being on the ball with so many people to process.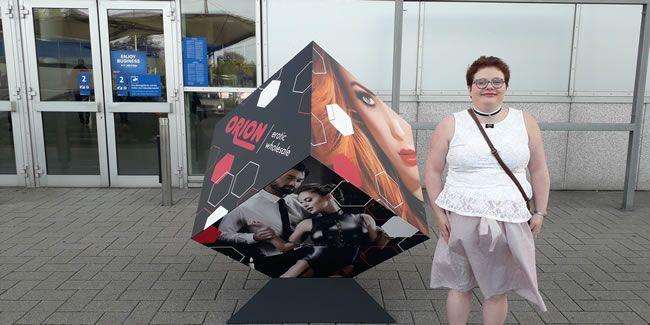 After weeks of planning by Joanne today was the day we hit Erofame
We had our lanyards on for literally two minutes before the first goody bag was thrust into our hands. A beautiful collection of sex toys from Satisfyer together with some info. We were given a Satisfyer Men Vibration for me (woohoo), a Satisfyer Partner Multifun1 and a Satisfyer Vibes Power Flower, so watch out for reviews of them soon.
This was before we had even passed security into the main hall - things were looking up. Upon entering the main hall, we were greeted with the hustle and bustle of a trade show in full swing. Meetings were taking place left and right, and you could almost hear the business cards passing through the air between parties.
We were blown away at the scale of the event, yes we had done our research and studied the map, but it is only when you see it yourself that you get a handle on how big this event is.
With 160 exhibitors from all around the globe, Erofame is big business, and some of the biggest names are present, and it was an excellent opportunity to meet and greet some of them.
Our first stop was with E-Stim Systems, well how could we not take time to drop by the first company that took us seriously as reviewers and took a chance on sending us something to review (the Series 1 kit and it was terrific).
I had met Caz, Wayne and Mick before and it was nice catching up with them again, but for sub'r' this was her first time meeting the people responsible for showing her how much fun e-stim can be.
E-Stim Systems are releasing a new product at Erofame, and we have been lucky to have had a sneak preview a couple of weeks ago, and it is superb. The new E-Stim Connect System allows easy and secure connections between e-stim players worldwide. You can now give anyone access to your 2B control box through a simple and effective control interface that has lots of safety features. It indeed is a great system and a breath of fresh air for anyone wanting to explore remote e-stim play. We will be reviewing it thoroughly in the next few weeks so watch out for that one.
Electrastim
Onwards to another E-stim manufacturer that we have reviewed for. It was nice to touch base with Electrastim and see their range of products. We have tried and enjoyed some of their products and intend on working on reviewing some more.
G-Vibe
Another company that we love is G-Vibe, we reviewed the GBalls2, and it was nice to see what new things that they have on offer. We were delighted to see their new G Bulb, a fun silicone vibrator shaped like a light bulb. We love quirky, and this one is definitely quirky, again, watch out the review coming soon (sub'r' has already had one orgasm from it).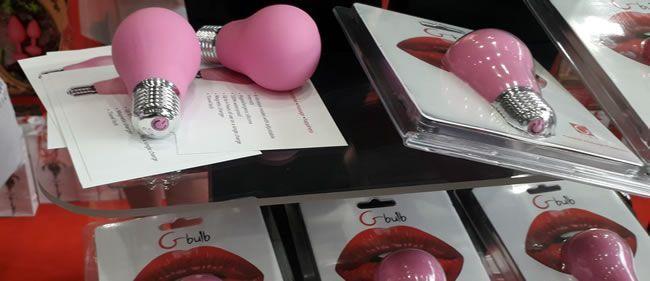 We love the quirky Glamp
UPDATE - We have now reviewed the Glamp.
Rocks Off
We dropped in on Rocks Off as we love their kit and wanted to say so, and they have released a new range of products from Dr Rocco, and we wanted to get our hands on them too, you know touchy feely. They look incredible, how they get the metallic look to this blend of silicone is amazing, they look incredible.
Lovely
We had an e-mail about three weeks ago from Lovely asking if we would be interested in reviewing their Lovely 2.0 app controlled vibrator and we dropped by to see it first hand. First impressions are very good, and we look forward to receiving a retail unit at a later date to thoroughly review. It was nice to meet them and see this new sex toy first hand.

We are looking forward to trying the Lovely 2.0
UPDATE - We have now reviewed the Lovely 2.0.
Lunch
We then had lunch, and that was incredible, pasta with a beautifully prepared chicken sauce with potatoes, they all have really posh names, but I don't do posh. So I enjoyed my tatties, chicken and pasta, it really filled a hole, and I had an incredible pudding too. It was so good in fact that while scoffing it all down, I completely forgot to take a pic of it for everyone. I will try to control and pace myself better tomorrow.
MyStim
We met the lovely Jessica at the Mystim booth after lunch, and she took us through their range of products. The MyStim Cluster Buster looks like a fascinating take on the whole e-stim way of playing, and it is something I would like to take a much closer look at. We were honoured to get a sneak peek at a super secret new product that they are developing which should be amazing when released.

We loved being introduced to the Cluster Buster
Rubber Shock
Now sub'r' has a thing about vacuum beds just like Joanne and the next booth to MyStim was Rubber Shock, a German company making amazing vacuum beds and cubes. They differ from other producers in that their vacuum and support tubes are aluminium and incredibly strong. The demonstration was very interesting, and I could almost sense sub'r' squirming and getting turned on by it. The icing on the cake was when we found out that their cube is e-stim compatible as it has pass-through connectors so the possibilities for e-stim vacuum fun and very real and very exciting. They are a company to watch.

The Vac Beds and Cubes looked amazing
Bijoux Indescrets
We stopped by the Bijoux Indescrets booth to see their new products, and their Horoscope range of products is exciting, it ties in your birthstone in the form of a necklace to a scented balm and a silicone rechargeable finger vibe. The way they are presented is fantastic in their triangular boxes. We also really liked their 12 days advent calendar which has some lovely products inside.

We always love Bijoux Indescrets and it was ncie to see their new range of products
Bathmate
We loved the physical demonstration of the Bathmate products, we have reviewed some of their products before including the Hydromax X30 Wide Boy, and they have an excellent vibration system to fits to it to make pumping and much more enjoyable activity. Their display deserves a special mention as it is an incredible look booth.

The bubbles flowing up through this display looked amazing
Motorbunny
While sitting in a cafe drinking a cold coke, we heard a familiar rumble emanating from a stand about 50 meters away. It was a Motorbunny as we have reviewed one we dropped in to introduce ourselves and learn about the new developments to their machine and future machines. They have something exciting up their sleeves, and all of their attachments are now body safe silicone which is excellent news.
We look forward to following them to see when the new concepts that they are working on hits the shop shelves.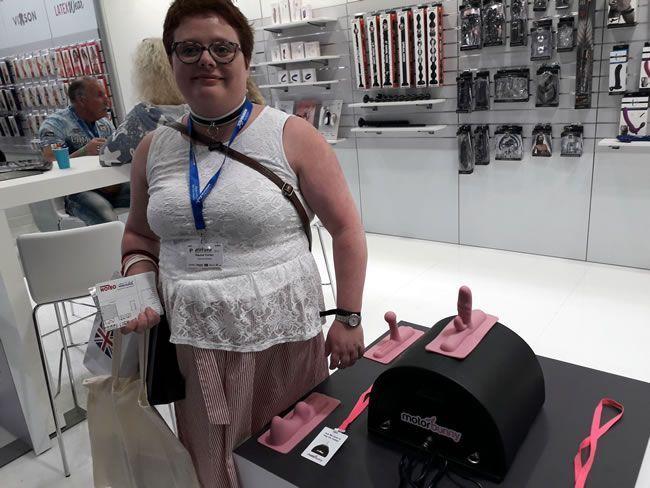 It was great news to hear that Motorbunny are going all Silicone
UPDATE - We have now reviewed some of the Motorbunny Silicone Attachments.
Sore Feet
After a fantastic first day, we threw in the towel to prepare this post and to get our thoughts in order for the plan of action tomorrow for day 2 of Erofame.
We had a fantastic day, and it was so nice to meet some of the companies that we have done reviews for. We spent the day making new friends and catching up with old friends.
Tomorrow should be just as much fun, and I think we need to warn off Easyjet as the plane back to the UK may need a trailer for all of the swag we have ammased so far. While I was writing this blog post the lovely sub'r' kept herself busy by colouring in a map of Erofame to show us who we visited today and who is left to visit.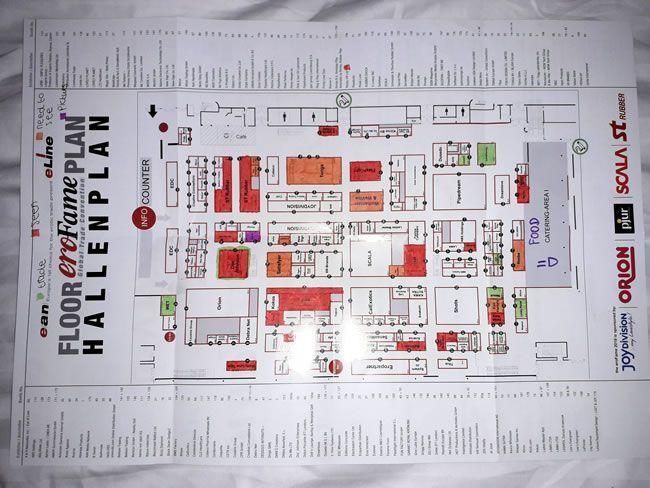 We now know where we are going tomorrow now as Little Rae coloured in the map for me
Oh, as a side note the quest for German sausage has not been fruitful again today as while we found a Schnell Imbiss today is a national holiday in Germany, so everything is closed. Damn and blast, but hopefully tomorrow we will track down and capture the illusive Bratwurst that I have come back to Germany to catch. Wish us luck....
Other Erofame 2018 Posts
Erofame - The Journey To Hannover