Delivery and packaging
I bought this ElectroWhisker direct from E-Stim Systems in Watford after pondering how it would feel for absolutely forever.
It arrived extremely quickly packaged in a very plain cardboard box. I can always rely upon E-Stim Systems getting thigs to me discreetly, and that is something I really appreciate.
It is good to know that E-Stim Systems takes customer privacy seriously.
Upon opening the box, I was greeted with another tool holder style storage box with the ElectroWhisker inside. I love these black tool holders that unscrew, they protect your electrodes and provide a level of discretion if anyone inadvertently sees them.


I love these tool holder containers that E-Stim Systems use for their electrode
It does have a yellow and black E-Stim Systems branded sticker with the electrode name on it though. But, that is very useful when you have lots of different electrodes sat in identical storage tubes.
Once you take the ElectroWhisker out of its packaging for the first time, you will find it sealed in a plastic pouch. You can rest assured that it hasn't been tampered with in any way since it was manufactured.
This electrode comes with a three-month warranty, but it is pretty bulletproof as long as you take care not to bend the metal bristles.


The Electrowhisker comes in a sealed plastic pouch
Design and function
The ElectroWhisker looks like a basting or drum brush, and it features stiff metal stainless steel bristles that fan out to cover a large area.
Top Tip: You can use a little piece of heat shrink tubing or tape wrapped around the base of the bristles if you want to control the spread of them.
The metal bristles are like piano wire, and the two sides of the bristles have a different feel. One side is smooth, and the other is much more draggy, giving you more control over how it feels in use. The bristles are very stiff, but they can be bent if you are not careful to always take care when playing with it.
Name: ElectroWhisker
Type: Monopole Bipolar Skin Electrode
Contact Length: 130mm
Overall length: 285mm
Weight: 43g
Connection: 4mm Socket
Guarantee: 3 monthsThe main body of the ElectroWhisker is insulated, and the end has a 4mm socket.
This is a monopole electrode which means that you need another electrode to use with it to create your e-stim circuit.
As the ElectroWhisker takes a 4mm plug, you can use an insertable bipolar electrode as the second electrode plugging the other 4mm plug into one of the sockets. I really like the feel of the Flange electrode with the cable plugged into the centre socket.
Another great configuration is to use a self-adhesive monopole pad electrode on one ankle or the sole of one foot.
The problem with that though is that these take 2mm plugs. E-Stim Systems have that covered though as they sell a BiCable which features one 4mm plug and a 2mm plug and I need to get myself one of these.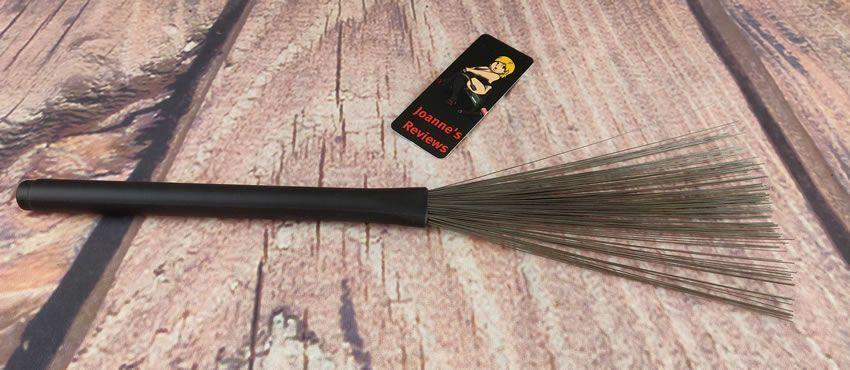 The ElectroWhisker is beautiful in its simplicity
A workaround though if you have some 4mm conductive rubber though is to cut a small 15mm piece of it. Then you can insert a 2mm plug into it and then insert the conductive rubber into the 4mm socket on the ElectroWhisker. This way you can use a standard 2mm cable with a monopole pad style electrode with the ElectroWhisker.
Performance
Its performance is probably what you are more interested in though. This electrode can be used in two ways, firstly on dry skin and secondly on skin that is wet with electrolube.
On dry skin, it feels very intense and quite sharp as you get intermittent little shocks. On low power levels, these are actually quite lovely, but on higher levels, it can be used for torment and pain play.
Dragged across your skin, you get to experience the sensations moving wherever the bristles contact. If you only allow a few to touch the skin, it can be very intense. I find that laying it almost flat against the skin is great and a good place to start when you switch it on. Then slowly lift the handle slowly reducing the contact area to increase the stimulation. Removing it and touching the skin again can feel quite painfull especially on higher power levels.
So use it on dry skin for pain play.
But, on wet skin, it feels incredible.
When the bristles are drawn across wet skin, it feels like thousands of little tiny fingernails scratching and teasing your skin, and it took my breath away the first time I tried it with lube.
As you draw it across your skin, the effect tingles and moves with the bristles creating some delightful sensations. Even used without e-stim, it delivers some fantastic sensations on your skin.
Drawn up the inside of my thighs has me really enjoying the teasing sensations and becoming very aroused.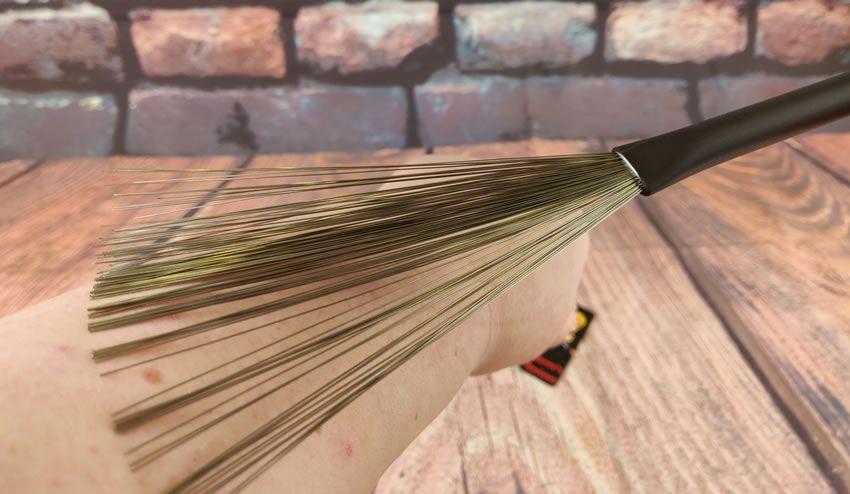 The ElectroWhisker delivers some delightful sensations
Dragged across my vulva and labia feels mind-blowing. It really is a different sensation from what you usually enjoy when playing with e-stim. Typically, with e-stim, the sensations stay in one place. But with the ElectroWhisker, it's so lovely to be able to move the tingling sensations around my body (staying below the waist for safety reasons).
One set up I really enjoy is a pad electrode on one foot and the ElectroWhisker being used on the other leg. You get the enticing skin play tingles coupled with the current going through your groin on its way to the pad on your feet, and this feels breathtaking.
Both sides of the bristles feel nice, but I prefer the more draggy one as it is a little bit more intense. As well as dragging it across your skin, you can dab with the ends of the bristles. This feels much more intense. You get to enjoy the metal providing little points of contact and the e-stim sensations emanating from them. On high power levels, this can be used to good effect for pain play.
I prefer the more sensual side of e-stim, and the ElectroWhisker really has opened up my eyes to a new way of playing. Skin play feels incredible, and while I have enjoyed a Double Electro Pinwheel in the past, this is even more fun than the pinwheel.
I have used it on my Stunt Cock too, and he loved having the bristles dragged over his testicles as he was stimming. The ElectroWhisker is one of those electrodes that lots of people will overlook, but it is actually a dark horse. Yes, it is different, but so are the sensations that it delivers. So it's definitely worth some serious consideration if you want to try something new.
The ElectroWhisker from @estimsystems is a lovely monopole #estim electrode that delivers some surprising sensations as it is drawn across your skin.
Click to Tweet
Key Features
Key features:
Sturdy construction
Monopole electrode
Takes 4mm plugs
3 month guarantee
I would recommend it to:
Anyone looking to experience some delighful skin play
Anyone who enjoys tactile and sensation play
Anyone wanting to enjoy skin play with e-stim
I wouldn't recommend it to:
Anyone not into e-stim, but saying that it still delivers delightful sensations when just used on its own
Final Thoughts
I have really enjoyed reviewing the ElectroWhisker from E-Stim Systems. It has been so much fun, and all of us have really enjoyed it.
Skin play feels so different from internal play, and it delivers some delicious sensations when dragged across your skin.
If you want to add something different to your e-stim toybox, then the ElectroWhisker is a great addition. You can use it on yourself or someone else for some very naughty teasing play sessions.
Now I want a second one so that I can really go to town on my submissive while she is restrained.
I bought this ElectroWhisker from E-Stim Systems and I have enjoyed reviewing it for them.
Joanne's rating
Where Can I Get One From?
Grab an ElectroWhisker for yourself from E-Stim Systems for only £40.00 or $59.99 if you are in the US.
Website links:
---
If you enjoyed reading this review then check out my other reviews of E-Stim Systems products:
CONTROL BOXES
PUSSY & ASS ELECTRODES
PENIS/BALL PLAY
OTHER
Website links:
---
Disclosure
Disclaimer - I bought this product and this has in no way affected the outcome of this review. This post contains affiliate links and if you purchase something when you follow one of these links I may receive a small commission at no cost to you. For more information check out my disclosure page.
Here goes main part of the text rest of the text