Delivery
You can always rely on the guys at e-stim.co.uk discreetly packaging your orders and they arrive on a signed for service in very plain packaging carrying no indication as to the kinky contents of the package.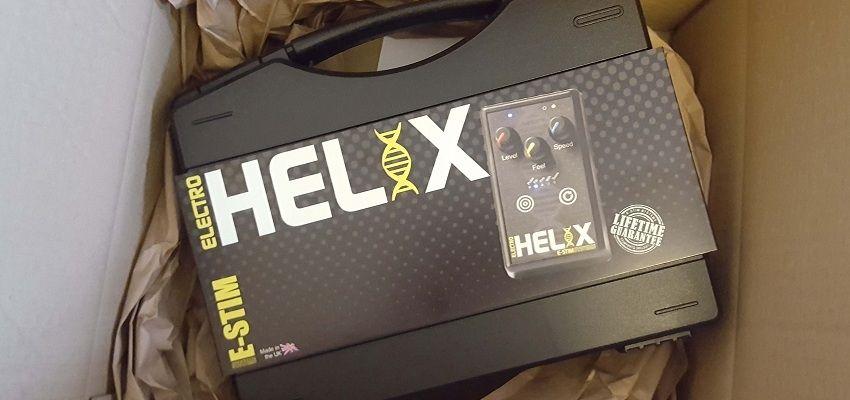 Your ElectroHelix™ arrives Vacuum sealed inside it's own locking plastic storage case that features a foam lining with cutouts for the control unit, the battery and with room for electrodes. The package that I was sent is the basic package which retails at £109 and it contains the control unit, a battery so that you are ready to play as soon as you open the packaging, a set of adhesive electrode pads and the cable required to connect them to the ElectroHelix™ together with instructions. It really is a very well presented kit and you can start having fun with it as soon as it arrives.
Features
For anyone who hasn't got much experience in the kinky field of electrosex you can check out my beginners guide HERE. In essence an electrosex system consists of electrodes which pass electrical current to parts of your body and the control box which is the heart or brains of the whole system and this safely provides the electrical impulses to you which can feel amazing.
The ElectroHelix™ is surprisingly small in form, it is much easier to hold than the original Series 1 control box and the top features an on/off switch and a socket for the cable that goes to your electrode. The front of the control box carries the three control knobs that are all different colours, beneath these is a lifeline style LED display which is similar to that on the ElectroPebble. It serves two purposes, firstly when you turn the unit on it self tests and then it displays the battery power level which is a great feature. In use it gives a visual indication of the programs activity. Underneath this display is the fire button and a button to change which operating mode that you are using.
The three knobs are very smooth to operate and the red one controls the output power, the yellow one is used to change how the pulses feel, from soft to sharp and the blue know controls the speed of the pulses. They are very intuitive to use and you can litterally use this unit straight out of the box without even looking at the instructions. E-stim systems have made this control box really easy to use.
It is very light and small, its dimensions are just: 112mm x 65mm x 41mm
The ElectroHelix™ is powered by a 9V (PP3) battery which is supplied in the kit and this delivers more than adequate power for even serious power queens. I like the fact that E-stim Systems have not gone with the current trend of using internal chargeable batteries as there is nothing worse than having a battery go flat and then having to stop play whilst you recharge an internal battery. As with all of their control boxes you can simply and quickly just pop in a new battery and continue playing - it makes a lot of sense when you think about it. I found that a battery lasts a very long time but that will depend on what settings you use, I was happy with the battery life though.
The original Series 1 box had three operating modes including the devilish 'fire' mode, the ElectroHelix™ borrows a further two of the amazing features of the ElectroPebble giving you five operating modes in total and these are: Pulse, Flo, Fire, Milk and Tease.
The standard output of the ElectroHelix™ is a little stronger than my Series 1 but if that isn't enough for you the ElectroHelix™ has a great twist, it features a 'sport' mode as well. If you press the Fire button as you turn the unit on it goes into 'Power Queen' mode which gives more power and sharper sensations. I don't need to use this mode but no doubt it will appeal to some. The controls are really responsive and I like the improvements to the Pulse mode where the pulses can be very short or very long, almost merging from one into the next.
The electronics inside the ElectroHelix™ have been completely overhauled and improved, new features include an updated microprocessor control boost system and an entirely new logic timing control, this means more power, more fun and more features which is great.
E-stim Systems are so proud of their quality control that as with all of their other products this control box has a lifetime guarantee. I have never had any problems with their products but it's nice to know that they offer this amazing guarantee. One day I hope to visit their factory to see how all of their kit is made as it's all of exceptional quality.
The Lifeline Display
The lifeline as I mentioned earlier gives you several pieces of information and it is similar to the one of the ElectroPebble. It shows the self test when you turn the unit on followed by the battery power level.
Top-Tip: If the battery strength indicator shows less than 50% of life left in the battery I tend to change the battery at this point to keep the output at their highest levels, you can of course continue using the unit but I prefer to use fresher batteries when I play.
Below the lifeline display are two tactile buttons and the right one is used to change operating modes, if you press it once in use it will show on the lifeline display which mode you are currently in and then if you press it again it changes the operating mode to the next mode. You can use this very simple system to quickly change modes when playing to vary the sensations that you receive. You very quickly get used to quickly changing modes as you get more excited.
Operating Modes
I always struggle to describe the sensations that you get when playing with e-stim kit but in essence these control boxes are so easy to control and they give such a wide range of sensations you can set it up to deliver very soft caresses that feel like butterfly wings on your skin or inside you, to feelings like pins and needles then right through to the feelings of being fucked hard. If you continue turning up the power you can induce feelings like cramp and these control boxes can be used to deliver punishment as well as amazing pleasures. I regularly get hands free orgasms when using e-stim kit and I am totally hooked on the activity. Right, I want to cover all five modes now to left you know how each differs from the next so here goes:
Pulse
In pulse mode the output is simply a series of pulses which cause your muscles to tense and then relax, this is the same as the pulse setting on my Series 1 control box. However the new electronics mean that there is much more power and control in this mode and it feels amazing. The level knob controls the strength of the pulses and the feel knob alters the length of pulses and gaps between them, this allows you easily set it to your needs. The speed controls the frequency of pulses. I particularly like this mode with an insertable bi-polar electrode and I love to set it so that it feels like I am getting a good hard rodgering.
Flo
This mode is pretty much a continuous output and you can use the Level knobs to alter the power settings and the Feel knob alters the feelings from soft to hard with this mode. I have enjoyed this mode when using my fucking machines as if I use a bi-polar electrode anally at the same time or some pads either side on my inner thighs it causes my vagina to clench heightening the sensations whilst being fucked. It is pretty intense.
Fire
This is a great mode to use on someone else and can be used to tease or punish. The output is only on when you press the 'Fire' tactile button the output goes live so you can surprise someone and tease them. It would be great to use in a BDSM setting between a Dom/Sub.
Milk
This is a great mode for showing the versatility of this little control box and it is one of the ones borrowed from the ElectroPebble. The outputs pulse on and off again and these pulses get quicker and quicker before slowing down again and repeating, it really is an amazing mode and one of my favourites. The Level and Feel buttons control the sensations and the speed is controlled by the Speed knob.
Tease
This one is a bit like the milk mode but instead of getting faster and faster it gets stronger and stronger. It starts off very gently and then builds with harder pulses before going back down slowly again before repeating. I can enjoy long slow sessions enjoying the sensations produced in Tease mode. I particularly find this mode very exciting when using an anal electrode.
Performance
I simply can't fault this control box, the power and simplicity makes it ideal for anyone new to E-stim fun and games or even for experienced users as well. It's jam packed with features and I have absolutely no problem giving myself hands free orgasms with it. I can edge myself for long periods easily and this is amazing when you finally allow yourself to slip over the edge into a powerful orgasm.
The simplicity of the controls make it so easy to switch modes easily when in use and the control knobs are very smooth and responsive. I don't use the Turbo mode but it is there for power queens and that's a great feature to have available.
My favourite modes are definitely pulse and milk but I also use all of the others as well, but when playing I tend to use those two more than the rest. I love my Series 1 box but this one simply blows it away in terms of its features and power and I can see it quickly becoming a best seller for E-stim systems. There really isn't anything not to like about it and I am sad to say that my Series 1 box will not be receiving much attention now that I have an ElectroHelix™ to use instead.
I can put my hand on my heart and give it a very thorough recommendation for anyone looking for a relatively cheap control unit that is packed with some amazing features backed up with a lifetime guarantee.
Key Features
Key features:
Quality construction
Single channel output
Ideal for external, vaginal and anal use
Lifetime guarantee
Fire Button
Five functions
Battery powered by a PP3 9V battery (supplied)
Made in the UK
Important Specifications
Here are some facts about the ElectroHelix™ that I thought could be useful, they are lifted straight from the manufacturers site and help to show some of its great specifications:
Channels/ Outputs:
Single Channel via industry standard 3.5mm mono socket.
Display:
High Brightness Light Emitting Diodes indicating Self Test, Battery Level, Output Status and Current Mode.
Program Modes:
5 - Pulse Flo Fire Milk and Tease.
Controls:
Output Intensity, Feel Control Speed Control, Mode selection and Fire Button.
Output Waveform:
BiPhasic AC.
Power Supply:
Standard 9 Volt Alkaline (PP3) - Supplied.
Dimensions
(approximate.):
112mm x 65mm x 41mm
Weight (with battery):
160g
Guarantee:
Lifetime (Power Box).
ElectroHelix™ Pack Options
The ElectroHelix™ is available in three different packs, the first is the one I have. The standard pack retails at £109. To really enjoy the ElectroHelix™ I suggest seriously considering the Red or Blue packs. This pack is amazing value for money as it contains all of the following:
ElectroHelix™
Storage Case
PP3 9V Battery
1 x 3.5mm to 2mm/TENS Connection Cable
4 x Self Adhesive Electrode Pads
1 x User Manual
ElectroHelix™ Blue Pack £119
The ElectroHelix™ is also available in the Blue pack, this pack is aimed at guys and retails at £119. In addition to the contents of the standard pack it also features a set of conductive cock loops which I have recently reviewed. Again it is great value for money as it contains all of the following:
ElectroHelix™
Storage Case
PP3 9V Battery
1 x 3.5mm to 2mm/TENS Connection Cable
A pair of 2mm Conductive Rubber Loops
4 x Self Adhesive Electrode Pads
1 x User Manual
ElectroHelix™ Red Pack £129
The ElectroHelix™ is also available in the Red pack, this pack is again aimed at women and retails at £129. In addition to the contents of the standard pack it also features a small ElectroEgg Bipolar Electrode which I have recently reviewed. Again it is great value for money as it contains all of the following:
ElectroHelix™
Storage Case
PP3 9V Battery
1 x 3.5mm to 2mm/TENS Connection Cable
1 x small satin finish BiPolar Electro Egg
4 x Self Adhesive Electrode Pads
1 x User Manual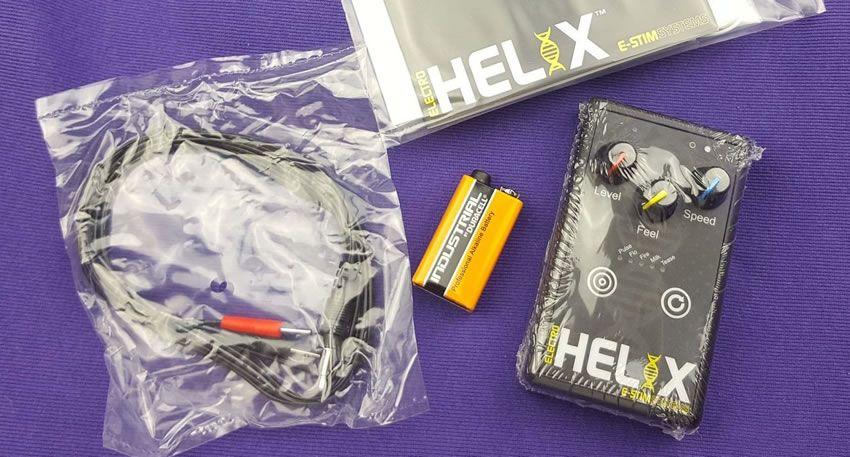 Final Thoughts
The ElectroHelix™ is an excellent replacement for the trusty old Series 1 control box, it blows the old box away in terms of its features and performance, it is a superb entry level control box and I can highly recommend it having spent a couple of weeks using it "cough" for research purposes - 'grin'.
If you are looking for an e-stim control box with some fantastic features that is both easy to use and provides great power output then this is the one for you. I will be using it in the future as it is just sooo good.
I was sent my ElectroHelix™ by e-stim.co.uk in exchange for this review and I hope that you have enjoyed reading it. Hopefully it has left you curious to try one out for yourself.
Joanne's rating
Where Can I Get One From?
Grab one of the ElectroHelix™ kits for yourself - £109 for the kit I have or £119 for the Blue kit or £129 for the Red kit. All offer great value for money.
Website links:
From their humble beginnings in a garage back in 2004 E-Stim Systems has grown and grown with an army of loyal customers. They manufacture their own goods and that gives them total control of their range of equipment, they even offer a lifetime guarantee (how's that for confidence).
Check out their great range of Intro2Electro™ Packs, E-Stim Systemsand the Flange™electrode.
Check them out and don't forget to tell them that Joanne says "Hi".
---
If you enjoyed reading this review then check out my other reviews of E-Stim Systems products:
CONTROL BOXES
PUSSY & ASS ELECTRODES
PENIS/BALL PLAY
OTHER
Website links:
---
Disclosure
This review contains affiliate links, these links allow me to get a small commission if anyone uses them and then goes on to buy one of these units at no added expense to the shopper. It is common practice to use affiliate links and the small fees I earn this way go towards the running costs of my site, anything left over goes towards buying in more toys to review.