Delivery and packaging
I placed my order on the UK E-stim Systems website, and the whole process was a straightforward one. I do like the fact that they send you regular updates on the status of your order.
I like to know how long I am going to wait for something when I order online, and E-Stim Systems have a cracking system of customer updates.
As usual, when the package arrived, it was very well packed in a plain box. I had also bought one of their Electro Whisker Electrodes (more on that electrode in a separate review though), both arriving in the same box.
The Electro Speculum arrives shrink-wrapped with one of the usual black and yellow product labels that are synonymous with E-Stim Systems products.


The Electro Speculum arrives in simple but functional shrink wrap packaging
Simple but effective. Once I had removed the plastic film, I was free to admire the quality of the speculum. It was quite enlightening getting to hold it and working out how it operated.
Usually, I am on my back with my legs open when coming into contact with one so it was nice to get familiar with it from the handle end, so to speak.
Design and use
For those not in the know, a speculum is a medical instrument designed to open up the vagina (it can be used anally, but there are specific designs for anal speculums).
It is used during examinations and some forms of treatment. Its very nature and use make it a significant source of embarrassment and even humiliation for a lot of people.
But that is in a medical environment. In the bedroom, either on your own or with a partner it can be a huge turn-on too.
The speculum consists of three main components. The lower 'L' shaped component has a 'Y' shaped plate bolted to it with a thumbscrew to adjust its position. This 'Y' plate carries two hinges at the top around which the upper plate rotates. This rotation is adjusted and controlled by a second thumbscrew on the right-hand side of the speculum.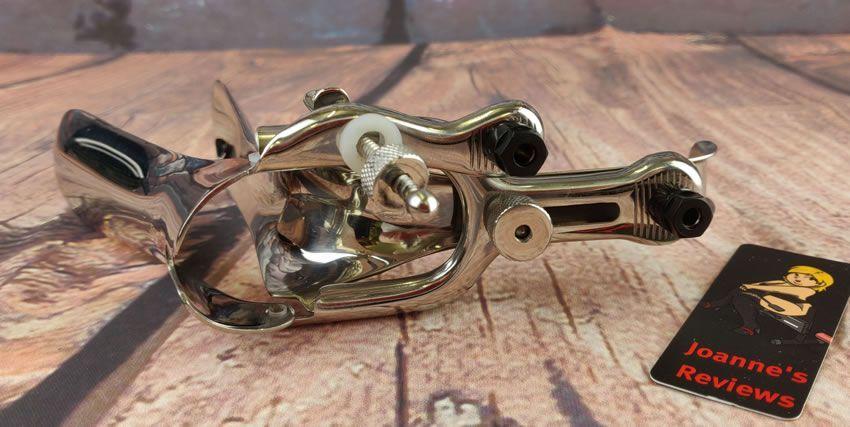 The Electro Speculum consists of three main parts, two of which form the electrode faces
It is first inserted and then with the lower thumbscrew just slackened off the 'Y' plate can be slid up the 'L' plate. This opens the entrance to the vagina.
Once opened as side as you want, the lower thumb screw is tightened to lock those two plates together. This then leaves the upper jaw which rotates around the top of the 'Y' plate.
The second thumb screw is adjusted to open the two plates or jaws wider and wider. The two plates start off parallel to each other, and if you can imagine opening the end to form more of a 'V' shape, you are on the right track. The inside of the speculum is opened by the tightening of the upper thumb screw. This widening of the inner edges holds the speculum in place securely.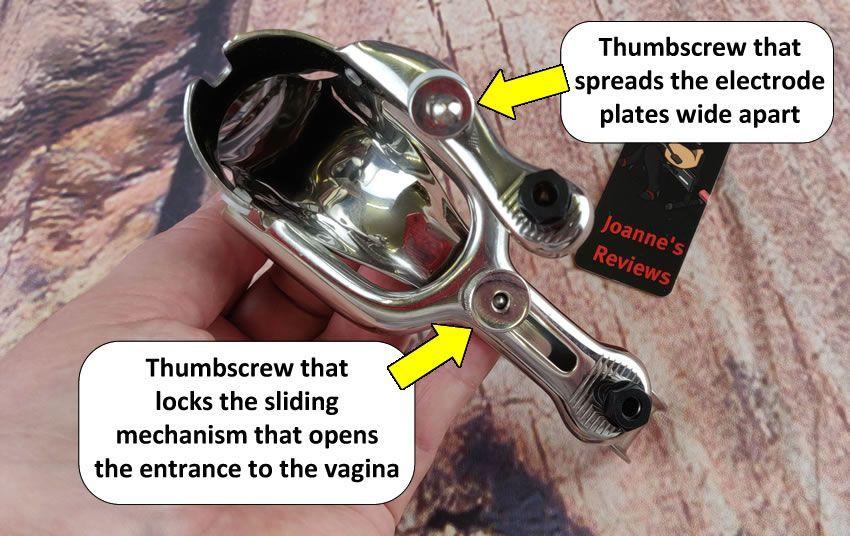 The Electro Speculum is spread open after insertion using two simple thumbscrews
As this is an electrode, it needs to be held in place securely. If you eject it during orgasm, you will feel a sharp shock as it leaves your body. Spoiling the moment, although some may enjoy it.
It sounds complicated, but it isn't. Just insert, open the entrance then spread the bills - "simples" as Alexander the Meerkat says.
The clever part about this speculum is that E-Stim Systems have modified it. They worked out that by using just two plastic bushes, the upper bill can be electrically isolated from the rest of the speculum. This is what makes it a bipolar e-stim electrode.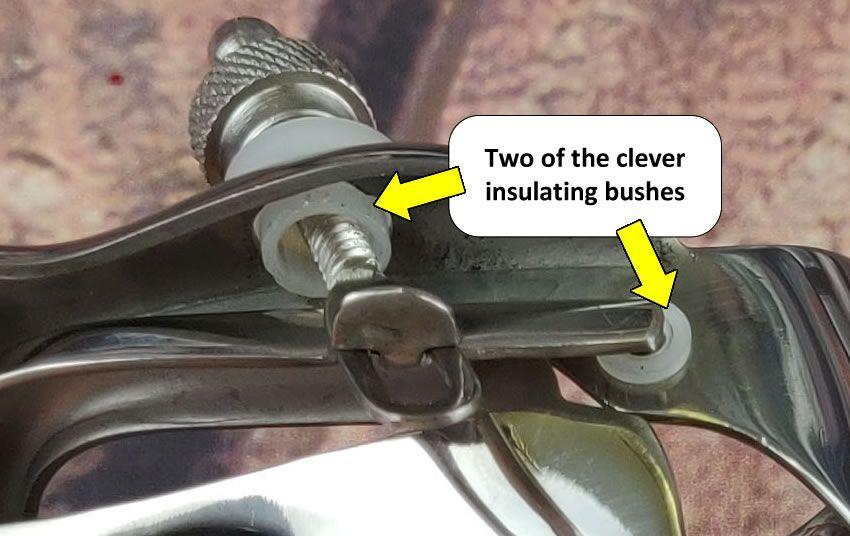 The Electro Speculum uses plastic bushes to isolate the components electrically from each other
Both the 'Y' plate and the arm on the upper plate have 4mm Banana Sockets screwed into them. These allow you to connect the two conductive surfaces to the cable going to your control box. It really is a very well thought out device. However, and there is always a however, make sure you don't allow both conductive surfaces to touch with your control box switched on.
So insert it and open it before turning on the control box. This will mitigate against any chance of the two bills shorting together. It is a simple precaution to take and of course, good practice.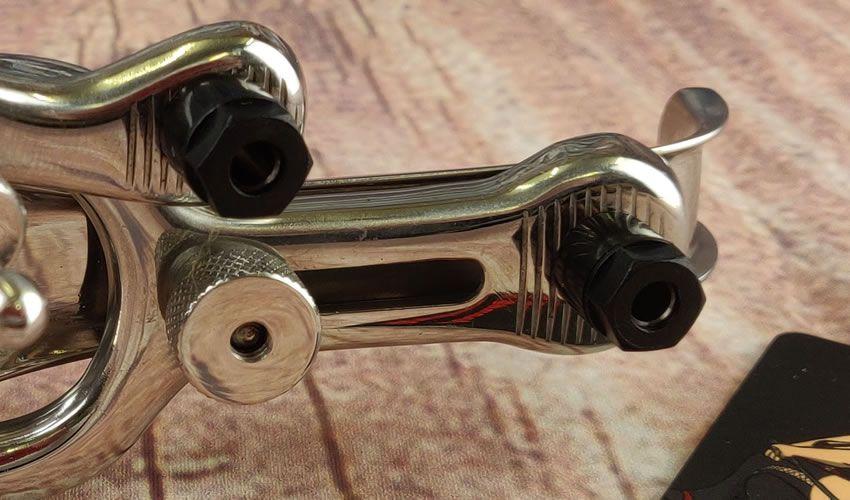 The Electro Speculum has two 4mm banana sockets fixed to it to accept your cable
Always use lots of good quality electrolube like the E-Stim Systems Electrogel when playing with the Electro Speculum. It will, of course, help with insertion, but more importantly, it will help make an excellent electrical contact with the inner walls of your vagina.
So what does it feel like in use?
Performance
OK, picture the scene, as this is a special review I booked some time in a local dungeon - TP Dungeon.
Why you may ask? Well this dungeon has a medical room with a gynae chair and well, if you are going to do something, do it in style I say.
So the patient (sub'r' bless her cotton socks) was firmly restrained in the gynae chair with her legs akimbo and with her pussy freshly shaved. Obviously, nothing kinky going on, the restraints are purely on H&S grounds as I didn't want her falling off the chair (evil grin).
To kink things up, even more, she was blindfolded and gagged (there is nothing worse than a noisy patient complaining about a procedure).
First, I teased her by making noise and pacing about, she had no idea when I was going to begin. On went the black nitrile gloves with a snap causing a nice squirm from sub'r'.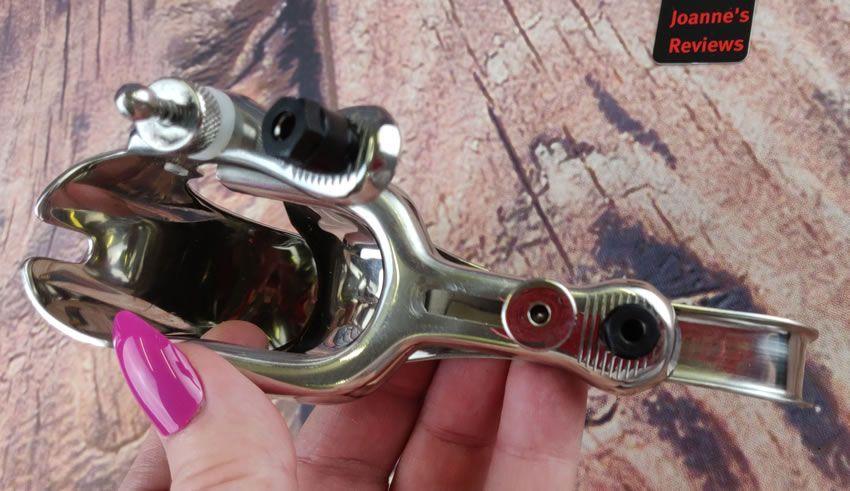 The Electro Speculum is easy to fit but make sure you use electrolube
I plugged the cable into the speculum and the other end into my 2B control box. Next, the lid was flipped up on a tube of Electrogel, and I applied lots to both surfaces of the speculum.
I got the best reaction though when sub'r' felt the cold stainless steel plates of the speculum nudging between her labia. This caused lots of deep breathing and squirming as I slowly slid it deep inside her.
Once fully in, I opened the jaws and locked the bottom thumbscrew tightly then I started to screw in the upper thumbscrew. Watching in delight as the bills slowly opened wider and wider until there was lots of pressure on them.
I then began a running commentary for sub'r' pretending I was examining her, and low and behold she needed some electrotherapy. Who would have thought it?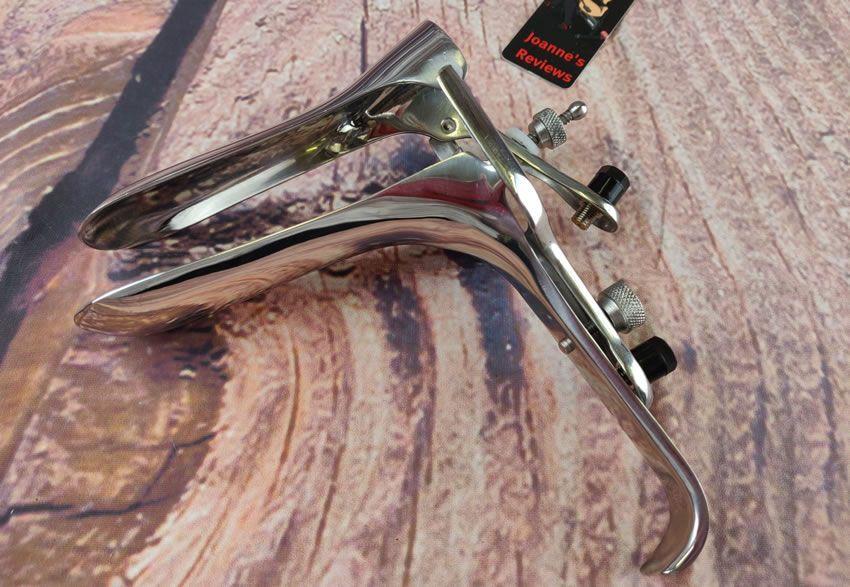 The Electro Speculum is actually a thing of beauty with its highly polished stainless steel construction
I switched on the 2B and selected Thrust, slowly turning the power knob until I heard sub'r' gasp. I left her enjoying the sensations it was delivering deep inside her before turning up the dial. It took her about ten minutes to orgasm and when she did so, her back arched, and the speculum shot out. Followed by a shriek, followed by another orgasm (she likes her pain a bit too much, I think).
As the speculum left her pussy, she received a nice shock, which sent her over the edge again. Lessons were learnt (the hard way for sub'r').
After lots of giggles with jokes about "smelling bacon cooking", I was next, and we had a fantastic afternoon that just got kinkier and kinkier.
But I digress, the Electro Speculum felt terrific, and both of us enjoyed it. The combination of being opened wide, the feeling of fresh air inside me and the e-stim sensations are fantastic.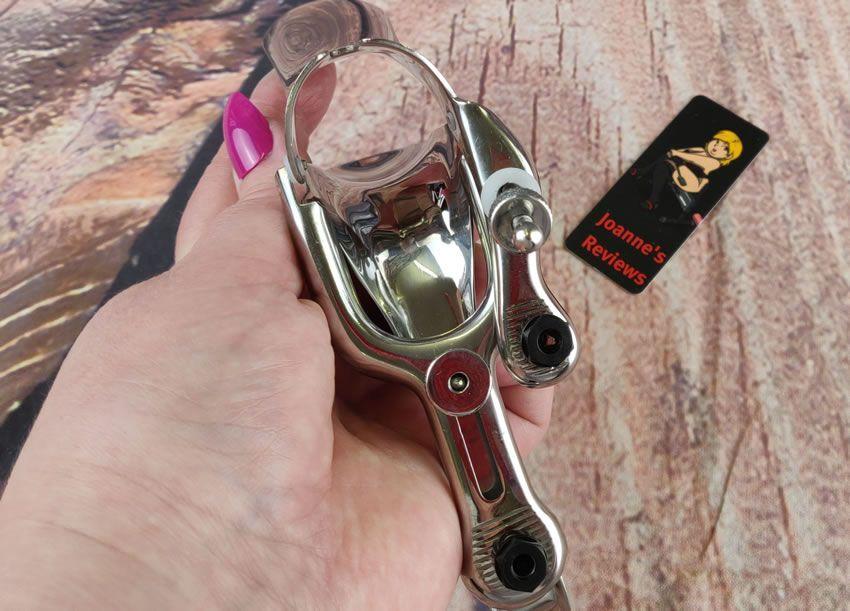 The Electro Speculum allows someone to see inside you and it can be so much fun
Couple it with some medical play or playing on the humiliation side of things and you can undoubtedly have so much fun.
The large surface areas of the electrode surfaces mean smooth sensations, it felt like pins and needles deep inside me in a pleasant way. I didn't get the ghost fucking sensation, but that was probably because of being held rigidly open by cold hard steel.
Removing it feels incredible as your vaginal walls relax and close up, the speculum slides out easily with the combination of electrolube and vag-goo.
We both enjoyed the Electro Speculum and being opened up just adds to the kink levels and enjoyment. I actually used my phone to video myself coming, and it was amazing to see my cervix dipping and moving as I came hard. I can highly recommend watching yourself cumming in this manner, it is incredible.
One thing I loved was how warm the speculum was when it came out. It goes in cold (you can really enjoy some excellent temperature play) and comes out nice and warm.
Is it an electrode I will be playing with again? Most definitely. It's just so different from all of my other electrodes, and the fantasy play opportunities are fantastic.
The Electro Speculum from @EstimSystems allows you to stretch more than just your play opportunities. This bipolar estim electrode leaves you wide open to so much more kinky fun.
Click to Tweet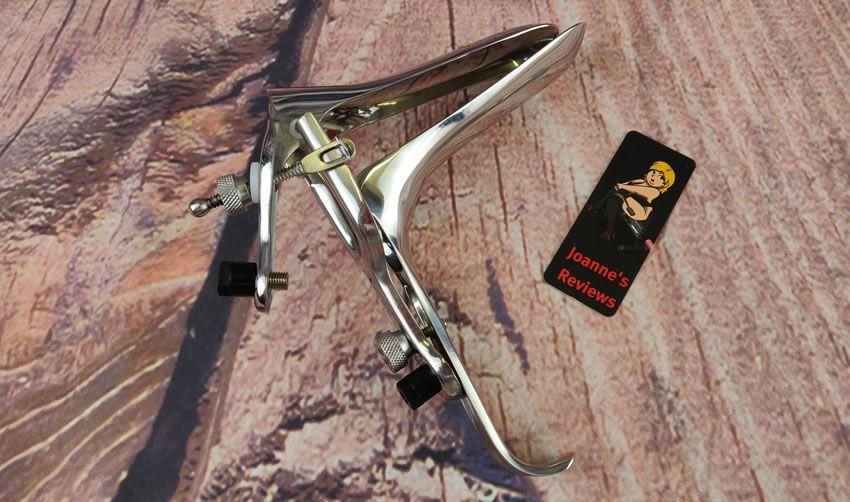 The Electro Speculum is unlike any other e-stim electrode that I have enjoyed - and I like it
Key Features
Key features:
Bipolar electrode
4mm sockets to accept banana plugs
Stainless steel construction
Simple to use
Perfect for medical or humiliation play
I would recommend it to:
Anyone looking to try an electrode that is different to the norm.
Anyone who enjoys medical roleplay fantasies.
Anyone who wants to enjoy penetration and stretching with e-stim.
Anyone who is turned on by having someone else look inside them.
I wouldn't recommend it to:
Anyone scared of speculums or medical instruments.
Final Thoughts
The Electro Speculum is different, it's kinky, and it's something that may have never crossed your mind before. But think about it, medical play, stretching play, or just pure old curiosity are all great reasons to get one.
This speculum is the real deal. It is a professional speculum that has been professionally converted by the kinksters at E-Stim System to enable it to fulfil many roles.
Just being able to watch your own orgasm from the inside is a reason to get one. Playing with it is just so much fun even before switching on the e-stim control box. But, turn the control box on, and your enjoyment is taken to the next level.
I have really enjoyed getting to know the Electro Speculum, and I will continue to keep using it as it is just so kinky. A speculum will allow you to expand more than just your play opportunities.
I bought this Electro Speculum from E-Stim Systems and I am glad that I have the opportunity to review it for them.
Joanne's rating
Where Can I Get One From?
If you are looking to buy an Electro Speculum you can of course do so through the E-Stim Systems shop - Electro Speculum (£48).
From their humble beginnings in a garage back in 2004 E-Stim Systems has grown and grown with an army of loyal customers. They manufacture their goods themselves in the UK, and that gives them total control of their range of equipment, they even offer a lifetime guarantee (how's that for confidence).
Check them out and don't forget to tell them that Joanne says "Hi".
---
If you enjoyed reading this review then check out my other reviews of E-Stim Systems products:
CONTROL BOXES
PUSSY & ASS ELECTRODES
PENIS/BALL PLAY
OTHER
Website links:
---
Disclosure
Disclaimer - This post contains affiliate links and if you purchase something when you follow one of these links I may receive a small commission at no cost to you. For more information check out my disclosure page.