My curiosity won, and I had to find out. So here are the results of my investigations into combining e-stim play with my not too shabby oral sex skills.
Safety
High on my list of things to look into before giving the worlds best electro-blowjob was safety.
The common practice is to never, ever stim above the neckline. Even stimming above the waist is a no-no unless you are using the correct equipment and are aware of how to do so safely.
Obviously, the thought of wrapping my lips around a hard cock that has electricity pulsing through it took some thinking about.
Electricity generally takes the path of least resistance which is usually in a direct line between electrodes. So, a setup like the base of the penis to an insertable anal electrode would be safest.
But it would be wise to consider if you are sucking away on an electrified penis and your hand touches one of the electrodes you could have a current path going near your chest. For that matter and out of an abundance of caution, I would recommend wearing long sleeves and gloves when giving an electro blowjob (you should be wearing gloves when stimming anyway).
My first experiment saw me again tying my Stunt Cock down and putting a cock loop around the base of his cock, and then I inserted an electrode up his bum (that was so much fun).
I got him to a state of high arousal by teasing him with the controls of the 2B, and then without telling him what I was about to do, I went down on him.
I was a little nervous, half expecting to be launched across the room and left with my hair smoking and frazzled.
But as I had anticipated, I felt absolutely nothing from the e-stim except for stunt cocks happy chap twitching away between my lips. Needless to say, the session ended with a spectacular cumshot pretty quickly as the added sensation of my lips and tongue working on his hard cock did the trick. He loved it, and so did I.
I adore both e-stim and oral sex. I can't quite fathom out why I had never thought to combine the two before now. It's something I have enjoyed experimenting with, and here are the best electrode setups that I have found.
The Ultimate (IMO) Electro Blowjob Electrode Positions
I have two favourite setups for giving electro blowjobs, and the first is the one I use the most.
A simple 6mm cock loop placed around the base of the penis with a monopole (or bipolar) electrode inserted anally with the other wire connected to the electrode surface closest to the prostate.
This keeps all the current at the base of the penis allowing me to suck, lick and slurp my way to a nice sticky cumshot. You should cover the electrode at the base of the penis to avoid inadvertently touching it. You can even roll a condom over the erect cock if you want to be extra careful.
The second one is the most effective, but it requires more setup and a condom (preferably flavoured).
I like to place a self-adhesive monopole pad electrode on the upper face of the penis just under the glans. The second electrode is one of my insulated cock loops, and that is placed around the base of the cock and balls. This electrode is covered to prevent any accidental contact with it.
This configuration allows me to stim both the dorsal and perineal nerve groups. You don't need one of my insulated loops you can insulate the top half of a cock loop with insulating tape or anything else. If you have a two-channel control box, you can always add a second set of electrodes or maybe a bipolar butt plug.
I then cut the tip off a condom and slide it over the glans of the penis and roll it down the shaft over the monopole pad electrode.
This does two things. Firstly it covers and holds the pad electrode tightly in place against the skin, and secondly, it means my lips can freely glide over it. With this configuration, I can take the cock as deeply as I want.
Why cut off the tip of the condom? Well, it's simply that I'm a swallower and just love the feeling of a cock ejaculating into my mouth.
I prefer flavoured condoms for this though as the regular ones taste awful and make my lips go numb. As I'm doing this for my enjoyment too, I want it to taste good.
Both of these setups allow me to enjoy myself by giving deep head, and I have it on good authority that the combination of e-stim and oral sex is mind-blowing.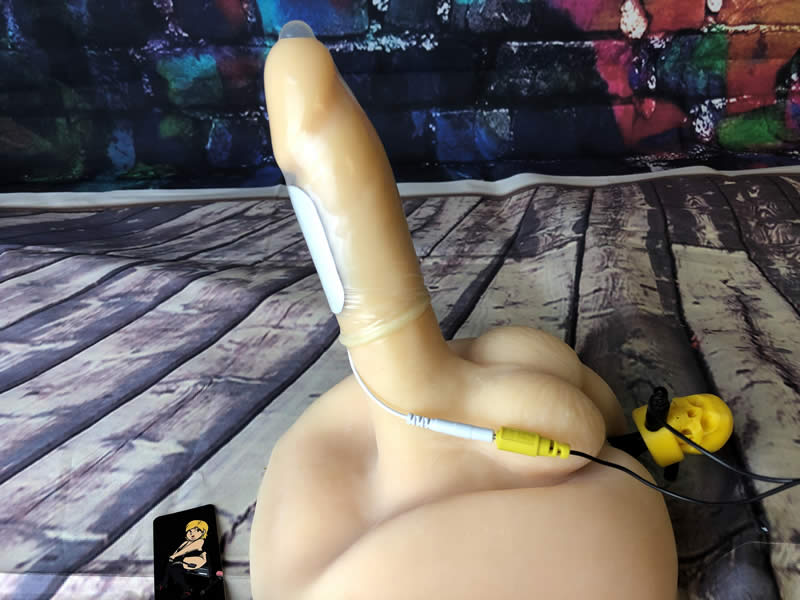 There are lots of electrode combinations suitable for oral play but try to insulate the electrodes
If you don't have a partner who is willing to suck your cock while you stim away then think about using a fleshlight to double your fun (you can thank me for that tip later).
Never be afraid to combine different ways of getting off. A good vibrator can also be a bonus when held against the frenulum (banjo string) during a stimming session. It can even help you get over the edge on those days when that HFO seems to be a bit too elusive.
I can highly recommend the JETT from Hot Octopuss for use when stimming, it delivers some incredible sensations and can be a great way to finish off after a long e-stim session if you can't quite get there through e-stim alone.
It seems that Joanne likes to combine e-stim play with good old fashioned blowjobs with spectacular results.
Click to Tweet
Final Thoughts
Electro blowjobs can be done safely but always think your actions through and try to mitigate anything that could go wrong. I find them a lot of fun to give and the results speak for themselves.