Delivery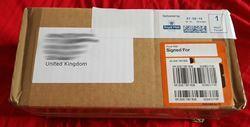 In my excitement I forgot to take a photo of the box that the Electro Eggs arrived in but that's not really a problem as E-Stim Systems always dispatch goods under very plain packaging and so here is a pic of a previous delivery I have received from them to show you exactly what I mean.
Delivery was also very swift with them using Royal Mails 1st Class Signed For Service.
No-one will have any idea what you are receiving when you order something from E-Stim Systems which is comforting to know if you have very nosey neighbours like I do or if you are living with someone that you would rather not know what you get upto behind closed doors.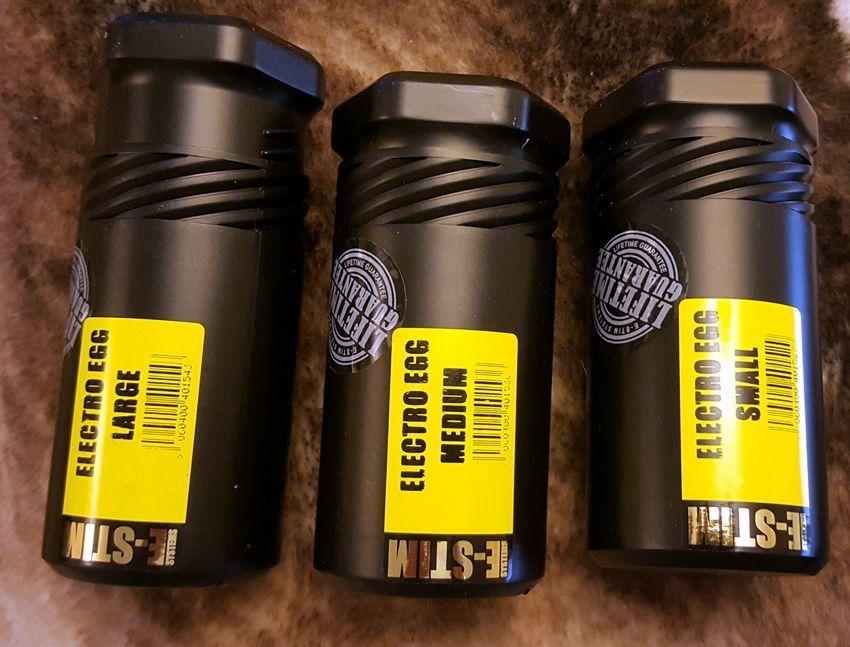 Features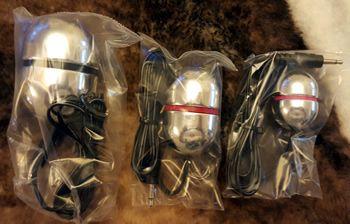 The first thing that definitely deserves a mention is the amazing packaging that the actual Electro Eggs arrive in. Each egg is sealed in a plastic bag inside an amazing black plastic container that you open by unscrewing one end. Stunt Cock (hubby) tells me that they are machine tool cases and I love them. I wish I could get my hands on a supply of some large ones as they would also be perfect for dildo storage to stop dust and lint getting on my toys.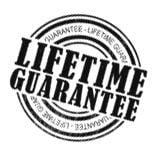 The storage container carries a nice sticker showing you what's inside and this helps when you build up a nice collection of electrodes. It also carries a sticker showing you that these Electroeggs come with a Lifetime Guarantee. E-Stim Systems are so sure of their quality control that they give lifetime guarantees on all of their electrodes and control boxes and this gives you great confidence when buying from them.
The Electro Eggs all feature an amazing mirror finish which is hand polished into them and there are three different sizes available - more on that in a moment. The Electro Eggs come with a reinforced cable coming out of the base which is 1.5m long and ends in a 3.5mm plug for use in any e-stim control box. This cable has been tested by the manufacturer with a pull of 12kg which means that is is safe for both vaginal and also anal use with the domed ends helping both insertion and removal.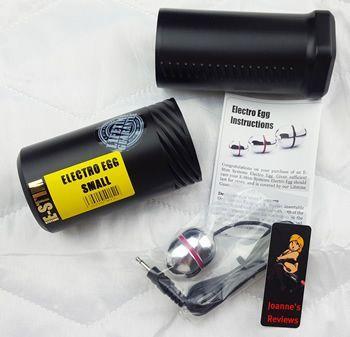 Unlike the regular range of electrodes these ones are not designed to be stripped by the user which means that you will never be able to clean them thoroughly and sterilise them so they aren't suitable to be used between partners unless they are tested and you know their history.
Cleaning is incredibly easy just use hot water with an antibacterial soap or detergent or use a sex toy cleaner or medical grade cleaning wipes. Once cleaned wipe the electrode dry and buff the polished surfaces, always ensure it is completely dry before placing into storage or indeed using again. Do not use any caustic substances when cleaning and don't immerse the egg in any liquid.
Sizes
The Electro Eggs come in three great sizes so there will be one to suit your needs or tastes. I have created a summary table below showing the differences between them:
Size:
Small Elctro Egg
Medium Electro Egg
Large Electro Egg
Length:
41mm
60mm
73mm
Diameter:
30mm
38mm
50mm
Volume:
21.9cc
53.7cc
110.6cc
Weight:
70g
153g
301g
Price:
£59
£69
£79
Comments:
21.9cc
Almost 2.5 times more
volume than the small
Over 5 times more
volume than the small
As you can see in the comments section there is a huge difference in volume between the small and large. I found the large easy to insert and it felt different to the small for me with each having their own merits which I shall highlight below.
Thoughts on the Small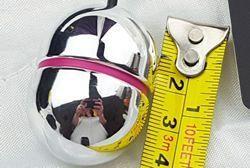 As its name suggests this is the smallest egg in the range, each egg has a coloured band around its periphery and the small is a nice shade of pink.
The small was great for quick sessions for me, it was easy to insert and a lot of fun. I particularly enjoyed using the small whilst stood up and out and about (underwear on).
At the entrance to your vaginal canal the small feels amazing but the sensations fade a bit as you push it deeper.
Thoughts on the Medium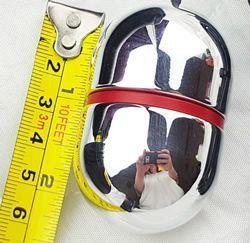 The medium is the perfect fit for me in every respect. I enjoy the added girth and the weight of it is perfect for me to use as a Kegel trainer when stood up.
The added surface area does make a difference in use giving much stronger sensation than the small for me. I particularly enjoy using the medium at the entrance to my vaginal canal and also up against my g-spot.
The Medium has a red isolator in its middle. When using this Electro Egg it really felt as thought I was being fucked hard and it was great to be able to control both the frequency and the hardness of the simulated rodgering I was getting.
Thoughts on the Large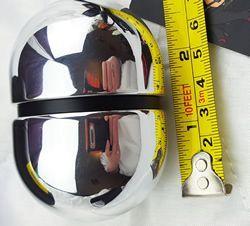 This electrode feels great inside you, there is no mistaking the fact that you have a large and heavy block of metal inside you. The added surface area made the sensations stronger for me but that could have been down to the fact that my body was more stretched around it. I probably wouldn't recommend this one for someone who has just lost their virginity (unless they like to set themselves a challenge) but for someone like me it was easy to use and feels great. The only reason why I prefer the medium to the large is its weight for Kegel training. The Large actually feels better in use due to its volume and surface area.
Using the Electro Eggs is a unique experience as the feelings they generate focus around the middle of the egg (over the coloured isolator), which makes sense when you consider the electrical current flows that way. I found that you can create a variety of sensations by altering the controls on my Series 1 Control Box. You can get feelings as diverse as having a band of your vagina tighten in time to the electrical pulses to amazing clitoral stimulation if you slowly pull it out to the mouth of your vagina - that is mind blowing. On really low settings if you leave it just inside the entrance to your vaginal canal it feels incredible, the only way I can describe the feelings would be having butterflies stroking the sides of your clitoris in time with the pulses.
To the guy stood behind me in ASDA with a grin on his face- yes it was an orgasm ;-)
Electro-Eggs from @estimsystemshttps://t.co/nGb7bIRoMG

— Joannes' Reviews (@joannesreviews) June 5, 2016
I have used them several times whilst out and about and gravity causes them to naturally migrate to the entrance to my vagina but that is where the feelings are most intense. As you can see from the tweet above, they can make shopping a whole new experience.
The weight of them especially with the medium and large makes them ideal for doing Kegel exercises and they're perfect for the task. I like to do some Kegel exercises before connecting the control box to give myself a treat after my "workout", it's the closest thing I get to a real workout LOL.
Make sure that you use a good quality water based lube when using the Electro Eggs, I can highly recommend the E-Stim Systems ElectroGel as it's especially formulated for its conductivity and is great for E-stim fun and games.
Performance
The Electro Eggs are pretty damn awesome. The small is nice and a lot of fun around the entrance to your vagina but it is a bit weaker when used deeply. The medium and large however feel very good deep inside you and when using these two it can actually feel like you are being physically fucked in time with the electrical pulses.
I enjoyed using them midway down my vaginal canal before slowly sliding it out as my orgasm approaches, be prepared to lower the setting though as you do this as at the entrance to your vagina these electrodes can be pretty intense. All three of them have gotten me off but if I had to choose one for regular use it would be the medium for two reasons; firstly its added girth feels great and you get more feeling from it and its weight is perfect for me and my kegel training. Which size would suit you is dependant on your body type, I have had two children and so it was always going to be the medium or large for me but don't underestimate the small, it is compact and a lot of fun when used out and about.
I do feel that there is more to these electrodes though and one day hope to use them in conjunction with one of E-Stim Systems 2B™ Power Box with a mains adaptor for an increase in power (upto 30%) as I think the added power would make deep use even better. Plus with two separate channels it would open up lots of other possibilities.
Key Features
Key features:
Quality construction
Bi-Polar Electrodes
Good for vaginal and anal use
Lifetime guarantee
Easy to clean
Fully Insertable
Made in the UK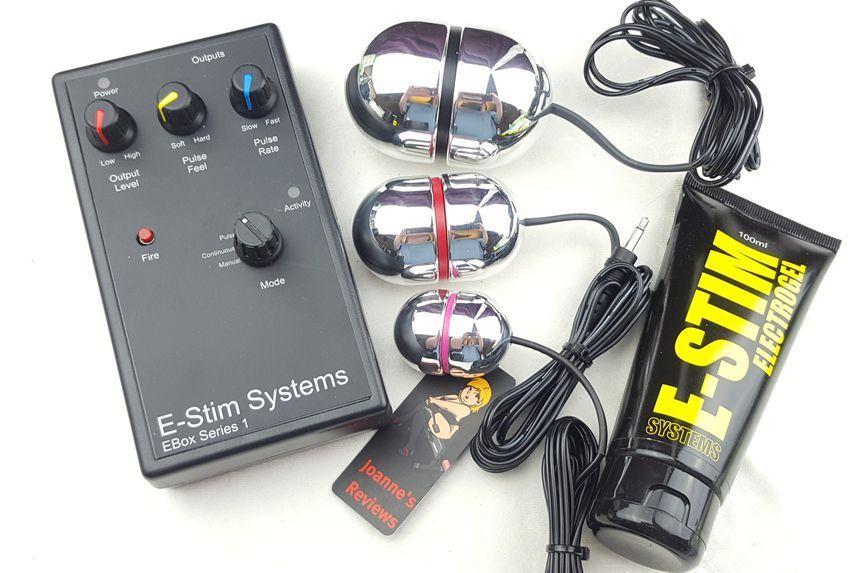 Final Thoughts
The Electro Eggs are a great addition to the range of products from E-Stim Systems. I really like the fact that you can insert them to exactly where you need stimulating the most. Couple that with the fact that they make great Kegel trainers and you have a multi functional sex toy. I have used them in lots of different positions and even when out and about shopping for a really kinky time.
If you plan on using them when out and about with a partner then look at the Remote Control Box from E-Stim Systems as you can wear it and your partner can control the fun - probably when you least want it or should I say at the most embarrassing time, but that would be part of the fun.
These electrodes are perfect for anyone wanting to try some really deep stimulation and like their inserts to be completely smooth. I would love it if they could produce a textured option as well for anyone who likes texture like myself. They are a great compliment to anyone with an e-stim unit, don't just settle for one, why not try them all. I found the best stimulation was when using them shallowly but deep insertion fun is nice as well.
I was sent my Electro Eggs by e-stim.co.uk in exchange for this review and I hope that you have enjoyed reading this review and that is has hopefully left you curious to try them out for yourself.
Joanne's rating
Where Can I Get One From?
Grab one of the Electro Eggs for yourself - £59 for the Small, £69 for the Medium and £79 for the Large.
Website links:
From their humble beginnings in a garage back in 2004 E-Stim Systems has grown and grown with an army of loyal customers. They manufacture their own goods and that gives them total control of their range of equipment, they even offer a lifetime guarantee (how's that for confidence).
Check out their great range of Intro2Electro™ Packs, E-Stim Systemsand the Flange™electrode.
Check them out and don't forget to tell them that Joanne says "Hi".
I have really, really been enjoying myself experimenting with my Intro2Electro™kit for her from www.e-stim.co.uk. Not only is it a lot of fun but I have discovered sensations that are completely new to me whilst using it. I loved the Veriprobe in the Intro2Electro™kit and was blown away by the Flange™Electrode and so I decided to treat myself to another electrode from the E-Stim Systemsrange.
---
If you enjoyed reading this review then check out my other reviews of E-Stim Systems products:
CONTROL BOXES
PUSSY & ASS ELECTRODES
PENIS/BALL PLAY
OTHER
Website links:
---