Introduction
Hello, readers and followers of the lovely Joanne. Let me start with a bit of a disclaimer. This is the first time I have written a formal review of a product, but I thought I would give it a shot. Joanne has been very gracious to lend space on her site and lend her assistance for this to happen.
The device I am going to review is called the Viper. It's an estim device sold (and I assume manufactured) by ElectraStim. But before I get to that, I think I should let you know a bit about me.
I am a male (graying male), live in the U.S. and have been an avid stimmer for over 20 years. I have had gear, sold gear and made gear. In fact, I'm a bit of a gear nut, and I think I am addicted to collecting it. Anyway; I feel I know pretty well what is out there and try to keep up with new devices.
I am always on the lookout for something new, not just different but "new". Different just means something that already exists but has been changed in some fashion. New means there is nothing else like it, yet.
I think I actually read about this device in Joanne's Kinky Forum (a good place to hang out), and just had to give it a look. This does fit the "new" criteria as there really is nothing out there quite like it. Now I will shut up and just get on with the review.
Shipping & Packaging
Unlike a lot of products that Joanne reviews, I did not get this for free. I purchased it from
ElectraStim's USA Website
.
I was surprised by the cost as Estim gear gets quite expensive. It's really a bit of a costly hobby but ooooohhhh sooo much fun! Anyway, it's only $65. Continuing on.
It was shipped right away, and It took only a few days to arrive, which is mostly normal. Like most "mature" toys this arrived in my mailbox in a plain white bag with some distributing company listed as the shipper. This is how we like it, although it doesn't really matter to me as I do not have kids at home, nor do I know the mailman.
I opened it up and, in my haste, I made the rookie mistake of opening the product without taking a pic. But I did remember (see below). As you can see the box clearly indicates what's inside.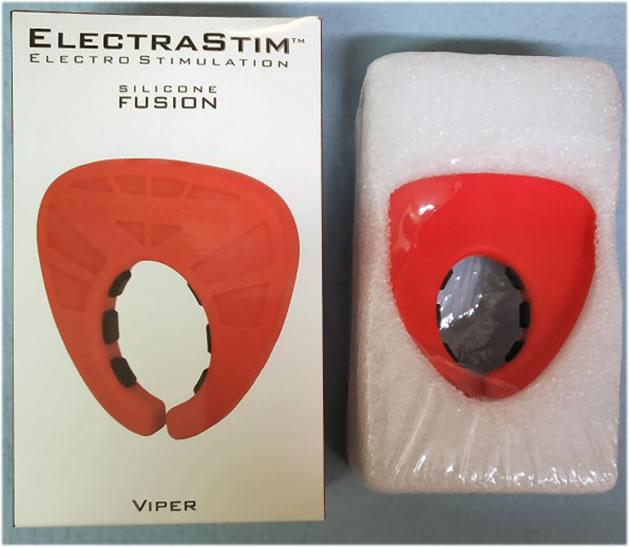 The Electrastim boxes carry clear branding and product safety information
The product is well packaged in a form-fitted Styrofoam cushion and encased in plastic wrap. Underneath the Viper are instructions and a storage bag. I guess a bag is standard with ElectraStim products much like those cool containers that Estim Systems uses.
I must insert here that this is my first ElectraStim product. Not that I did not keep an eye on them but that they just didn't produce anything that grabbed my attention, until now that is.
Description
The Viper is part of the Silicone Fusion line of products from ElectraStim. That's a cool name, and I really like the color; it is a pleasant departure from black.
The material used to make these things is medical grade platinum cured phthalate-free silicone. This means that it's non-porous so it's easy to clean and it's flexible, to a point.
The instructions recommend using sex toy cleaner to clean it, but good ole mild soap and warm water should work just fine. Oh, they threw in a bottle of sex toy cleaner with my purchase. So hurry up and get it out of the package already, right?
OK, so it is soft and flexible in that the part that sits around the male sexual organ (herein referred to as penis or cock) will flex to accommodate several sizes. But I would not recommend twisting the sides, it isn't THAT flexible.
Length: 78mm/3.1"
Width: 76mm/2.99"
Thickness: 12.5mm/0.5"Nomenclature from ElectraStim states that this opening is 30mm at rest and can expand to 60mm. I took out my 30x lighted magnifying glass and looked it over carefully. It appears to be made to last through many, many hands-free orgasms.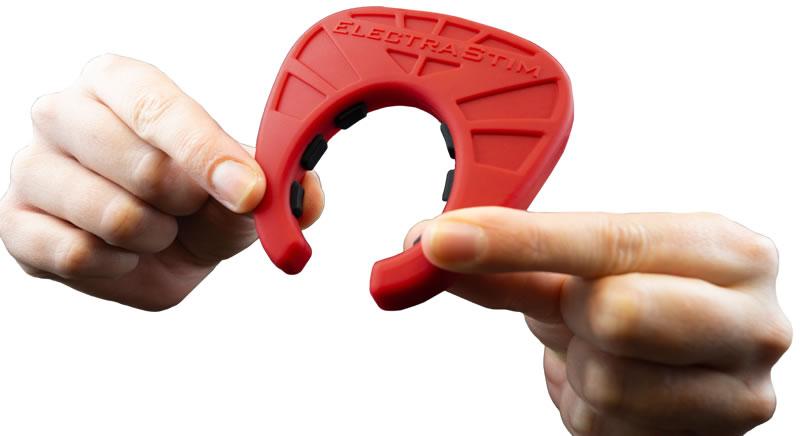 The Viper is flexible so it can easily fit most penises
It is really well designed and well built as I did not see anything I would consider sloppy manufacturing nor cheaply done. I guess the best way to explain the Viper is that is it sort of a shield.
The back side is slightly concave to fit tight against the pelvis or the nuts as I found it can be worn with the thick part where the contacts are either up or down. My preference is down, but that's just me. I will have to admit that I am a bit small. I would have liked a tighter fit when flaccid. I used a flexible cock ring to hold it nice and snug against the body. (Caution: rant to follow)
I wish that cock toy makers would realize that we are not all porn stars. I have a slightly smaller than average (when flaccid) but on the high end of normal when erect.
I see all sorts of cool toys that I would love to have, but they are just too big. I wish this was a bit smaller or came in two sizes. Rant over.
Now back to it. Looking on the inside, it has 6 conductive contact points, 3 on each side. On the top are a couple 2mm holes that provide the connection to your power source of choice. You will need a cable (not included) with 2mm pins or adapt your cable to 2mm pins.
This is a bipolar toy which means it can be used by itself with no additional contact necessary. Now, on with the fun part.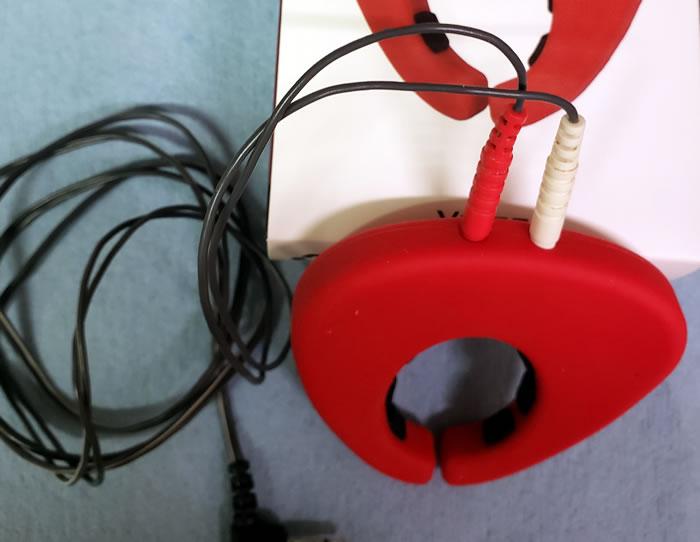 The Viper accepts 2mm plugs and they fit snugly on one end
Functional Test
The Viper is easy to place on the penis. Lube up the contacts with your favorite conductive lubricant and (if you are blessed with a larger penis) stretch out the sides and place it at the base of your cock.
Please use electrolube as this lessens the chance of any burns or hot spots. Besides, it feels sooo much nicer.
As I stated earlier, I used a flexible cock ring to hold it nice and snugly in place. For the power part of the test, I used my home-built MK312BT. This functions and feels just like a famous product with a similar name. I thought I would use this box first since it is a popular power box and I do not own an Estim Systems 2B (gasp!).
I used one channel and started out on "Waves". I slowly brought the level up to about 45 and then…….time out!!!!!
I can feel sensations in the head of my penis! I looked to be sure that I did not automatically put a contact there, and I did not, but I can feel it flowing to the head. The people at ElectraStim must really know penile anatomy of to be able to conjure up such a sensation.
Either that or it was developed vis the trial and error method using a willing subject penis to experiment on (hand in air). I had never felt anything like this, nor was I complaining.
Note From Joanne: This style of electrode and its location is indirectly stimulating the Dorsal nerves that run along the top of the penis. Sensations can therefore be perceived as coming from the glans of the penis. More information about targeting this nerve group can be found in my Electrosex Penis Play Guide For Hands Free Orgasms
It did not take long for the Viper to get a bit more snug around my test penis. I changed the setting on the MK312BT to "Ramp" (my fav BTW) with the levels at 54 and the MA at about 9:00. Five minutes later, test over!
BUT this was not the only test. I tried it with my ole P.E.S. power box and although not as flexible in settings, had very similar results. I ran yet another test with the 312 but this time left the levels a bit lower to really enjoy it and enjoy I did!
Not going to say everyone will get similar results but after I thought the test was over, I still felt something, so I turned the levels down a bit, to I think about 25 on "Waves" with the MA at 12:00 high and waited.
Generally, after a male has had an orgasm, the penis is very sensitive. After a certain point, it becomes almost painful to continue to stimulate but continue I did. It was the first time in my life I had multiple orgasms. Testing now complete.
Check out the amazing Guest Review of the @Electrastim Silicone Fusion Viper Bi-Polar Cock Ring over on @JoannesReviews site by Lawman, a US stimmer.
Click to Tweet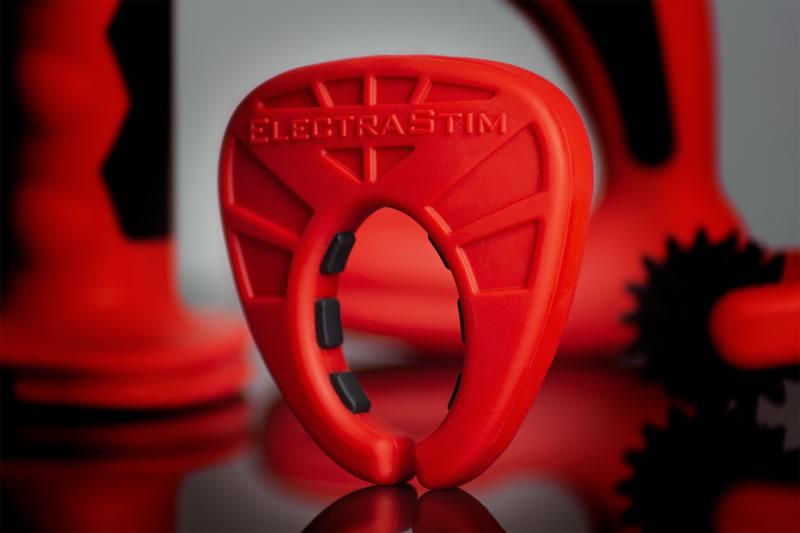 The Viper is of four Silicone Fusion Electrodes produced by Electrastim and it looks fabulous
Key Features
Key features:
Made from body-safe silicone
Bi-polar e-stim electrode
Takes 2mm plugs
Stretches to accomodate a large range of sizes (a second size would be appreciated though)
I would recommend it to:
Anyone looking to experience a bi-polar cock play electrode
Anyone looking to stimulate their dorsal nerves
Anyone interested in trying a cock electrode
Anyone looking for a conductive rubber electrode
I wouldn't recommend it to:
Anyone without a penis - obviously
See above, but check out the Habanero, Komodo or Infinity from the Fusion Range instead
Final Thoughts
To all you stimming males, GET ONE! This is a truly amazing toy and very affordable as far as estim toys go. I may have to try out the other Silicone Fusion toys from ElectraStim. I wonder if a small one of these that could latch on to a clit………
Joanne again - The Viper is one of a range of four new electrodes from Electrastim that form the Silicone Fusion Range. They include a prostate stimulator - The Habanero, a dildo electrode - The Komodo and a Skin Play Pinwheel - The Infinity Elctro Pinwheel. Oh, and a tiny clit sized one would not only look cute but it would also be very intense too.
Thank you Lawman for this excellent review, I really enjoyed hearing your thoughts on this creative electrdoe. The rest of the Silicone fusion line look great too, I especially like the look of them in the red and black combination of colours.
Lawman's rating
I only gave it an 8.5 for features as I would love to see a small one too - Lawman.
Where Can I Get One From?
Grab one of these fantastic penis play bi-polar electrodes direct from Electrastim for only £49 if you live in the UK, or if you are in the USA then check out their US site where you can grab a Viper Electrode for $65 USD.
Check them out and don't forget to tell them that Joanne says "Hi".
If you fancy supporting my blog when ordering an Electrastim Viper by using an affiliate link you can get one from sextoys.co.uk. Or, as I liked this review so much, I got some in and added them to my e-stim shop so you can grab one from me.
Disclosure
Disclaimer - This post contains affiliate links and if you purchase something when you follow one of these links I may receive a small commission at no cost to you. For more information check out my disclosure page.