This is my third Electrastim product that I have reviewed. I have already tried and enjoyed their EM-60E entry-level control box. I have also used their Prestige Electro Loop Cock Rings on my "stunt-cock" with good results. So I decided that I would first get to know this butt plug with one of their own control boxes before trying others.
The Rocker arrives in the same type of packaging used with all Electrastim products. Very nice retail packaging in white and black carrying a clear image of the product and lots of product information on the back of it.
The Rocker is held securely inside the relatively soft white foam. This means that it will arrive with you in first class condition and it always gives me a good feeling when companies take packaging seriously.
Well, I must say that as soon as I picked it up out of its packaging I knew that it was going to be a lot of fun. It has a nice base that means it is very safe to use. This base is not too wide though so it actually feels very pleasant nestled between your butt cheeks whilst wearing it. The whole thing is manufactured to a high standard, there is a small flash line from the mould but you can't feel it.
The base is curved which I guess is how it got its name. This curve means that you can rock when sat with it in and it delivers some nice sensations when doing so.
You will need a cable with a pair of 2mm plugs on the ends for this butt plug. Electrastim has designed what they call the "Sealth Cable System" which is in effect a cutaway in the base of the toy. This allows you to insert the plugs horizontally and they are within the profile of the base. This is a great solution to the usual problem with bi-polar electrodes and that is the plugs protruding from the base.
This means that when you rock whilst sitting you aren't straining the plugs or sockets. So well done Electrastim for this simple yet effective solution to this problem.
Moving on to the interesting or business end of the butt plug, it has ten grooves down its dies giving it an almost juicer look. They feel very good if you twist the butt plug as they add some texture to this otherwise smooth plug.
The nose of the butt plug has a rounded end and a nice taper to aid insertion. This is the medium and Electrastim produce the Silicone Noir in three sizes.
Small - 4.1"/10.5cm insertable length x 3.7"/9.4cm circumference at the widest point (1.2″/3cm diameter).
Medium - 4.5"/11.5cm insertable length x 4.9"/12.5cm circumference at the widest point (1.6″/4cm diameter).
Large - 5.1"13cm insertable length x 6.2"/15.7cm circumference at the widest point (2″/5cm diameter).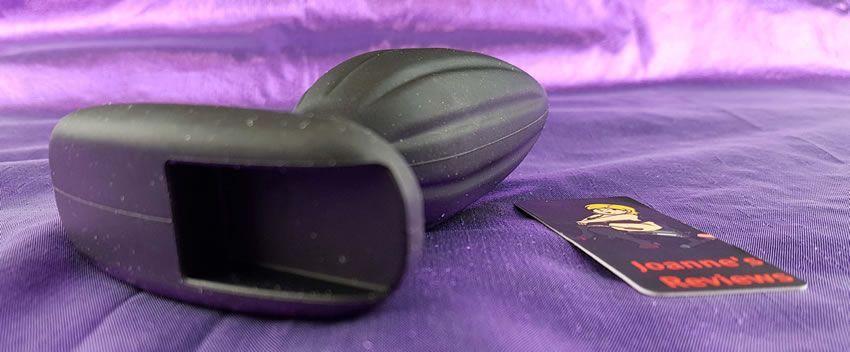 Whenever I get a new electrode, the first thing I do is to connect it to a control box and whilst holding it in my hands. I then experiment with the control settings to get a handle on how strong the sensations are.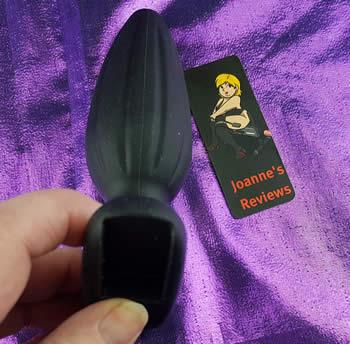 This is a good way to get to know a new toy without inserting it. It also prevents you having to get someone to peel you off the ceiling after you jump up there and dig your fingernails in after zapping yourself too much.
I was genuinely surprised at just how strong the sensations are through the silicone. I don't know why I presumed that the silicone would dull things down as it doesn't. I then realised what a daft assumption that was as silicone e-stim cock rings are probably made from the same material.
Needless to say the current passes through the wall very well indeed. This means that you get great sensations with the added benefit of being able to use a lower power setting conversing battery life.
So how did it feel in use?
Well getting it in is the first bit of fun. Make sure you use a good quality water-based lube and as this is an e-stim toy I recommend a good e-stim lube. These lubes are formulated with the correct salt levels for excellent conductivity.
Lube yourself up and put some on the butt plug after inserting the cable and attaching it to your control box. Do not switch your control box on until it is fully inserted otherwise you risk a painful zap.
Applying gentle pressure to it soon had it sliding in and I found that if you twist it as you insert it, it feels so good. The medium is pretty much at my anal limit and it was quite a stretch for me but that left me feeling very full and I love that feeling.
Switching the EM-60E control box on I then started to increase the power levels until I got comfortable. The Rocker delivers deep and strong sensations and the contractions caused feel very, very good.
It almost feels like a good rogering and I had no problems edging myself with the controls to the first of many orgasms with the Rocker.
I was surprised that it would be as good as my metal electrodes but it is. You don't get that cold chill feeling with this silicone butt plug when you insert it. None the less it is a very capable butt plug that I am happy to say really provides strong stimulation.
Looking for a way to spice up your anal play? Check out the Noir Rocker Butt Plug for some shockingly good fun.
Click to Tweet
Cleaning after use is very easy, silicone is non-porous and hypoallergenic. Just wash it off with warm soapy water and then clean with an anti-bacterial sex toy cleaner. Pay particular attention to the recess underneath where the cable is inserted.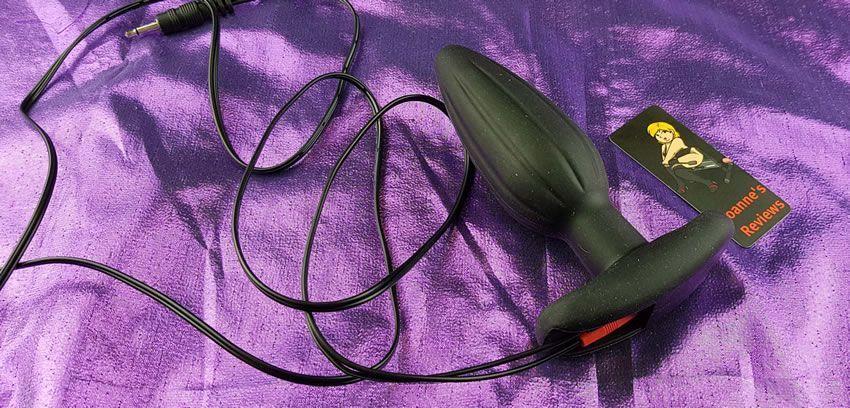 Now being a kinky mare I also enjoyed this butt plug vaginally and it feels amazing inside my pussy. The contractions caused by it really does feel as though I am being 'ghost-fucked'. It's a hard sensation to describe but it does feel like a good hard fucking no matter where your legs are. It feels strange sitting here typing this whilst feeling like I am being fucked hard. Needless to say, I can orgasm easily from it vaginally so it isn't just a toy for bum play.
Key Features
Key features:
Adds a whole new dimension to butt plug play
Body safe silicone construction
Stealth cable system for flat fitting of the cable
Three sizes available, this one is the medium
Nicely textured and shaped for easy insertion
Final Thoughts
To summarise, this is a great butt plug as well as a superb bi-polar e-stim electrode. It is body safe and delivers great stimulation. The material is an excellent conductor and its shape makes it easy to insert and also fun to twist. The base is comfortable and fun to sit whilst it is inserted and to rock or squirm with it fitted.
Available in three sizes it really is a toy that everyone could try and enjoy. I have no hesitation in recommending it to anyone who fancies trying butt play with e-stim sensations for an incredible combination of sensations. Grab one from Bondara for just £59.99.
Note: You will need to own or buy an e-stim control unit to enjoy this butt plug and to utilise its e-stim features.
I was sent the Electrastim Noir E-stim Butt Plug by Bondara and I would like to thank them for giving me the opportunity to review it for them.
Joanne's rating
Where Can I Get One From?
Grab one of these great e-stim butt plugs from Bondara for just £59.99, it is available in three different sizes, the one that I reviewed in the medium and it fills me nicely.
Check them out and don't forget to tell them that Joanne says "Hi".
Disclaimer - I was sent the Electrastim Noir Butt Plug to review free of charge and this has in no way affected the outcome of this review. This post contains affiliate links and if you purchase something when you follow one of these links I may receive a small commission at no cost to you. For more information check out my disclosure page.