Disclaimer - I was sent the Electrastim Prestige Cock Ring to review free of charge. This post contains affiliate links and if you purchase something when you follow one of these links I may receive a small commission at no cost to you. This has in no way affected the outcome of this review. For more information check out my disclosure page.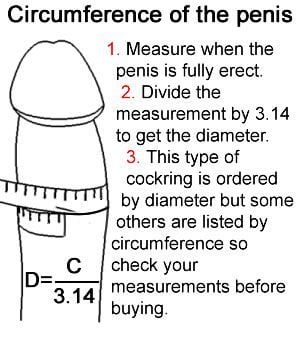 Cock rings are used primarily to aid erections and to keep your cock harder for longer and they do that by restricting the blood flow out of your penis. It's because of this simple function that having the correct size is paramount. Too small and you will cut off the blood flow (not good for your todger) and if it's too big then it isn't going to do its job of restricting blood flow out of the penis.
So how do your measure yourself for a cock ring? Well it's really very simple indeed, you will need a ruler and a piece of string or cord. Once you have an erection then loop the cord around your penis in the location where you want to fit the ring and then mark the place where the end of the cord rests against the rest of the cord. Then lay the cord against the ruler and you will see the circumference of your penis, you then divide this number by 3.14 to get the diameter of the cock ring you need. Some rings are listed by their circumference and others use the internal diameter. For the Prestige Cock Ring you will need to know the internal diameter to choose from the five sizes that are available.
I have a detailed guide to Cock Ring measurement that you may find useful.
Most guys fit an electro cock ring either just under the glans of the penis or at the base of the penis. You could always use it as a scrotal electrode in which case you should measure where it will sit so that it is big enough to get your balls though it.
Electrastim do a great job with their product packaging and I like the clean design, the box carries a wealth of information as well as the size of the included cock ring. Upon opening the box you will find a set of instructions for use, a black drawstring storage pouch (nice touch) and the cock ring sealed in its plastic packaging
I was very impressed with the ring itself when I removed it from its packaging as it looks great. It is made out of very shiny 316 stainless steel and is 15mm deep. It has a nice weight to it and around it periphery you will find eight holes drilled through it, more on these in a moment.
Emerging from the side of the ring is the socket for the 2mm plug that you will need to use to attach it to your e-stim circuit and this has a ridged rim on it to aid grip when removing or inserting the plug. The hole in the socket is a blind hole and by that I mean it doesn't go all the way through the ring. So you needn't worry about stabbing yourself in the cock when you plug in your cable.
The holes through the cock ring are for electrolube to ensure that you have a good connection. Apply electrolube to the inside of the ring prior to fitting it in place and these holes will fill with the lube. You can fit the cock ring when either erect or flaccid but I recommend only fitting it to your erection the first time that you use it to make sure it's a good fit without risking cutting off blood flow.
Once you know it fits well you can fit it prior to obtaining and erection and it will then help in that process.
To use it you will need another electrode such as a cock loop, a pad type adhesive electrode or an insertable electrode for the other plug from your cable to be fitted to. You always need two poles or electrodes to form the e-stim circuit. You can get some good ideas for electrode positions in my guide.
When my stunt cock tried it out it was of course a perfect fit as I had measured him properly and I enjoyed fitting it to him before plugging in the cable. The other plug went into a bipolar electrode inserted anally. I had my stunt cock tied up and it wansn't long before I had his cock twitching in time with the e-stim pulses. Since that session my stunt cock has enjoyed it numerous times and in essence this is what he thinks of it:
I really enjoyed the feeling of this ring around my penis, it did give me a harder erection and it stayed hard for longer after an orgasm as well. It is when you attach it to an e-stim control box though that you really get to enjoy it. There are no hotspots with it and that's because of the surface area in contact with you and the electrolube held within the holes in the ring. I really enjoy using it with a cock loop placed just below the head of my penis and the e-stim sensations coupled with the extra hard cock feel incredible. I have used silicone cock rings in the past but this feels better due to its weight and thickness. According to Joanne it just looks better in place as well.

My Stunt Cock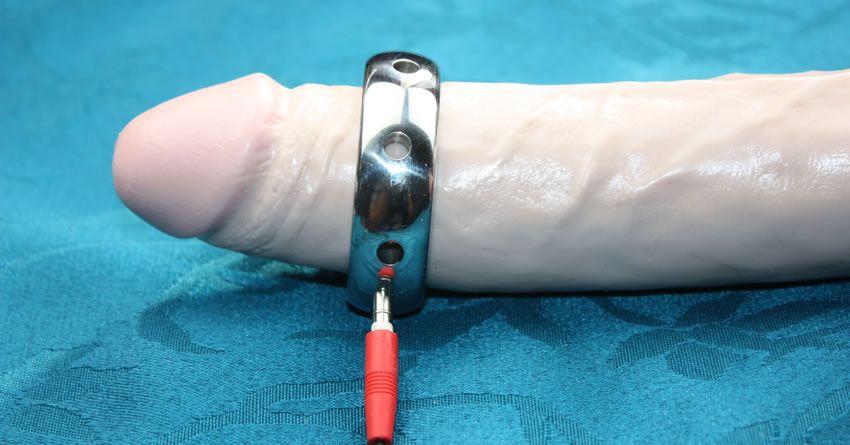 Key Features
Key features:
Sturdy Construction
Good Conductivity
2mm Cable Socket
Monopole Electrode
Five Sizes Available (34mm, 38mm, 42mm, 46mm & 50mm)
Final Thoughts
I just love the look of this metal cock ring when it's in place and it does its job flawlessly. It feels solid and the finish is great with no sharp edges and a highly polished surface. It inspires confidence that this is indeed a quality cock ring and for electro sex cock & ball fun.
You can just use one if you already have other electrodes to use otherwise you will need two in order to use it as an e-stim electrode as well as a simple cock ring.
If you need to buy two then it is important that you take two separate measurements where you will fit them in order to get the correct sizes.
I would strongly recommend this to anyone who loves e-stim and also wants a firmer erection.
More Cock Play Information
If you enjoyed this review and want some more information about how to use this type of e-stim electrode then I have just the article for you - Electrosex Penis Play Guide For Hands Free Orgasms
Joanne's rating
Where Can I Get One From?
I was sent the Prestige E-Stim Cock Ring by Vikki at Uberkinky.co.uk and I would like to thank her for giving me the opportunity to review it.
Check them out and don't forget to tell them that Joanne says "Hi".