Delivery
The ElectraLoops arrived under plain packaging and when I opened the box I was impressed with the quality of the product packaging, a lot of thought had gone into its design and the way that they are presented.
Upon opening the box the ElectraLoops are held very securely inside some heavy-duty foam and coated in shrink wrap so you know that no-one has tampered with them since they were produced in the factory. These cock loops are available in three different colours, these being Red, Silver and the one that I opted for which is Gold.
Features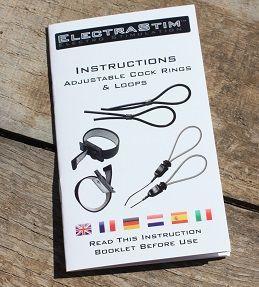 Inside the box you will also find a set of instructions (in six languages) together with the ElectraLoops held securely in their packaging. My first impressions when I took the ElectraLoops out of their packaging was that the quality of them is very good indeed. The Gold coloured aluminium adjustable choke is very well machined and smooth to the touch, but it also has lots of surface texture in the center which makes it easy to hold when you adjust the loops. This metal choke is CNC machined out of aircraft grade aluminium and then anodised to give it its finished colour.
The 6.5mm conductive rubber tubing has a socket in one end where you can attach it to a 2mm plug and the metal choke fits securely around the conductive rubber Loops, the other end of the rubber tube has a plug inserted and the combination of the plug and the socket prevent the rubber loops from actually pulling through the gold metal choke. This means you needn't be gentle when adjusting it or worry about pulling the loops through the metal choke as you can't, it definitely won't come apart in your hands. The rubber used is also phthalate free which is very good news.
The ElectraLoops are a very generous size and will cater for manhoods upto 60mm/2.35 inches in diameter.

The usual way to enjoy these electrodes is as a pair, with one loop placed just under the glans and the second either at the base of the penis or around the testicles. You can use your imagination though and just use one loop in conjunction with an anal electrode or a pad. There are lots of different options for you to explore if you have some other electrodes or pads and all of these combinations can deliver different sensations.
The ElectraLoops> come with a one year manufacturers warranty against defects from faulty workmanship or materials.
Ease Of Use
This is always the fun part of a review and as I obviously don't have the required genitalia to use the ElectraLoops on it came down to my trusty 'Stunt Cock' to step in to help me out. I decided that I would recreate how I tested my first set of conductive rubber cock loops and so I tied my stunt cock up so that he couldn't move and I got down to trying them out on him.
So with my stunt cock tied up and blindfolded if was time to put the ElectraLoops on him. They are very easy to adjust and so I opened them up and then put the first loop around both his cock and balls (it was a bit of a squeeze getting everything through the loop but he wasn't complaining). The second loop was fitted just under his bellend after I pulled his foreskin back. I had coated both loops in a bit of waterbased lube to aid the electrical connectivity between them and his skin. To fit the 2mm plugs from the cable that goes to the EM60-E control box, simply slide the plugs into the socket in the fixed end of the cock loops.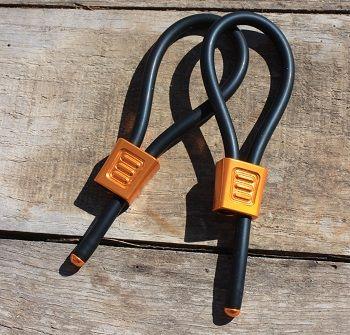 Now I'm not going to say that my stunt cock was keen but he was rock hard after having me just fit the loops so I was looking forward to seeing his reaction when I turned the control box on. When you switch on the EM60-E control box the output is set to zero for good reasons and so I started to gradually crank up the juice until I had him breathing hard and squirming around. His cock was twitching in time with the pulses coming from the control box and it always turns me on to see that, as I can relate to what the sensations are like when I use e-stim equipment.
I tried out several of the programs in the control box and soon was rewarded with a jet of cum erupting from the end of his cock as a really hard orgasm ripped through him. I reduced the power slowly as he continued to pump out squirt after squirt of cum and he just lay there breathing hard when I finally turned the control box off he had a wry grin on his face.
When I asked him if he enjoyed that he just said "Hell Yes!" and I had to laugh.
We have used the ElectraLoops together and he has used them on his own as well to get a good feel for them and they do a good job. Using insertable electrodes adds a whole new dimension to play though as you can use one loop and an insertable electrode or pad for a lot of kinky fun.
Performance
The rubber cock loops definitely work and they look and feel very classy due to the great finish on the anodised metal and the attention to detail with the socket and plug in either end of the rubber tubing. Using come water based lube or conductive gel definitely helps get a good connection but even when used dry we had no trouble with them at all.
Here are some of the comments from my Stunt Cock:
As I have used conductive cock loops before I knew what was coming when Joanne asked me to help her out with this review and so I jumped at the chance. The sensations that can be generated when using them range from very gentle caresses to a full on kick in the nuts if you desire that level of power. They are very easy to fit and adjust and you have lots of options for ways of using them either as a pair or in conjunction with pad or insertable electrode. Cleaning is easy and these loops look very good indeed.
These conductive rubber cock loops are also very easy to clean with just some warm soapy water./p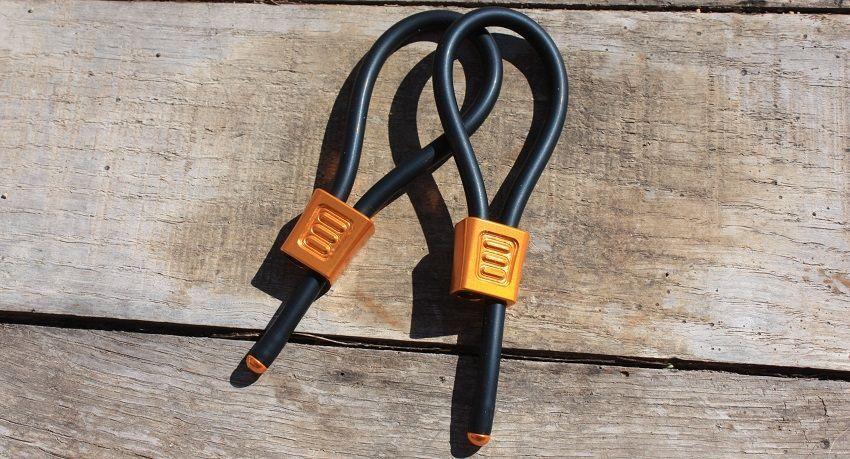 Key Features
Key features:
Easy to use
Set of two monopole electrodes
Cock and ball use only
Easy to clean
1 year warranty
Final Thoughts
I really like this product, it's very good quality and would make an ideal present for a loved one. The advertising from ElectraStim claims that they are for the connoisseur and I heartily agree with that as with a price tag of €65 they are the most expensive cock loops that I have seen so far, that said though the price is entirely justified as these cock loops are definitely beautiful to behold and they work very well indeed. Whilst there are cheaper options out there if you are looking for something with a touch of class then the ElectraLoops will be right up your street.
Joanne's rating
More Cock Play Information
If you enjoyed this review and want some more information about how to use this type of e-stim electrode then I have just the article for you - Electrosex Penis Play Guide For Hands Free Orgasms
Where Can I Get One From?
The ElectraLoops are available for €65 from www.electrastim.com.
Electrastim and Cyrex Ltd was founded in 2001 with the intention of offering a unique sexual experience to both couples and individuals, regardless of their gender or sexual preferences. In 2014 they won the Best Specialist Products Distributor award at the ETO awards beating some stiff opposition. They are based in Hertfordshire (UK) and have a global following, their products are available through their own website and they are also stocked by numerous online and offline retailers.
Check them out and don't forget to tell them that Joanne says "Hi".