Delivery and packaging
I can always rely on Electrastim sending out products quickly and above all discreetly to me, and just as importantly to their customers too.
It's reassuring to know that they take customer discretion very seriously, and that is shown in their packaging choices. This electrode arrived in a plain cardboard box filled with packing peanuts to ensure the electrode arrived undamaged.
There was no indication as to the contents on the outside of the box.
Inside you will find the Komodo together with all of its accessories held securely in rigid foam packaging, all hygienically sealed by Electrastim.
You get the Komodo Silicone Fusion Electrode, a lovely storage bag, an ABS black cradle and two suction cups that fit the cradle. You also get a set of easy to follow instructions.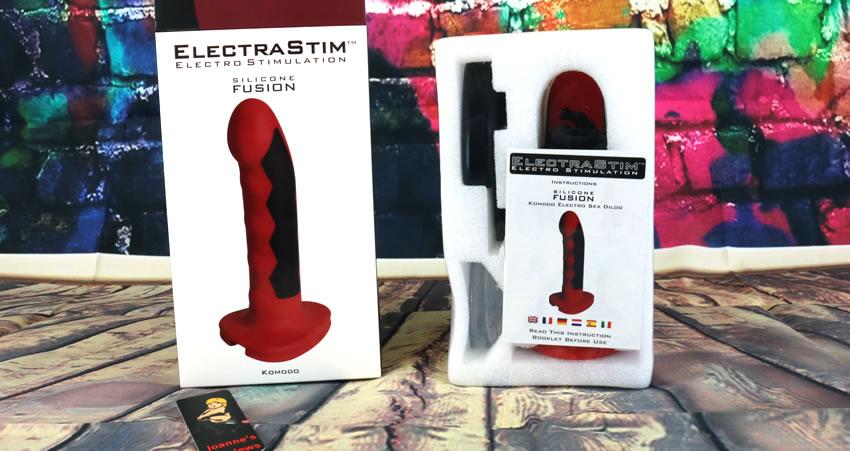 The Electrastim Komodo comes securely packaged in a lovely branded box sealed inside with all of its accessories
I was impressed by the packaging when I opened the box, Electrastim should be commended for doing a perfect job of ensuring everything is securely packaged.
Materials and design
As its name suggests, the Silicone Fusion Komodo Dildo is made from a rather beautiful blend of silicone. The striking red and black colour combinations that are synonymous with the Silicone Fusion line look fabulous. It's so lovely to see some colours in an electrode.
Now, silicone is my preferred sex toy material for several reasons. Firstly it is non-porous, which means it's easy to clean and the surface cannot harbour bacteria. Secondly, it is both latex and phthalate-free, which is good news for your body, and thirdly it just feels so good.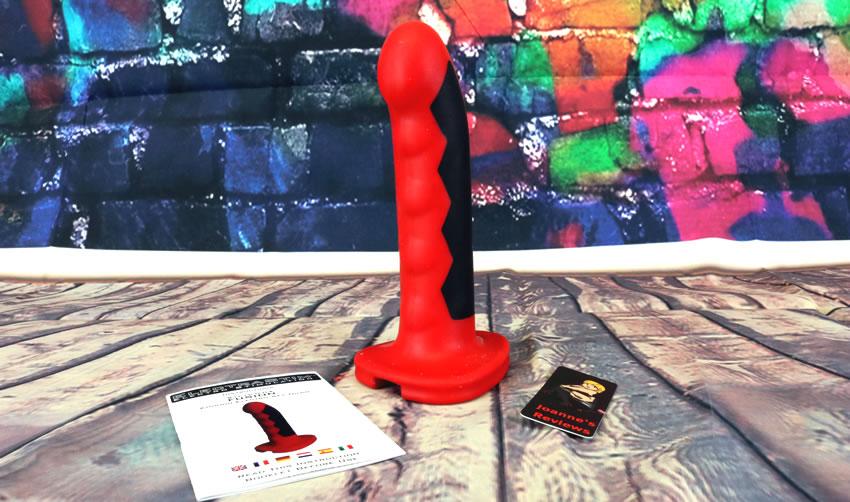 The Electrastim Komodo is a striking looking dildo and I love its colours
The blend used on the Silicone Fusion range is fantastic, it has just the right level of squish to feel good while not being too soft and flexible. So you get the best of both worlds.
I love the shape of the Silicone Fusion Komodo Dildo. As a stand-alone dildo, it is a great design, and that is before you throw in the added benefits of its two conductive surfaces.
The upturned end and the bumps along its top side feel fantastic when thrusting with it and they provide lots of g-spot or p-spot stimulation.
The base of the Komodo has what Electrastim call a 'stealth' cable entry system, and I will agree with that statement. The sockets are sunk into a recess in the base. This means that the 2mm plugs from your cable don't affect its ability to stand upright, which is a nice feature. as this is a bi-polar electrode it will accept two plugs.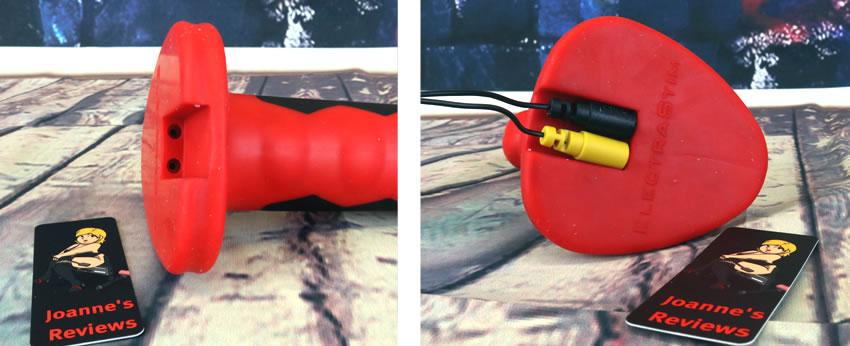 The Electrastim Komodo features 'Stealth Sockets'
Total Length: 162mm/6.4"
Length: 139mm/5.5" inches insertable
Diameter: 36mm/1.4"
Circumference at the widest point: 113mm/4.45"
Connector Size: 2mmThe flared base also makes this an excellent dildo for strap-on fun, and it will fit any strap-on harness that uses a 1.5" diameter 'o'-ring. Using the Komodo in a strap-on harness can really take your pegging to a whole (or should that be hole) new level of fun and kink.
The contrasting black electrode faces really stand out on the sides of the Komodo against the red silicone. This highlights the electrode faces, and it also means anyone using it on you can see how much of the electrodes are in contact with you when thrusting with it.
I was surprised by just how flexible the Komodo is, it's nice to be able to use an electrode with some flex to it. It does have some squish, but this is a firm silicone blend, so it's not too soft.
The shield-shaped flat base on the Komodo means it will stand on its end unaided but using the cradle and its suction cups means that you can fix it to any smooth surface to ride it. I really like this concept as it increases your play options when stimming with this dildo.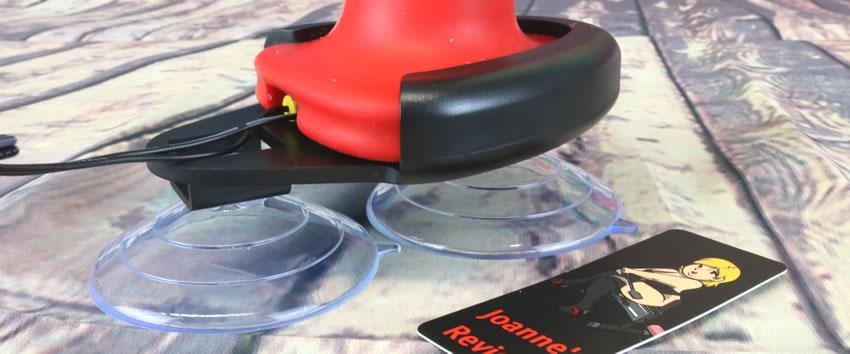 The Electrastim Komodo comes with a cradle with suction cup feet for mounting to any smooth surface
But enough about its design, let me tell you about what it's like to use.
Performance
As a stand-alone dildo, it is a lovely design, the rounded tip makes insertion an easy task no matter which orifice you decide to pleasure. The textures on the upper side and the angled tip are very suited to both vaginal and also anal play too.
You will need to use some electrogel or water-based lube with the Komodo. This will ensure easy insertion as well as providing good electrical contact when using it as an e-stim electrode.
Never use silicone-based lubes through with this type of electrode as it can bond to the surface of the electrode, acting as an insulator.
I first tried the Komodo without e-stim, just as a regular dildo, and I just loved the ridges on the top and the bulbous tip. I found both produced some fantastic sensations when thrusting with it and I easily enjoy orgasms with this dildo on its own.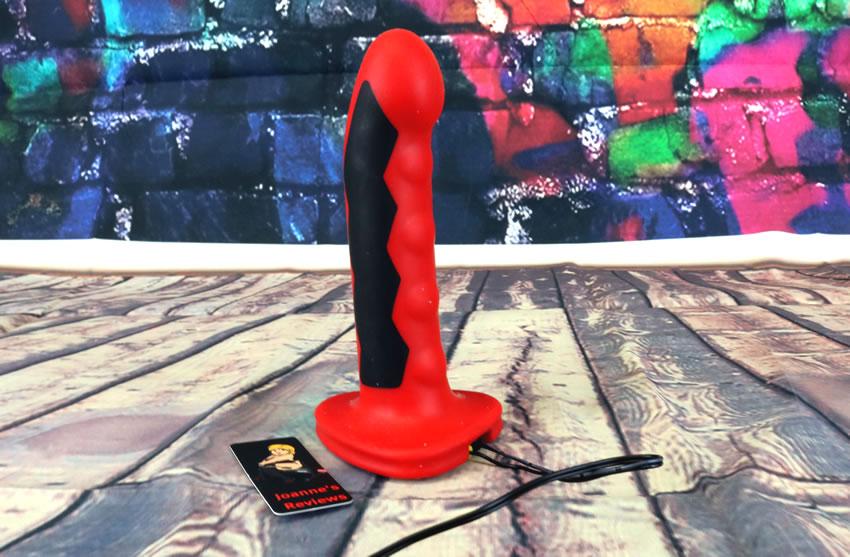 The Electrastim Komodo is a very effective dildo as well as being a bi-polar electrode
But attaching the 2mm plugs from the cable going to my EM-200 Axis E-Stim Control Box and play goes to another new level of fun and kink.
Now a quick reminder about e-stim electrodes and what I call the E-Stim Inverse Proportionality Pain Rule. Always fully insert an electrode before turning on the power on your control box.
The reason is simple, the smaller the contact area, the more intense the sensations. So you want all of the contact surfaces in contact with your body when you switch on your control box.
The large surface areas of the Komodo are fantastic, it means once inserted, you can fire up your control box and dial in the settings to get things buzzing.
As you withdraw the Komodo, the reduction in electrode surface area amplifies the perceived e-stim sensations, and this is a fantastic feeling.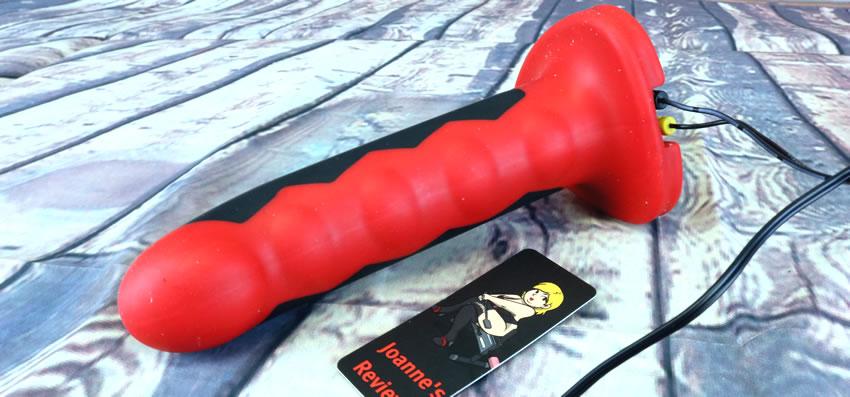 The Electrastim Komodo has some good textures on top of it too
The silicone base means that you can safely thrust the Komodo even without gloves (I usually recommend gloves when stimming).
As the Komodo slides out, the sensations build and build, and as you thrust it back in again, they become smoother and more mellow.
I was fixated with the combination of physical sensations from the upper textures and the e-stim sensations. How they blend together during use feels fantastic.
I love how you can tease yourself by slowly sliding it out savouring the increase in the e-stim sensations. You get everything from light tingling, to thumping and then almost to the point of pain (or as close as you want to go). This increase in sensations is amazing, and you automatically want to drive it back into yourself, deep and hard. Savouring the feeling of fullness and the smoother sensations.
But those e-stim sensations feel so good you automatically want to savour them anew by slowly withdrawing it once again - repeating as necessary to orgasm LOL.
Usually, when I stim with an internal electrode, I keep it in place and vary the e-stim settings. This one just like the Electrastim Silicone Noir Ovid Electro G-Spot Estim Dildo allows you to change the sensations just by moving it.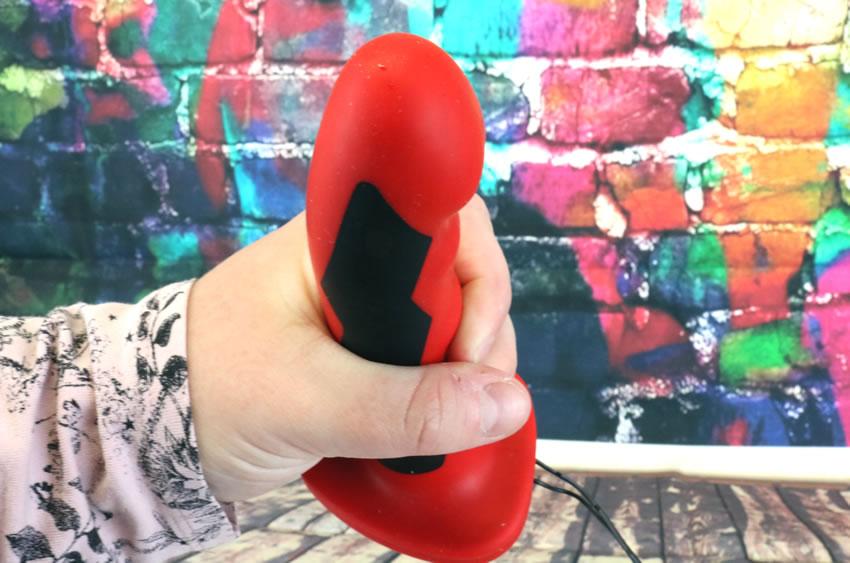 The Electrastim Komodo has some nice girth without being too large
Pulling it out allows the sensations to build teasing the entrance to your pussy or ass until you think you can take no more. The relief and pleasure as you thrust it back in again are sublime.
Dildo's are fun, electro-dildos are even more fun. They take quimsticking to a whole new level of kinky fun.
I am in the enviable position of owning a few fucking machines. Yes, you guessed it, I strapped the Komodo to one of them and thoroughly enjoyed being what I can only describe as getting thoroughly ploughed. I came so hard that I pushed the machine backwards, ejecting the Komodo from my pussy.
Luckily I had the forethought to quickly switch off the Axis just as I came. If I hadn't, then the neighbours would have definitely heard my yelp as I pushed the Komodo out LOL (remember the E-Stim Inverse Proportionality Rule).
I have had many enjoyable play sessions with the Komodo, and it is an electrode that deserves some serious recognition.
UPDATE - I enjoy the feeling of thrusting with this dildo electrode that I designed a thrusting handle to hold it and make banging myself silly with it a much easier task. I have them availbale HERE.


I have had so much fun with this thrusting handle that I designed.
The @Electrastim Silicone Fusion Komodo Electro Dildo is a beautiful blend of function and form. See what Joanne thought of using it for some Electro-Quimsticking.
Click to Tweet
Key Features
Key features:
Bipolar e-stim eelctrode
Made from body-safe materials
Stunning black and red colours
Large easily identified electrode areas
Takes 2mm plugs
I would recommend it to:
Anyone looking for an electrode for thrusting fun
Anyone looking for g-spot or p-spot play
Anyone who enjoys e-stim sessions
Anyone looking for a dildo to ride
I wouldn't recommend it to:
Anyone not into e-stim play
Final Thoughts
The Electrastim Komodo is an electrode that has definitely exceeded my expectations. It not only looks fantastic, but it feels incredible too.
Made from body-safe materials, it's a fantastic choice for anyone wanting an electrode that is fun to thrust and not just keep in place.
The design is stunning, the red and black colour combinations instantly entice and show you the electrode faces. I can't adequately say how much I love this colour style choice, it really works well.
Electrastim has come up with a cracking design, it takes conductive silicone electrodes to a new level of both functionality and performance.
I have no problem in giving it a strong recommendation for anyone looking for a new electrode that offers so much fun.
I was sent the Silicone Fusion Komodo Electro Dildo by Electrastim and I would like to thank them for giving me the opportunity to review it for them.
Joanne's rating
Where Can I Get One From?

Grab one of these fantastic bi-polar electrodes from Electrastim in the UK for just £79.00, it is also available in their EU and US stores too.
Check them out and don't forget to tell them that Joanne says "Hi".
Disclosure
This review does contain affiliate links, for more information about affiliate links check out my disclosure page.