Delivery & Packaging
The KIX arrived here quickly and in very discreet packaging, so you know Electrastim take customer discretion very seriously.
It arrived in a brown cardboard box that had no indication of what lay within on its exterior. I could hardly contain my excitement as I opened it. I relish reviewing e-stim kit, and a new control box is a real treat.
The KIX comes in a dark and wonderfully designed retail display box that carries lots of important information on the reverse.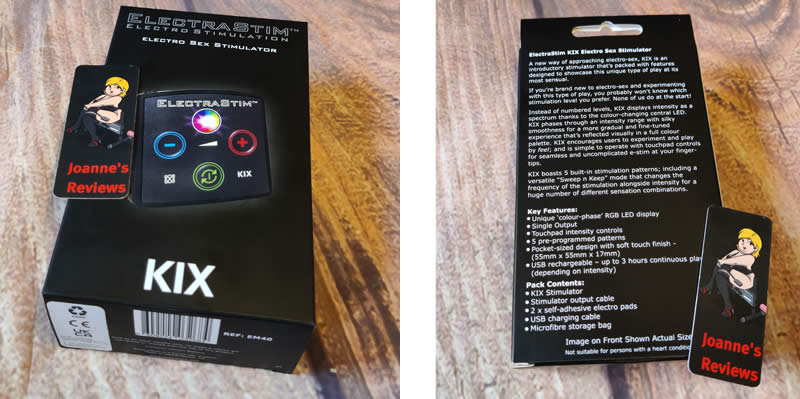 I love the branding of the Electrastim products and the picture of the KIX is life sized.
The key features listed on the box are its compact size, touch controls, its five modes of operation and the intensity colour spectrum display. This is unique to the KIX, and I looked forward to seeing how I got on with not having intensity levels displayed in terms of numbers.
In this kit, you get the following:
The KIX control box.
A microfibre storage bag.
An output cable with a TENS style plug on one end (as standard on all Electrastim boxes) and 2mm plugs at the other end.
Two self-adhesive monopole electrodes.
A USB charging cable.
Instructions (multilingual - EN, FR, DE, NL, ES) and a warranty card.


You get everything you need to start stimming straight away (once you give the KIX a full charge that is).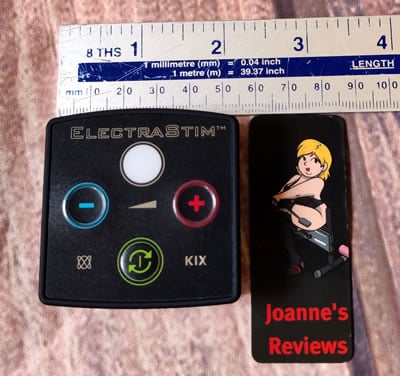 As this is a single channel control box, that is everything you need to get going, but I'd recommend getting some more electrodes. Adhesive pad electrodes are considered expendable items. Eventually, they lose their stickiness due to skin oils and cells adhering to their surface, giving them a finite lifespan.
So Top Tip number 1, get yourself some extra electrodes as it will be very frustrating if you are all horny and trying to wire up only to find your electrodes are no longer sticky.
You will find a nicely branded inner box containing all the e-stim goodies when you open the retail box. The KIX is hygienically wrapped in heat shrink packaging, so you know that no one has messed with it since it left the factory.
My first thoughts were what lovely packaging, immediately followed by "it's sooooo tiny and cute". This is the smallest e-stim control box I have ever seen, used or enjoyed.
Design and function
The KIX measures in at only 55mm x 55mm x 17mm (or 2.2" x 2.2" x 0.7"), strangely that information is missing on the products webpage at Electrastim.com, but it's on the box. So if you are browsing the unit in a brick and mortar store, you can be suitably impressed.
The large box belies its tiny form, and I know for a fact that sub'r' is going to want to take it home after this review is published.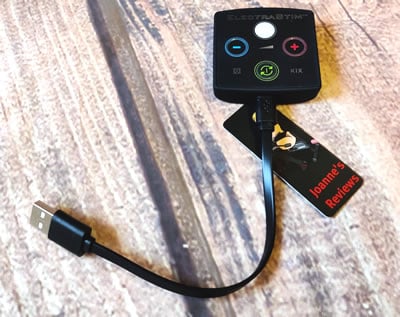 The KIX has an internal lithium-ion battery which can be charged using the charging port on the bottom of the KIX in conjunction with the short USB cable with any USB power source.
It can provide up to three hours of play, depending on how intense you have the settings. I found no problem using it in numerous play sessions on a single charge and think that is about right if you don't go over half power.
The KIX cannot be used when it is charging, and while that may frustrate some people, please take my word that it was a good design decision to do that. Basically, it all boils down to safety. You definitely do not want a wire going from your body to a mains socket just in case your power adaptor develops a fault, as that could lead to a severe problem.
The LED shows the state of charge, and when the KIX arrives, it will probably show as white. A white LED tells you the battery is low and needs charging; if it comes on in play, you will only have about 15 minutes of play left before it's flat. When charging, the LED glows red and then turns green when the battery is fully charged.
This battery indication is clear and concise for a control unit with a single LED for a display, and it gets a thumbs up from me.
The TENS style socket for the electrode cable is easy to reach and on the opposite end to the charging socket.
The black case is ABS, and the nicely designed front carries three recessed buttons. The first is the power and mode button. The other two raise or lower the intensity, which is shown by the colour of the LED cycling from blue (low) to purple (high).
The KIX has 80 power levels, and cycling from low to high takes about 40 seconds if you continually press the plus button.These power levels are shown via the LED with blue being the lowest power levels going through to Purple being the highest output levels.


The use of colours to show output power levels should appeal to newbies to stimming and it looks great.
I found the controls to be straightforward and easy to use.
You get five modes of operation, and these are:
Frequency "Sweep n Keep" - This is the default mode when you turn the KIX on, and it changes the output's frequency. Pressing the power button briefly locks in the selected frequency for all of the other routines. This one on its own is fun, allowing you to tailor the other routines to your preference.
Continuous stimulation - As its name suggests, this one is just a constant signal, and you can just vary the output power.
Wave - A nice routine that sees the signal gradually rising and falling.
Pulse - A common mode where the output pulses at the frequency you set in the first mode. I really like this one.
Ramp and Clench - This one is my favourite; it is sort of a hybrid between wave and pulse. The output climbs, and then it is followed by five pulses before it repeats the pattern.
These five output settings give you some lovely play styles to explore.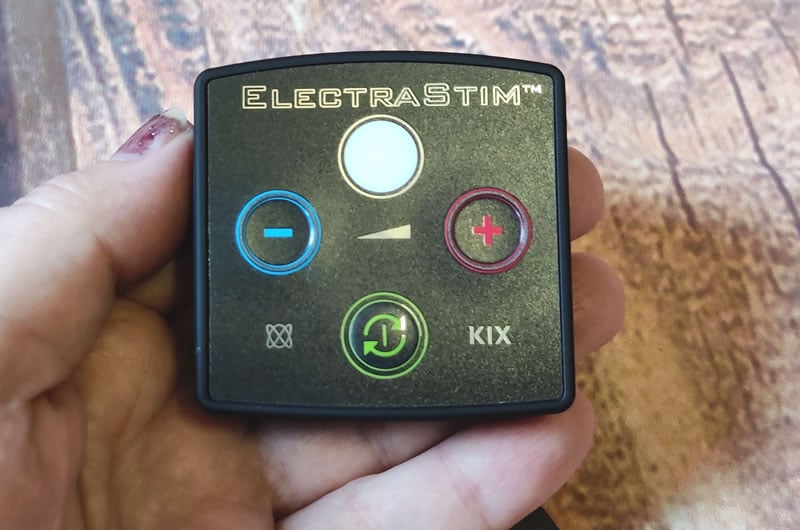 The KIX is really, really small.
The KIX comes with a one year manufacturers warranty that can be freely extended to three years if you register your KIX control box with Electrastim, which is great news.
Performance
To say that I was surprised (in a good way) by the KIX on my first play session with it would be an understatement.
I opted to just use the branded pad style electrodes included with the kit to keep things simple. This allowed me to focus on the sensations rather than the technical aspects of a stimming session.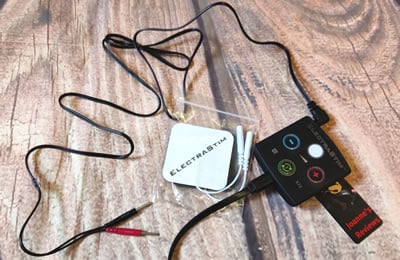 The electrode configuration that I'd recommend you start with for vagina owners is to place the pads on your inner thighs or labia in line with your clitoris. For penis owners, try one pad on the upper surface of your cock (on or just under the glans) and the second just behind your balls.
I have to say I really enjoyed the KIX!
The output is smooth, and the steps as you increase the output are small, so it won't be a 'shock' (see what I did there LOL) to anyone, especially first-timers.
It has decent enough power, the five inbuilt routines are fun, and it is simple and easy to use.
I found the controls simple, and I like the frequency sweep when you switch it on. This allows you to quickly change the feel of the box and its routines. This means you won't be bored of it quickly.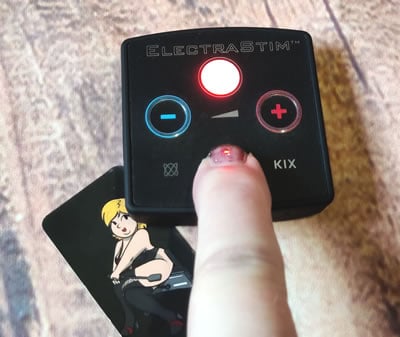 My favourite mode without a doubt is 'Ramp & Clench'. I love how the output steadily rises, and then you get the tap, tap of pulses just as it is getting intense. That is a mode I really enjoy, and it will get me off reliably.
I found the use of colours rather than numerical information nice, but I still prefer a number on the output power as it is more accurate. The colour output works well on the KIX, where there is literally no place to put a digital display on something so small.
It's small enough to be a good option for anyone wanting to stim while out and about. Maybe even around the house. Wire up, set the controls, and then pop it into a pocket for discreet play. My only concern would be the settings change while it is in your pocket. That didn't happen to me, but it was always at the back of my head. In the future, I'd love to see a function where you could press and hold both adjust buttons to lock them out and then pressing them again would unlock them.
Check out Joanne's review of the Kix control box from @Electrastim, see why she thinks that it is a great beginners control box.
Click to Tweet
Key Features
Key features:
Five modes of operation.
Unique colour indication of output power.
Simple and easy controls.
USB rechargeable.
Single output channel.
1 year manufacturers warranty (extendable to three years for free).
I would recommend it to:
Beginners looking to experiment with e-stim.
Anyone looking for a small and discreet control box.
Anyone looking for a cheap (£69) control box.
I wouldn't recommend it to:
Power users or anyone looking for connectivity or multiple output channels.
Anyone not interested in e-stim.
Final Thoughts
It isn't a control box that I would recommend for a power user, even though its output is decent enough. It lacks the features of a more powerful box such as the Axis or Flux stimulators from Electrastim, and its price reflects that. The single output channel also restricts you to just one set of electrodes.
But, and here's where Electrastim has hit the nail on the head with the KIX, it is the perfect box for a beginner.
The small form, easy controls and smooth adjustments help relax a new user, and it is a lot of fun. The outputs are much smoother than some TENS units I have tried, and this alone makes it a better option for a beginner.
I love its size, controls and price point too. At only £69 it is an excellent option for anyone considering experimenting with e-stim for the first time without breaking the bank. Grab some other electrodes, and you can really enjoy experimenting with the KIX.
I have no hesitation in recommending it to anyone curious about e-stim, and wanting to get an affordable control box to experiment with.
I was sent this KIX by Electrastim and I would like to thank them for giving me the opportunity to review it for them.
Joanne's rating
Where Can I Get One From?

Grab one of these great entry level control box sets direct from Electrastim for only £69 which is great value for money.
Check them out and don't forget to tell them that Joanne says "Hi".
Disclosure
Disclaimer - I was sent the KIX to review free of charge and this has in no way affected the outcome of this review. This post contains affiliate links and if you purchase something when you follow one of these links I may receive a small commission at no cost to you. For more information check out my disclosure page.