Well to answer that succinctly, because it can be extremely pleasurable that's why. I'm not talking about mains electricity here (cue the humorous warning about not inserting your penis into a wall socket). The electrical pulses delivered by e-stim equipment are tiny and extremely safe.
Some of you will have already heard about e-stim or electrosex but for those of you who haven't. It's a masturbation practice where you use electricity to stimulate your muscles and nerve endings. This can enable you to achieve hands free orgasms which of course are incredibly pleasurable.
But, and there is always a but in the world of BDSM. As well as being very pleasurable it can also be used to induced pain. Every level of stimulation between those two states can also be induced. So, it's ideal for using in a scene between consenting partners or just on your own.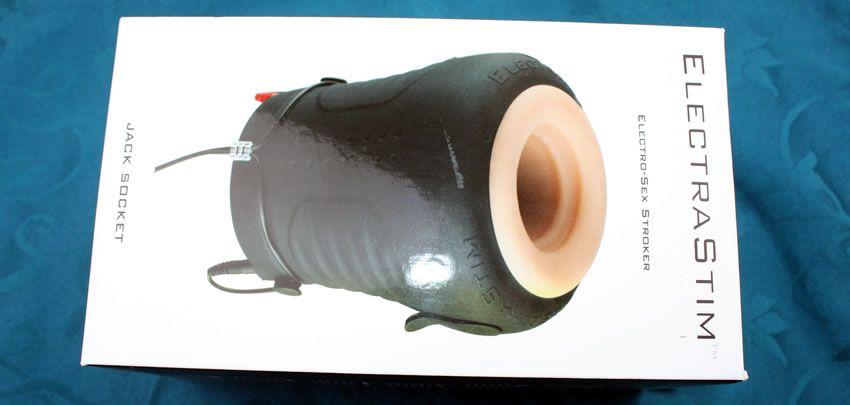 The Jack Socket is produced by Electrastim.com a UK based company who design and manufacture a range of e-stim control boxes, electrodes and accessories. The Jack Socket is their award-winning brain child.
In order to use the Jack Socket, you will need to have your own e-stim control box. ou will also need a cable with 2mm plugs to connect it to the Jack Socket as it doesn't come with either of these items. But it does arrive with a tube of electrogel and some water based lube together with a good set of instructions.
The Electrastim Jack Socket looks like a black dumpy beer can holder. It's made from body safe silicone for the outer casing and TPE rubber for the inner masturbation sheath. The exterior of the silicone body has two flip open caps on each side and two lugs near its base. These are for applying lube and cable management in turn. It also has two silicone end caps that will keep the inner sheath clean between uses.
Now TPE isn't an ideal sex toy material as it is porous so you won't be able to sterilise it properly. That means you can't share this sex toy as it won't work with a condom.
The flesh coloured inner sheath features raised nodules for added stimulation. Together with four holes on either side that align with the flip open caps on the outer casing. It all looks a bit confusing at first until you pull out the inner sheath to reveal the hidden conductive rubber electrodes. Again these have holes that align with the others. Putting it all back together again is very easy and everything comes apart by hand. This makes stripping and cleaning after use an absolute doddle.
To get it ready for use you attach the 2mm plugs from your control box cable into the base of the two electrodes. You then hook the cable around the outer sheaths lugs which holds the cables tightly in place. You then squirt electrogel into each hole in the outer case in turn until you see the gel emerge inside the masturbation sleeve. Then close the outer flaps and apply some water based lube to the inside of the sleeve.
The electrogel that you squirted in carries the electrical impulses from one rubber electrode into the toy. The current then goes through the walls of the inner sleeve and into your penis. The current then emerges from the other side and goes to the second electrode. Then back to the control box – simples as the Meerkat says. Your penis completes an electrical circuit which sounds nuts but it's very pleasurable.
You can of course just use the Jack Socket as a regular masturbator. Just lube it up then slip your happy fellow inside. You can then use it as your favourite body part in your favourite fantasy. But trust me on this one, you will want to experience the added pleasures that can be generated by an e-stim control box.
To use it in the electrosex mode simply insert your penis before turning on the e-stim control box (you wouldn't want to zap your todger on the way in now would you?). Then, switch the control unit on and crank up the electrical output from your control box. Slow down when you feel the pulses coursing through your penis making it twitch and jump inside the Jack Socket.
When you have the desired level of stimulation you can just sit back and enjoy the sensations.
Click to Tweet
When you have the desired level of stimulation you can just sit back and enjoy the sensations. Waiting until it gets you off or you can also stroke with it to get the best of both worlds. Unless you want to edge yourself, I suggest that you enjoy the latter as you can quickly build up to an amazing orgasm. You will find that the sensations change as you move the sleeve over your penis and that can feel incredible.
As the Jack Socket is open ended, ejaculation isn't a problem. You can do what you usually do when you masturbate to manage the sticky stuff. Joanne enjoys watching my cum explode from the end of my cock when we play and she can do just that with this sleeve.
The electrical sensations that you feel with the Jack Socket are wide ranging. With sensations such as the feeling of butterflies caressing your cock with their wings, to pins and needles. Then on to hard squeezes and on to severe jolts if you can take it on a high setting on the control box. You will quickly find which settings work best for you. I advise that you experiment a bit to try new sensations and strengths.
It's this dynamic range of sensations that make the Jack Socket truly come to life. You will feel like you are fucking something more than just a piece of TPE rubber. Control boxes often have many different programs that apply extremely pleasurable sensations. With the Jack Socket you can just enjoy those sensations on their own. Letting them milk you or you can use them to supplement the stroking pleasures that can be enjoyed with a male masturbator. The choice is yours.
If you have a control box with a dual output you can use the Jack Socket with an anal electrode for some truly eye watering masturbation sessions.
Spare inner sheaths are available and the Jack Socket comes in two sizes, standard and XL. The standard size is for penises 25mm (1") to 40mm (1.6") in diameter whilst the XL is for penises 37mm (1.45″) to 48mm (1.9″) in diameter. Both sheaths are 100mm (4″) long and of course as it's open ended it's suitable for any length of penis. Check out this article for penis measuring advice.
Cleaning after use is very simple. Just pull it completely apart and rinse in warm soapy water before washing in an antibacterial sex toy cleaner. Make sure that everything is dry again before putting it all back together. One tip for extending the life of the inner sheath is to dust it with corn flour/starch when it's dry. This will prevent it going sticky and it will last a long time. You can buy expensive products to do that but they are just corn starch/flour anyway so save your money.
Whilst not the cheapest male masturbator by far. It will open the door for you to the wonderful world of electrosex and it knocks the Fleshlight range into touch.
This masturbator is shockingly good fun - the Electrastim Jack Socket.
Click to Tweet
Key Features
Key features:
Excellent quality
Bipolar e-stim electrode masturbator
Lube and E-stim gel included
You will need a control box and 2mm cable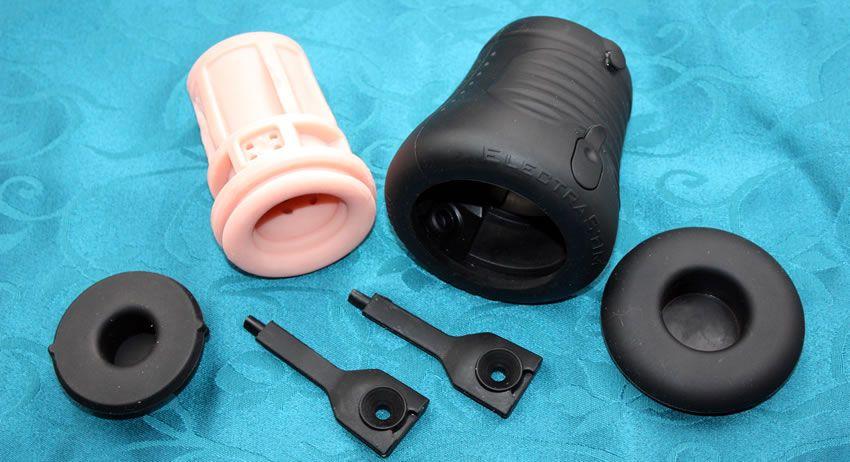 Final Thoughts
The Jack Socket is available from many retailers or direct from the manufacturer for £78.99. It's an incredible masturbator and the way that is combines sleeves and e-stim is superb. It really does have to be experienced to be believed. You will find that with some testing you can quickly find exactly how you like to use it and it never fails to get me off as quickly or as slowly as I want.
If you don't own any e-stim kit then Electrastim have got you covered, they sell the Jack Socket E-Stim Realistic Stroker Bundle. This contains the Jack Socket, an e-stim control box and cable. Together with lube, adhesive pad electrodes, electrogel and sex toy cleaner for just £169
Joanne's rating
Where Can I Get One From?
Grab one of these amazing electrosex masturbators from Uberkinky to see what the hype is about. You can get them direct from the Electrastim website or through uberkinky.co.uk
Check them out and don't forget to tell them that Joanne says "Hi".
Disclaimer - I was sent the Electrastim Jack Socket to review free of charge and this has in no way affected the outcome of this review. This post contains affiliate links and if you purchase something when you follow one of these links I may receive a small commission at no cost to you. For more information check out my disclosure page.