Delivery
My review products arrived from ElectraStim securely packaged inside a non-descript packaging box that carried no external indication as to its contents. Just like the Prestige Cock Loops the EM60-E Control Box arrives sealed inside its retail packaging and that really is quite striking, the box measures in at 17cm x 9cm x 9cm.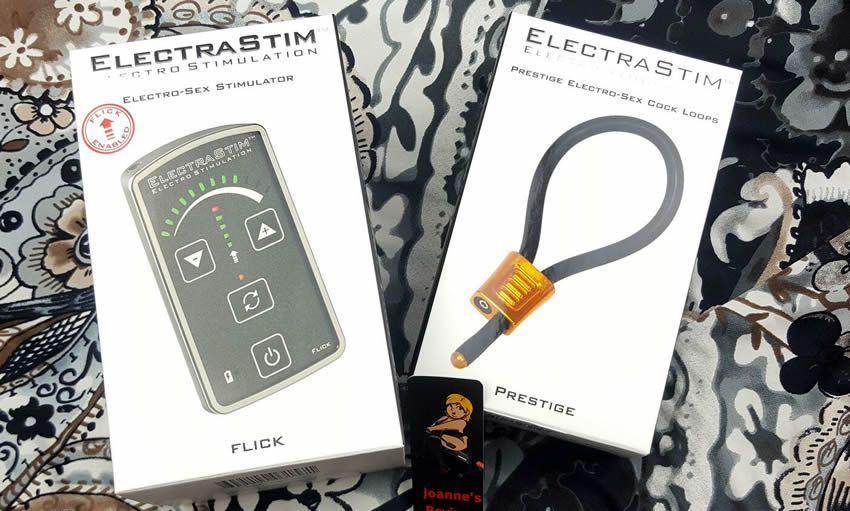 Your Flick arrives complete with a set of four re-usable adhesive pads that are the basic electrodes in this kit. Electrastim carry a full range of control boxes each with different features and electrodes but this kit is the minimum that you would need to be able to start experimenting with e-stim fun and games. At only £99 including free P&P within the UK it offers great value for money.
Features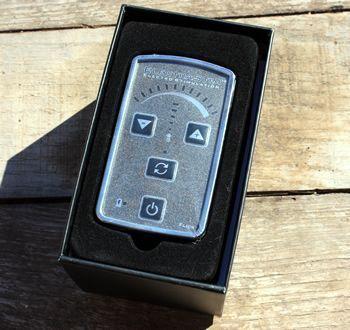 When you open the retail packaging you will find your new equipment securely housed in a very nice black box, the Flick is held within in its own plastic packaging to hold it securely in transit and you also get a warranty card, a storage bag, a USB charging cable, a full and comprehensive set of instructions and four re-usable adhesive electrode pads. The kit doesn't come with a USB charger so you will need to charge it up using your computer or a USB charger if you own own. It takes around 3 hours to charge it fully. I prefer re-chargeable toys to come with chargers but I can understand why one isn't included and this keeps the price under £100 which is good news.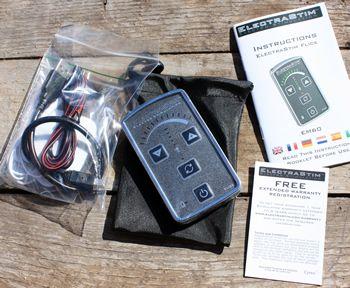 The Flick comes with a standard one year warranty but there is a card included in the box that shows you how to register your stimulator to receive an extra two years to your warranty giving you three years of peace of mind.
This kit doesn't include any penetrable bi-polar electrodes so you won't need any conductive gel to enjoy it. That said though if you are going to use it will penetrable electrodes invest in some conductive gel or a very good quality water based lube as believe me using lots of it does make a huge difference when enjoying e-stim kit.
The Flick is a handy size and its amazing that so many features have been crammed inside something this small. It measures in at a midget 95mm x 55mm x 15mm yet it is still very easy to hold and use. It's quite a curvy design with a raised chrome effect edge on the front around the controls. The controls consist of simple tactile buttons coupled with LED lamps to show intensity levels and battery charge indication.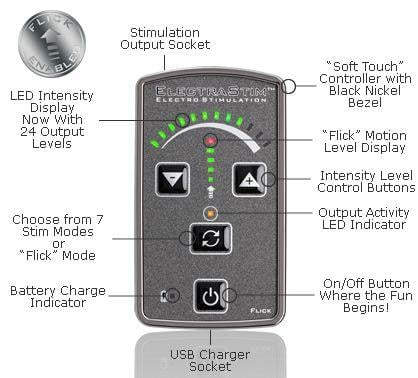 To switch the unit on you simply press the power button and the unit self tests and then it sets itself into its first program and sets the output power to zero so that you can't get a shock. This is good as with other control boxes you need to to check control knobs to make sure you haven't forgotten to turn them down (I have learnt from painful experience that I can't be relied upon to check the controls every-time I switch a control box on - although I haven't zapped my pussy in a while, so I must be learning).
Just above the mode button in the center of the control box you will see an indicator LED lamp that glows when the output pulses are live. Above this you will see a down and up arrow with an arc of LED lamps over them. These buttons control the strength of the output pulses and you can easily raise or lower it with just a push of the button. The arc of LEDs show the output levels visually and this is a very good display which is easy to comprehend.
There are seven output patterns and these are:
Continuous – Smooth and constant
Wave – Slow and gentle waves / massage effect
Escalating Wave – Alternating fast and slow waves
Slow Pulse – Pulsating
Dual Pulse – Medium burst followed by fast bursts
Falling Rest – Pulsing pattern with an ever-decreasing rest period until the stimulation is constant (repeats)
Escalating Pulse – Slow pulse escalating to a fast pulse and then slowing again
Between the output LED and the power setting arc display is a series of other LED lamps arranged in a line that show the 'Flick' output and I will talk about this kinky feature a bit later in the review.
There is a low battery indicator at the bottom left of the front panel and that's it for the controls and displays it's very well laid out and easy to use. I got the control box set up and working without even reading the instructions (I know, bad form, but I was keen/horny to try it out when it arrived LOL).
The bottom edge of the Flick has the USB charging socket in the center and on the left of the top of the unit is the socket for the cable that connects the control box to the electrodes. Now this cable and socket is the only thing that I didn't like about this system. Electrastim use their own socket and plug to connect accessories to this control box and that meant I couln't use a couple of my favourite electrodes with this unit as my other control boxes all use a standard 3.5mm audio sockets and plugs. That said though, Electrastim do carry a six inch long converter cable to allow other brands of electrodes to be use and this costs just £8.99. It isn't a show stopper but it is just something to bear in mind if you already have some electrodes.
The Flick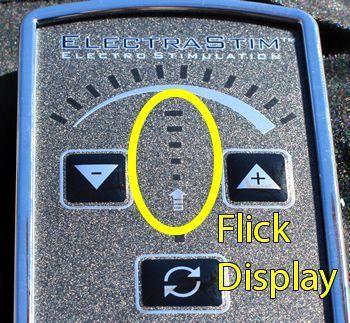 To activate the 'Flick' mode you simply press the mode button for two seconds to activate this feature. This mode of operation reacts to movement so you can literally flick the control box and the output will rise. I like to think of it as an electro-whip where the harder you crack the whip the stronger the output will be. You can get some amazing sensations with this feature and it is a lot of fun to try on a partner.
The Flick LED display reacts to the output power as a series of lamps and on its highest output for the power level you are in you will see four green LED's and then a red one, to be able to increase the power output you simply use the up and down arrow buttons just like in any other mode.
I really like this feature and found it to be a lot of fun to experiment with but I now normally just use the normal output patterns unless I am teasing my partner with it.
One nice trick with this mode for guys is to secure the control box to the back of your hand with an elastic band as you masturbate to transform your hand movement into pleasurable e-stim sensations - kinky.
Performance
The Flick is simple to use and packs a great punch. It can deliver sensations from very light tingly pins and needles up to intense cramps and every pleasurable sensation in-between. I found that I couldn't take more than around 50% of its output power when using the included pads or even a compatible insertable bi-polar electrode that I have used with it, this means it is ideal for anyone new to electrosex or even hardened players who are looking for a cheap stimulator for themselves or as a gift for someone.
The re-usable pads are very sticky and conduct well and I experienced no hot spots with them and have used them over and over again. Simply place them back against their plastic sheet for storage. TopTip try not to place the pads on very hairy areas as the adhesive is very strong if you know what I am getting at.
As the pads are monopole (you will need two to form a circuit) you can have fun together with your partner, try placing one pad on your vulva and the other beneath your partners balls to see what I mean. Top Tip, get into position before you turn the unit on and then adjust the output until you are both happy and it will add a very kinky twist to your next lovemaking session. I really enjoy doing this with pads and find it a huge turn on.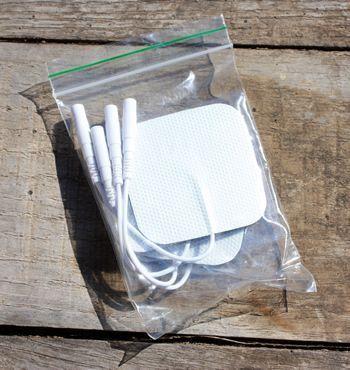 Whilst the pads are a lot of fun you get much more enjoyment and pleasure when using an insertable bi-polar electrode with e-stim stimulators so consider paying a little extra for the Flick EM60-M Stimulation Multi-Pack as this comes with an added set of cock loops and an insertable bi-polar electrode - trust me you will thank me if you do - you're welcome.
I really can't find fault with this amazing little control box with the exception of the plug and socket but that is just a personal preference as I have lots of other electrodes. For someone new to the scene this really is good value for money and it is packed full of great features as well.
Its ease of use coupled with its great output power means that I can definitely recommend it to anyone looking for a good quality rechargeable stimulator.
Key Features
Key features:
Quality construction
Single channel output
Ideal for external use
Free 3 year warranty upgrade
Flick Mode
24 output levels
7 output patterns
Rechargable using a mini-USB cable (supplied)
Assembled in the UK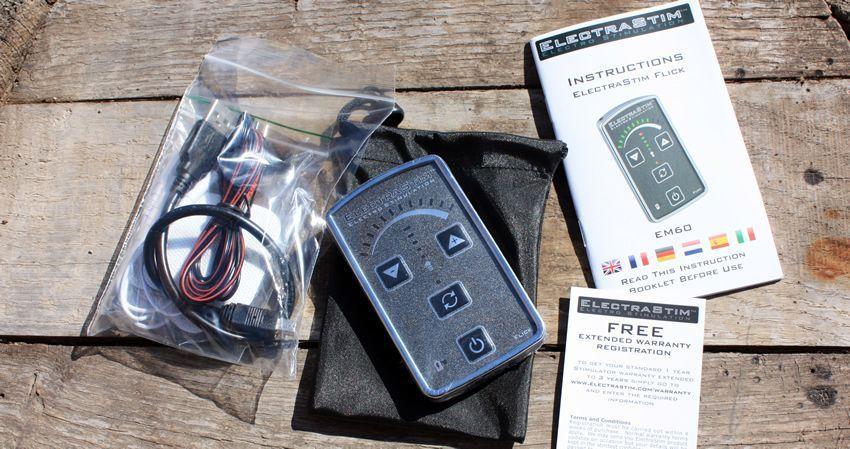 Final Thoughts
The EM60-E Flick Stimulator is a great entry level e-stim control box that is ready to use straight out of the box. Mine even arrived charged so I could use it straight away, the pads will produce some great sensations and are a great way to get over the nerves often felt by newbies to the world of e-stim fun and games. There is nothing to worry about with this kit, it is good quality and very safe, ElectraStim take a lot of time to make sure that their equipment is safe to use.
I would recommend it to anyone new to the world of electrosex as it is easy to use and great value for money.
Joanne's rating
Where Can I Get One From?
The EM60-E Flick Stimulator is available for £99 from www.electrastim.com.
Electrastim and Cyrex Ltd was founded in 2001 with the intention of offering a unique sexual experience to both couples and individuals, regardless of their gender or sexual preferences. In 2014 they won the Best Specialist Products Distributor award at the ETO awards beating some stiff opposition. They are based in Hertfordshire (UK) and have a global following, their products are available through their own website and they are also stocked by numerous online and offline retailers.
Check them out and don't forget to tell them that Joanne says "Hi".