Delivery & Packaging
I didn't have to wait long for the AXIS to arrive, and it did so in a very plain cardboard box. I am happy to confirm that every time Electrastim has sent me something it has been packaged very discreetly. This is great as it is often a primary concern of most people when ordering sex toys online, so well done Electrastim.
The packaging of the AXIS is beautiful; the front of the box is dark and shows the AXIS together with its new interactive features.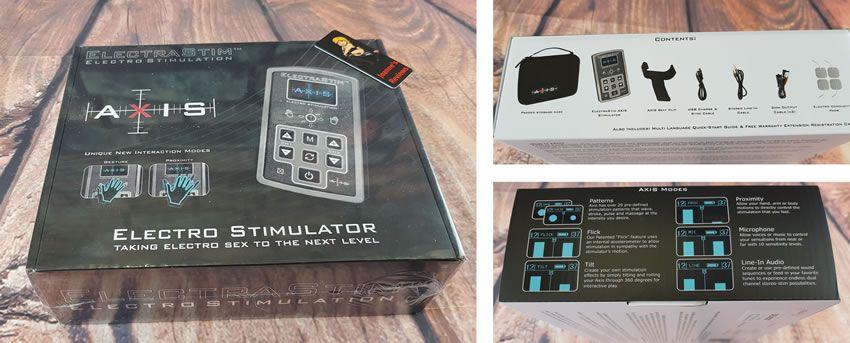 The packaging carries a wealth of product information and specifications
The sides of the box carry product and contents information, and there is a plethora of information on the rear of the box. This level of detail will definitely help anyone buying one in a brick and mortar store.
Opening the packaging box, I was delighted to find the AXIS contained in its own branded storage/carry case and very nice it is.
The stunning carry case contains the AXIS and its accessories while giving you some extra storage space that you can fill with some additional equipment.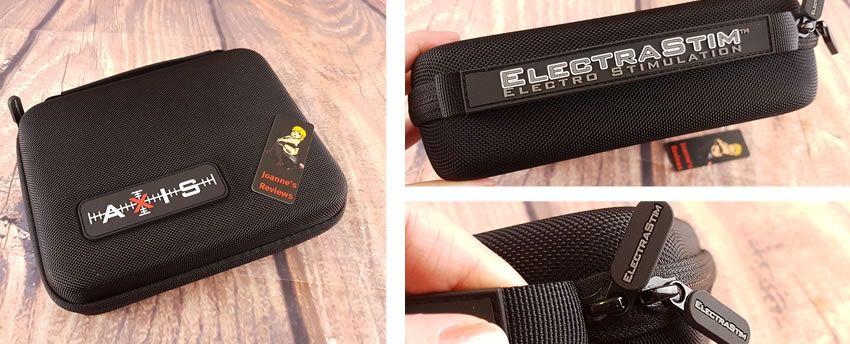 The branded storage case is fantastic and holds the AXIS and all of its accessories
The padded case contains a foam liner that holds your AXIS securely and has space for all of the cables and accessories included with your purchase.
Inside the branded case you get the following items:
AXIS (EM200)
Belt clip
USB charging/data cable
Stereo Line-in cable
2 x ElectraStim accessory cables
4 x conductive pads
Reset pin
Quick Start Guide
Warranty Card
You get everything you need to start enjoying this two-channel e-stim control box. The four monopole self-adhesive conductive pad electrodes are incredibly sticky and lots of fun to use. The belt clip is a nice touch and it allows you to be able to get mobile while stimming.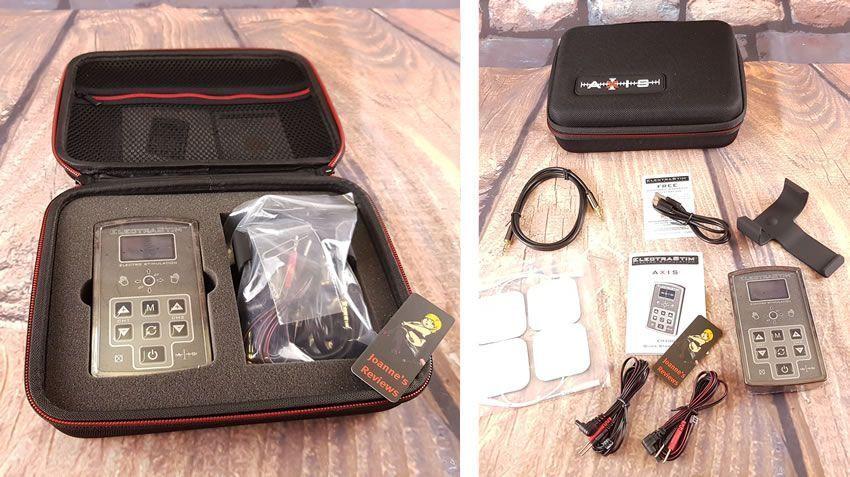 The storage case holds the AXIS and all of its accessories
Top Tip: Try to place these pads somewhere with minimal hair as otherwise, removal could be interesting.
The AXIS comes with a warranty card and one year warranty. If you register on the Electrastim website, you can increase this warranty period to three years for free. It also makes sense to register so that you can be informed of firmware updates.
For those of you not in the know, the firmware is the internal operating system inside the control box, and the AXIS can be upgraded by the user using the enclosed USB cable. This means your box can have new features added and its characteristics can be improved over time.
The quick start instructions included with the AXIS are clear and easy to understand, full instructions can be downloaded from the Electrastim website. This enables the manual to be continually updated as new firmware is released.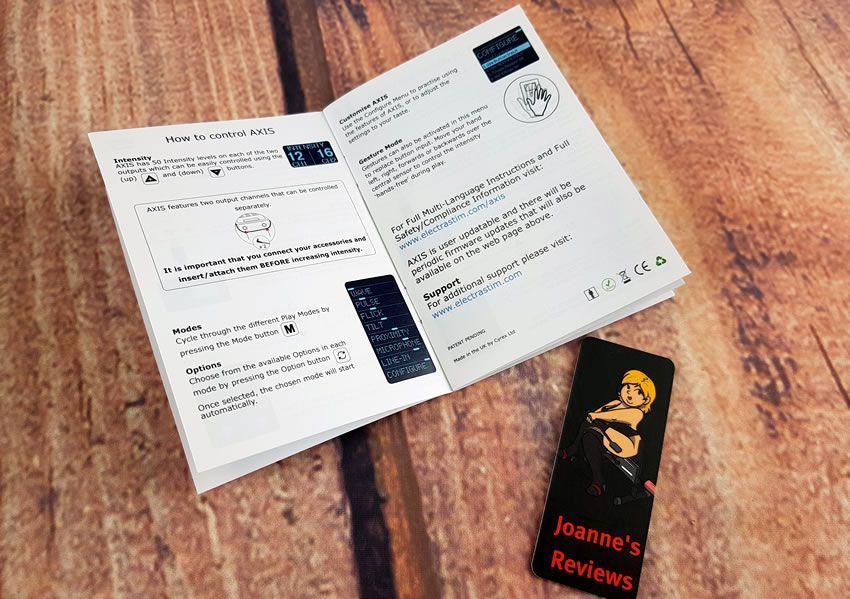 The quick start guide will get you up and stimming in short order
The AXIS EM200
The AXIS is a thing of beauty, the patterns on the front face are really nice. I was surprised at how small it is when holding it in my hand.
The first thing that you notice when you power up the AXIS is the fantastic OLED screen that is bright and clear.
The front panel has a sensor just under the display (more on this later in the review) and some controls. You get simple up and down arrows that control the output power of the two channels. These buttons correspond to the socket at the top of the control unit and the electrodes that you connect to them.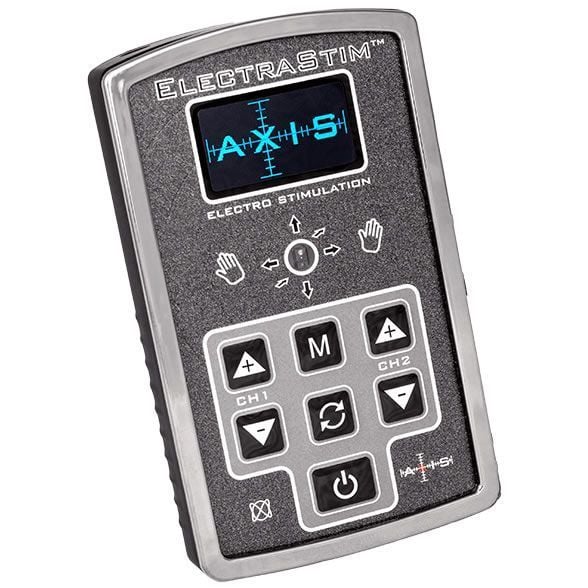 The AXIS looks fantastic and the display is crystal clear
Between the output level buttons is the power button used to switch the unit on and off together with a mode button and a selection button.
Using the mode and selection buttons you can quickly and easily cycle through the inbuilt menus for each function of the AXIS. This is a fantastic system that is really easy to use.
The AXIS contains a lithium-ion battery that gives you around eight hours of play time depending on the number of channels being used and the power output settings.
When charging the unit up though it will fast charge to 80% of battery power in the first hour of charging which is pretty damn good. The battery power meter is accurate and gives you a good indication of how much playtime you have left.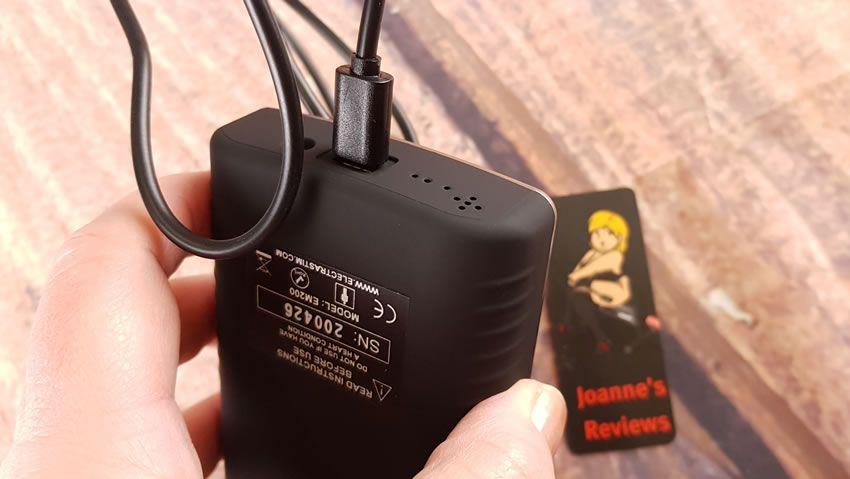 The AXIS is charged using the included USB cable that is also used for firmware updates
The regulated output of the AXIS means that no matter what the battery level, the outputs will still feel the same. You don't get any drop off in performance as the battery discharges. I usually prefer control boxes with batteries that I can change mid-session if they run out but the life of this battery is good, and hopefully, the life of the battery in charge/discharge cycles is good as it is not user replaceable.
The inner electronics of the AXIS revolve around the widely used and respected 32-bit ARM processor. These are also used in some of the Arduino products that I like to play around with. These processors are pretty fast and reliable.
Features
Out of the box, the AXIS comes with seven inbuilt features, and these are easy to access and even customise through the menu system.
Wave Mode
A firm favourite of both sub'r' and I, this mode of operation sees the sensations rise and fall over time just like a wave. I find it easy to reach a hands-free orgasm using this mode and using the menu you can enjoy eleven different patterns and combinations of channels.
Each channel can deliver up to fifty levels of power, so it is easy to find the right level for you. Clicking and holding the up button will cause the power levels to rise slowly.
Pressing and holding the down button will cause a rapid fall in output power and this is a safety feature, not a fault.
The buttons are very tactile, and the front of the AXIS is easy to wipe clean if you get lube or other fluids on it.
The power levels rise and lower smoothly, and it is easy to find just the right settings for your enjoyment.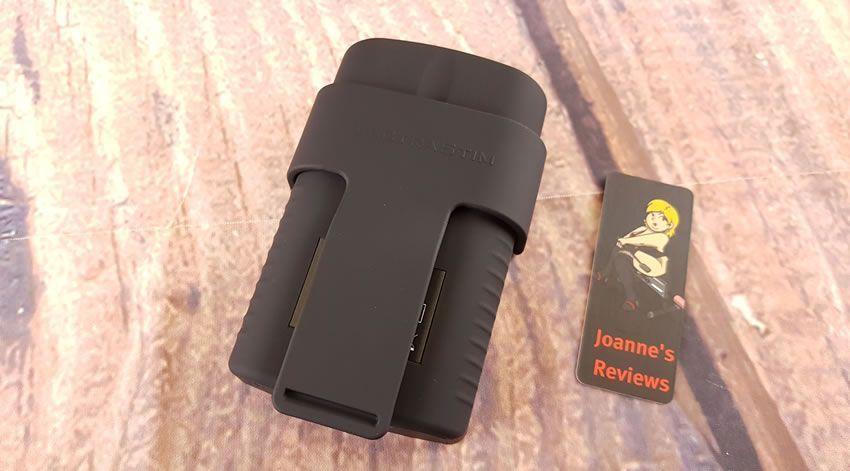 The AXIS comes with a belt clip so you can enjoy mobile
Pulse Mode
This is a staple mode of most e-stim control boxes and can be so much fun. As its name suggests the output pulses on and off. Like with the Wave Mode, each channel can be controlled independently, and through the menu, you can even swap sides.
This style of output waveforms causes contractions and place a buttock on each bum cheek for some remote controlled twerking.
There are twelve different patterns available through the menu.
Flick Mode
I first enjoyed this mode when I reviewed the EM-60E control box from Electrastim. The AXIS takes it to a new level though, using its 3-dimensional accelerometer.
We like to use this mode for some kinky electro spanking fun. You can flick the control box and watch the output bar graphs climb. Use it like a whip and things really get interesting.
The level of control you have with this mode is pretty good, just set the maximum output power and then enjoy whipping or simulating a wanking motion while enjoying the stimulations delivered.
You get five different ways of setting this mode up, and you can get quite creative with it, again using one or two channels.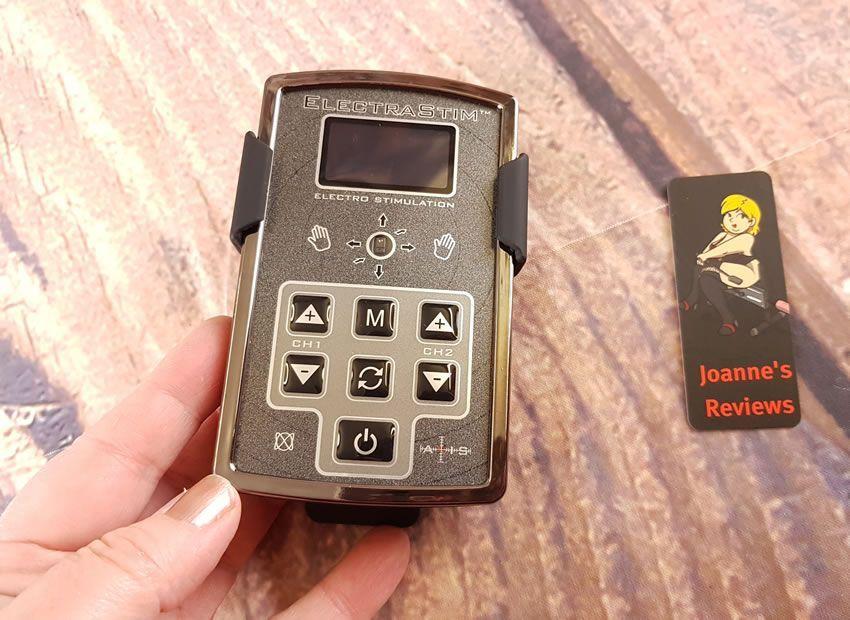 The AXIS is both small and light, Electrastim have packed a lot into its small form
Tilt Mode
With this mode, the angle of the control box on the horizontal axis is used to control the output. Great for predicament bondage or just for enjoying some fun while moving around.
You can use the belt clip to attach it to your body. Tilting it forward increases the power output and tilting it backwards reduces the output power.
Strap it to a submissives arms and make them hold them out straight and then watch their face as they get tired and their arms start to drop.
The flick and tilt modes mean that you can get creative with your style of play rather than staying static while stimming. Attach the box to your body and get mobile. There are five different options in the Tilt menu for your enjoyment.
Proximity Mode
Proximity mode has five different settings and uses the distance between the control box and whatever is in front of it to control the output.
Set the maximum output setting and then try waving your hand in front of the sensor under the display. Move your had towards the unit to increase the output and move it away to decrease the output.
So, in essence, you can use the relationship between the control box and its environment to control the stimulations. Try placing it between your partner and yourself while you fuck to enjoy some kinky play sensations.
We used a fucking machine to thrust a dildo and placed the AXIS in front of the testicles on the dildo to have a fucking machine controlled e-stim sessions, and that was seriously hot fun.
You can get creative with this method of control, and it is also another one that is great for predicament bondage.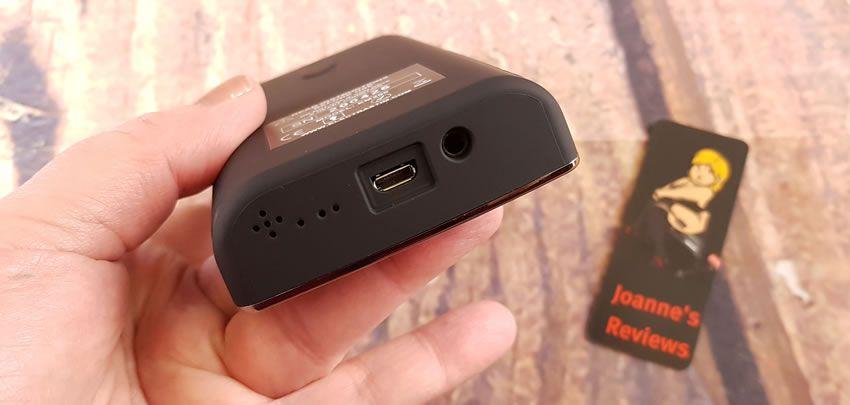 The bottom of the AXIS has the USB socket and the line in socket
Microphone Mode
Now hands up everyone who has had an orgasm while listening to Ed Sheeran without using your hands (Joanne and sub'r' both wave frantically).
Microphone mode allows you to use the noises around you to control the output power. You can fine-tune the settings within the menu system to tune out noisy environments.
You can then use your voice, hands clapping, paddles being used or any other noise source to control the output of the AXIS, and this is a lot of fun.
Image being wired up and getting a good spanking, the sensations of being spanked being supplemented by almost immediate electrical sensations. It is a fantastic way to play with a partner, especially when enjoying BDSM fun.
You can use the ten levels of sensitivity to tweak its performance, and this mode has five settings you can use.
Line-in Mode
Connect your AXIS to a computer, phone or any other source of audio output to enjoy some stereo-stim input.
You can use specialise electro audio files using this feature or just play your favourite songs or beats.
The stereo performance of the AXIS is delightful, and there are lots of online resources for specific sound files designed to be used with electrosex devices.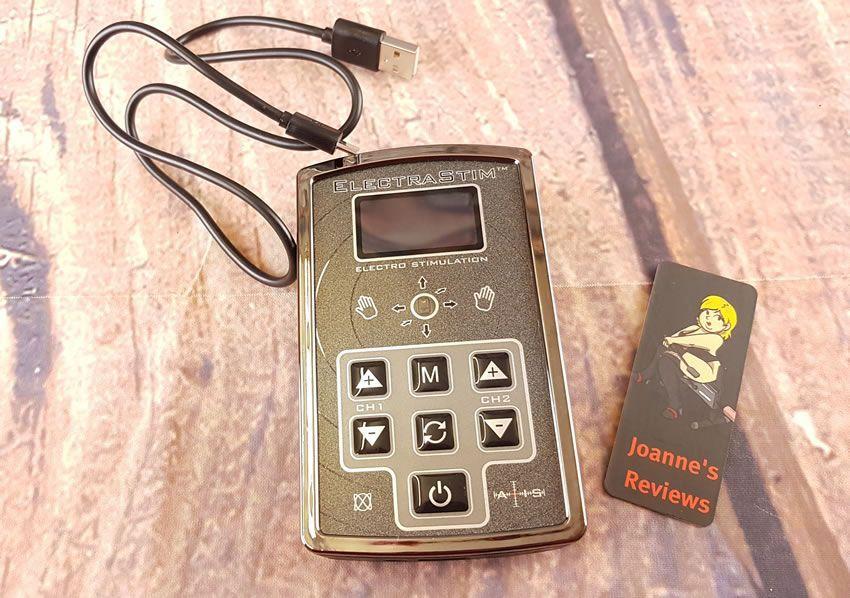 The included USB cable is used for charging and also firmware updates
Gesture Mode
Gesture mode uses the proximity sensor to control all aspects of the AXIS. Once enabled you can use natural hand gestures to raise or lower each channel independently or even together.
You can also access and use the menu features to allow total hands-free operation of the AXIS. This is ideal if your hands and fingers are covered in vagoo or other lubes and fluids.
I must admit to not liking it at first, thinking that it was a bit gimmicky, but after sticking with it and using the inbuilt training mode, I can now operate the AXIS like a kinky Ninja.
It helps to keep your control box clean, and you can use anything to make the gestures, even a paddle will work.
Both gesture and proximity modes are ideal for anyone with dexterity issues, it can make control much easier for anyone with this type of disability.
Performance
In use, the AXIS is a very versatile and easy control box. It can drive some larger electrodes like the Silicone Noir Rocker Butt Plug and the Silicone Noir Ovid Electro G-Spot Estim Dildo as well as the included pad style electrodes.
We both found it very easy to use on each other or on our own. The gesture mode is fun, and so is the proximity and tilt mode. Audio processing is excellent, and specialised e-stim audio files feel great to experiment with.
I was surprised by how long the battery lasts and one charge lasts us for many play sessions. The display is fantastic and so bright, it makes the menu system easy to navigate and use.
It is a great control box, but I would have liked to have seen more preset programs within the menu system, and the geek in me would love to see a spectrum analyser or VU meter function for audio files.
Maybe both of these desires could be considered for future firmware updates. Electro-nerds also have a nerd mode which displays all sorts of frequency information when you are stimming.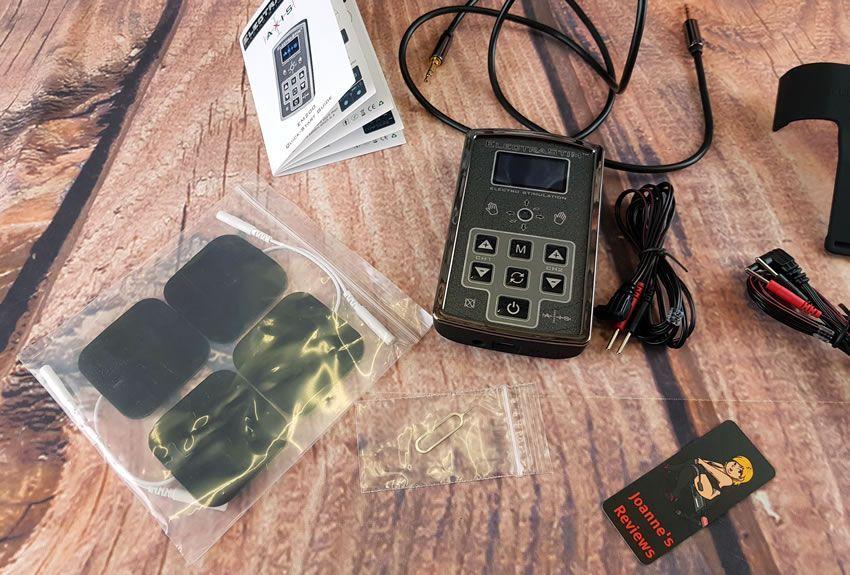 You get everything that you need to start stimming with the AXIS kit
The new AXIS Electro Stimulator from @Electrastim offers some unique control options and it also packs quite a punch for its small size.
Click to Tweet
Key Features
Key features:
Dual channel e-stim control box
Monopole pads included
USB rechargeable
Innovative control features
Gesture controls offer hands off control of the AXIS
In built accelerometer allows interesting control options
Seven operating modes
Final Thoughts
The AXIS is an expensive unit, but when you consider that it can be improved over time, it is a good investment, especially if you are looking for a small and light control box for mobile stimming.
It is capable and extremely flexible, building on the successes of its predecessors while also adding new features that are unique to this model of control box.
I have really enjoyed my hands-free orgasms with the AXIS, and it is a box that I will continue to enjoy even after this review is published.
The AXIS is both easy to use, and as it can be upgraded over time, it is a fantastic addition to the Electrastim range of control boxes.
I was sent the AXIS by Electrastim and I would like to thank them for giving me the opportunity to review it for them.
Joanne's rating
Where Can I Get One From?
Grab one of these fantastic e-stim control boxes direct from Electrastim for £349 and start taking your stimming sessions to the next level.
Check them out and don't forget to tell them that Joanne says "Hi".
Disclosure
This review does contain affiliate links, for more information about affiliate links check out my disclosure page.