As usual, Meo.de surprised me in the efficiency of their delivery service, they ship from Germany which appears to be the kinky centre of Europe. Their packages are always discreetly packaged which is excellent as this behemoth would have given my postie a heart attack if the box fell open.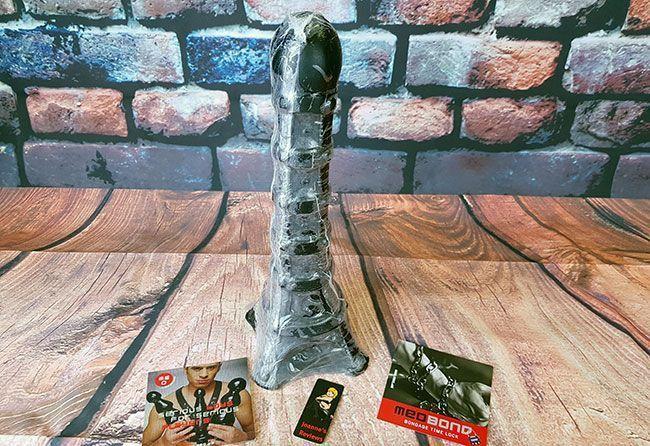 The Eiffel Tower Dildo is quite a sight to behold and its dimensions were a real eye opener
The Eiffel Tower dildo arrives sealed in shrink wrap, and this was torn which probably happened in the box on its way to me which is understandable as this is one massive hunk of sex toy. You also get some leaflets included and I always enjoy receiving these. It weighs a bomb, and Stunt Cock grabbed it and started waving it around like a cricket bat when he first laid eyes upon it with the very insightful comment "Bloody hell, you could knock someone unconcious with this".
I digress, who hasn't looked at the Eiffel Tower and not thought about how phallic it looks? I know that I have and a French Artist called Sébastien Lecca did that really needed doing, he created a line of Eiffel Tower dildos and this is one of them. Made in France, it is the epitome of French phallic fun, and it has been designed for use in whatever orifice craves its mammoth dimension.
The Eiffel Tower Dildo is made out of Vinyl (PVC), it is phthalate free, and R.E.A.C.H. compliant. However, the surface does contain small pores, and this type of material is porous so I use a condom with it as you can never thoroughly clean this type of sex toy due to their porous nature.
On the subject of cleaning though, use warm sopay water and an anti-bacterial sex toy cleaner on it. You can even put it in the dishwasher of a sterilise cycle.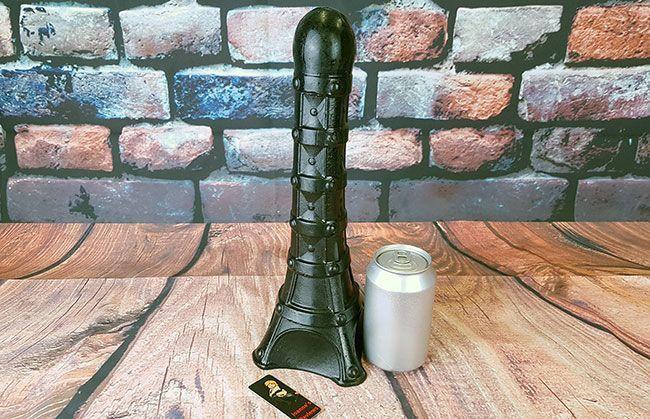 When you see the Eiffel Tower Dildo next to a drinks can you can really appreciate its size
Upon removing the shrink wrap, the dildo needed a good wash to get rid of its smell and once washed thoroughly all that I was left with was a slight rubbery smell.
It has an excellent and broad base which is also a suction cup, and it holds the dildo still very well indeed. The base looks a little rough but that didn't affect the suction. I even tested it out in the bathroom and the base, when pushed onto a tile, carried the weight of the dildo which is something to shout about.
The material is soft, and it has quite a bit of squish to it when squeezing it in your hand and you can basically fold it in half which is perfect for such a large toy as it makes alignment easy.
The toy is heavy and relatively robust, with just a nice amount of give when squeezed, allowing your muscles to spasm around the girth of the toy with just the right amount of resistance, as far as I am concerned.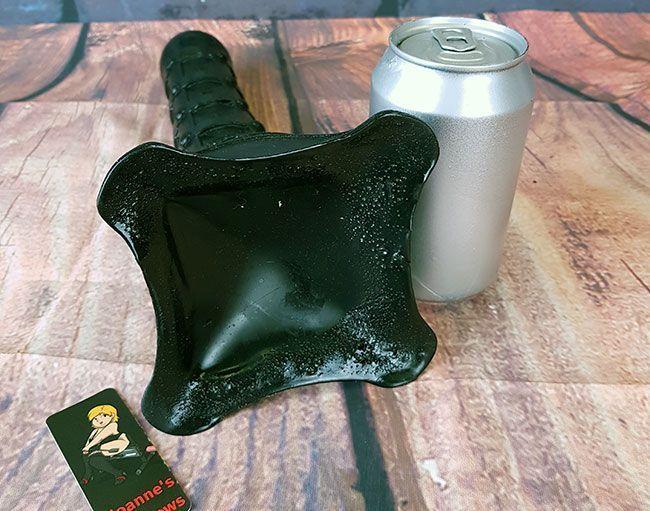 The wide base is a suction cup and whilst is is not smooth it doesn't affect the strong suction in any way
Just stick it to a surface and then lower yourself onto it or get yourself in the doggy position and then feed it into yourself. The flexibility will allow you to move quite a bit with it deep inside you with no discomfort at all.
The girth of the Eiffel Tower dildo is the thing that makes it a challenge, it measures in at 13"/33cm long, and it has a diameter ranging from 2"/5cm to 3.5"/9cm which is indeed enough to keep you on your toes.
It has a very bulbous head which you have to tackle first when inserting it. Once you get that inside you, then you can really enjoy the unique texture covering its shaft. I love the rivest and rings down its length, they give just enough texture to feel amazing without being too much. They also pay homage to the construction technique used on the real tower with its steel girders and rivets. Remember that as you are really stretched open by this toy, you don't need really pronounced textures like that on the Sea Horse dildo from Mr Hankeys Toys to feel incredible.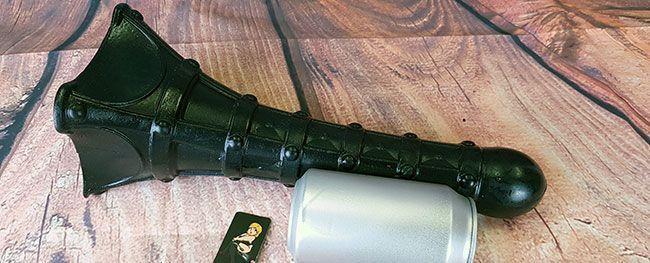 The length of the Eiffel Tower Dildo makes it easy to line up and use when you have it stuck down
I have plenty of male friends who would love to take this anally, and it's a great toy for anal fun due to the stable suction cup base and the smooth domed head that aids insertion. However there is no way it would ever fit up any of our backsides, and so I have enjoyed this vaginally. It is indeed a lot of fun stretching my foof open with it though.
Eiffel Tower Dildo Video Clip
Behold through the wonders of Youtube, here is a video of the Eiffel Tower Dildo in all its glory.

Performance
This is one of those dildos where it can look pretty intimidating at first glance, heck it's even intimidating on a second glance.
The trick to climbing and tackling the Eifell Tower Dildo is lube and plenty of it. Use a very good water based lube such as Sliquid H2O or Secret Play Natural.
I warm myself up first with a smaller toy before moving on to bigger toys like this, and that is a lot of fun in itself and very exciting as you warm up knowing what is to come. Big toys like this are almost a mind game as well as being a challenge down below.
Once warmed up I tackled this one doggy style first with it stuck to the floor, taking time to align it properly before pushing back onto it. The feeling of the pressure building us as my vagina dilates to accept it is amazing, and once the head is in it is just a case so seeing how much of it you can take.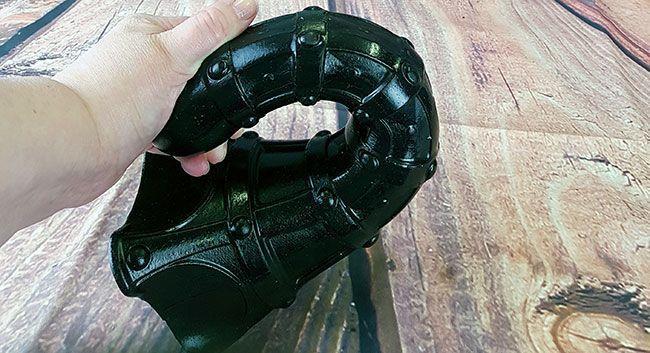 The Eiffel Tower Dildo is very flexible and this makes it easy to line up with your waiting orifice
I felt so full with it inside me and slowly moving up and down its length had me really enjoying the delicious texture around its shaft, and it wasn't long before I came hard with it inside me.
Now, orgasms when you are so full, feel completely different to when using fingers or a small toy. I find them much more intense, and I really have to concentrate on keeping the toy in me as the tendency is for it to fly out.
This is a dildo that I would love to be fucked with on one of my fucking machines, but unfortunately, the base is to wide for me to be able to mount it. However being a star, Stunt Cock offered to give me a good seeing to with it, and I must admit that laying on my back with it thrusting in and out of me was breathtaking and again I didn't last long. The best bit about being fucked with it was I was free to run my hands over my vulva and clitoris to feel its girth as it slid in and out and that was a real treat.
Don't just see the sights, ride them! The Eiffel Tower dildo from @MEO_TEAM takes a french classic and lets you ride it.
Click to Tweet
Key Features
Key features:
A fun take on the Eiffel Tower design
Strong suction cup base
Nice texture
Flexible and easy to line up
Final Thoughts
This is a nice dildo, the only thing that lets it down is the material it is made out of. It if were silicone it would have been perfect, but as it is PVC the recommendation is to use a condom with it when using it as its surface is porous.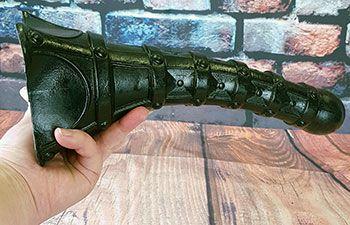 That said though, the manufacturer has stated that it is phthalate free and that is fantastic, it is even REACH compliant. You get a lot of dildo with the Eiffel Tower dildo, and it felt terrific vaginally. I know that if you are into large toys anally, then this one is going to be a classic.
The texture is fantastic and let's face it who wouldn't want to fuck the Eiffel Tower? I certainly enjoy doing so, and every time I see a picture of the real tower, I will have a smile on my face and I will chuckle inwardly.
This is an excellent dildo for size queens or lovers of extreme bum fun.
I was sent the Eiffel Tower Dildo - La Tour est Folle by Wolf at Meo.de and I would like to thank them for giving me the opportunity to review it for them.
Joanne's rating
Where Can I Get One From?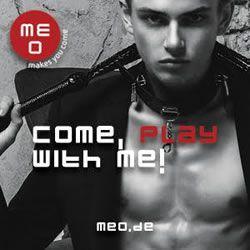 Grab one of these fantastic dildo from Meo.de, you can get one for 69,00 € (£60.31) which is great value given how much dildo you get with the Eiffel Tower. You certainly appreciate how much when you are straddling it.
Check them out and don't forget to tell them that Joanne says "Hi".
---
---
Disclaimer - I was sent the Eiffel Tower Dildo - La Tour est Folle to review free of charge and this has in no way affected the outcome of this review. This post contains affiliate links and if you purchase something when you follow one of these links I may receive a small commission at no cost to you. For more information check out my disclosure page.