Delivery and packaging
Once again E-Stim Systems were spot on with super fast delivery that actually surprised me as I received the Flo the day after I placed my order - brilliant.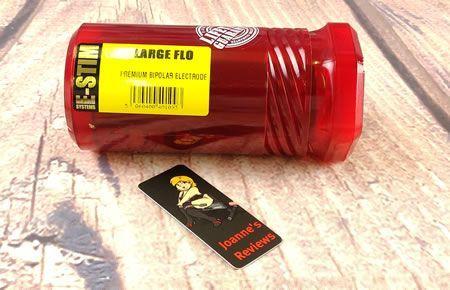 It was well packaged in a brown non-descript cardboard box so once again my postie was left guessing what was going in my pussy this time.
Like all E-Stim Systems electrodes, the Flo comes in a fantastic screw-top machine tool holder. This time though it is in a translucent red which fits in with the name of this line of electrodes - the Red Collection.
These cases are fantastic for storing electrodes. Each has a black and yellow label telling you what is inside and your electrode (which is usually a sizeable investment) is held within, safe and sound.
I love the translucent red of this one though it really does stand out amongst my others. The Flo electrode comes shrink wrapped in a plastic covering for hygiene, and you get a set of simple instructions with it.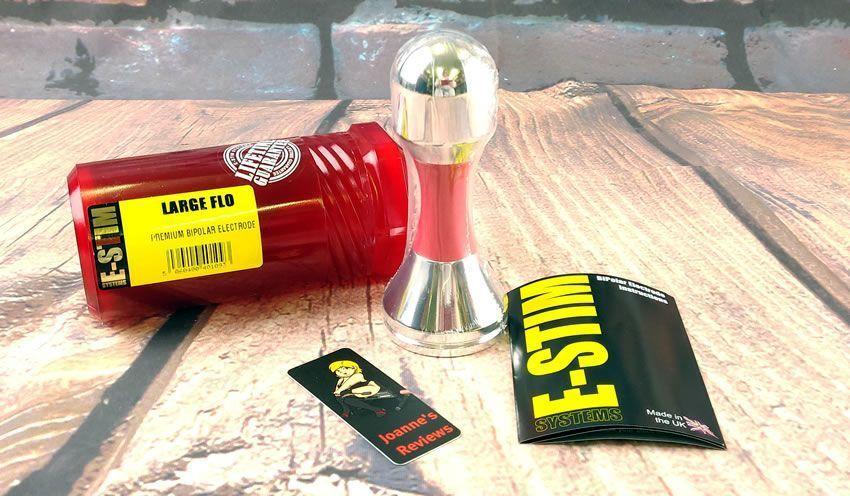 The Large Flo arrives sealed in plastic inside this glorious storage case
Materials and design
I think I remember gasping when I removed the plastic wrapper and saw just how stunning and reflective the Flo really is.
It looks fantastic, and like my mother used to say, you eat with your eyes first. The aircraft-grade aluminium from which it is made is polished to what can only be described as a mirror finish.
I don't know how they do it, but the finish is flawless, and it looks just like a mirror. After numerous uses now it is still just as shiny as the first time I laid eyes upon it.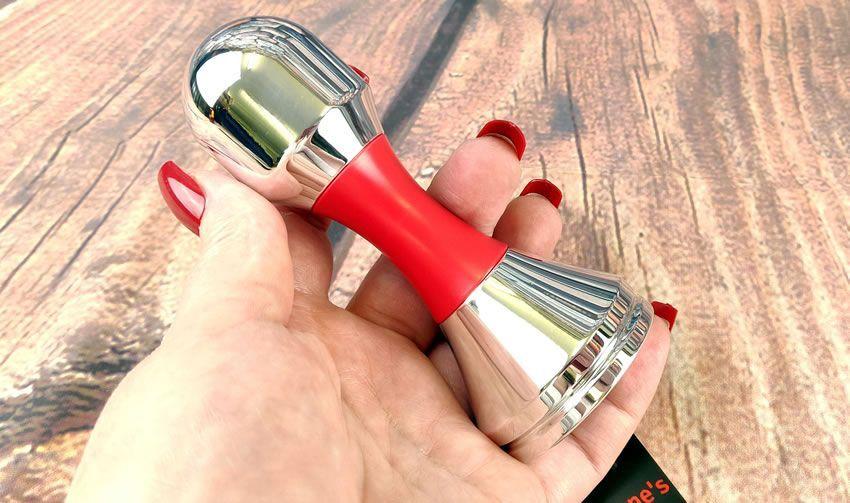 The Large Flo has a mirror like finish that looks fantastic together with flowing curves
I love the shape of the Flo, its hourglass shape with the red insulator in the middle looks so appealing. It is the shape of it that makes it such an excellent bipolar electrode.
It is so easy to clean, and you can even take it apart with an Allen key for a deep clean. The base has ridges around its periphery to make holding and inserting it easy.
The base also has two sockets machined in it for the 4mm plugs you will need on your cable to connect it to your control box. The Flo doesn't come with a cable, and I recommend getting the low profile ones that E-Stim Systems sell. It makes seated play much more comfortable and relaxed.
The centre socket goes to the head of the electrode, and the outer one connects to the base. Of course, this is a bipolar electrode, but you do have the option of only connecting one wire and connecting the other to a different electrode turning the Flo into a monopole electrode.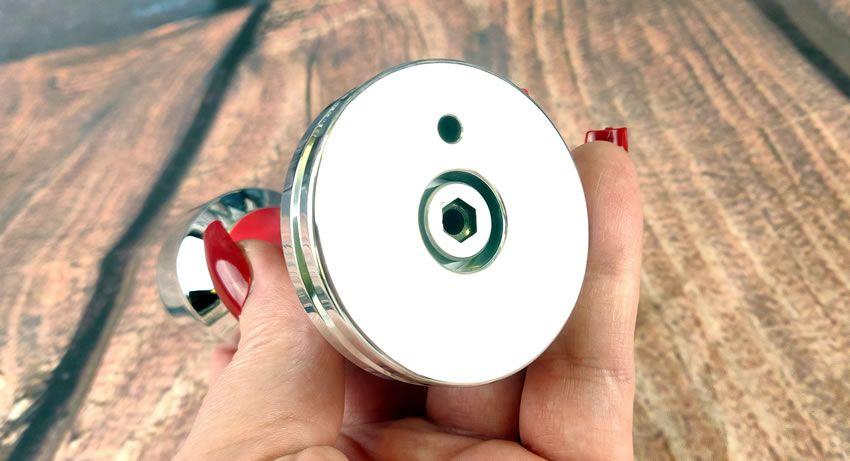 The Large Flo has two sockets in the base that take 4mm banana plugs
The Flo is available in two sizes, the large one that I have and also a small one, and these measure in at:
| * | SMALL FLO | LARGE FLO |
| --- | --- | --- |
| Length: | 100mm (3.9") | 120mm (4.7") |
| Head Diameter: | 25mm (1") | 37.5mm (1.47") |
| Base Diameters: | 50mm (1.96") | 50mm (1.96") |
| Max Insertable Length: | 70mm (2.76") | 110mm (4.33") |
| Weight: | 192g | 268g |
| Price: | £70($110 USD) | £80($125 USD) |
The Flo is quite heavy, and this is something you really do notice when it is inserted.
The rounded head was easy to take vaginally. But, if you intend to use it anally, you will need to take your time to allow your sphincter to relax and dilate to take it. Lots of conductive electrolube will also help.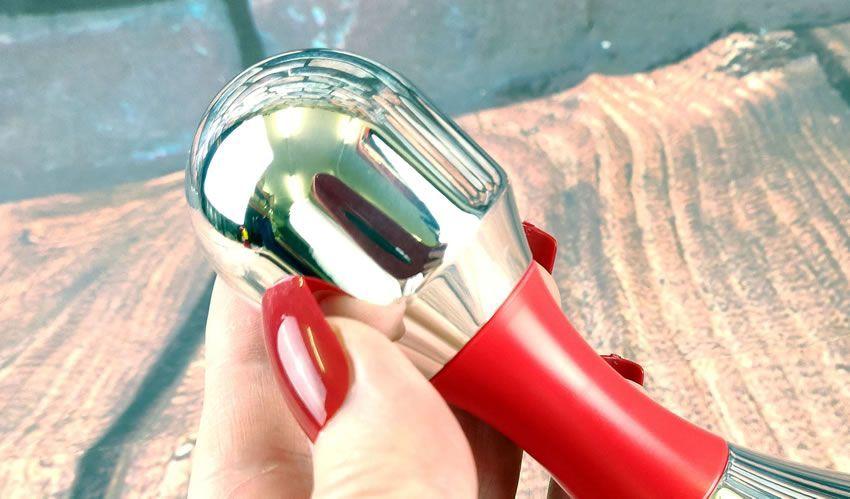 The rounded head of the Large Flo isn't as easy to insert as more tapered electrodes, but it is still lots of fun
The large Flo is just too big for me to use anally, but I may have to get the small one next to enjoy it back there.
Like all E-Stim Systems electrodes and control boxes, you get a lifetime guarantee with it. They are so confident of their quality control that they can offer this incredible guarantee. They make all of their electrodes in house here in the UK, and that gives them total control over every aspect of their products.
Performance
I absolutely love the Large Flo Bipolar Electrode and have no problem edging myself to some incredible orgasms with it.
Like all insertable electrodes, you should use some Electrolube or a good quality water-based lube with it. Never use anything oil or silicone-based as they are insulators. The lube is there to ensure good electrical contact as well as aiding its insertion.
The pronounced head of the Large Flo feels fantastic as I push it into my vagina. As it isn't really tapered, you have to build up some pressure when inserting it, but I relish the feeling of it dilating me as it goes in. Once the head is inside me, its shape almost draws the rest of it into me, and that is a lovely feeling. The base sits nicely between my labia and just inside the entrance to my vagina.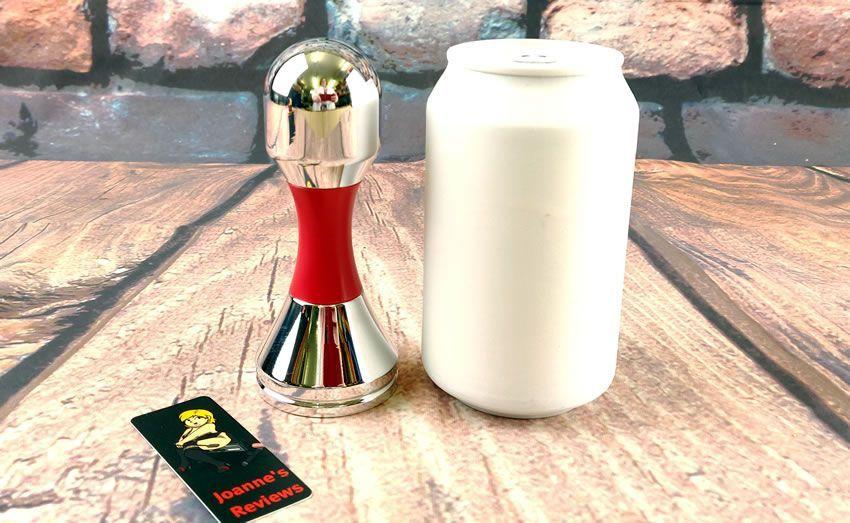 The Large Flo is a generously proportioned electrode
The end to end electrode configuration is one I love, preferring it to most side by side electrodes. The Flo with its hourglass shape was designed primarily for vaginal play, but it is also equally suited for anal play too.
The hourglass shape heightens the ghost fucking sensation, which is impressive. As your muscles clench, it causes the electrode to move inside you. This makes it feel like you are being fucked, and in conjunction with the e-stim sensations that always blows me away.
On lower power levels it delivers delightful sensations, and as you turn the power dial up on your control box, the action really gets hotter with this ghost fucking effect coming in and driving me wild.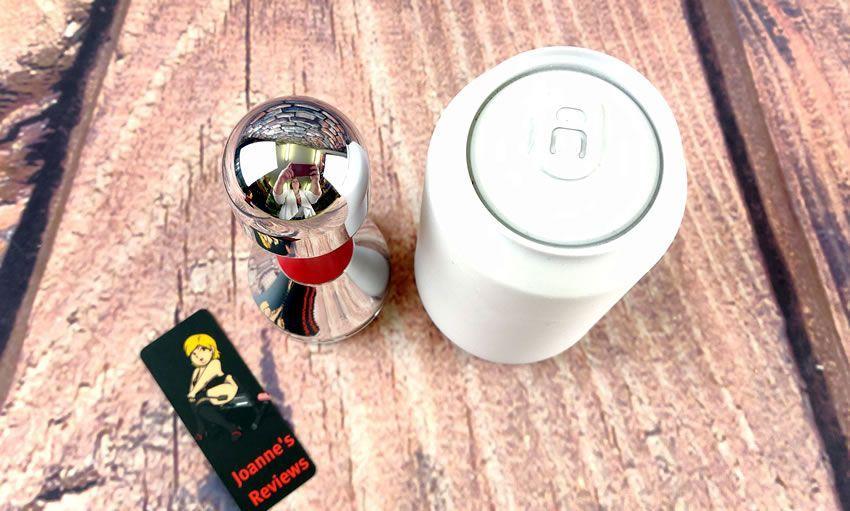 The Large Flo is so much fun to insert and use. Its mirror finish is fantastic.
I often get this effect with other end to end electrodes but never to the extent that I can enjoy it with the Flo. It is for this reason that it is now my go-to electrode for kinky e-stim fun, it is incredible.
The Large Flo is also a very filling electrode, giving you something substantial to clamp down upon as you orgasm hard. I love how cold it feels when you first insert it and also how warm it is in your hands after you remove it after a play session.
Cumming hard with it inside me is a delight, and I have to close my legs to keep it inside me. Squeezing it out isn't a good idea as you will get a zap as it does so if the control box is switched on.
The Large Flo feels terrific on all of my control boxes, but the 2B gives it the most power, especially when using the mains power adaptor. If you have a low powered TENS unit, then the Small Flo may be a better option due to its smaller surface area.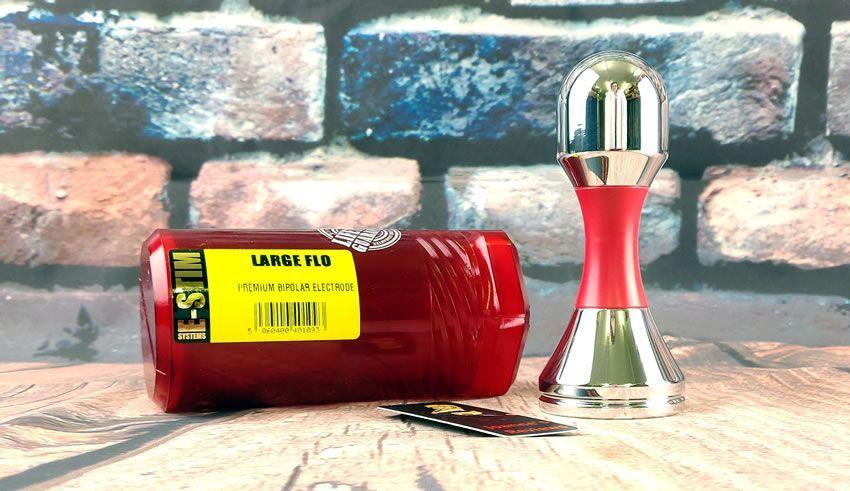 The Large Flo is the perfect bipolar electrode for my style of e-stim play
The Large Flo Electrode from @EstimSystems is a beautiful combination of function and form. Its mirror finish is amazing and it produces sublime sensations and ghost fucking when used.
Click to Tweet
Key Features
Key features:
Bipolar insertable electrode
Made from aircraft grade aliminium
Highly polished finish
Large surface area and gap between electrodes
4mm sockets, a low profile cable is recommended
Available in two sizes
I would recommend it to:
Anyone looking for a larger electrode with end to end contacts
Anyone looking to experience ghost fucking sensations
Anyone who enjoys larger electrodes (smaller size available)
Anyone looking for a great vaginal electrode or for an experienced anal player
I wouldn't recommend it to:
Anyone who doesn't like larger electrodes
Anyone who doesn't like end to end style bipolar electrodes
Final Thoughts
All in all, the Large Flo is a fantastic bipolar electrode to enjoy some nice ghost fucking. It is equally at home in a pussy or a tight ass and the hourglass shape assists in it moving as your muscles clamp down upon it.
As usual, E-Stim Systems can be relied upon where quality and the whole ordering experience is concerned. The lifetime guarantee is excellent, and it gives you total peace of mind. In the unlikely event that something goes wrong with this bulletproof electrode, E-Stim Systems will be there to help you out.
I love the Large Flo and may have to get myself one of the Small Flo electrodes from some anal fun and games.
This is an electrode that has the performance to match its stunning looks, and it is one that I can highly recommend to anyone wanting to treat themselves or their partner.
I bought the Large Flo Bipolar Electrode for £80 from E-Stim Systems and I have had so much fun reviewing it for them.
Joanne's rating
Where Can I Get One From?
If you are looking to buy a Large Flo and you are within the UK/EU then check it out in their online shop - Large Flo Electrode (£80).
If you are in the USA/Canada then E-Stim Systems have got you covered and you will save 20% by not having to pay VAT. Buy the Large Flo Electrode ($125).
From their humble beginnings in a garage back in 2004 E-Stim Systems has grown and grown with an army of loyal customers. They manufacture their goods themselves in the UK, and that gives them total control of their range of equipment, they even offer a lifetime guarantee (how's that for confidence).
Check them out and don't forget to tell them that Joanne says "Hi".
---
If you enjoyed reading this review then check out my other reviews of E-Stim Systems products:
CONTROL BOXES
PUSSY & ASS ELECTRODES
PENIS/BALL PLAY
OTHER
Website links:
---
Disclosure
Disclaimer - This post contains affiliate links and if you purchase something when you follow one of these links I may receive a small commission at no cost to you. For more information check out my disclosure page.