Delivery and packaging
As always, this product arrived well packaged in a very plain and discrete package. E-Stim Systems can be relied upon to treat your order with discretion which exactly what you want with an online purchase.
My postie still has no idea that I am a kinky electro-princess who enjoys having sex with electrons.
The four micro pads come sealed for hygiene, and the packaging has the usual black and yellow E-Stim Systems branding.
The pad style electrodes are stuck to a sturdy transparent plastic sheet that is used to keep the adhesive fresh between uses.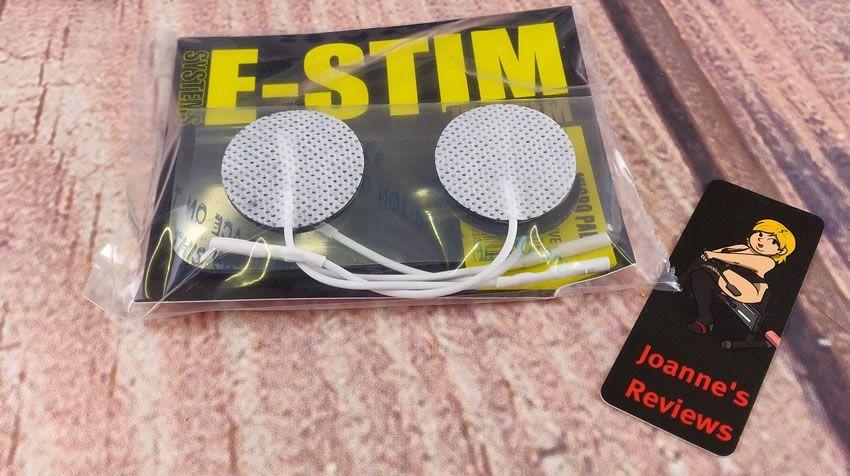 The packaging of the micro pad electrodes is clean and simple
Micro pad electrode design
So, why would anyone want to use micro pad electrodes when the standard ones work so well? That is a good question, and the simple answer (said in a Jeremy Clarkson voice) is "More power!"
The smaller the contact area of an electrode, the more intense the sensations are that it generates as the e-stim current enters and leaves your body. This is due to the smaller cross-sectional area in contact with your skin.
Also, the regular-sized electrodes are sometimes just too bulky or large for fun areas that need some attention. Lots of stimmers strim their pads down but doing so risks damaging the wires (often carbon) inside the electrode, reducing its efficiency.
So why trim them down when you can just use smaller ones. It makes total sense to have various sized self-adhesive pad electrodes for different areas of the body.

The plastic backing sheet holds the electrodes securely in place and prevent the conductive adhesive from drying out
For instance, the long pad electrodes are ideal for labia play, and these smaller ones are fantastic over the clitoris. Or even either side of your nipples (subject to the usual safety considerations of course).
Like conventional pad style electrodes, these ones have a sticky self-adhesive coating on the face of the electrode, and it is this that sticks it to your skin.
They also have a round shape as opposed to the usual square or rectangular shape. Attached to each pad is a leader cable with a 2mm socket on the end that will accept 2mm plugs common to lots of e-stim systems out there.
The micro-pads are 1 1/4" / 32mm in diameter, and their size makes them easy to use.
Performance
I found that these self-adhesive micro-pad electrodes work perfectly well as you would imagine for a product from E-Stim Systems.
I did feel that the adhesive isn't as strong as the original pads, but it works perfectly well. Removing the electrodes after a play session is relatively easy just peel them off slowly. As with regular pad electrodes try not to use them in areas that are too hairy as - ouch.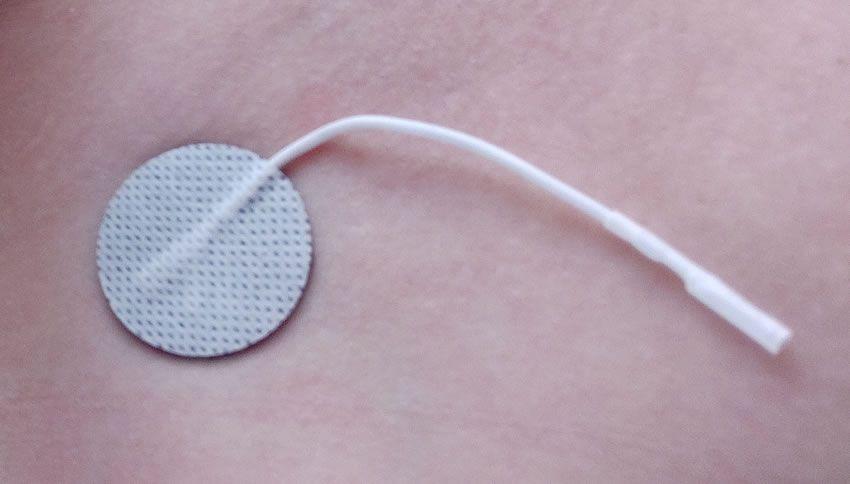 The adhesive gel holds the electrodes in place well
Their size makes them perfect for use on the female perineum or over the clitoris.
SAFETY - I used them on my nipples after understanding the risks and knowing my equipment and its capabilities. Only attempt e-stim nipple play if you know the risks and have the right equipment. As a general rule, I always advise against it. That said though here is how I broke that rule.
I decided to try them on my nipples. Now before everyone takes a sharp intake of breath and shouts "but that is play above the waistline", yes it is but let me tell you how I did it.
I used a control box with isolated channels, my trusty 2B from E-Stim Systems. Each nipple was wired up to one channel. With one of the pads just above and below each nipple, half on and half off my areola.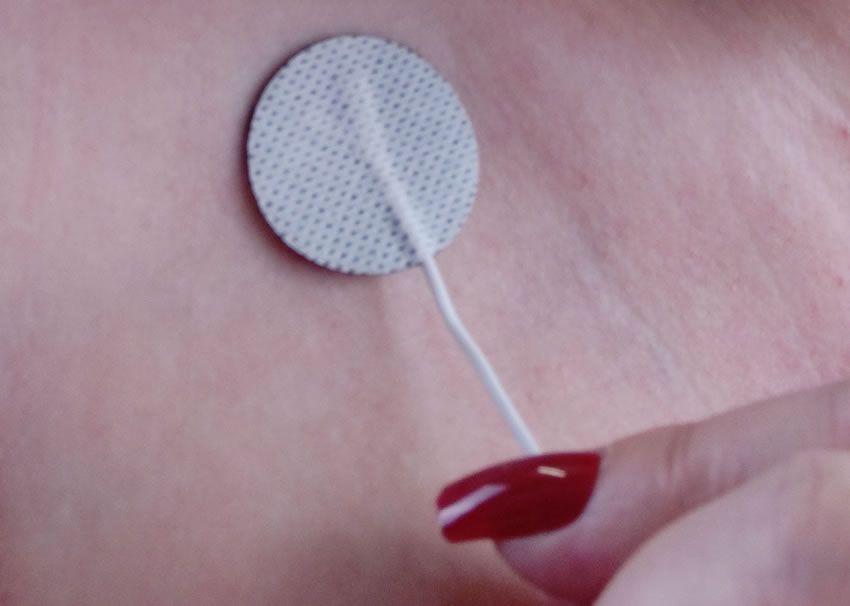 The electrodes are a nice size for smaller areas like the perineum or clitoris
This set up sends current vertically through the nipple and not across the chest. You can only do this safely if you use a channel on each nipple and your control box has isolated channels. If you try it with a cheap and crappy TENS unit, the current could take a path across the chest, and that isn't a good idea.
So how did my nipple stimming session go? Well, I loved it. I only needed very low power, and on Pulse, it felt like my nipples were being sucked. I loved that.
I also used them on my perineum with the second pad just above my clitoris, and this was also fantastic. The smaller size meant I didn't need to use high power settings. The bonus is my batteries will last longer - Yay for me and the environment too.
They performed admirably, and without having corners to peel up, I didn't experience any hot spots when using them. I even stuck one to my Stunt Cock glans of his cock and having a round electrode worked particularly well there.
Of course, as with any pad electrode on a penis, you can roll a condom over the top to help them stay in place in use. The added benefit of this is that it catches your cum if you orgasm making cleaning up a much simpler process.
These are very useful electrodes and are now in my electro play box for future use. They are billed as a single-use product, but like most pad electrodes if you are careful and keep them clean, you can get multiple applications out of them.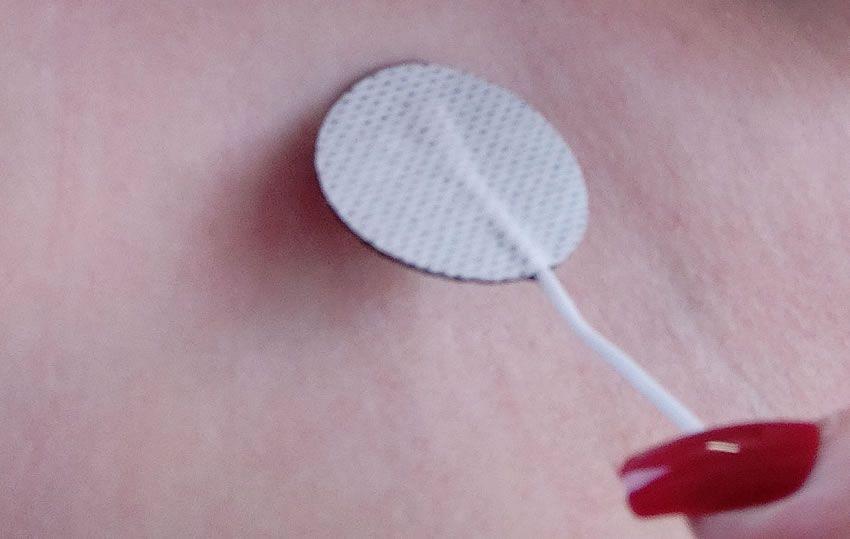 The electrodes are easy to peel off your skin after use but avoid areas with lots of hair
Once you have finished using them carefully peel them off and immediately stick them back on their plastic backing sheet before storing them away again.
Will I keep using them? Hell yes, they are a great addition to anyone's electrode collection and are ideal for small spots or for when you want to increase the sensations over larger pads.
The self-adhesive micro pad conductive electrodes from @EstimSystems are fantastic for play in smaller hard to reach areas and they make things more intense.
Click to Tweet
Key Features
Key features:
Pack of four round micro-pads
Self-adhesive monopole electrodes
2mm Sockets
Round shape prevents hot spots
I would recommend it to:
Anyone looking to get a quick boost in power by using a smaller electrode
Anyone looking to use an electrode ideal for the glans or perineum
I wouldn't recommend it to:
Anyone who doesn't like pad style electrodes
Final Thoughts
The micro-pads from E-stim Systems are a great product and worthy of a place in everyone's e-stim toolbox. They are ideal for use in smaller areas or for when you want some added kick from your sessions.
The round shape makes them ideal for use on the glans and perineum, and they stay in place well. The standard 2mm TENS socket on them will mean you can use them if you have a cable with 2mm plugs which is basically most e-stim set-ups.
I am delighted with them and give them a strong recommendation to anyone looking for smaller electrodes.
I bought these electrodes from E-Stim Systems and that has not affected this review in any way.
Joanne's rating
Where Can I Get One From?
If you are looking to buy a pack of micro-pads and you are within the UK/EU then check it out in their online shop - Micro Pad Electrodes (£14).
If you are in the USA/Canada then E-Stim Systems have got you covered and you will save 20% by not having to pay VAT. Buy the Micro Pad Electrodes ($19.99).
From their humble beginnings in a garage back in 2004 E-Stim Systems has grown and grown with an army of loyal customers. They manufacture their goods themselves in the UK, and that gives them total control of their range of equipment, they even offer a lifetime guarantee (how's that for confidence).
Check them out and don't forget to tell them that Joanne says "Hi".
---
If you enjoyed reading this review then check out my other reviews of E-Stim Systems products:
CONTROL BOXES
PUSSY & ASS ELECTRODES
PENIS/BALL PLAY
OTHER
Website links:
---
Disclosure
Disclaimer - This post contains affiliate links and if you purchase something when you follow one of these links I may receive a small commission at no cost to you. For more information check out my disclosure page.