Delivery & Packaging
I received this control box the day after is was dispatched by E-Stim Systems. As always the packaging was very plain and secure, carrying no indication of the future orgasms contained within.
I can relax when I order from E-Stim Systems, safe in the knowledge that my postie (or neighbours if I am out when it is delivered) will have no idea what is inside the package. With more and more people buying online these days, it's good to know they take customer privacy very seriously.
The ABox MK2 was well packaged in the box in heat-shrink plastic, so I know it hasn't been tampered with.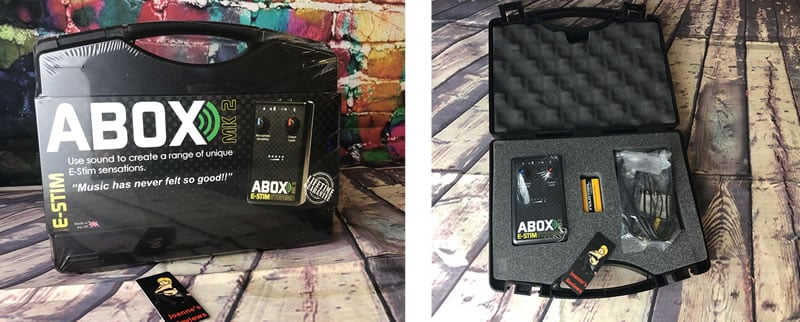 The ABox Mk2 comes well packaged in a branded case
E-Stim Systems control boxes come in a black branded storage box with foam packing inserts inside to hold everything securely.
The outside of the box carried a cardboard sleeve that features lots of product information to entice customers in any brick and mortar stores. I couldn't wait to dive in, but I had to take the pics from this review first.
So what do you get? Well, the first thing that you see when you open the case is the ABox MK2 nestled in its foam packaging together with two cables neatly folded in the other half of the box. One cable has a 3.5mm plug that goes into the socket on the ABox MK2, and it has two 2mm TENS style pins on the end. The other cable has two 3.5mm plugs, and this is the one used to connect the ABox MK2 to a sound source.


The ABox Mk2 arrives with everything you need to start playing
The lid of the box has a removable foam pad, and above that, you will find a set of four self-adhesive monopole pads. You also get a quick start guide and a product registration card.
I strongly recommend registering your control box for two reasons, firstly it will allow you to stay abreast of product developments. Still, more importantly, it will help you with the lifetime guarantee.
There aren't many companies these days that stand behind their products with excellent customer service and a lifetime guarantee.
E-Stim Systems are so confident in their quality control (all of their products are made in their own factory in Watford in the UK) that they can offer a lifetime guarantee. My partner went to see them last year, and he was blown away by their processes and facilities, read about that trip here - Visiting E-Stim Systems in Watford.
This is a complete play kit, you even get a battery included (9V PP3), so you are ready to play the moment you remove the plastic seal (unless like me you have to wait to take product pics on tippy toes while dying to take it for a test run).
I like the fact that you get a quick start guide instead of a manual and here me out on this one. Manuals are great, but a control box like this is so easy to use that a quick start guide will do. It really is really so easy to operate and you always have the full manual available online should you need to refer to it. Having an online manual also means that E-Stim Systems can ensure that it is always up to date.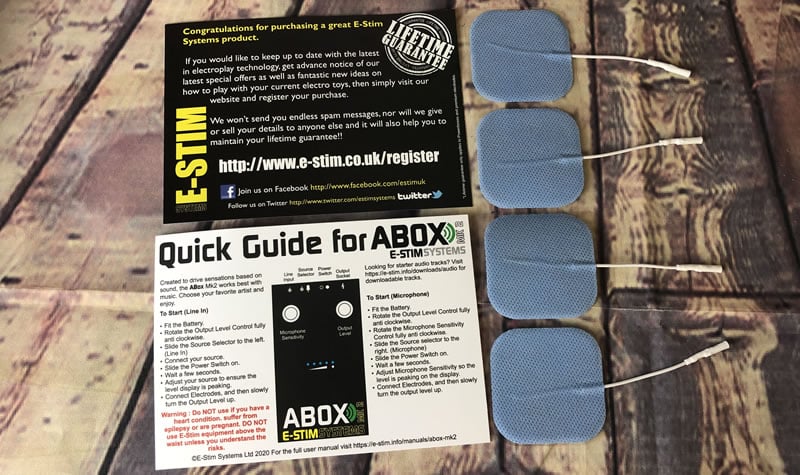 The Quick Start guide is easy to follow and the electrodes are first class
Product Design
So what is it? Well, this is an upgrade of the popular ABox, which was released in 2006 is an audio-based e-stim unit.
Unlike stereostim DIY control boxes which are designed to process audio files designed with specific frequencies and waveforms, the ABox and the ABox MK2 was designed to focus on music files and voice processing over files containing just tones.
Purists might say it isn't stereostim, often jumping up and down complaining about one thing or another. I prefer to take things at face value. For me, something is either good or bad not because of its components or design, but by its performance. Does it get me off - Hell yes it does!
Made for play control boxes have lots of advantages over stereostim boxes, some of which are:
Reliability, a made for play box, is professionally built and designed. A DIY box is only as good as its components (often the cheapest available) and more importantly the skills of the builder.
Safety, a made for play box, is designed with safety in mind. The frequencies are limited to those that can be used safely or actually felt. One danger with a DIY box is someone using frequencies that can't be perceived very well, and that can lead to them just cranking up the power needlessly.
Battery-powered, by not connecting a control box to the mains grid, you remove the risk of electrocution with mains electricity completely.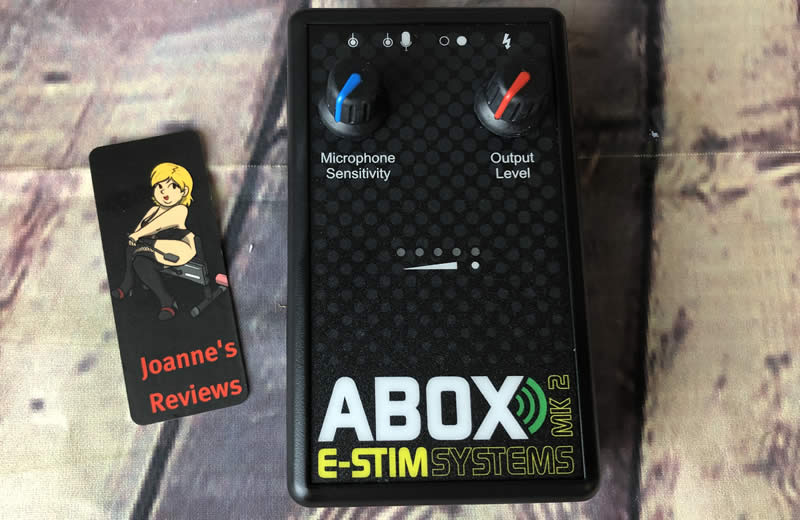 The controls are really easy to understand and use with only two control knobs and two stwitches
But I digress, so back to the ABox MK2. This is a single channel control box that accepts cables with 3.5mm plugs. Powered by a 9V battery, it is small and lightweight so stimming on the move is a definite possibility.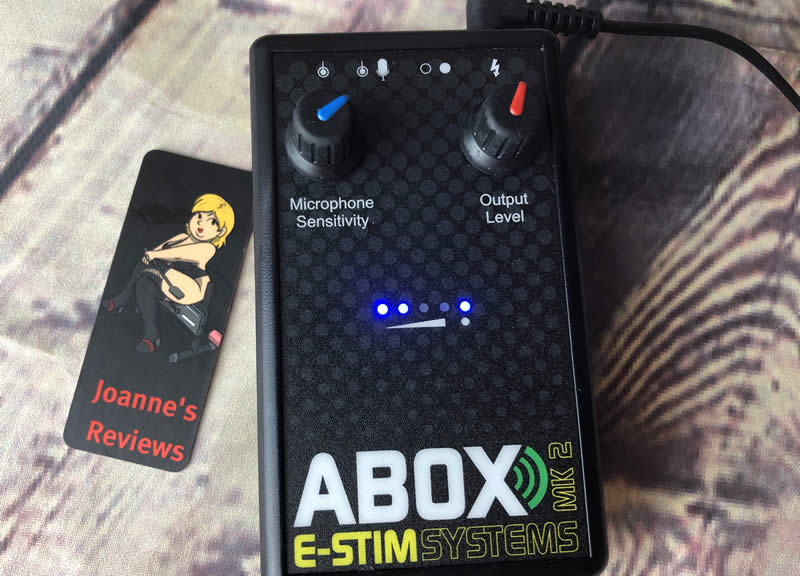 The LED display is clear and very responsive to both the controls and input signal/source
It has a display on the front which features blue LED's that act as a level meter when the control box is turned on, and it also shows you when the box is switched on. It is very responsive to the audio input, whether that is from the microphone or the line input jack.
The top of the box has the electrode socket, a power switch and a second switch that allows you to switch between its two modes of operation. There is also a "line in" socket that you can use to connect the ABox MK2 to a sound source such as a PC/Tablet, phone or media player.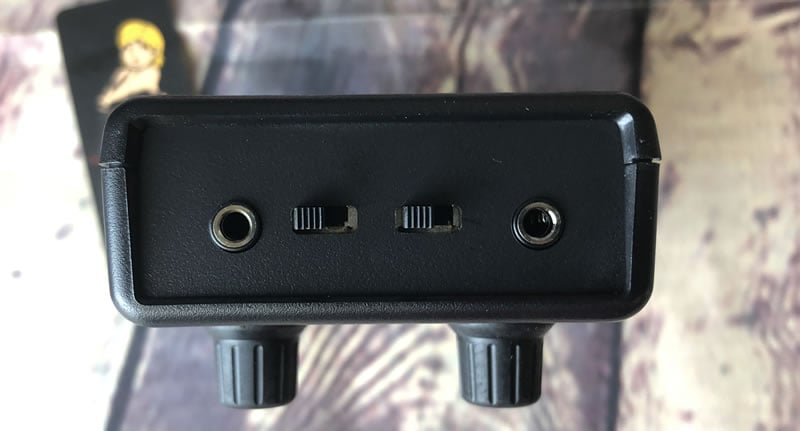 The sockets and switches are well located and clearly marked on the front of the box
The battery is inserted into a compartment under a sliding cover on the back of the box. As previously stated, the ABox MK2 is powered by a 9V battery. E-Stim systems recommend using high power batteries rather than rechargeables as rechargeable batteries will produce a lower power output.
I have to mention the included pad electrodes at this point, there are excellent, providing good conductivity and the tacky surface lasts ages.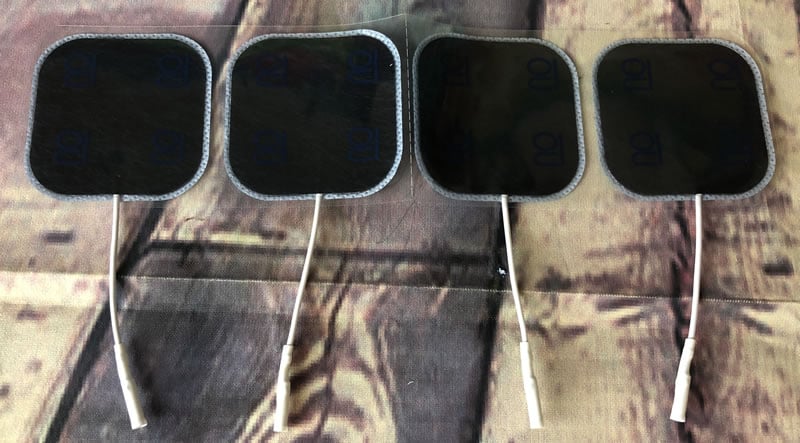 The electrodes are very good quality and the stiff conenct wires suggests they are metal rather than the carbon fibre types
These electrodes have a blue fabric backing, and it is the first time I have seen these and I am impressed with them. I recommend putting them on skin areas that have been shaved to ensure good contact and to reduce the risks of hot spots.
ABox Mk2 Dimensions: 112mm x 65mm x 41mm
Weight (with battery): 160gThis is a small and light control box and it is easy to see how you could use it for mobile stimming. Whether you place it into a bag or attach it to your belt with some velcro it is small and easy to conceal for clandestine play. One of the reasons that it is so small is the improved electronics and the fact that it now doesn't contain bulky transformenrs with the battery taking up a large part of its internal space.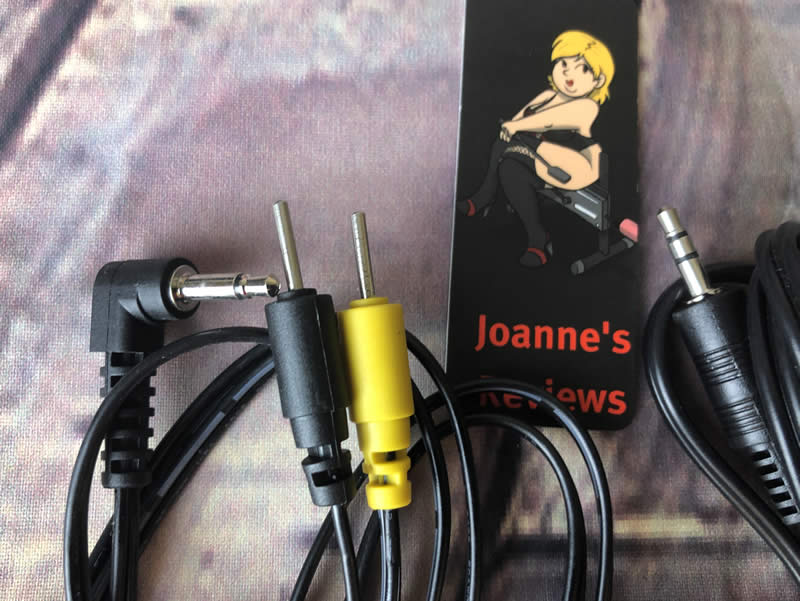 The cables are very good quality and the electrode cable has 2mm TENS style plugs
Performance
I am going to break this down into two sections, each covering one mode of operation as there is quite a lot to talk about here.
Internal Microphone
This is the first mode of operation that I played with, and I love it. Using the sensitivity control knob allows you to accurately set the level you want the control box to respond to.
But, while voice play is fun, take the ABox Mk2 into the bedroom or dungeon for some kinky BDSM impact play takes things to a whole new level of fun.
Imagine how combining impact play with things like floggers, crops and paddles with electroplay. The noises of impacts are immediately translated into e-stim sensations delivered to where you have attached the electrodes. Double the fun and double the pleasure (or pain, depending on how you like to play).
The internal microphone is responsive, and it allows you to improvise during your play sessions using your voice or other noises to create lots of play possibilities. It also means less equipment and cables, so it really simplifies play.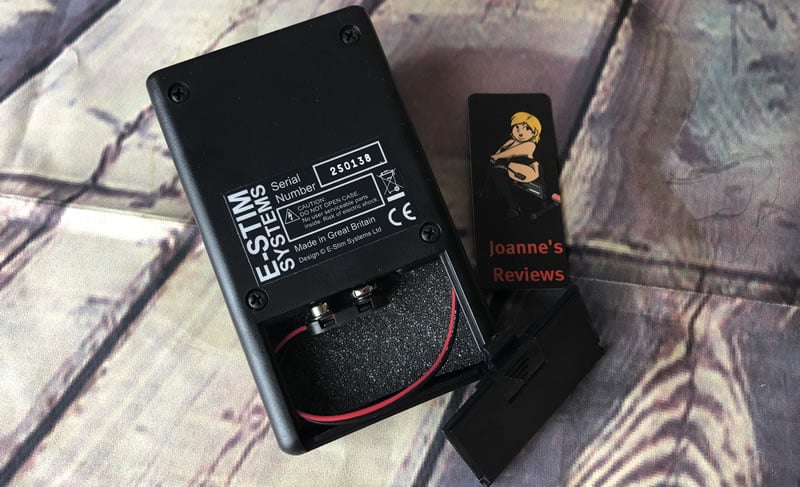 The battery compartment holds the battery snuggly and it is easy to change the battery when needed
Line In
The Abox Mk2 comes into its own though as an audio play box. When connected to a media player such as a computer, tablet or your phone you can enjoy made for play stereo track or even music.
I have tried several stereo tracks on sites like Youtube and more enjoyably Pornhub with good results. The display makes it easy to set the sensitivity, and the ABox Mk2 does an exceptional job of processing the audio signals.
Now unlike some audio boxes that use audio to trigger pulses, the ABox Mk2 uses the audio itself to produce the output. That means the frequency and felt power is directly comparable to the sounds going into the box.
This works really, really well with music, now you can hear and feel your favourite tracks. You have never lived until you have had an "Ed Sheeran-gasm"" LOL.
The Abox Mk2, through its audio processing, makes it a delightful little control box. The way the output isn't just pulses but more like a physical embodiment of the sound itself feels fantastic.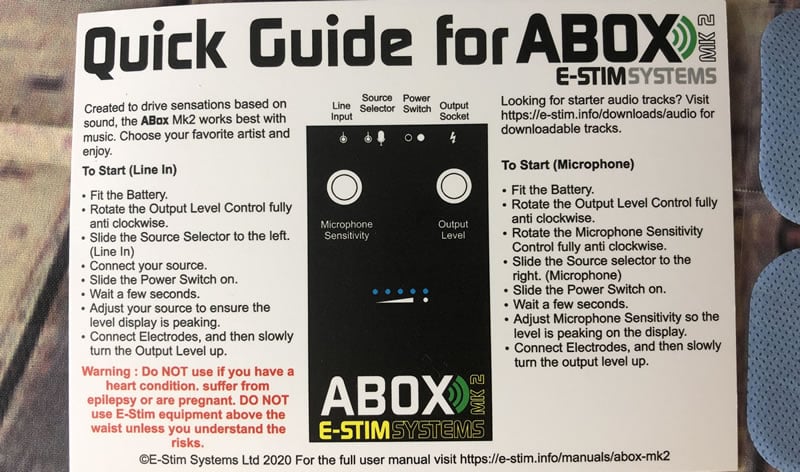 The quick start guide is easy to understand and well designed, even offering a link to some audio files to get you started
I have to hold my hand up to being a lazy stimmer. I just like to hook up and use the inbuilt programmes on my favourite control box, which is the 2B, but the ABox Mk2 has made me rethink this strategy for e-stim play.
The nuanced nature of audion play is really pleasurable and provides much more variation to sensations than any inbuilt routine. Through a little experimentation (I recommend keeping a stimming diary) you can quickly build up a library of stereostim files and music that really works well at getting you off.
I have really enjoyed experimenting with different types of music and love the way the ABox Mk2 interprets the signals into e-stim signals. It takes either mono or stereo signals and seamlessly produces interesting output sensations that feel great.
The Abox Mk2 is a worthy addition to the upgraded range of e-stim control boxes from E-Stim Systems just like their new and improved E-Stim Remote Box.
Check out Joanne's review of the ABox Mk2, the latest control box from @estimsystems.
Click to Tweet
ABox Mk2 Video Introduction
UPDATE 3/11/20:
I have done a direct comparison between the ABox Mk2 and the 2B
I have spent some time directly comparing the ABox Mk2 with the audio functions on one my favourite control boxes, the 2B.
I lookied at these criteria:
Output Power
Smoothness
Controlability
Responsiveness
Overall Feel
So check out my comparison between these two boxes.
Jo
Key Features
Key features:
Audio based e-stim control box
Improved power output over the original ABox
Internal microphone or use the line in socket
Effortless and accurate control over the sensitity of the ABox Mk2
Built in signal/strength display
Stepless control for smooth output control
Single channel output
Limited AC output for safety
I would recommend it to:
Anyone looking for an audion e-stim control box
Anyone looking to experiment with audiostim
Anyone looking for a light control box that is protable
Anyone who enjoys BDSM impact play
I wouldn't recommend it to:
Anyone looking for a mains powered control box
Anyone looking for a dual channel control box
Final Thoughts
I really wish I had an original ABox to compare to the ABox Mk 2, but I don't, and so I have had to review it as someone new to audio stim which isn't a bad thing.
It has opened my eyes to just how enjoyable audio play can be when incorporated into e-stim play. I have thoroughly enjoyed playing with the ABox Mk2, it handles stereostim files well but comes into its own with the nuanced waveforms found in regular music or even someone's voice.
If you like pleasure or pain, the ABox Mk2 will deliver, its small form and light weight make it ideal for stimming on the move.
I have used it with the included self-adhesive monopole electrodes (which are first-class) and also with some insertable bipolar electrodes, and it works well with both styles of play.
I love the fact that E-Stim Systems are continually improving their range of products, and it's great that they have given their ABox a new lease of life in the form of the ABox Mk 2.
If you get one, then I hope you get as much enjoyment out of it as we have.
I was sent this ABox Mk2 by E-Stim Systems, and I would like to thank them for giving me the opportunity to review it for them.
Joanne's rating
Where Can I Get One From?
Grab one of these fantastic audio control boxes direct from E-Stim Systems for £135.00 / $199.99 (USD).
Website links:
| | |
| --- | --- |
| If you are looking to buy one of the New ABox Mk2 and you are within the UK/EU then check it out in their online shop, grab a New Abox Mk2 E-Stim Control Box. | |
| If you are in the USA/Canada then E-Stim Systems have got you covered and you will save 20% by not having to pay VAT. Buy the New Abox Mk2 E-Stim Control Box. | |
From their humble beginnings in a garage back in 2004 E-Stim Systems has grown and grown with an army of loyal customers. They manufacture their goods themselves in the UK, and that gives them total control of their range of equipment, they even offer a lifetime guarantee (how's that for confidence).
Check them out and don't forget to tell them that Joanne says "Hi".
---
If you enjoyed reading this review then check out my other reviews of E-Stim Systems products:
CONTROL BOXES
PUSSY & ASS ELECTRODES
PENIS/BALL PLAY
OTHER
Website links:
---
Disclosure
Disclaimer - I was sent the ABox Mk 2 to review free of charge and this has in no way affected the outcome of this review. This post contains affiliate links and if you purchase something when you follow one of these links I may receive a small commission at no cost to you. For more information check out my disclosure page.