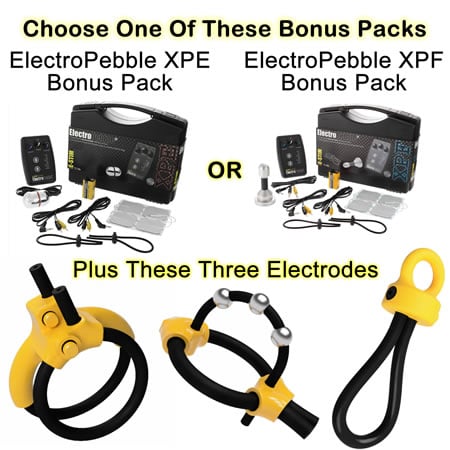 So what is on offer?
I thought, why not offer my most popular design of cock loop together with an exciting monopole coronal cock loop. But that's not all; I will also send the winner one of my Didi vaginal or anal electrodes.
So, here is the prize basket for this competition:
1 x ElectroPebble XPE or XPF kit.
1 x My Double Insulated Cock Loop.
1 x Bipolar Coronal Cock Loop.
1 x Monopole Didi Electrode.
Total: £206.85
With these electrodes, you have multiple connection options, from tri-phase to good old cock frying fun.
My electrodes take a mixture of 2mm plugs.
I am willing to ship the prizes to the winner worldwide (bonus), but you will be responsible for any customs duties or importation charges if you are the winner and not in the UK.
The total value of the prizes is a whopping £206.85, and I know that these prizes will make someone's day.
Unfortunately, this isn't a sponsored competition (unfortunately), so I am footing the bill for the prizes. To that end, you're going to have to do a little work to win this collection of e-stim treasures.
If any E-stim manufacturers are reading this and fancy sponsoring a future competition, please do get in touch.
In exchange for entries (yes, you can have multiple chances to win this prize collection), I will ask you to spread the word about the Discord Channel and my site too, of course. A small price to pay for a chance to get these goodies, I think.
With a wide variety of ways to enter the competition, you can quickly increase your chances of winning.
That's it, good luck and happy stimming.
Check out Joanne's mega e-stim control box and electrode giveaway competition.
Click to Tweet
E-Stim Control Box And Electrode Set Thank You Giveaway
The competition will close 11:59PM 15th January 2022 (London). I will then draw the winner the following day and get in touch with them.