Delivery and packaging
Delivery from E-stim Systems is always a delight. Everything I have ordered from them in the past has arrived in super quick time, and this package was no different.
I was told they were sending me these electrodes to review on Monday and they arrived on Tuesday, now that is service.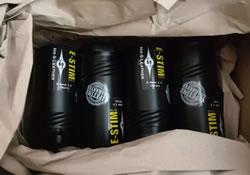 As usual, they arrived inside very plain packaging that carried no indication as to the electrifying contents on the outside of the brown cardboard box. I found all four electrodes nestled within some brown packing paper inside their black storage cases together with a lovely note from Caz - thank you Caz.
If you are nervous about ordering e-stim products online due to privacy or discretion concerns, then you can rest assured that E-Stim systems take both very seriously. It is always a pleasure to order something from them and to have it arrive quickly, discreetly and with no fuss whatsoever.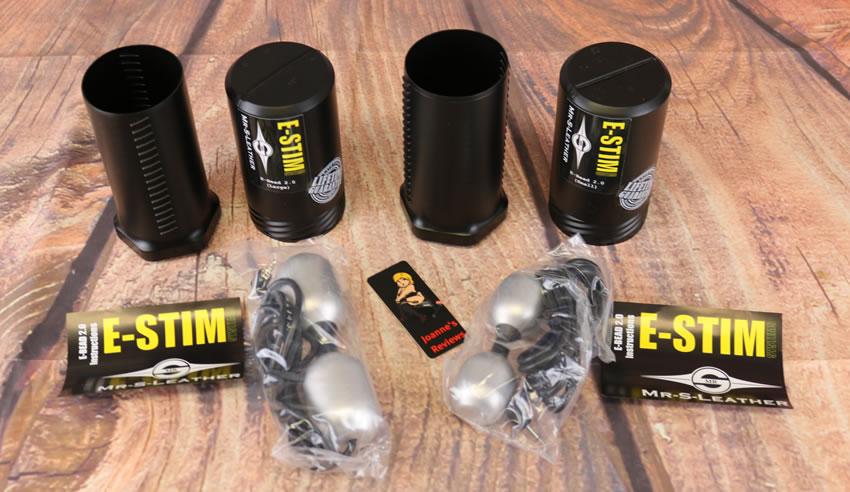 I always love the packaging of E-Stim Systems electrodes, it is functional and looks great too
Each electrode and this is common to most of their insertable electrodes comes in a tool storage container with a screw off lid. This is the perfect way to store them, and I love these cases. They are minimalistic and look fantastic. Inisde the black tool holders that the E-Bead 2.0 arrive in you will find a set of concise instructions, safety information and cleaning guide that is easy to comprehend and follow.
The electrodes arrive inside a sealed plastic pouch, so you know that it hasn't been tampered with since it was manufactured by E-Stim Systems.
These storage cases have a different label on them from the usual E-Stim Systems ones, and they highlight the fact that these electrodes are a collaboration between E-Stim Systems and Mr S Leather. I love the design of the label but let's face it you are probably more interested in the electrodes rather than the box and sticker so let me move on.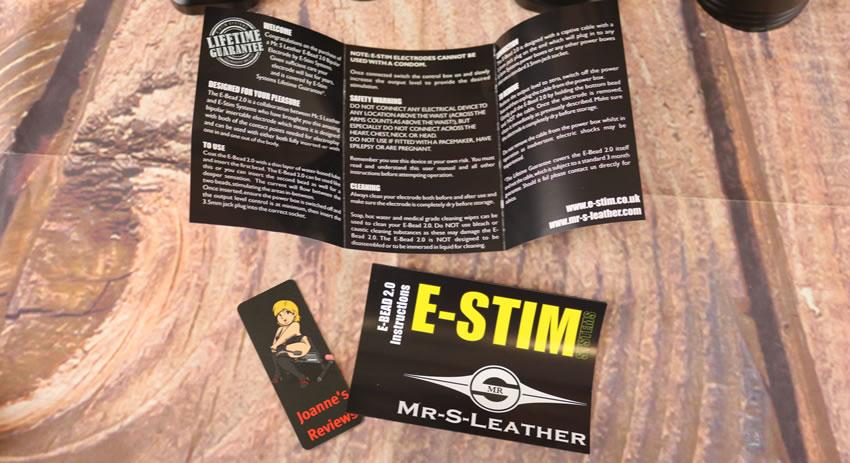 You get a concise set of use and care instructions included in the storage tube
Materials and design
As the name of the E-Bead 2.0 suggests, this is the second bead design that Mr S Leather has been involved with. The first design is being run alongside this new improved version.
This one is made from aircraft-grade aluminium (aluminum for my US friends), and the first thing you notice when picking one up is the weight of them. They are very solidly built, and they look incredible.
Each features two electrode faces separated by a profiled solid black insulator, this insulator separates the electrodes by a good 20mm/0.75", and this means the e-stim current goes through lots of tissue providing some fantastic sensations.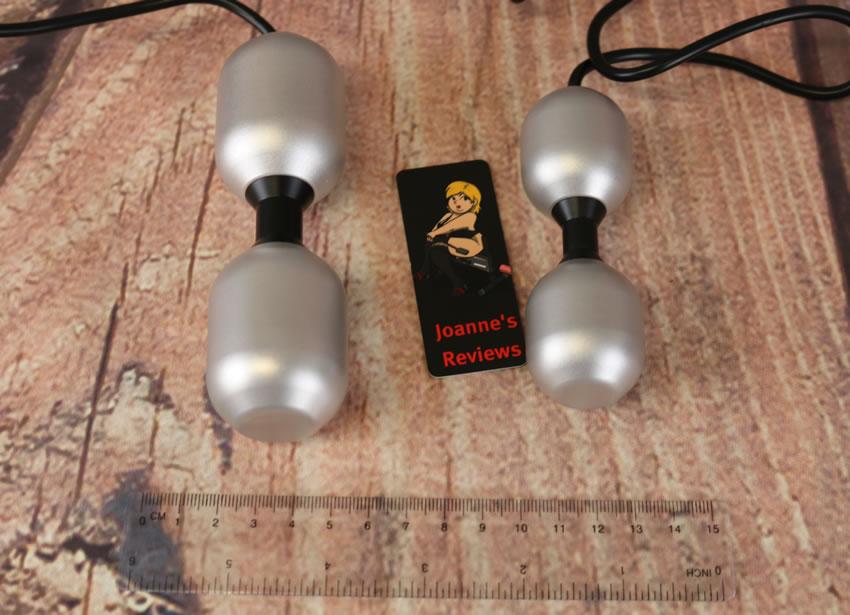 With two sizes to choose from you can get one to match your needs and abilities
The round cable that comes out of one end is very securely attached inside the E-Bead 2.0. E-Stim Systems have tested this by hanging over 12.5kg from it with no problem at all. So you needn't worry about retrieving the E-Bead 2.0 if you are using it anally, especially with deep insertions.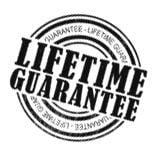 The end of the 1.5m long cable features a 3.5mm plug that allows you to use the E-Bead 2.0 with any E-Stim Systems Control box like the amazing 2B or ElectroPebble.
The quality is as you would expect from E-Stim Systems, second to none. They are so confident in their materials and manufacturing processes that all of their electrodes come with a lifetime guarantee. As they make everything in house at the E-Stim Systems HQ in Watford, they can be confident that their electrodes will perform as expected for a lifetime of pleasure.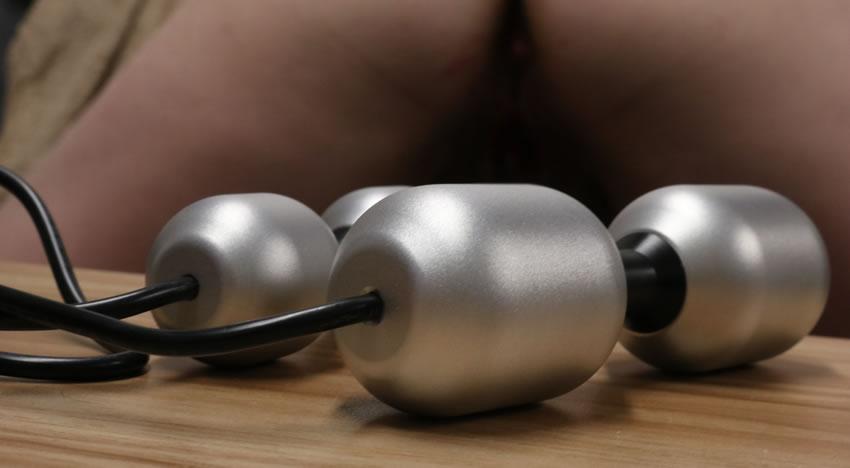 The cables are very well secured so you can insert the E-Bead 2.0 without worrying about losing it
The E-Bead 2.0 is available in two sizes, and these are the Small and Large. Here are the specifications for each:
| * | Overall Length: | Circumference: | Weight: | Price: |
| --- | --- | --- | --- | --- |
| SMALL | 4" / 10cm | 4" / 10cm | 4.9oz / 0.14kg | £95.95 / $99.95 |
| LARGE | 5" / 12.7cm | 4.75" / 12cm | 9.4oz /0.27kg | £114.95 / $109.95 |
Cleaning is a simple task, clean the E-Bead 2.0 with warm water with an anti-bacterial soap or a sex toy cleaner. Take extra care around where the cable enters the E-Bead 2.0 to get any body-fluids or other matter from them. Allow it to thoroughly dry before placing it back into its storage tube though. Don't use any harsh chemicals or abrasive cleaners as these may damage the surface finish or the cable. Just like the E-Stim Systems Electro Egg Electrodes you can't strip these electrodes down for deep cleaning. As you cannot strip it to deep clean it, once it has been used as a butt toy it should only ever be used in the butt and not vaginally.
Performance
No doubt this is the part of the review that you are more interested in. So, as I was supplied with both sizes of E-Bead 2.0, I decided to enlist the help of my lovely submissive sub'r' as she is an anal queen who loves large plugs. So guess who got the large one to play with this time?
I used the small one vaginally and also anally and sub'r' got to enjoy the large in her delightful play spaces.
Here are my thoughts on it.
Vaginally, the small is very easy to insert. I enjoyed the feeling of the cold metal sliding into me, the head has a flat center section and well curved edges that make insertion a straightforward task, and I used a little E-Stim Systems Electro Gel to ease its way. Once fully inserted, I used the 2B and started to experiment with different settings and power levels.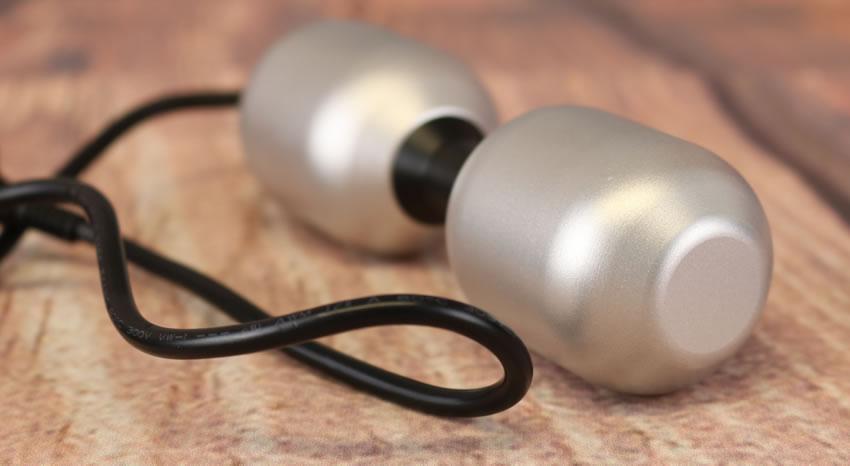 The front face of the E-Bead 2.0 is flat in the center but has well rounded around the edges for easy insertion
I found the end to end configuration of the electrode surfaces felt terrific. The current flowing through my vaginal canal tingles and really gets me going.
On lower power levels, I relish the feeling of what I can only describe as very light pins and needles or the impression of butterfly wings caressing the inside of my vagina.
On high power levels, I like to enjoy feeling my kegel muscles and vaginal muscles clenching, and with the E-Bead 2.0, I got a beautiful ghost fucking sensation. Feeling it moving slightly in time with my contractions. Needless to say, I have enjoyed some very lovely orgasms with it. Nestling it up against my g-spot felt incredible, and so I can definitely recommend it for vaginal play.
As well as trying it deep inside me, I also enjoyed just inserting the first bulb and allowing the edge of the second bulb to rest against the entrance to my vagina. The lube ensures good contact with my labia and the proximity to my clitoris when using it this way feels very lovely indeed. I have to clamp my legs shut when I orgasm though to ensure I don't eject it with the zap that ensues when you do that (remember the E-Stim Inverse Proportionality Pain Rule).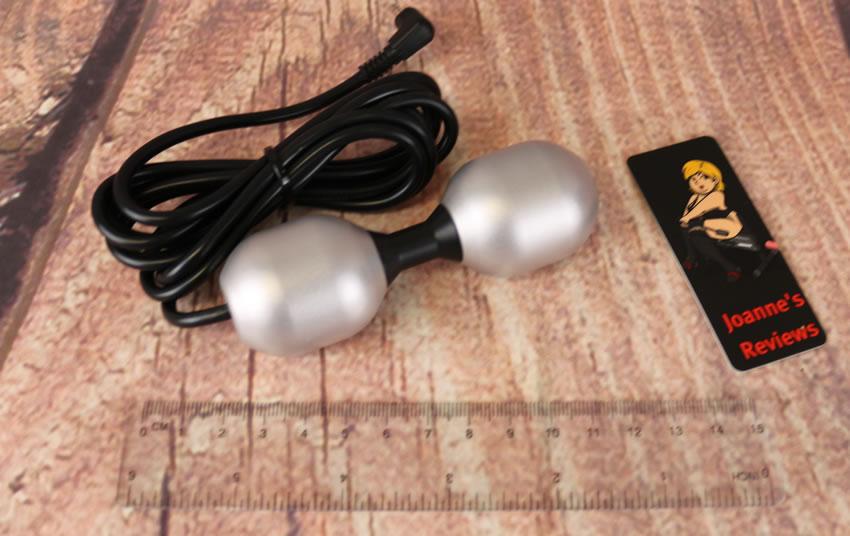 The small E-Bead 2.0 is nicely proportioned and an easy insert both vaginally or anally
When trying it anally, again, it was easy to insert with lots of lube due to the well designed tip, and the sensations were incredible. You can insert the E-Bead 2.0 as deeply as you want or just insert one bulb and I recommend experimenting to find what works best for you. That's the thing with e-stim, we all perceive the sensations differently, and so there is always a need to experiment with positions and settings to find out what works best for you.
Guys will love having it up against their prostate where the wide gap between the electrodes will ensure lots of tissue gets saturated with the current from your control box. You can use the cable to make small adjustments to its location in use.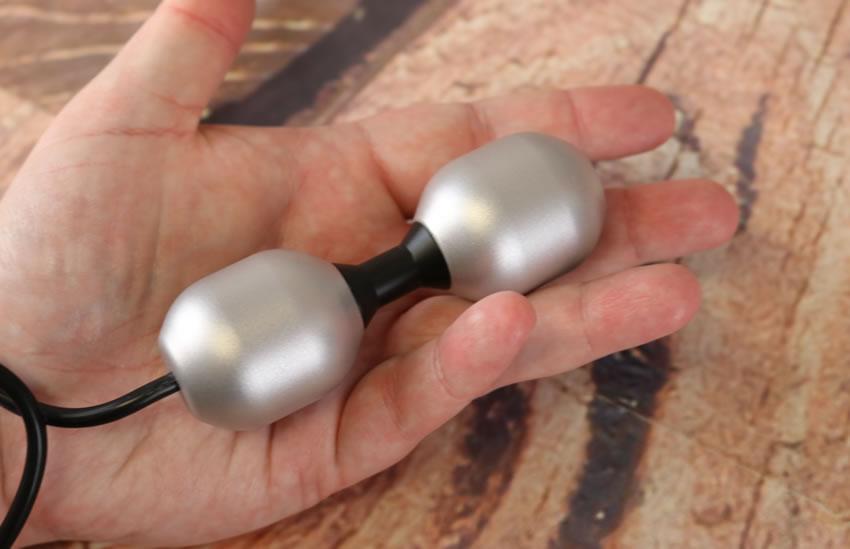 The small E-Bead 2.0 fits in my hand nicely and is so much fun to play with
Removal is as easy as pushing it out or gently coaxing it out with the cable.
I prefer to use the E-Bead 2.0 vaginally, but that is just me and my playstyle, sub'r' enjoyed it too, so here are her thoughts about it.
Sub'r' likes it too
I have to admit to making a loud gulping sound when Joanne presented the large to me and told me where it was going. The size of it wasn't going to be a problem as I have enjoyed wider butt plugs in the past, but the thought of inserting it completely got me more than a little worried.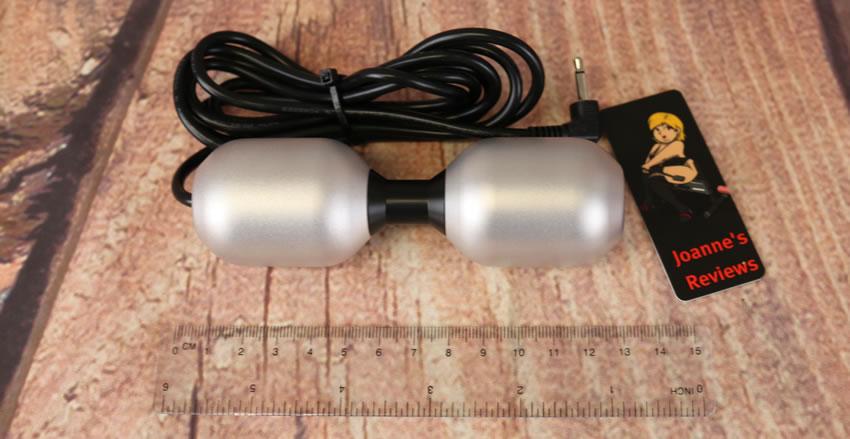 The large E-Bead 2.0 has a lot ,ore girth and is more of a challenge
Anyway, before we went there, I got to enjoy it in my pussy, and when I say enjoy, that is precisely what I mean. Like Joanne, I prefer the end to end style of bipolar electrodes and this one is both filling and an excellent e-stim ride.
Using lots of Electrogel, I relished inserting it. The cold metal felt incredible, and once deep inside, I connected the cable to my ElectroPebble and switched it on.
The tingling and buzzing deep inside me felt fantastic, and I just kept cranking up the power until I maxed it out. The ghost-fucking sensations were terrific, and I enjoy edging myself like this for long periods before letting myself cum hard.
One thing I love about metal electrodes is how cold they are when you insert them, and then after removing them, they almost feel like they are on fire.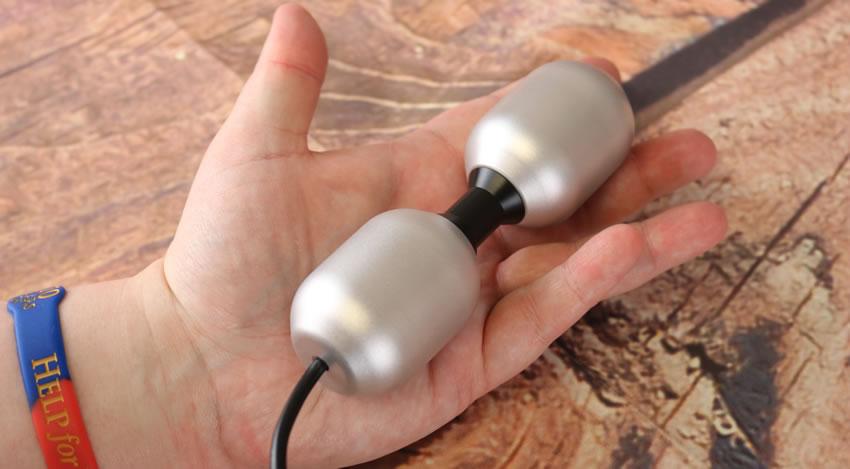 The large E-Bead 2.0 fits in my hand (just) and is much more of a challenge to insert
Next up, some bum fun. Now, as you can imagine, I needed quite a bit of lube to get the large inside me, due to the flat end with rounded edges. Getting it in is, in itself so much fun.
I found laying on my side with one leg bent worked best. The first bulb popped in, and I decided now would be a good time for trying it with only one electrode face inserted.
The second bulb was resting tight against my anus, and so I switched on the control box. All I can say is WOW! Feeling the bulb inside me as my anus was directly stimmed from the inside out felt incredible, and I enjoyed using the E-Bead 2.0 like this until I experienced my first anal orgasm with it. The ghost-fucking sensation when using it this way is amazing and it rocks back and forth in time with the pulses from the control box.
That felt great, but now I had to insert it all. As I felt the second bulb stretching me open, I knew it would just pop inside, and I started to get a bit worried.
Would the cable hold out? Or would I end up in A&E in a facemask trying to avoid Covid19 while entertaining the nurses with a story about my hungry anus etc.?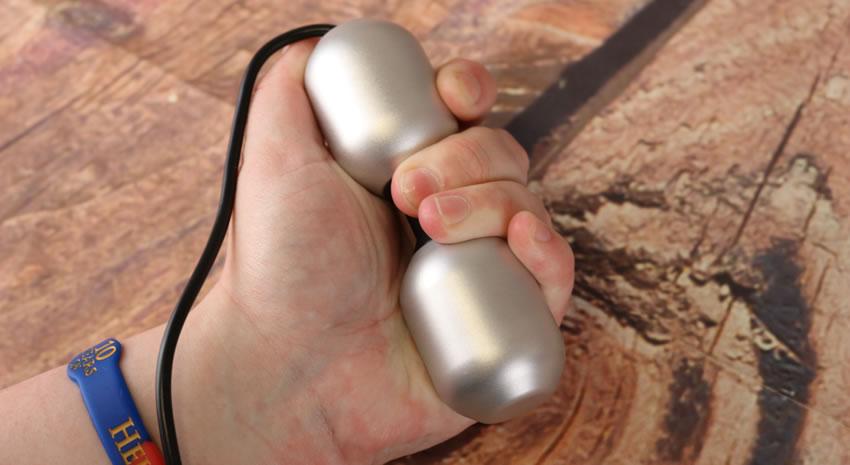 The large E-Bead 2.0 is a beast and very filling
Needless to say as a submissive I do as I'm told, and so with a little extra effort, it popped inside. That feeling almost made me cum there, and then and I had to bite my lip to control myself.
I then switched the control box on. I have never had anything so deeply inserted up my butt before, let alone having electrons buzzing around my rectum and colon.
I loved it, and the sensations from deep inside my butt were much more subtle than around my anus or inside my vagina, but I enjoyed them just the same. I didn't cum with it deep in my ass as I did with it half in, half out and I ended up fingering myself, marvelling at the feel of the E-Bead 2.0 so deeply inside me.
Guys are going to love the feeling of being so full while their prostates are being stimmed, and I can see this electrode being a favourite of lovers of prostate stimming.
The E-Bead 2.0 is a collaboration electrode between @estimsystems and @MrSLeather, it delivers some incredible sensations anally and vaginally too.
Click to Tweet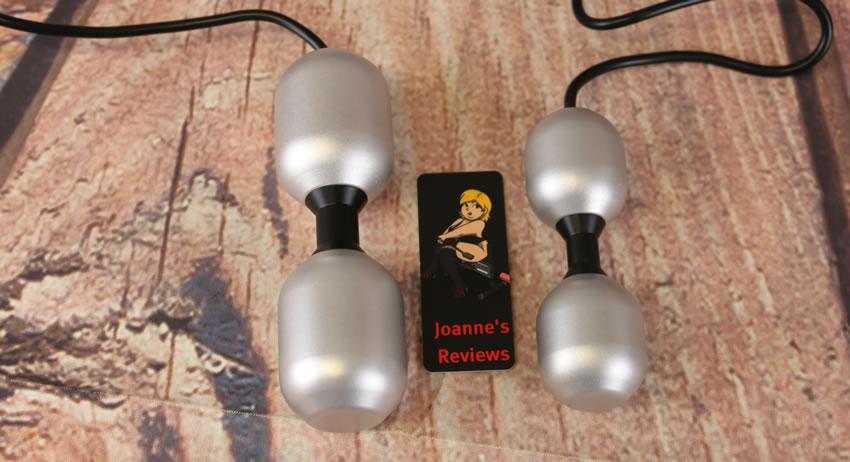 The E-Bead 2.0 electrodes totally exceeded my expectations and they deliver an amazing ghost-fucking sensation
Key Features
Key features:
Made from aircraft grade aluminium
Bi-polar fully insertable electrode
Cord tested with a 12.5kg pull
Profiled insulation section separates electrode faces
Lifetime guarantee
Made in the UK
I would recommend it to:
Anyone looking for an insertable bipolar electrode
Anyone wanting to try deep penetration
Anyone looking for a vaginal or anal bipolar electrode
Anyone who enjoys end to end electrode designs
I wouldn't recommend it to:
Anyone who doesn't like metal electrodes
Anyone looking for just a surface electrode
Final Thoughts
The E-Bead 2.0 is a fantastic collaboration between two great companies. Mr S Leather are handling the sales and shipment of them in the US and worldwide while E-Stim Systems are covering the whole of Europe.
It's a robust and well designed bipolar electrode that will last forever, with the lifetime guarantee you get peace of mind when you order one together with discreet delivery.
Both sub'r' and I have really enjoyed using it, and it is an electrode that will be getting lots of use from both of us. As we have so many other electrodes that's high praise indeed.
If you have a vagina, you can enjoy double the fun while prostate owners can experience some deep, effective prostate stimulation that is going to get your toes curling and the cum flying.
We have really enjoyed reviewing the E-Bead 2.0 and if you get one we hope you have as much with it as we have. With two sizes to choose from, you can get one to match your play preferences.
I was sent the E-Bead 2.0 to review by E-Stim Systems and I would like to thank them for giving me the opportunity to review it for them.
Joanne's rating
Where Can I Get One From?
You can get the E-Bead 2.0 from e-stim.co.uk from £99.95, I am delighted to be able to recommend it to anyone looking for a stylish and functional bipolar electrosex electrode.
Website links:
Check them out and don't forget to tell them that Joanne says "Hi".
---
If you enjoyed reading this review then check out my other reviews of E-Stim Systems products:
CONTROL BOXES
PUSSY & ASS ELECTRODES
PENIS/BALL PLAY
OTHER
Website links:
---
Disclosure
Disclaimer - I was sent the E-Bead 2.0 to review free of charge and this has in no way affected the outcome of this review. This post contains affiliate links and if you purchase something when you follow one of these links I may receive a small commission at no cost to you. For more information check out my disclosure page.